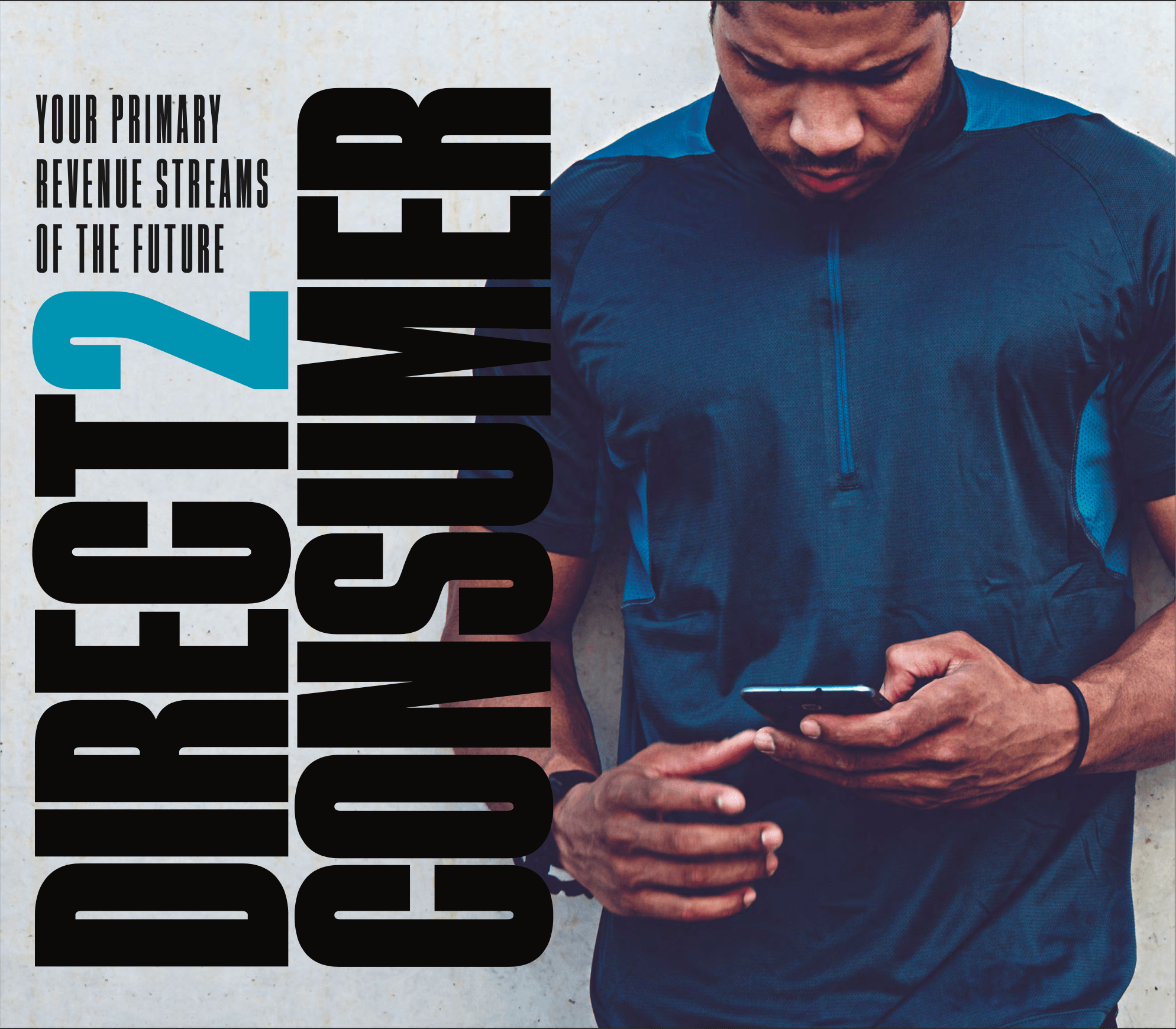 14 Feb

Direct2Consumer: Your Primary Revenue Streams of the Future (Part 2)

WHEN ONE DOOR CLOSES… Another opens, and during the pandemic, it's been the e-commerce door

No surprise: When people are locked down in their homes for months, they transfer their shopping trips from the mall to mobile. So, while advertising revenues were crashing, e-commerce revenues were exploding for those set up to take advantage of that shift. The size of the shift was almost beyond belief. At least in pre-pandemic terms.

A DECADE IN JUST EIGHT WEEKS

"The percentage of retail done on digital channels has gone up 1% each year. As of 2020, it was at 18%. Then, in eight weeks, it went to 28%! We had a decade in eight weeks," said NYU Professor Scott Galloway at the Lions Live event in June. "When you have a shop front where people can't purchase, consumers become even more reliant on trusted sources. You don't have the same face-to-face interactions with people behind the counter," Hearst UK Chief Commercial Officer Jane Wolfson told Digiday. "More beauty clients are coming to us for help." "Hearst's purpose is to get more out of life," Hearst UK Chief Content Development Officer Betsy Fast said at a What's New In Publishing roundtable. "From mid-March [2020], that really became our MO: Helping readers find what they need and couldn't get before, help them pass the time, help them with life spent at home."

ONLINE SHOPPING FRICTION JUST DISAPPEARED

"Once you turn to ecommerce, the convenience and reduced friction will make you stick with it," Jonas Sjostedt, Founder and CTO of Tipser, an ecommerce platform for publishers, told FIPP. "We have seen a steady increase in sales because our publishing partners are spending a lot more time on ecommerce as a revenue source." Sjostedt believes publishers are in a great position to cash in on the ecommerce boom. "Publishers have an edge against commerce sites because they have organic traffic returning to their sites and many are returning several times a week," he said. "Publishers have a strong media brand that people trust and editors who curate the world and make it relevant to the readers. Publishers can leverage that brand and capitalise on consumers directly where inspiration strikes." Sjostedt describes the numbers being generated by ecommerce as "staggering".

THREE TO FIVE TIMES THE PROFIT

"We see a three to five times increase in profit compared to affiliate programmes for the same products," he says. "Tipser has over 30 % average commission for the first half of 2020 while the average commissioned paid out from affiliate programmes is around 12 %. The conversion rate is also really fine — 1,5% end-to-end. As a comparison to that, the end-to-end conversion on affiliates should land on something like 0.2%." Swedish newspaper Dagens Nyheter (DN) was able to double its online sales revenue from 2019 to 2020 after deploying an embedded ecommerce strategy. It also helped the publisher survive the economic fallout of the pandemic. DN has an in-house commercial team that selects the products it offers to its readers. This way they ensures that the offerings are relevant and match the interests of its audience.

OFFER EXCLUSIVE PRODUCTS AND DEALS

The publisher also has a designated shopping section, Erbjudanden ("special offers"), which carries exclusive products and deals for subscribers. This creates an added value to its content offering. Fashion and lifestyle magazines Elle and InStyle from BurdaStyle Group (Germany) also have an editorial shopping team that selects products in line with readers' interests. They use audience data to continually refine their offerings. Harm Heibült, Director of Product at the BurdaStyle Group, sees in "embedded eCommerce the evolution of classical affiliate marketing, a tool for a deep integration in digital publishing offers."

SHOPPING WITH A FRACTION OF THE CLICKS

"The users stay on our site and can purchase products in only a fraction of the clicks," Heibült told FIPP. "This improves the user experience and increases conversion rates. "Publishers have an edge against commerce sites because they have organic traffic returning to their sites and many are returning several times a week," Sjostedt said.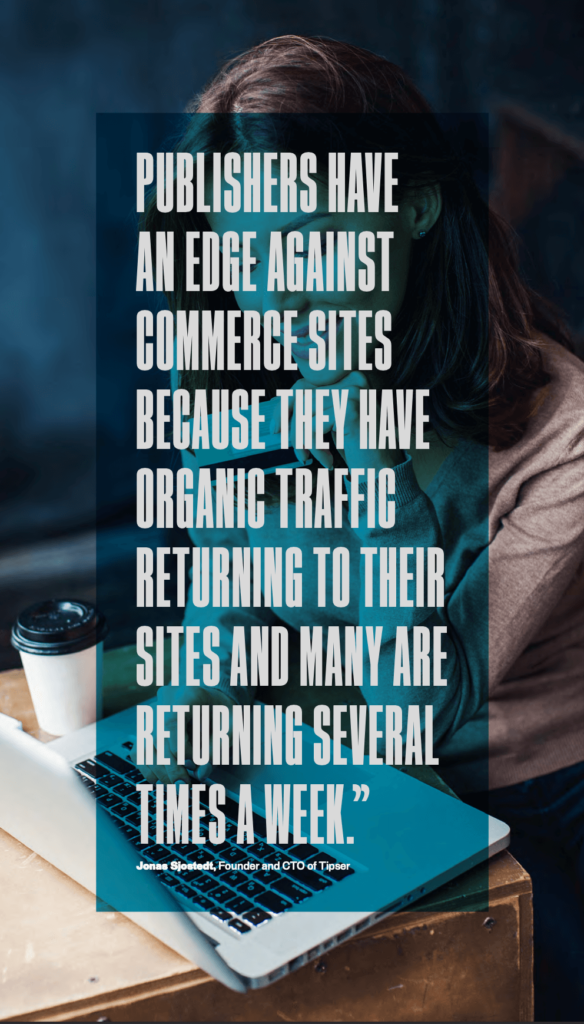 E-COMMERCE WILL GROW POST-PANDEMIC
Embedded e-commerce and content commerce can be framed as an offering of convenience and expertise. You want to be able to tell your readers: "We want to be your one-stop shop. We want to provide you with the full experience," Tipser founder and CEO Axel Wolrath told FIPP. As publishers, "you're turning yourself into an arena for interactivity and deeper relationship with your customer who'll come back," Wolrath said. The e-commerce services that Hearst and other media and non-media companies now provide drove an unprecedented explosion in online shopping after March 2020. E-commerce grew 54% in the UK during July 2020 alone, according to a GroupM 2020 report. "Growth was similar to the 55% pace of growth observed during the entire second quarter, suggesting that elevated levels of growth for e-commerce are likely to persist beyond the duration of the pandemic," said GroupM Global President/ Business Intelligence Brian Wieser in the report.
A STUNNING 322% QUARTERLY REVENUE GROWTH
In the U.S., e-commerce rose by 47% on a comparable basis to data tracked in the UK, according to GroupM. This was significantly ahead of the 15% growth rate observed during the first quarter. For example, Hearst UK's e-commerce revenue grew 322% during the second quarter of 2020, according to Digiday. New York Magazine's shopping site, The Strategist, saw an 85% year-over-year increase in revenue during the second quarter of 2020, and Marie Claire's e-commerce revenue in the first seven months of 2020 was equal to what it generated for the entire year in 2019, according to Digiday. At BuzzFeed, the company is moving even more aggressively to take advantage of this consumer shift, transitioning the focus of its e-commerce efforts from affiliate revenue to direct-to-consumer revenue. For years, Buzzfeed was a leader in affiliate revenue, recommending products and earning income when readers clicked on the links and bought things. That line of work generated $300M in revenue in 2019, according to the company.
KEEPING THE SHOPPERS ON YOUR SITE
Now, BuzzFeed is trying to create a more lucrative direct-to-consumer revenue stream with its own standalone website called BuzzFeed Shopping that lets visitors complete purchases without going anywhere else. The new site, distinct from the Shopping section on BuzzFeed's main site, is a partnership with Shop Bonsai Inc., an e-commerce platform that connects publishers and brands. Right off the bat, it's a much better deal for BuzzFeed. The company says it will get an average 25% commission on sales from its own store, compared to just 10% from sales with affiliates.
KEEP THEM ONSITE, KEEP THE DATA
Perhaps even more importantly, BuzzFeed will build a more direct relationship with its shoppers and be able to collect consumer data, eventually leading to personalisation of recommendations, according to SVP of Commerce Nilla Ali speaking to the WSJ. Ali cited average order value as one potential variable of interest. "Creating our own e-commerce platform gives us the opportunity to own the entire user journey and create an even deeper, more direct relationship with our readers," Ali told AdAge. "We know that we drive meaningful discovery for our audiences, and we're now focused on collapsing that journey from discovery to conversion." According to Ali, BuzzFeed is keeping affiliate links on the main site and editorial staffers on the commerce team will write stories for both sites.
INTERNAL SITES = DIRECT RELATIONSHIP
"Publishers like BuzzFeed that have really embraced affiliate over the last few years and built a solid business, and that have actually trained their audience to shop from them and expect to be sold product — those publishers are really ripe for this kind of product," Bonsai CEO Siddiqui told the WSJ. "Creating our own e-commerce platform gives journey and creates an even deeper, more direct relationship with our readers and a real opportunity for us to reclaim some of that profit," Ali told AdAge. Taking back control of the user relationship is a key element in the transition from affiliate to direct e-commerce.
LET'S RECLAIM SOME OF THE PROFIT
"Our work in commerce also will be part of solving a longstanding problem in the media industry where content creators provide the inspiration to buy a new product, go on a vacation, or watch a new show, but don't capture much of the economic value created," wrote BuzzFeed CEO Jonah Peretti in a company blog post early in 2020. Peretti called it the "attribution problem," where Google and other middlemen end up capturing value they didn't create. "We see a real opportunity for us to reclaim some of that profit," Peretti wrote. "The convergence of mobile content and mobile commerce means we can finally make progress on this problem. The traditional marketing funnel can be compressed and consumers can move more fluidly from inspiration to transaction." The move to direct e-commerce also comes at a good time for publishers as companies are reducing affiliate commission rates.
BESIDES, AFFILIATE RATES SLASHED 50-70%
"Walmart and Amazon have both pulled back on affiliate options since the pandemic started," wrote Dianna Christie on Marketing Dive. "Commissions on commerce staples including headphones, beauty products and business supplies have been cut in half, from 6% to 3%," according to Digiday. "Commissions on home products, a fast-growing category with so many people now sheltered in place, has been cut by nearly two-thirds, from 8% to 3%; commissions on health and personal care products, another major growth area, fell from 4.5% to 1%."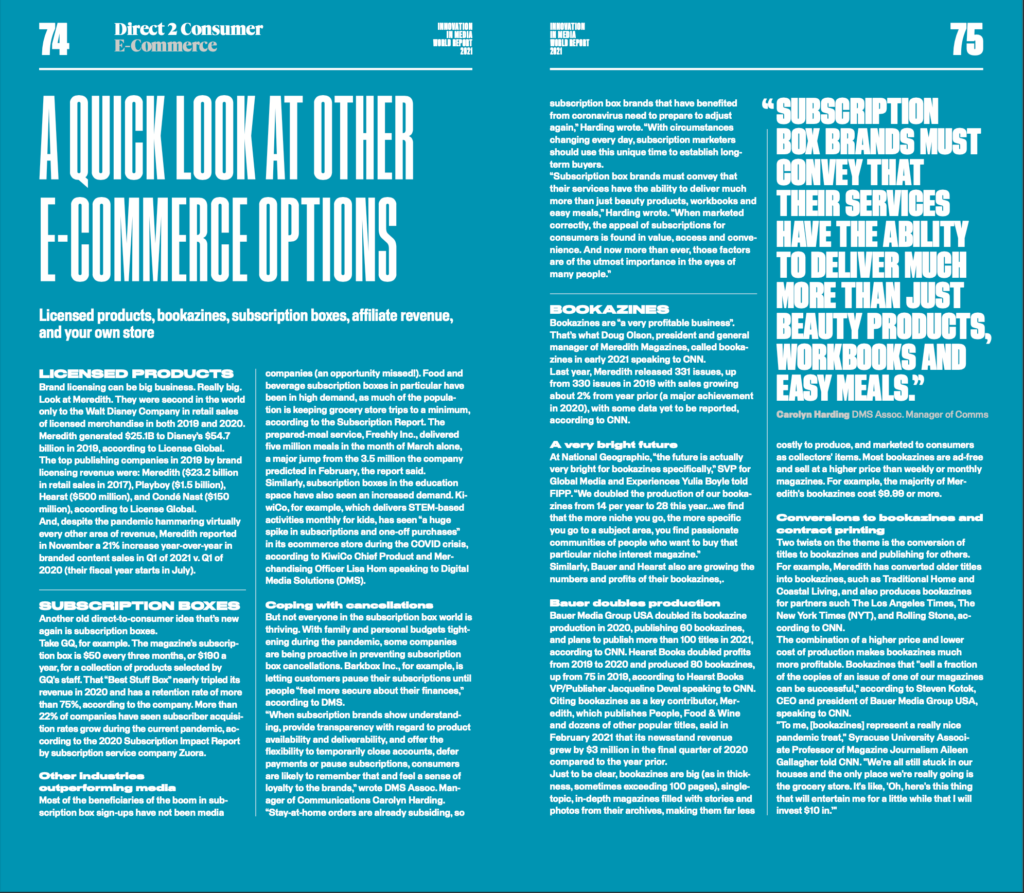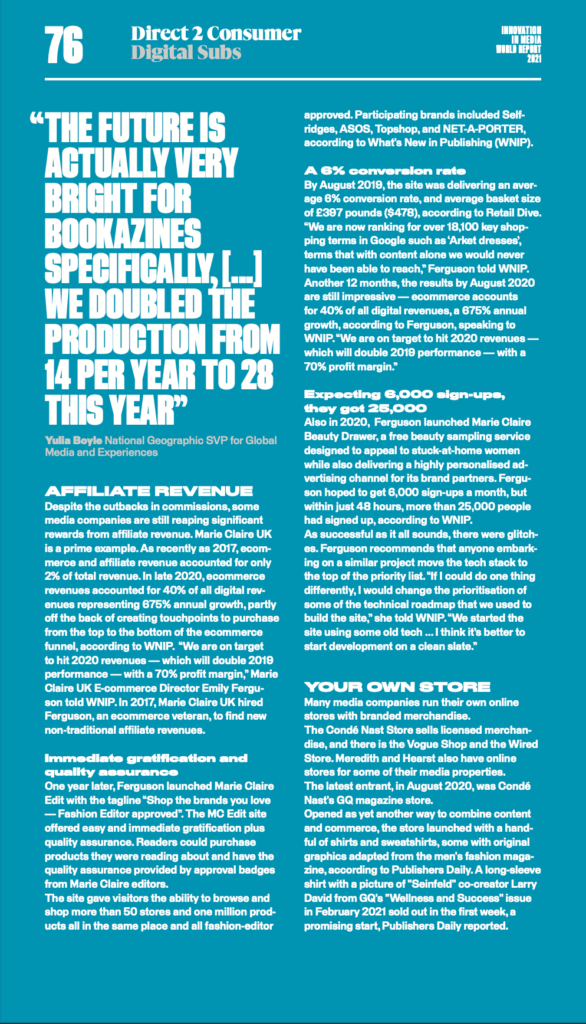 HOW DO 20%-70% PROFIT MARGINS SOUND? Media companies with e-learning businesses can make serious money if they invest serious time and resources
Let's see if this quote grabs your attention:
"E-learning is a very valid and high-margin business opportunity for publishers (both B2B and B2C) if they make a commitment to learning product development and the marketing of the programmes … I have seen (once a programme is operational) anything from 20%-70% margins." — BARRY KELLY, CEO, THOUGHT INDUSTRIES
Got your attention? Good. Now, here's how to get some of that profit. "Publishers who have been successful have dedicated time and resources to build these business units," said Kelly, whose software company creates white-labelled learning experiences for all sorts of companies. "Creating high-quality learning experiences that serve a need in the market is key. "What I am saying is that while it's not a silver bullet, it IS a very effective business opportunity if committed to like any other revenue strategy," Kelly told FIPP. "B2B publishers in particular tend to have strong learning components to their business," Kelly said. "The simple reason is that professional development is big business. Individuals need to be trained/certified to maintain their jobs in many industries. "We have also seen successful B2C publishers in learning, but it would more than likely be a lower percentage of total revenue than B2B," Kelly said."But good to know: B2C publishers can add multi-million, high-margin learning programmes to their overall portfolio with the right market and a commitment to sticking with it." And what does "commitment to sticking to it" mean? Kelly outlined what it takes to succeed in e-learning:
1 A business owner who holds P&L responsibility is critical.
2 A dedicated budget to set up the business and a model that recognises that it will take a little time is also essential. Like any good business, it requires time and money to get off the ground.
3 A content creator/instructional designer must be identified who will research the needs of the learners and create high-quality courses.
4 A team of strong, willing marketers with the budget to promote the programme must be assembled and charged with this responsibility. This is the key that separates those who are successful from those who are not. If you build it, they will not necessarily come. You need to promote it and convert readers into attendees.
While media companies have the assets in terms of deep, valuable archives and years of staff expertise and experience that are needed to create courses, their primary focus is their publication and website. No worries. One really good thing about e-learning business models is that, even though you could do it yourself with internal staff, there are people out there who can help, from a little to a lot. Rather than let your expertise and assets go un- or under-leveraged, you can partner with academic and commercial institutions who can turn your physical and human assets into gold because online education is part or all of what they do.
PARTNER WITH AN EDUCATIONAL INSTITUTION 
"Partnering with educational institutions presents a hidden source of revenue for publications," said Rob Kingyens, founder and CEO of the online education technology firm Yellowbrick in speaking with Folio. "Education is a complementary way for media brands to not only generate revenue, but also to give back to their audience," he told Folio. "Revenue generation isn't the only reason to do this."
PARTNER WITH AN E-LEARNING COMPANY
Yellowbrick, for example, manages partnerships between higher education institutions and media companies, usually at a national level. According to Folio, recent Yellowbrick launches included two courses with Complex Media and one with Billboard: 1 "Sneaker Essentials": A Complex Media partnership with the Fashion Institute of Technology 2 "Streetwear Essentials": A Complex Media partnership with Parsons School of Design 3 A music-industry-focused course in partnership with New York University and Billboard "What's unique with our model is we're taking the media outlet's strengths — the expertise of their staff, their audience — and managing and operating all the things that aren't their core strength," Kingyens told Folio. "Media companies are a natural fit since they're often looking for new ways to engage their audience and create community." Similarly, Kelly's company, Thought Industries, delivers "a platform that is designed to serve all facets of learning product creation, monetisation and delivery. "From single shortform online course creation to long-format blended learning programmes with instructors, virtual and in-person meetings, our technology helps with every element of e-learning business delivery and management," Kelly said. "Monetisation is turn-key."
WHO ARE THE MEDIA COMPANY E-LEARNING LEADERS?
Among media companies, The Guardian is a leader in the e-learning niche, with its "Master Classes", a diverse programme of dozens of courses every month across a variety of disciplines, including journalism, creative writing, photography, design, film, digital media, music/ cultural appreciation, social media, data visualisation, business skills, and wellbeing. Another leader is Burda, which offers the BurdaStyle Academy for online sewing education. The BurdaStyle Academy promises to give its students "all the tools you need to learn how to create beautiful, stylish, and professionallooking garments from the comfort of your own home (and sewing studio)," according to the company. "We hand-pick sewing industry specialists we know to develop courses. Our instructors guide you through our courses with one-on-one help and they are there to make sure you are on track with each session."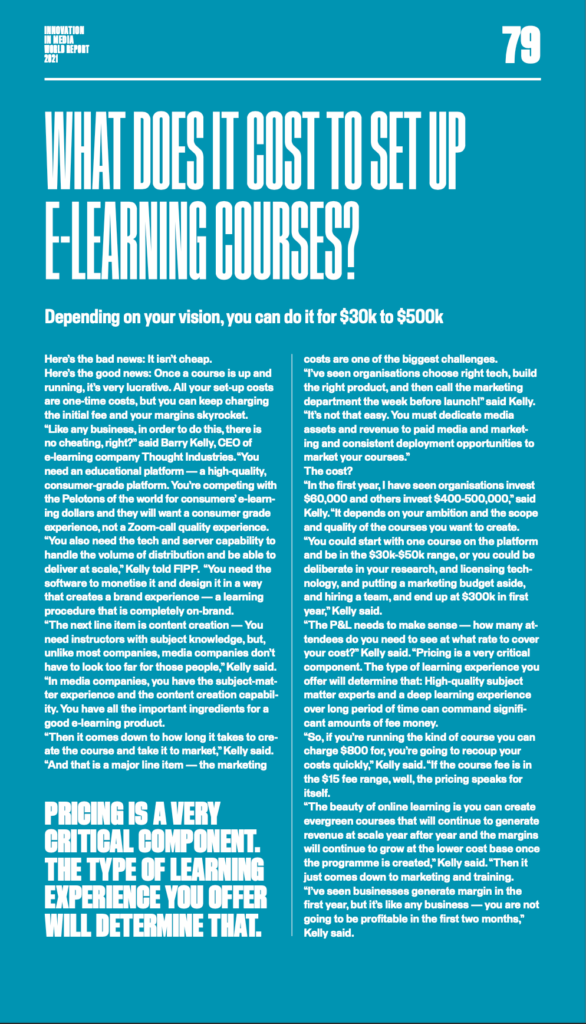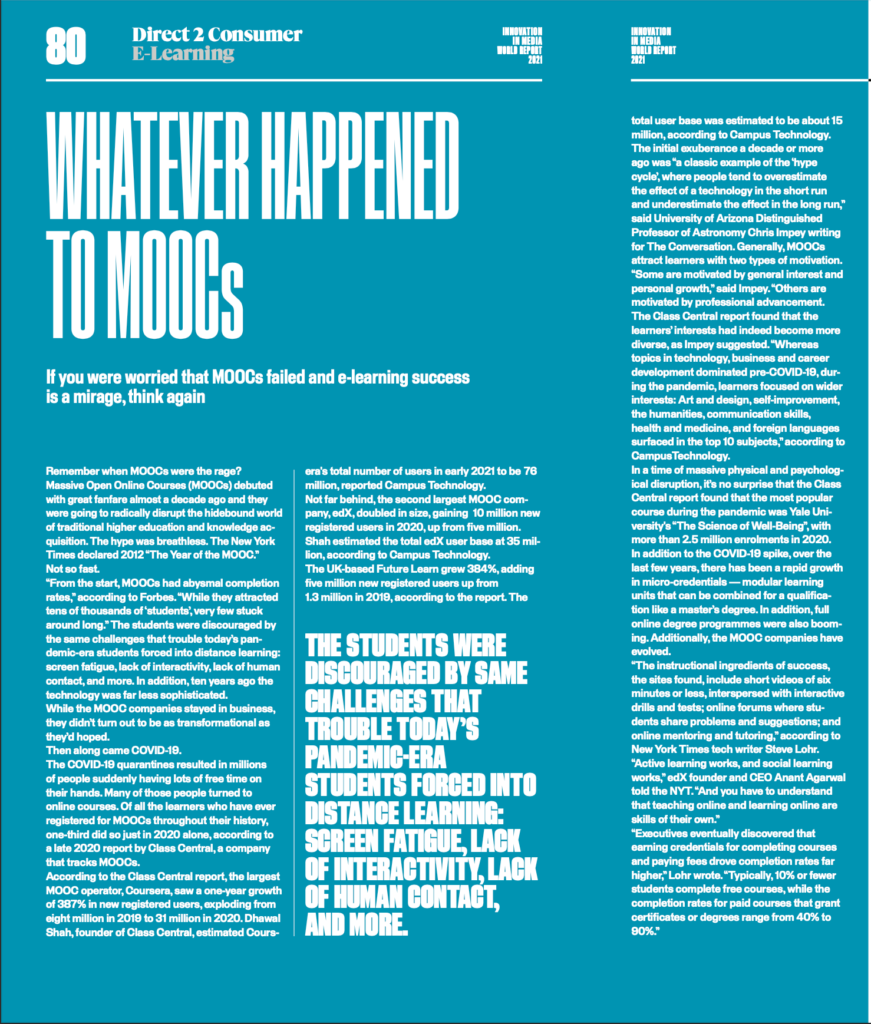 Similarly, the Condé Nast College of Fashion & Design "prepares students for a career in the fashion, media and luxury lifestyle industries," according to the company. "Our courses fuse exciting and intensive academic learning with unrivalled access to the best and brightest minds in the industry, including the teams at Vogue, LOVE, Glamour, GQ, and a host of other Condé Nast titles. "The College delivers creative courses combined with a solid foundation in the business and strategic sides of the fashion, media and luxury lifestyle industries," according to the company. "The purpose of our courses is to prepare students for a multitude of careers: styling, journalism, fashion buying, marketing, branding, graphic design, PR, digital strategy, business, events, entrepreneurship, e-commerce, and myriad other career paths within these exciting, fast-paced industries." Some media companies offer classes for free with the costs underwritten by sponsors or by the media company itself in the interest of subscriber/member attraction, conversion and/or retention. Other media companies offer classes with a range of fees, and still others offer them as a perk for purchasing a membership.
Some of the larger media companies use or hire in-house staff to produce the courses while others outsource it to companies like Yellowbrick and Thought Industries. "Academia, like media and finance before it, has long been ripe for disruption," said FIPP Chief Content and Marketing Officer Cobus Heyl. "Apart from whether old methods of teaching are still best, universities especially leave students with sky-high debts for oftentimes worthless degrees where vocational training could've been better. Besides at the start of their careers, people cannot go through their careers anymore without doing professional development out of their own accord. "Some universities still charge multiple thousands for a professional development course, but:
1) Not everyone can afford that, and
2) Not everyone has the time or means to attend classes," Heyl said.
"Enter the likes of Udemy, Thought Industries, Coursera, GetSmarter, Yellowbrick, the Guardian's Masterclass, and, last but by far not least, LinkedIn Learning," said Heyl. So, if your company is B2B or in a consumer niche where your audience is seeking advance knowledge or skills in that niche, by all means start doing the research that will tell you whether any significant e-learning revenues are in your future."
EVENTS WILL NEVER BE THE SAME And that's a good thing
Is it trite yet to say: "Things will never be the same"? Well, trite or not, when it comes to events, it's true: Things never will be the same. They'll actually be better. Once we get through this pandemic, events will become what they should have become five or even ten years ago: Hybrid! "I think, long term, actually we'll have a much better business, a more diverse business, and a more sustainable business going forward," Simone Broadhurst, MD of sustainable events company Incisive Media, said at the FIPP World Congress in the autumn of 2020. "When real-life events return, they will endeavour to have an online side to them if they can," said Edie Lush, executive editor of Hub Culture, an invitation-led social network service, in the FIPP 2020 Future of Events report. "After all, if online events have been a success, why stop now? Even as the strictest lockdown conditions ease and physical events begin to return, online events are now an established part of the ecosystem," concluded the authors of the FIPP report. "We can [have] the best of both worlds," said Orson Francescone, managing director of FT Live, the Financial Times' events arm, speaking to Press Gazette.
"No matter what happens in the future, all events are going to be hybrid … I don't think anyone is ever going to run a large public-facing B2B event without a digital component ever again." Hybrid events can offer different experiences for the "live" crowd and the virtual crowd, with content curated for each group. "So there will be some content that will be exclusive to people who turn up in person that you don't want to show in a digital environment," Francescone told Press Gazette. "Event businesses that can't experiment with new models will be left behind," Sterling Woods CEO Rob Ristagno said in his introduction to the FIPP Congress "What's Next For Events?" webinar.
After getting our sea legs, media companies made online events succeed beyond anyone's wildest optimistic expectations when the lockdowns first hit.
Condé Nast's recent pivot to virtual programming, for example, has included more than 150 virtual events globally, reaching more than 700,000 consumers at home, according to MediaPost.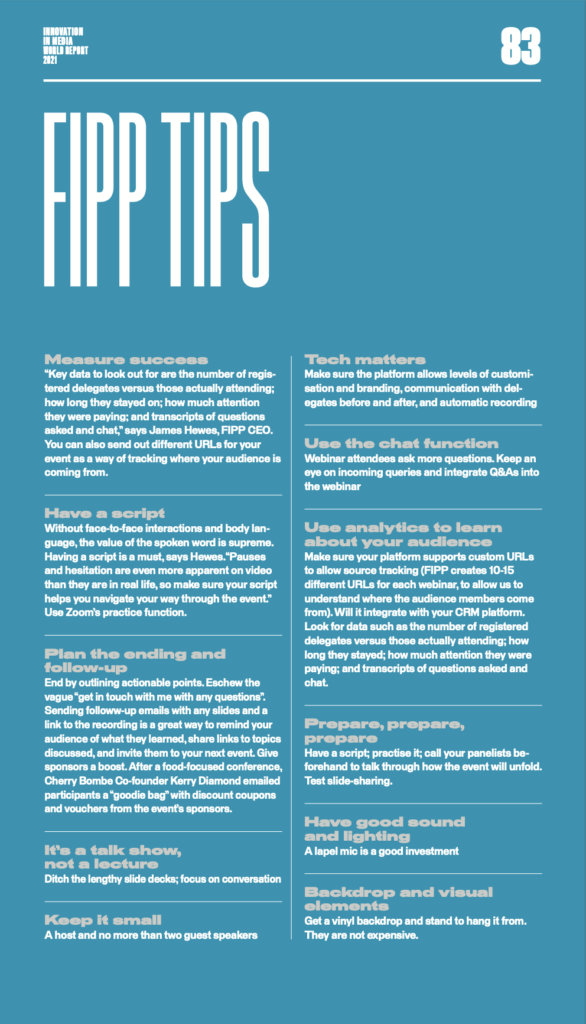 Cherry Bombe, the female-focused food brand, had anticipated 700 paying attendees at its in-person Jubilee event in New York, but instead used Instagram Live to put on Jubilee 2.0 — an entirely online event that reached 180,300 Instagram accounts, according to the FIPP Future of Events report.
At long-form journalism site Tortoise where they host "ThinkIns", they now have anywhere from 200 to 2000+ attending — "the maximum capacity in our [physical space] was around 120 (if everyone squeezed in…)," said Tortoise Co-founder Katie Vanneck-Smith.
Women's Health Live was viewed by more than 10.9 million people across Facebook, Twitter and YouTube, creating a new online fitness community in a matter of days, 
according to Campaign Live.
FTLive drew 5,500 attendees to a four-day FT Digital Dialogues digital event in April 2020.
FT Global Boardroom, a fully live, global digital event, had 100 remote speakers and 52,000 delegates.
"We're never going to let go of that digital piece," said FT Live's Francescone, the Financial Times' events arm, speaking to Press Gazette. In a "normal" year, the FT's average event calendar would have included 150 live events around the world. When COVID-19 hit, the FT turned on a dime, and launched The Global Economic Emergency webinar. "We turned [the event] around in four days and we got 8,000 people registered for that… it was suddenly like 'crikey, clearly there's something in this'," Francescone told the Press Gazette. The success of that webinar was the "spark" that led to The Global Boardroom, a new digital-only event born as a result of the pandemic and delivered within five weeks, drawing 150 speakers and more than 50,000 people attendees over three days in May 2020, according to Francescone. It has become the FT's most profitable event and its "biggest launch ever", Francescone told the Press Gazette. Guests included ex-UK prime minister Tony Blair and ex-US vice president Al Gore among others, big names who could have taken years to organise in pre-pandemic times. "The power of digital meant that suddenly in five weeks we could corral this incredible audience from all over the world because people could call in on Zoom," Francescone told the Press Gazette. "That was a huge eye-opener for us. Suddenly we went from digital being a bit of a lifesaver to digital being a big opportunity." Digital events had allowed the FT to "supercharge" the internationalisation of its audience base "in a way that could never have happened in a physical environment," Francescone said. By the end of 2020, the Financial Times had put on 290 events (versus the average of 150 pre-pandemic).
THE DOWNSIDE: SPONSORSHIPS AND EXHIBITORS
While unprecedented numbers of people were attending media company events, the number of and revenue from sponsors and exhibitors did not follow suit. Nonetheless, Francescone is optimistic about the ability of media companies to get better at selling online events. "The best salespeople will rapidly evolve their conversations with clients from 'this is a
second-best alternative to make-do in these uncertain times' to 'you want this digital solution a lot more than you thought you wanted that physical event, and let me show you why'," he said in the FIPP report.
IT AIN'T NECESSARILY OVER
As we prepare for the post-pandemic future, we also cannot forget that this whole coronavirus thing is likely to happen again. Second waves of COVID-19 are predicted, and the risk of another global influenza pandemic remains high on the World Health Organisation's list of top 10 threats to global health. Additionally, concerns about the climate and people working from home en masse will certainly impact live events and make quality virtual events even more essential as standalone events or part of a live event. So, it's incumbent upon us to take the hardearned lessons about how to run virtual conferences and apply them to the hybrid future. Aided by AI, improved noise-cancelling technology is in the works, and, fuelled by demand, we are likely to see more online event innovations come along as firms scramble to provide high-quality virtual event services, establish themselves as the go-to service provider, and reap the financial rewards.
BENEFITS OF VIRTUAL EVENTS
Compared to physical events, "the [virtual] rooms are more inclusive, global, and can scale," Tortoise Co-founder Katie Vanneck-Smith told FIPP. "They have allowed people who wouldn't have normally been able to make it to one of our ThinkIns to be part of it. We have also been able to convene really interesting speakers who are more available. It has removed geographic barriers and also made them more accessible to an increasingly diverse group of people — especially attracting a younger, engaged audience." Virtual events have a low cost base — there's no need to hire a venue and feed guests, for example — and a high profit margin. Virtual attendee data also has a lot of value and can be used to grow subscriptions. "Unlike in physical events, where asking questions can be painful, online audiences are more than willing to submit questions via the webinar platform," said FIPP CEO James Hewes. "During one recent webinar, we had more than 30 in a single hour." Some of the downsides of virtual events are offset by the enormous reduction in costs. Finding a venue, taking care of speakers, and making sure everyone has enough to eat and drink are concerns that don't apply to virtual events. Many logistical difficulties can be sidestepped. All you really need are good speakers and a professional set-up.
VIRTUAL EVENT DOWNSIDES AND WORK-AROUNDS
The lack of in-person networking is one challenge, according to Mike Hay, President, Ringier Trade Media, Hong Kong, speaking to FIPP. "This is so often where the important business gets done at a conference and where you get moments of serendipity between delegates," he said. "Therefore, when we hold virtual events in China, we have a WeChat channel that runs in parallel and they can communicate in public or 
create private chat rooms, which has worked well," Hay said. "There is a lot of interactivity between the speakers and delegates," he said. "So they're getting almost the same experience. The problem is getting the sponsors and delegates to interact." "I participated in an event last week where everyone had their LinkedIn and social handles, so you could easily connect with someone and people were requesting invites," Pocket Outdoor Media/USA VP of Fitness Amy Thompson told FIPP. Virtual events are "just as difficult" as physical events, Bauer Event Director Chris Lester told Press Gazette. "You've got to invest just as much time in a virtual event as you have an inperson. Obviously it's a different world, but you still need resource to do that — it's not easy." Lester said virtual events could not match inperson events for turnover.
He estimated that the loss in revenue from a total switch to virtual events would be more than 50%. "It's clear it is a different economic business model," he said. "Profit margins can be higher, but revenue's much lower and cost base much smaller." The FT is using a "freemium" virtual events model, with extras such as on-demand service post-event and access to B2B networking technology costing more, while the basic ticket remains free, according to Press Gazette. But the model is mainly driven by sponsorship, Francescone said, "because it's hard to command those big-ticket prices online". Indeed. Pricing for virtual events made event teams skittish at first. How could you ask an attendee to pay big bucks to sit in front of their screen for an "event"? Most virtual events started out free of charge. But as media companies got more comfortable with and proficient at running quality virtual events and came to understand that the content was still unique and valuable, they began to charge.
For example, after airing their initial virtual events free of charge, New Scientist started testing ticket prices. While an in-person New Scientist lecture might have cost between £25- £30, the event team discovered after testing that virtual lectures could sell well at between £12-£15. To recoup some of that lost differential in ticket revenue, New Scientist began offering value-adds. "Some of the revenue streams that we missed from our physical events were things like book sales and sub sales," Event Director Adrian Newton told WNIP. "[For the virtual events,] we've been able to do some partnerships with publishers to do a book offer, where we can get ticket prices with the book included closer to the £35/£40 point."
 Even those media companies who are realising some event revenue, they acknowledge that live events are far more lucrative than virtual events. B2B publisher Euromoney saw event cancellations lead to a £9.2 million revenue hit in the first half of 2020 alone, with virtual events making less than 30% of the revenue of their face-to-face counterparts, according to Press Gazette. But all told, for media events businesses to come out of the pandemic and economic downturn in the surprisingly good shape that they did offers hope for an even rosier future.
CAN REVENUE BE PREDICTABLE? Recurring revenue business models offer publishers income beyond their base content products
Nothing warms the cockles of a media executive's heart like recurring revenue. Money coming in month after month. Money coming in predictably. Money coming in, if you're good at what you do, year after year. Publishers have been enjoying recurring revenue for centuries by selling subscriptions to their magazines and newspapers and, recently, their digital sites. But those same publishers have been leaving a lot of money on the table because they haven't milked the recurring revenue cow the way some consumer product companies have done lately to stunning effect. In addition to their primary products, makers of athletic equipment, cars, clothing, software, shopping sites, professional development services, health and wellness products, and more have created recurring revenue subscriptions as a substantial revenue stream, in some cases driving revenue that competes with their main product's income. Why is recurring revenue so valuable? Global management consulting firm Baton Global recently outlined the benefits of recurring revenue to businesses:
1. It leads to stronger margins in the long-term. "Businesses that have built a large recurring revenue base spend less on retaining customers," according to Baton Global. "Entering into longer-term relationships with customers allows businesses to escape the endless cycle of constantly having to resell to the same customer over and over. Recurring revenue also allows businesses to more accurately forecast demand and, therefore, operate more efficiently."
2. It provides certainty to future income, decreasing risk. "For example, unpredictability in the number of iPhones that will be sold in the future — the iPhone is not a recurring revenue product — adds volatility to Apple's revenue," according to Baton Global. "If the iPhone sneezes, Apple catches a cold. Whereas Microsoft can rely on a steady stream of revenue from companies that pay hundreds of dollars per employee per year to obtain access to theMicrosoft Office software suite. Microsoft never catches a cold because Office gives it immunity."
3. Income tied to the clock. "Humans constantly underestimate the pace of time, so the ideal revenue model is one that is tied to the clock," according to Baton Global. "That's recurring revenue. Payments that occur automatically every month serve as a sort of inertia that prevents customers from considering alternatives or deciding they no longer want or need a subscription or membership. As a result, businesses with recurring revenue naturally have higher renewal rates (or lower churn), which puts them one step closer to monopoly."
"Subscription business models are everywhere — from Netflix to Apple Music to Salesforce.com," wrote Sam Klann, a financial analyst for Baton Global. "Recent research found that subscription businesses are achieving 5x faster revenue growth than the S&P 500 (18.2% versus 3.6%). From Apple Music to Netflix, companies are moving from transacting with customers to building long-term relationships and recurring revenues." Subscription services like Apple Music, Amazon, Microsoft, and Netflix are not unlike magazines and newspapers and digital native websites that sell subscriptions to their primary products.
But it is the companies that go above and beyond their primary product to create relevant subscription products that are really impressive. Take Peloton, for example. Peloton sells exercise equipment. A ton of it. From 2017 to 2020, Peloton's revenue grew from $218 million to more than $1.8 billion, according to the company. That is a mind-boggling 726% increase. But that represents only 75% of their revenue. Guess what makes up the rest? Apparel and… subscriptions. Peloton's subscriptions are either a reasonable $13 per month or a pricey $39 a month to access exclusive workout content streamed directly to their at-home device ($13/mo.) or directly to the screen on their Peloton equipment. Peloton's profit margin on both the physical product and the subscriptions is a stunning 43%, according to the company.
The lower subscription rate is not dissimilar to the rate media companies charge for a monthly subscription. But Peloton's upper-end rate is quite steep, totalling $468 a year. Peloton reports that it has have more than three million subscribers, including more than one million paying the higher price — a 113% increase year over year from 2019 to 2020, which the company expects to double in 2021, the company reported. Peloton's performance is also impressive when it comes to churn: an average 0.64% net monthly customer churn since 2017. More than 90% of the higher-end subscribers keep their memberships for 12 months or more. By comparison, traditional gym membership renewal rates are closer to 60%. 
Another recurring revenue poster child is Barkbox, a pet food supplier with products for sale in more than 23,000 retailer locations, including Target, Costco Wholesale, and Petco. But Barkbox's goldmine is its subscription delivery service. The pandemic lockdowns have massively lifted pet-related services like Barkbox. Folks stuck at home bought new pets at such a rate it was hard to find any pets for purchase, even at shelters. All those new pets needed food and supplies and toys. "People spend an insane amount of money on their dogs, and getting any kind of package in the mail is an exciting event during these quarantine times," wrote Nicholas Jasinski, stocks reporter for Barrons. "BarkBox satisfies both of those cravings, offering monthly subscription boxes full of dog toys, treats, and other goodies for America's four-legged companions." The eight-year-old company saw a 58% surge in subscriptions in 2020, to more than 1 million as of December. "What we're seeing is a massive acceleration in consumers' online confidence and comfort," Northern Star CEO Joanna Coles told Barrons. "You're seeing groups of people that never bought online now having to buy online, breaking decades-old shopping habits to create new habits online. And you're seeing movement from one-time purchases to subscription purchases for staples.
The Barkbox folks go beyond just mailing packages of goodies chosen by pet owners. "BARK Eats asks for information about a dog's size, breed, age, level of activity, and more, and has a nutritionist come up with a portion size and meal type for each pet," wrote Jasinski. "That customisation makes dogs healthier, and keeps customers subscribing, according to [the company]." "We can provide that unparalleled level of personalisation, and we can deliver it right to your home and do it at competitive price points," Barkbox co-founder Matt Meeker told Barrons. "And once you've got a personalised, nutritionist-validated food supply for your dog, you're not going back to just the regular 30-pound bag from the store that's supposed to be meant for all dogs." The classic toy-and-treat BarkBox monthly delivery goes for $35 for a single package, or $26 a box for a six-month plan, and is also customisable, according to the company.
The company says it ships 150,000 different configurations monthly to more than 1.05 million subscribers. Barkbox isn't kicking back and counting its new riches. "[Barkbox] is developing new subscription plans in categories including dog dental care and goods like leashes, beds, and collars," wrote Jasinski. "Its products are all proprietary under its own brands." Another example of prospecting outside of your main line of business is LinkedIn, the networking website.
The social network for professionals bought e-learning startup, Lynda, in 2015 for $1.5B and rebranded it LinkedIn Learning. "LinkedIn partners offer LinkedIn Learning courses to companies and reports that 78% of Fortune 100 companies offer LinkedIn Learning, according to Gary Fox, Strategy, Business Model and Innovation expert at Cranfield University. Fox cited several other subscription services that have stood out in recent years:
Amazon Prime: "Amazon Prime gives you access to selected TV streaming products, 2 million songs, playlists, thousands of books and magazines (a smaller subset of the Kindle Unlimited subscription), online storage and saves you the delivery costs for your other purchases," wrote Fox. "All this comes at a reasonable monthly subscription (or on annual basis at lower cost)." l
The Dollar Shave Club: "Dollar Shave Club launched in 2012 with a revolutionary viral video that generated 12,000 new customers in the first 48 hours, growing to 330,000 customers by 2013," wrote Fox. "It is now estimated to have annual revenues of over $260M."
HelloFresh: "HelloFresh passed Stitch Fix to become the largest subscription e-commerce company, with $1.4 billion in 2018 sales," wrote Fox. "The Berlin-based startup that offers recipe boxes as a service is expected to hit total earnings of more than $2,000M in 2020."
RentTheRunway: "RentTheRunway was the first major fashion platform that offered a subscription service for clothes," wrote Fox. "It validated that the 'access instead of ownership'
model was possible for fashion. The clothing rental service became a unicorn in 2019."
"Companies involved in subscription businesses get to know their customers a lot better, and acquire more data across their customer base," wrote Fox. "Subscription models can also offer deeper customer insights. "When interactions with customers are restricted to one-off purchases, it's difficult to develop a nuanced understanding of consumer behaviours and preferences," wrote Fox. "Consequently, the data improve profiling and targeting for customer acquisition." "Those insights inform a company about innovation opportunities — from product alterations and new products to marketing decisions," Fox wrote. Publishers need to take a look at what content and products they already have or could create in their niche areas with an eye toward building recurring revenue subscription business models around each.