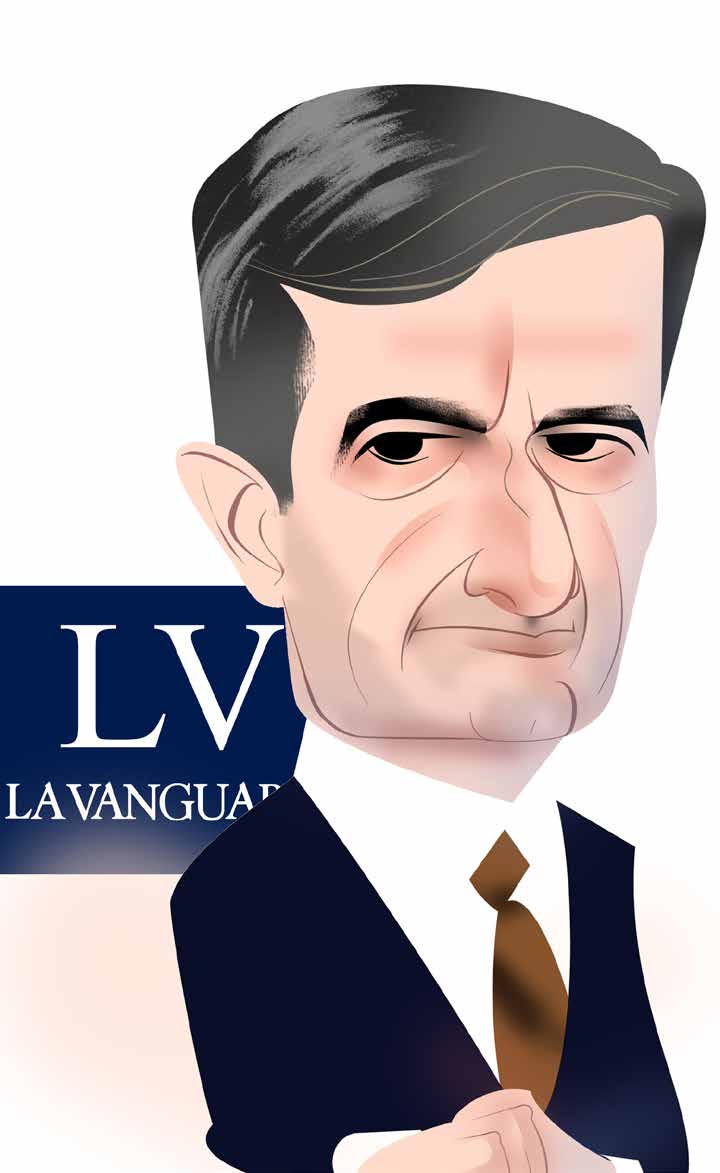 13 Sep

The Period of Confusion is Behind Us
By Jordi Juan,
Director, La Vanguardia,
Spain
---
Journalism has passed through a long period marked by confusion and the business model crisis of the companies that sustain it. The world was once at the feet of the leading newspapers whose owners had gotten used to a comfortable, worry-free existence thanks to advertising, which meant they could afford huge print runs.
From one day to the next, readers stopped buying newspapers en masse and began to get their news from other media. The boom in smartphones and the emergence of social networks caught journalism off guard. The field reacted late and badly. Some companies tried to reduce costs by getting smaller and smaller, while others tried to convert themselves into online media in search of easy click bait, sacrificing the brand quality that had characterised them.
---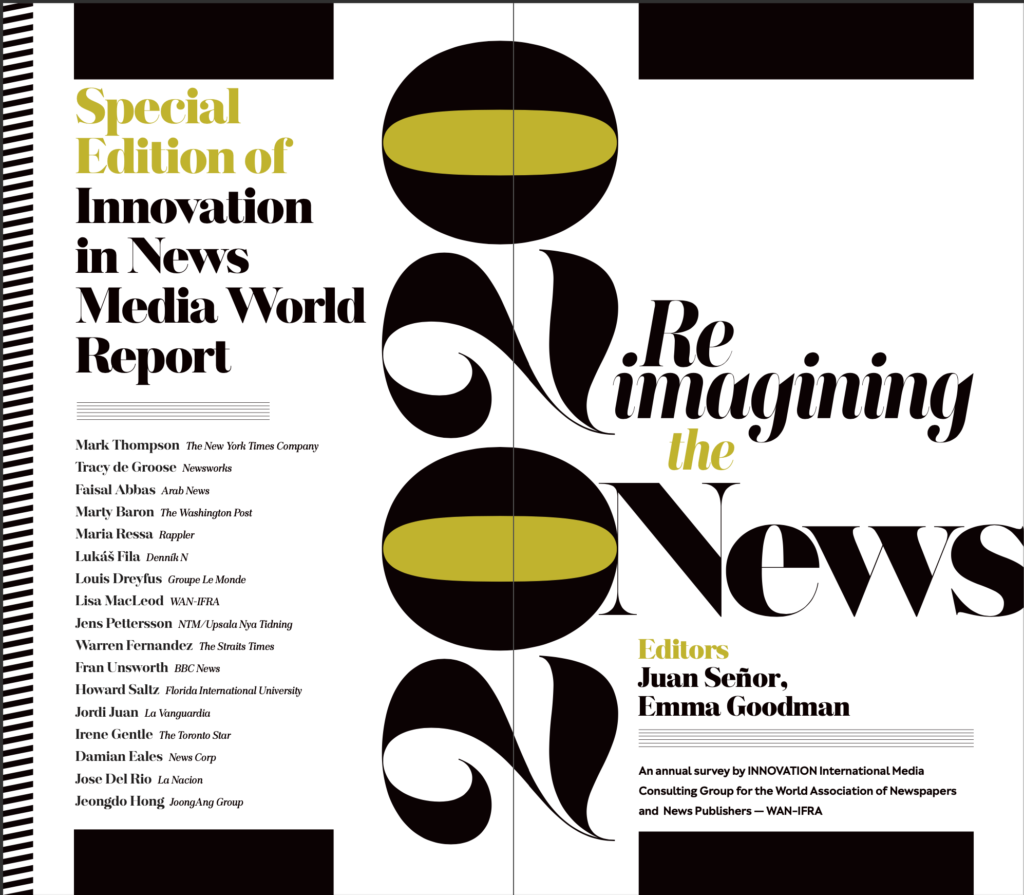 ---
Today, it seems that the period of confusion is behind us. But the crisis is certainly not: newspaper companies have not yet recouped the number of readers they had in previous years. However, that first point is important; you have to start a recovery somewhere. It is obvious that, if they want to stay in the game, the media must offer high quality standards.
The age of winning over a mass audience willy-nilly is well over. Today, it is clear that the only way forward is to build a loyal community of readers who are willing to pay for the content on offer in our online editions. Less content, but far greater quality.
The media have confirmed that news items that generate a rush of readers do not gener- ate subscriptions. So our efforts should focus on giving our information particular value. If we only give readers the same as the rest of
the press, nobody will want to pay for what we are offering. Quality here implies well-written, well-presented, contextualised news, where all the questions raised by the article are resolved. In this context, a combination of text, videos, graphics and data is a wonderful cocktail, if you know how to apply it well. Presentation of the news is key.
Another element that has hurt the reputation of journalism in recent years has been the notion that speed is of the essence, this is another model that was generally endorsed. Without doubt, being first to reveal a story is important, but it is far more important to tell it well.
---
"Every piece of evidence shows that concentrating digital spend into quality journalistic environments delivers. And more and more advertisers are ready to listen."
---
Images will become increasingly important in the presentation of our content. The quality of texts and the choice of subject matter are already key factors in the success of information initiatives, but the visuals accompanying them will surely grow in importance. Programmers, designers, data experts, photographers, camera operators, video editors, screenwriters and journalists will have to learn to live together in a new cosmos, like never before. The old newspaper managers are going to have to become more like orchestra conductors, where good news items must be as accessible as the best orchestral scores.
While this is all important, it is even more vital that we build up our readership through our reliability. For some years now, many readers have abandoned us because they thought that their idyllic world of social networks was good enough to keep them informed. However, the phenomena of fake news and political manipulation have opened the eyes of the wider readership. People have realised that they feel the need to be well-informed, above all via a medium they can rely on. That is why it is so important to build up a community of readers and to know how to give them what they need. Interaction with our readership will be one of the pillars of the new journalism that we must build. We must regain our readers' trust. If journalists want their readership to seek them out, then journalists will have to listen to what they are being asked for and what their audience demands.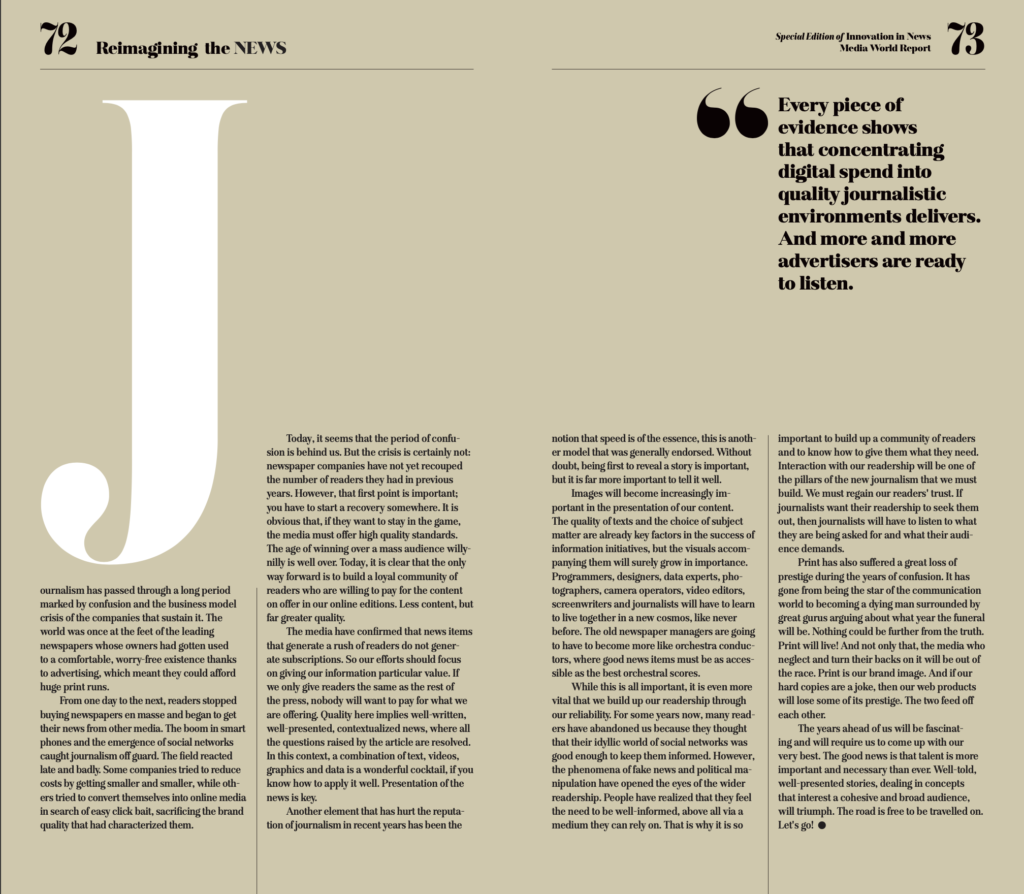 Print has also suffered a great loss of prestige during the years of confusion. It has gone from being the star of the communication world to becoming a dying man surrounded by great gurus arguing about what year the funeral will be. Nothing could be further from the truth. Print will live! And not only that, the media who neglect and turn their backs on it will be out of the race. Print is our brand image. And if our hard copies are a joke, then our web products will lose some of their prestige. The two feed off each other.
The years ahead of us will be fascinating and will require us to come up with our very best. The good news is that talent is more important and necessary than ever. Well-told, well-presented stories, dealing in concepts that interest a cohesive and broad audience, will triumph. The road is free to be travelled on. Let's go! ●