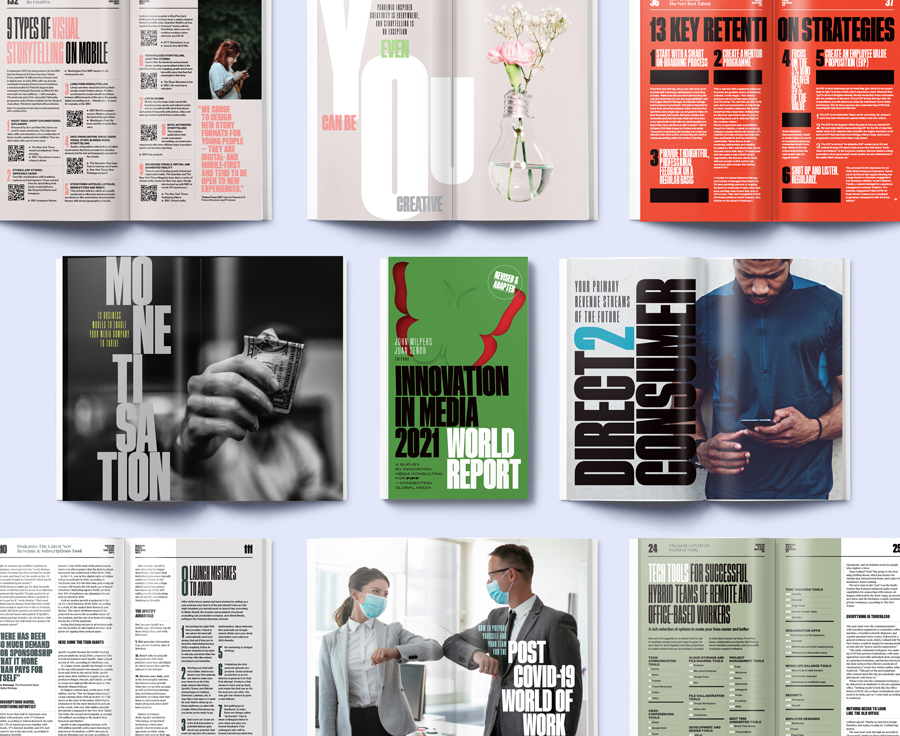 09 Mar

Our Newest Edition of the Annual Innovation in Media World Report is Here!
The 2021 Innovation In Media World Report is loaded with actionable innovations about topics ranging from the impact of COVID-19 on our business and human capital best practices to direct-to-consumer revenue ideas, podcasting, sustainability, creativity, 13 monetisation models, and offbeat print marvels.

We look into innovative ways to work with your teams in the new hybrid "normal" office, how to build and market a sustainability program, dozens of different ways to build recurring revenue with your readers, how to jump on the podcasting bandwagon, how to increase diversity and equity, how to attract and retain the top talent, and much more.
Every year, the launch of the Innovation in Media World Report coincides with FIPP's Digital Innovation Summit (#DIS2021). This year's summit will be the first fully-virtual summit and rather than spanning three full days, #DIS2021 will take the form of five virtual seminars, commencing Tuesday, March 9th, and continuing on a bi-monthly basis until May 4th. Each seminar will be hosted by FIPP CEO, James Hewes, and INNOVATION Media's Senior Director of North America, John Wilpers.
The Innovation in Media World Report is annually co-edited by Wilpers and INNOVATION President, Juan Senor. For a taste of what's inside, we've included an excerpt from Senor's Editor's Note from this year's edition.
"In Lenin's uncharacteristically insightful words: 'There are decades where nothing happens, and there are weeks where decades happen'.
The past 52 weeks have changed the media landscape in profound ways. Trends that would have taken 10 years to become the norm have become the 'new normal' in less than 10 months.
So, what are the most salient new realities we must adapt to? We have identified 5 we need to act upon with the informed analysis and insights we include in this edition of Innovation in Media.
Welcome to the new abnormal".

The PDF-only book is available for purchase on our website. Get your Innovation in Media World Report today!