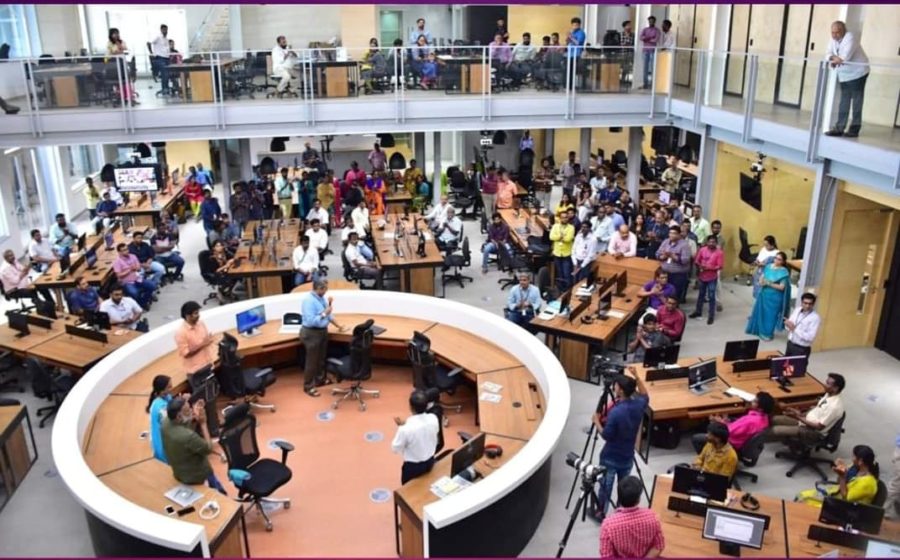 30 Jan

Vikatan Transformed Integrated Cutting-Edge Newsroom in Chennai
INNOVATION Media client, Ananda Vikatan, is a legacy media conglomerate that boasts a 95-year history as a leading magazine and newspaper publisher for Tamil-language readers across the world from their HQ in Chennai.

After years of planning, an unprecedented flood, and tireless preparation, Vikatan has successfully completed a transformation of its editorial operation and digital distribution strategy, with the help of a fully integrated newsroom that was brought to fruition with the guidance and expertise of INNOVATION's consultants and in-house media architect.
Starting from scratch: Vikatan's current newsroom was transformed from an empty former print factory space to a twenty-first-century omnimedia environment. The space's bespoke layout was re-built (literally from the ground up, but retaining key features of the original factory like the steel trusses and pillars) specifically for purposes of integration, cross-departmental collaboration, and increased newsroom cohesion, while retaining the rugged factory floor feel.
INNOVATION CAUGHT UP WITH MR B. SRINIVASAN, MANAGING DIRECTOR OF VIKATAN MEDIA, TO LEARN ABOUT HOW THE NEW SPACE HAS AFFECTED THE COMPANY IN THE YEAR THAT IT HAS BEEN OPEN.
Despite the (inconsiderately timed) arrival of Covid-19 early last year, Vikatan's newsroom space experienced two full months of bustling operation before India's national lockdown was implemented. However, the space is hardly standing empty at present. "We are already back in," explains Mr Srinivasan. "First at 33% capacity and now at 67% capacity."
HOW DID THINGS GO ONCE THE NEW SPACE WAS UP AND RUNNING? Since we were already practising the principles of the open office from before, it was just a breath of fresh air and a renewal of our principles … The open office is creating the magic of synergies between hitherto unconnected teams!
HAS VIKATAN SEEN ANY GROWTH SINCE THE NEWSROOM'S OPENING?: In August 2020, we breached a three-year high in monthly subscription revenues. We went on to record highest ever time spent on digital among Tamil media [according to ComScore] in November 2020 and then surpassed that benchmark by 40% and cemented leadership in engagement matrices in December 2020 on the back of lifetime highest ever MAU's… All this, after a 33% reduction of newsroom staff in June 2020.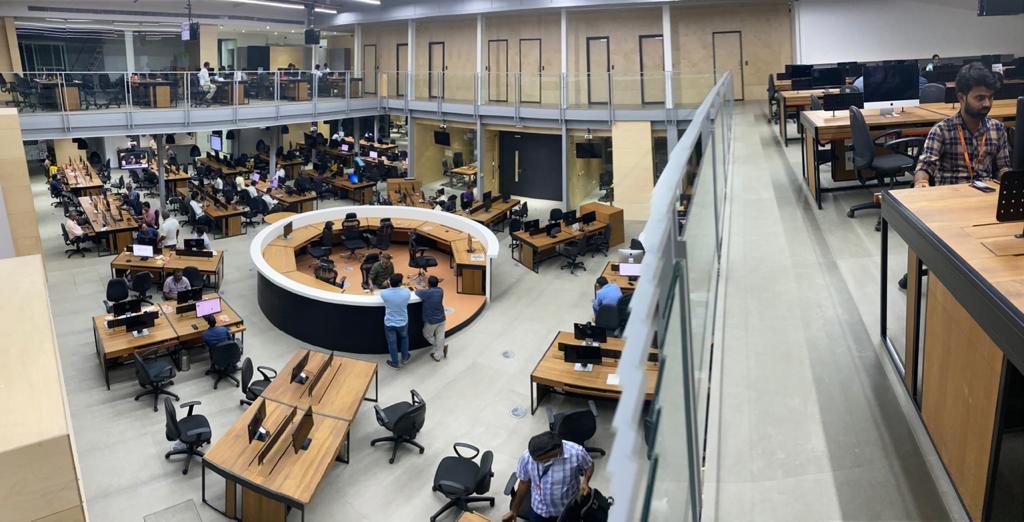 HAS YOUR NEWSROOM STRUCTURE DIFFERED FROM YOUR PLAN BEFORE THE NEW SPACE WAS OPENED? Innovation had recommended a brands-and-themes approach to the superdesk but we evolved it into a cluster approach, which we found better suited our editorial approach.
We now have seven magazines under three clusters: lifestyle, current affairs, and infotainment. Each cluster head is responsible for print, digital, video, social content, and engagement for their entire cluster from end to end. As they sit across from each other at the superdesk, there are literally no communication gaps [about] who is doing what and there is enough knowledge and resource sharing. Also at the superdesk are the heads of the digital desk, circulation (newsstand+subscriptions) sales, and advertising sales.
AND YOUR DIGITAL TEAM? We have created a digital desk independently, which houses product, data, content, marketing, and sales (which reports to the chief business strategist who also sits at the superdesk). This ensures that there is a vendor–service relationship between the content creator (clusters) and the content [distributors] (digital desk) and ensures not only transparency but mutual accountability.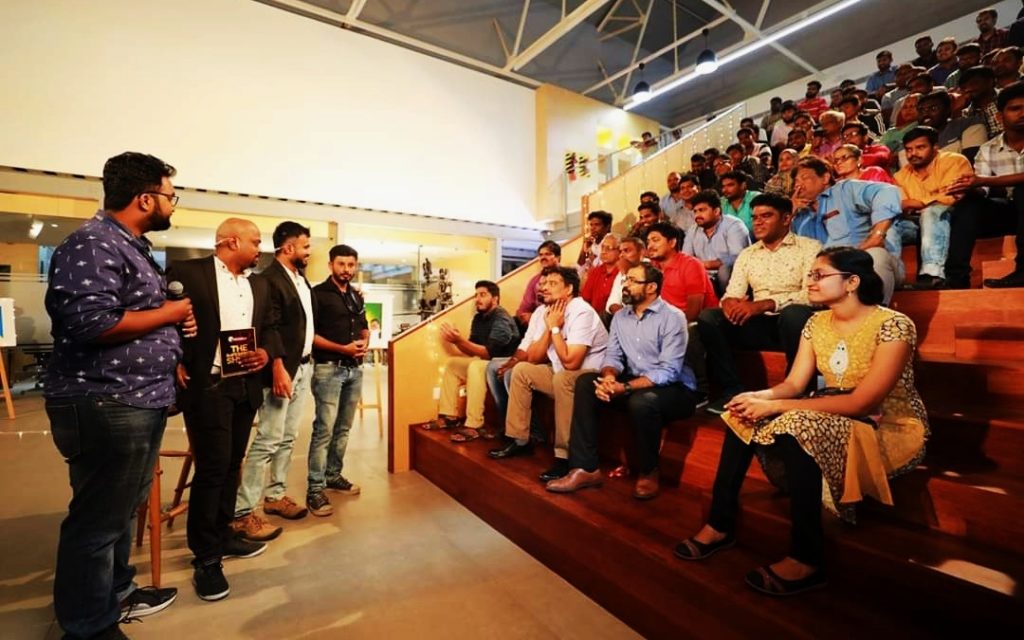 WHAT DOES THE STAFF THINK OF VIKATAN'S NEW FACILITY? They adore the new work atmosphere. It has helped us get rid of toxic leaders and we have actually been able to attract talent that we had lost earlier.
HOW IS VIKATAN TODAY? We are back in black since November of last year, with higher newsstand+subscription sales in physical form in January 2021 than compared to pre-pandemic in January 2020. This has encouraged us to set a unique goal for ourselves: to become completely profitable only from reader revenue by March 31, 2023, with a stretch of doing the same by March 31, 2022.

ANANDA VIKATAN HAS BEEN IN THE (FICTION CONTENT) PRODUCTION BUSINESS FOR OVER TWO DECADES. HOW DOES THAT FIT INTO THE OVERALL BUSINESS AND HAS THE NEW OPEN OFFICE HELPED OR HINDERED THAT GROWTH? With over 10,000 hours of programming for multiple television channels in five Indian languages, and maintaining the top position among Tamil GEC programming since 2003, we gradually shifted our focus to emerging OTT platforms. Just before the pandemic hit we started our first OTT project for Disney+Hotstar that is likely to debut on the platform this April.
We also launched a partnership with YouTube and with Group M's Motion Content Group to create arguably the world's first digital daily series that aired in October 2020 and was produced against all odds during the peak of India's pandemic curve. 'Vallamai Tharayo' (give me strength), a nightly, prime-time nightly series about women's emancipation in a world of patriarchy, has garnered almost half a million views daily since its premiere. It has become the darling of the advertisers with big Indian brands like FMCG major ITC Foods
The icing on the cake is that this series has now been dubbed and telecast on ETV, a leading Telugu language satellite TV channel from 1st Feb, 2021. This is perhaps the first time ever that a digital-first daily product has transcended into television. We are creating a new model for IP creation and exploitation… And all in the midst of the pandemic.
Ananda Vikatan is known for its fiction and non-fiction storytelling ability. The open office has created a bedrock for pulling out these gems of stories from which we are now in the process of creating six pitch bibles for various OTT platforms.
INNOVATION is pleased to see the continued success of Ananda Vikatan, and the increased momentum and cohesion that their new newsroom space has brought to their editorial operations strategy, along with the business's overall growth. We will be keeping a keen eye on Vikatan's expected growth through 2021 and beyond. If the sky is the limit, Vikatan has its sights set on the stratosphere.
---
Please note: Photographs in this post were taken in early 2020, prior to the arrival of the Covid-19 pandemic, and the resulting health and safety measures of social-distancing and mask-wearing.