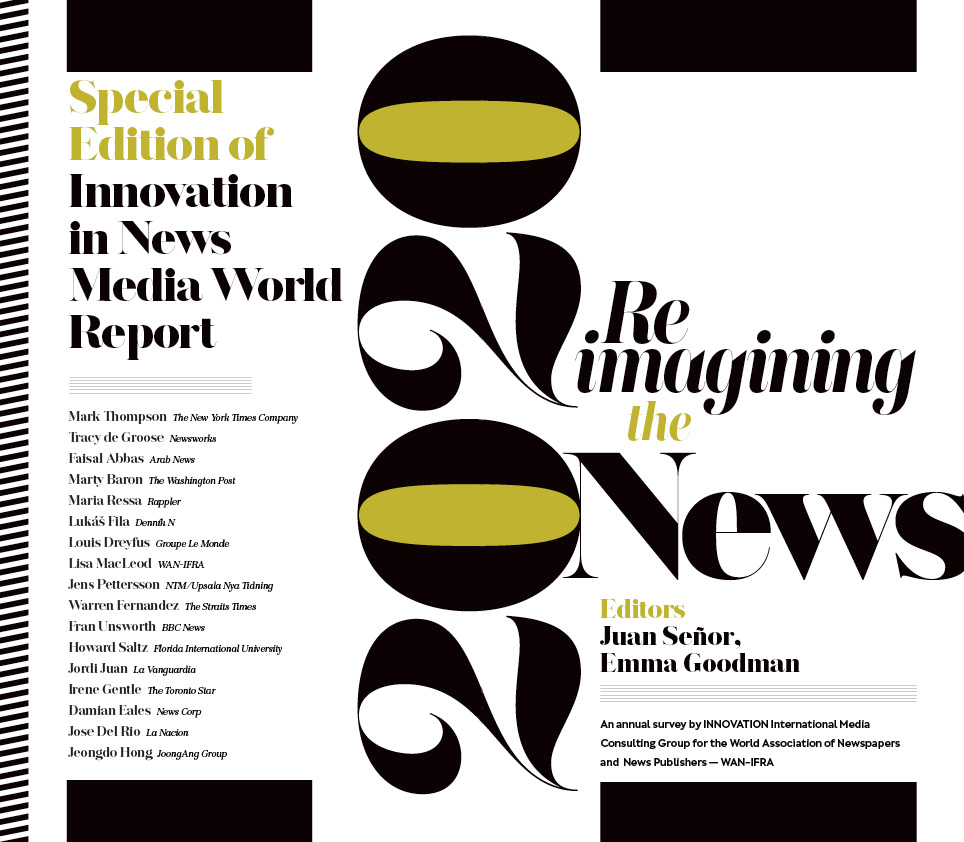 15 Sep

SEVEN TAKEAWAYS FROM THE 2020 INNOVATION IN NEWS MEDIA WORLD REPORT: AVAILABLE NOW
Our newest publication is here and waiting for you!
This year's Special Edition of the annual Innovation in News Media World Report is currently available for purchase.

2020 has been a year worthy of a special edition. And since this year's edition was created during a time of unprecedented media transformation, this year's Innovation in News Media World Report is dedicated to the future. 
'Reimagining the News' includes essays from 17 top editors and CEOs from around the globe including Mark Thompson, Marty Baron (The Washington Post), Faisal Abbas (Arab News), Fran Unsworth (BBC) and Louis Dreyfus (Le Monde).
Each contributor shares their own answers to the question that currently echoes throughout our industry: How do we best move forward?
The world report also includes sections on 14 business models for news organisations, 10 paywall models and the best visual journalism on the pandemic.
Don't miss out on what's inside. Here are seven takeaways from this year's report:

1. COVID-19 is an opportunity as well as a challenge for publishers. Ad markets may be suffering, and there will be those who don't survive, but readers are appreciating the value of reliable, quality information, and many publishers have seen their digital readership soar, along with rising subscriber numbers. And publishers are responding to their audiences' hunger for news on the pandemic by creating new products.
2. Independent journalism is under still under threat in countries around the world. The essays remind us that journalists are under attack from governments who want to silence them, even in liberal democracies. In other parts of the world, there are still significant challenges around media ownership and independence. We must all do what we can to support each other.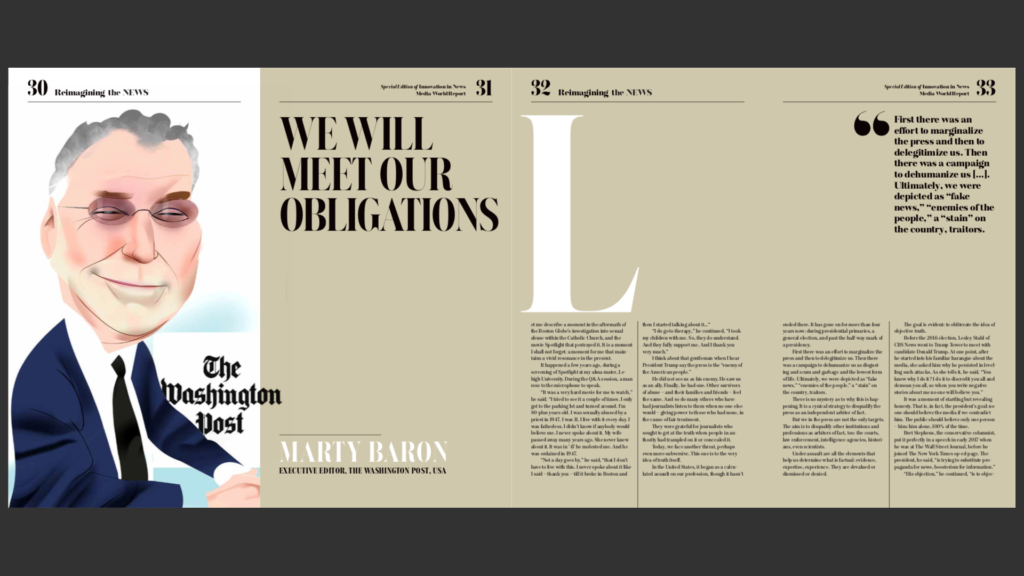 3. It is more crucial than ever to invest in high-quality journalism. This means investing in your staff and making sure that they have the time and resources to do thorough reporting and produce unique stories, and to take opportunities to experiment with new verticals, products and services.
4. Sell this journalism to your readers. For too long we have been selling ads, it is now time to start selling journalism. Good journalism has a distinct value, and it is crucial to act now and seize this moment when readers seem more willing to pay online than ever before.
5. There isn't just one way to charge for your journalism online. In our paywall primer chapter, we present 10 different options based on your specific market position and relationship with your audience.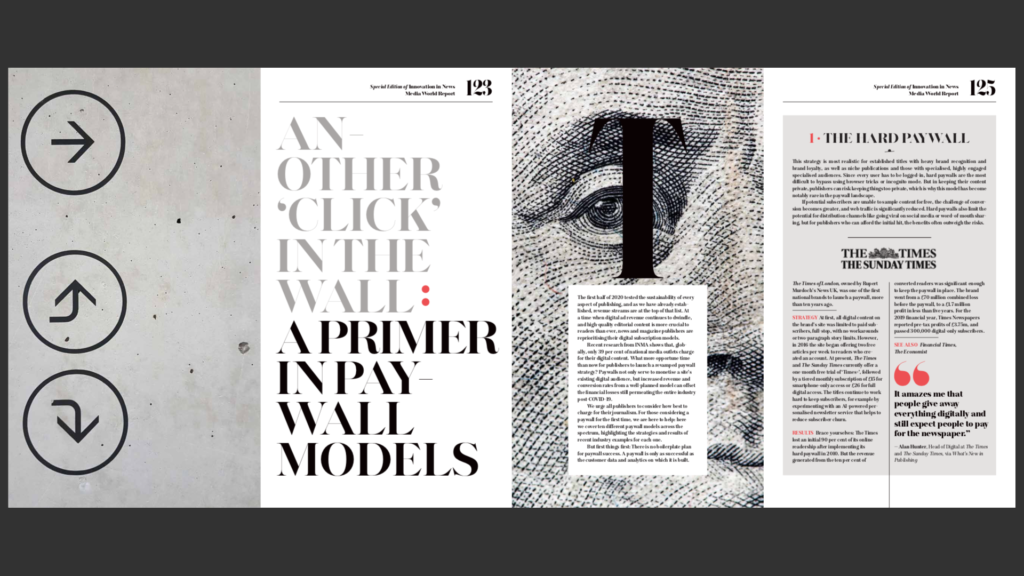 6. It might also be time to find ways to monetise your brand and reputation beyond your journalistic content. This could be through offering events or courses, or licensing deals, or producing branded content. What you choose depends, of course, on your publication's specific strengths and expertise.
7. Data visualisations play a significant role in how the public understands COVID-19: its origins, how it spreads, and its impact on society. Journalists and designers have taken visualisations to new heights to creatively present vast numbers and clearly explain complex concepts.
---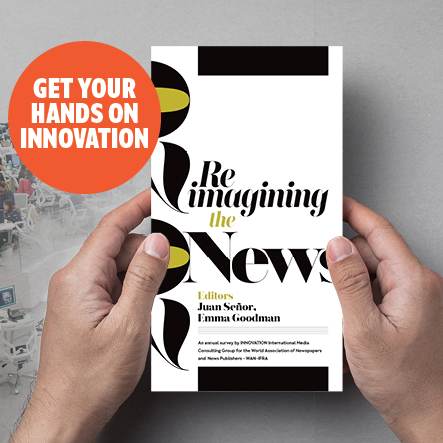 ---
BUY BOTH AND SAVE
For a limited time, both of this year's Innovation World Reports are available in a discounted digital bundle.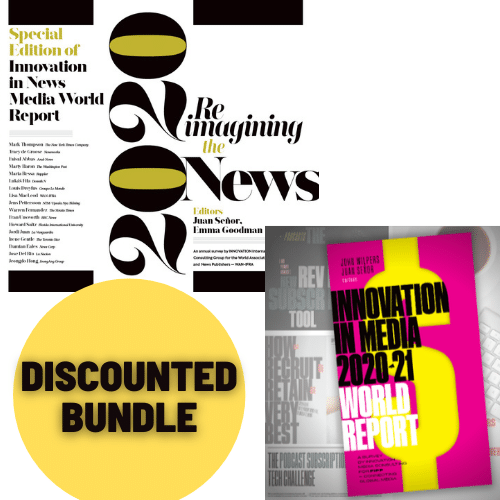 ---
The Innovation in Media World Report is published every year by INNOVATION Media Consulting, in association with WAN-IFRA. The report is co-edited by INNOVATION Consultant Emma Goodman and INNOVATION President Juan Señor.