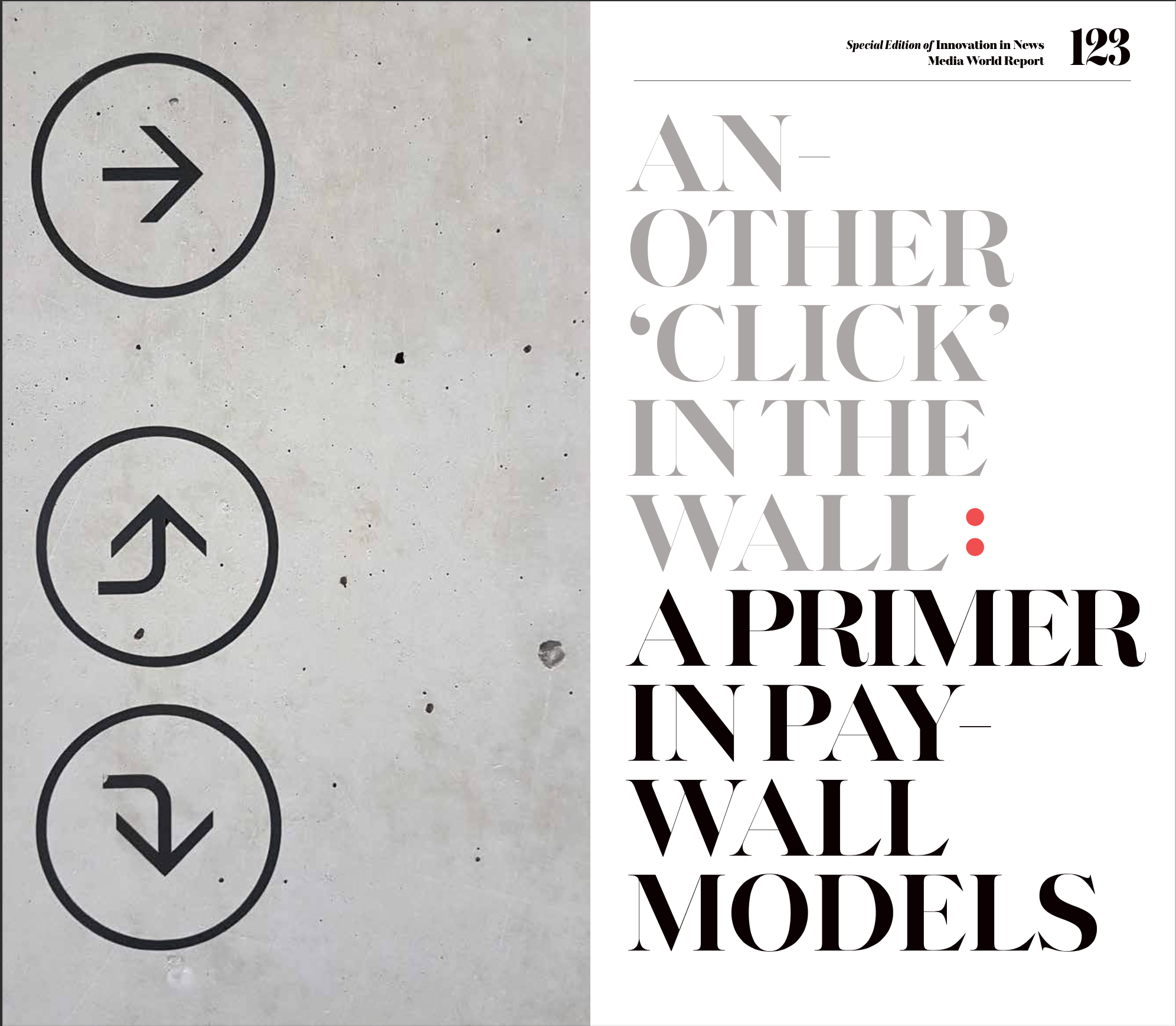 14 Nov

A Primer in Paywall Models

The first half of 2020 tested the sustainability of every aspect of publishing, and as we have already established, revenue streams are at the top of that list. At a time when digital ad revenue continues to dwindle, and high-quality editorial content is more crucial to readers than ever, news and magazine publishers are reprioritising their digital subscription models.

Recent research from INMA shows that, globally, only 39 per cent of national media outlets charge for their digital content. What more opportune time than now for publishers to launch a revamped paywall strategy? Paywalls not only serve to monetise a site's existing digital audience, but increased revenue and conversion rates from a well-planned model can offset the financial losses still permeating the entire industry post-COVID-19.

We urge all publishers to consider how best to charge for their journalism. For those considering a paywall for the first time, we are here to help: here we cover ten different paywall models across the spectrum, highlighting the strategies and results of recent industry examples for each one. But first things first: There is no boilerplate plan for paywall success. A paywall is only as successful as the customer data and analytics on which it is built.

1.THE HARD PAYWALL

This strategy is most realistic for established titles with heavy brand recognition and brand loyalty, as well as niche publications and those with specialised, highly engaged specialised audiences. Since every user has to be logged-in, hard paywalls are the most difficult to bypass using browser tricks or incognito mode. But in keeping their content private, publishers can risk keeping things too private, which is why this model has become notably rare in the paywall landscape.

If potential subscribers are unable to sample content for free, the challenge of conversion becomes greater, and web traffic is significantly reduced. Hard paywalls also limit the potential for distribution channels like going viral on social media or word-of-mouth sharing, but for publishers who can afford the initial hit, the benefits often outweigh the risks.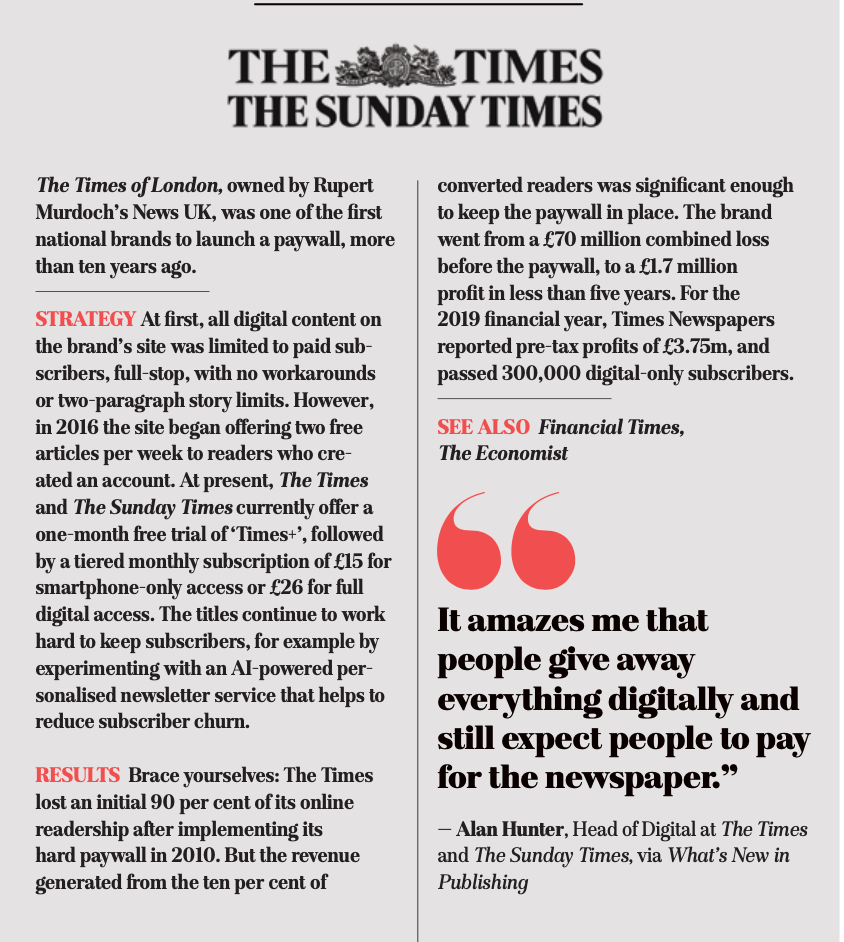 ---
2. METERED PAYWALL
A popular model for publishers with high-volume content or a large online archive, metered paywalls can deftly monetise active users without alienating infrequent readers or deterring page views and their resulting ad revenue. Research from Harvard's Shorenstein Center and Lenfest Institute found that most publishers are too generous in the number of articles they offer free, and need to stop many more readers to force conversion.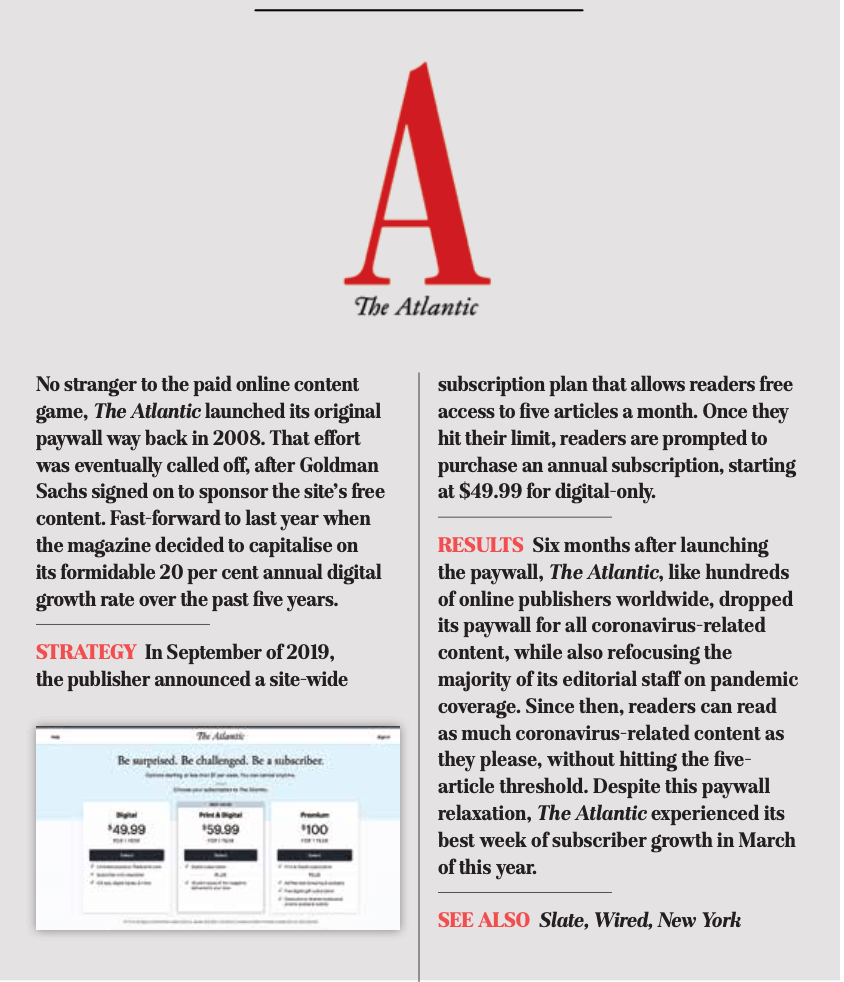 ---
3. POROUS PAYWALL
Porous paywalls (sometimes called 'leaky' paywalls) allow exceptions to the number of free articles that they offer. Such exceptions like these can be intentional (allowing readers to access free digital content via social media channels), or unintentional (allowing paywalled articles to be viewed freely with browser tricks like 'incognito mode.')
According to Chartbeat research published in February 2020, an advantage of porous paywalls is that they "allow certain segments of users to access content, so that the publication can collect data about their reading habits to hone various consumer marketing, product, and editorial strategies."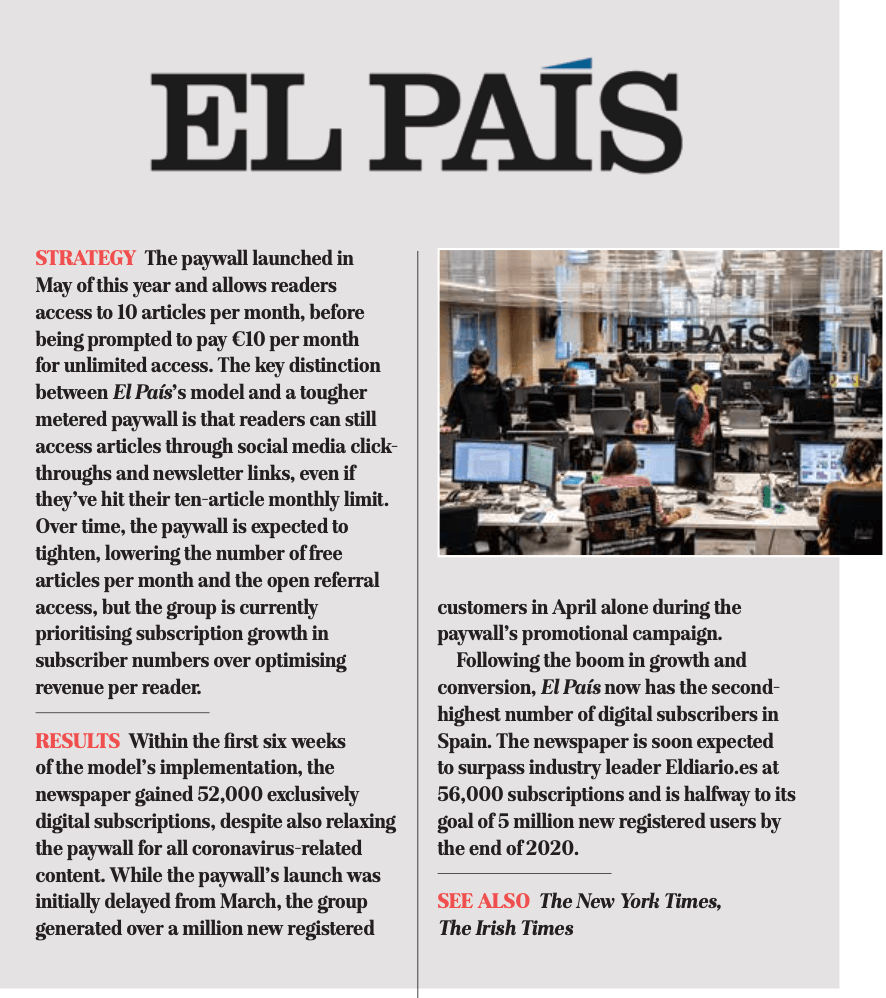 ---
4. DYNAMIC FREEMIUM
The freemium model has become one of the most popular paywall strategies, allowing free access to much of a brand's content, while placing a smaller crop of articles behind a premium paywall, for paying customers only. A May 2020 report from INMA revealed that, while only 39 per cent of national media outlets charge for digital content at all, roughly half (47 per cent) of outlets that do charge use freemium paywall models. Within this freemium paywall category, a few different strategies are worth highlighting in greater depth.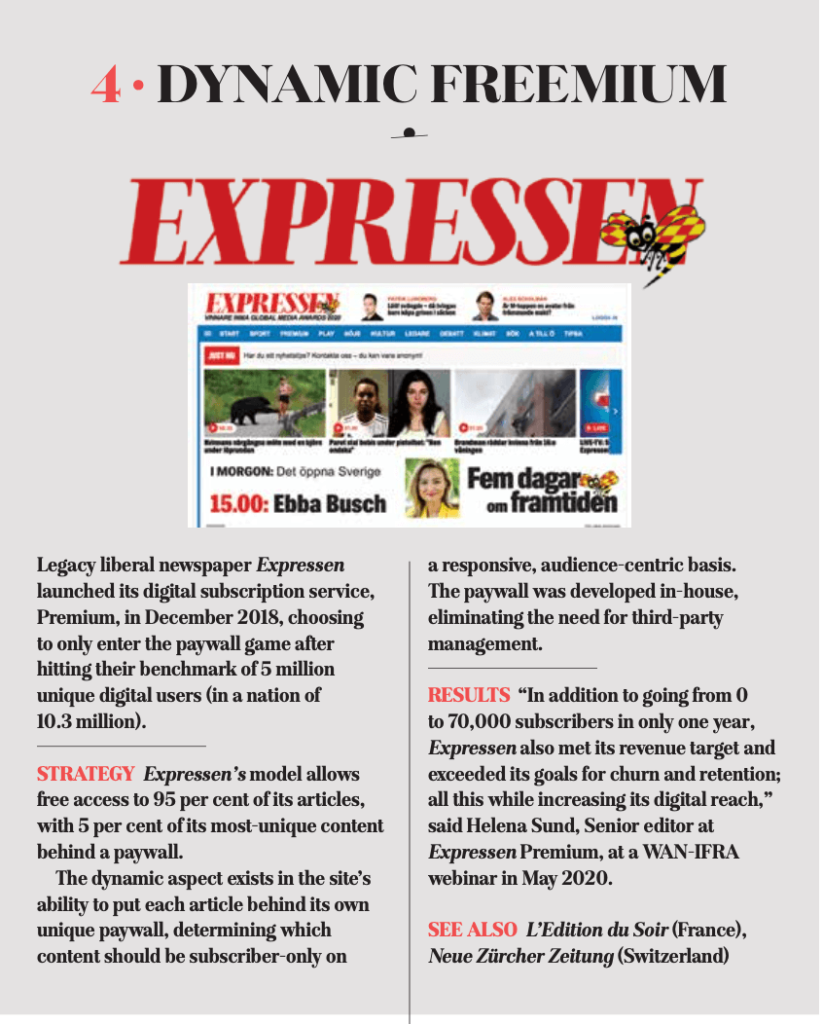 ---
5. TIMEWALL FREEMIUM
As the name would suggest, timewall models allow publishers to make content free to readers for a limited time before restricting access behind a paywall, or limiting an article to its first few paragraphs. When implemented correctly, and with enough testing, this strategy can increase the frequency of visitors who are not yet subscribers, therefore increasing the site's retention, while incentivising the audience to keep checking back for new news.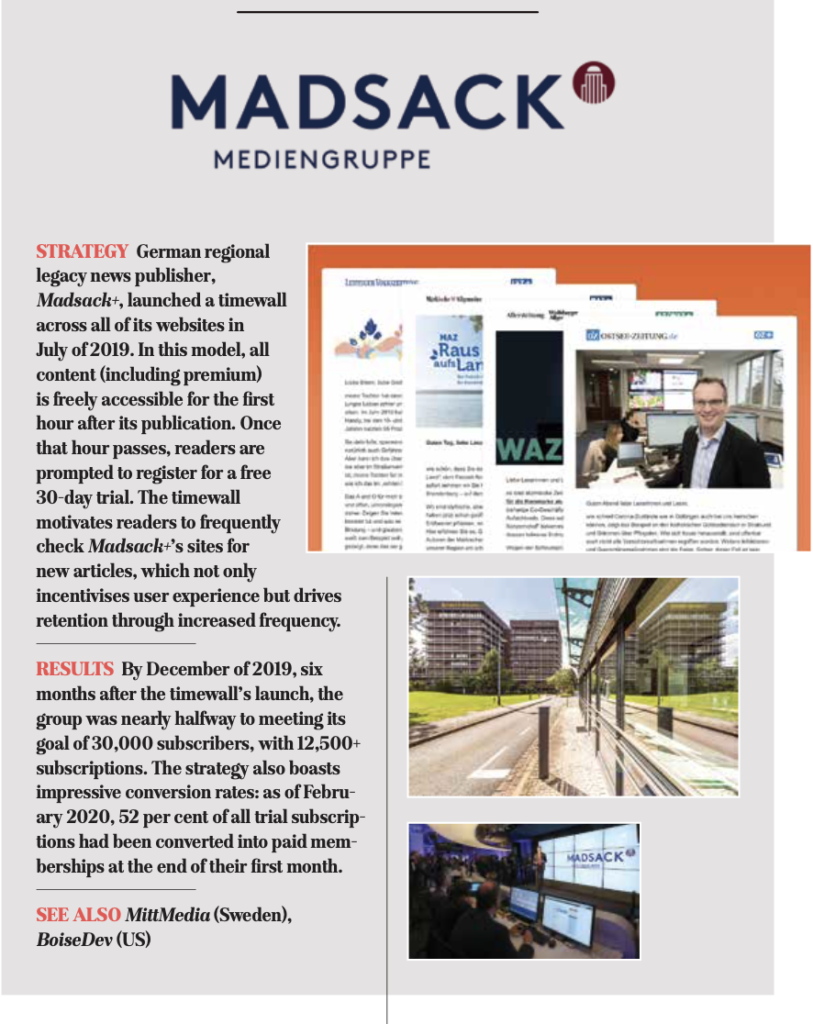 ---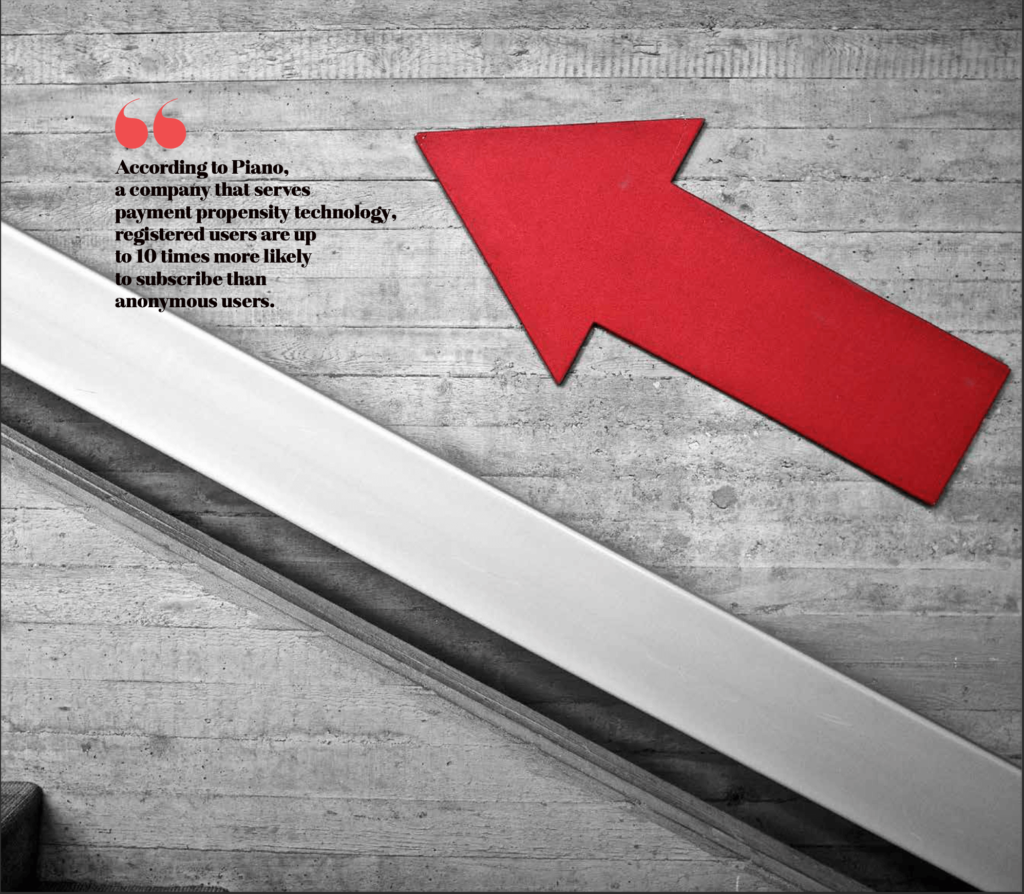 ---
6. HYBRID METERED FREEMIUM
Hybrid models such as these use a metered paywall, allowing several free articles per month, while restricting valuable content to subscription-only access. Hybrid models are cropping up across digital media, and tend to benefit media companies with high-value content that can be easily commoditised, like mass-market news brands or luxury magazines.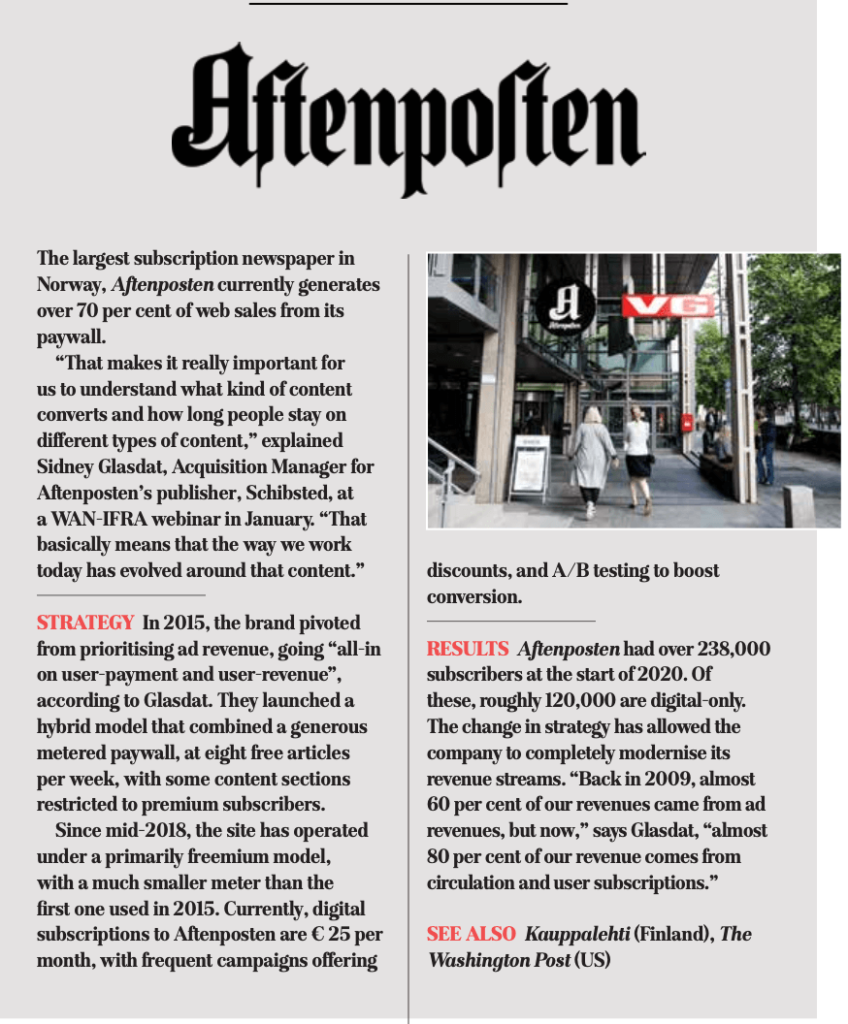 ---
7. ADAPTIVE AND INDIVIDUALISED
The biggest trend in recent years has been the pivot to a data-informed strategy, one that allows publishers to refocus their content offerings according to reader preferences.
In an 'adaptive model, paywalls or meter limits are determined through data-based personalisation for each user. With increased attention on AI for customer engagement purposes, the data strategies being employed to leverage engagement through methods like automated audience segmentation and behaviour mapping allow publishers to tailor more relevant subscription offers to their users.
Using this type of machine learning to construct paywalls "takes away guesswork around how many stories, or what kinds of stories, to let readers read for free, and whether readers will respond to hitting paywall by paying for access or simply leaving," according to a report published by Nieman Lab in 2018.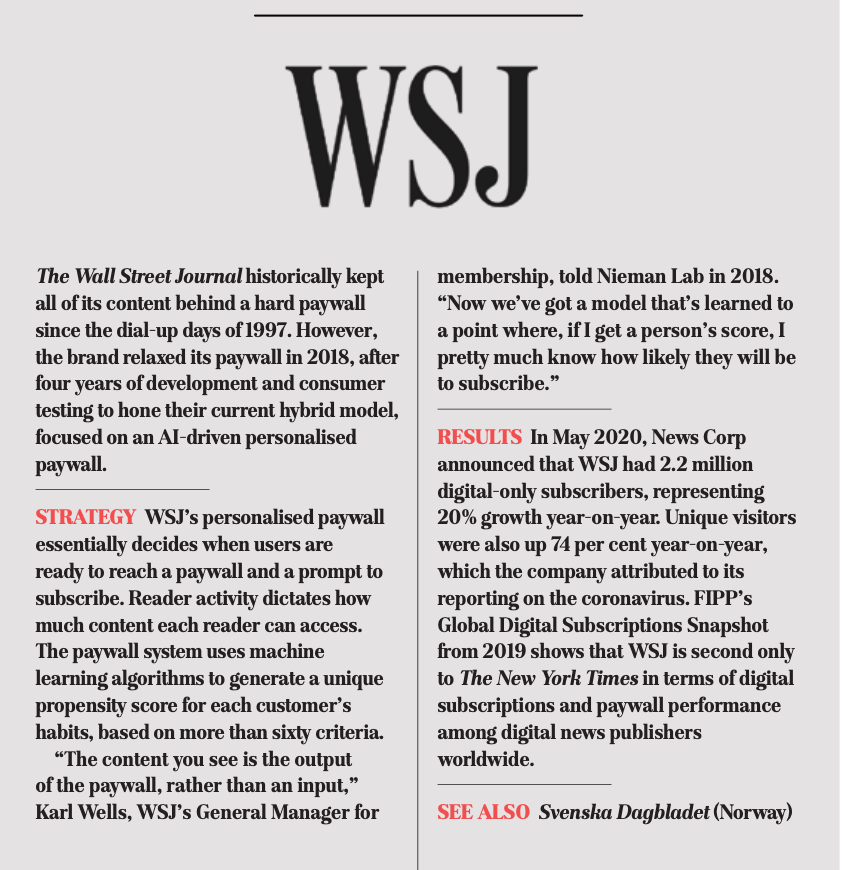 ---
8. PREMIUM ONLY
Premium-only platforms deliberately limit all content to their paying members, offering just enough free articles to convince readers of what they're paying for. By usually forgoing all digital ad revenue, the sustainability of the business depends on subscription revenue alone, which is why these models are few and far between, and often billed as luxuries. But, as we'll learn below, when premium models are done correctly, they can have unlimited potential for success.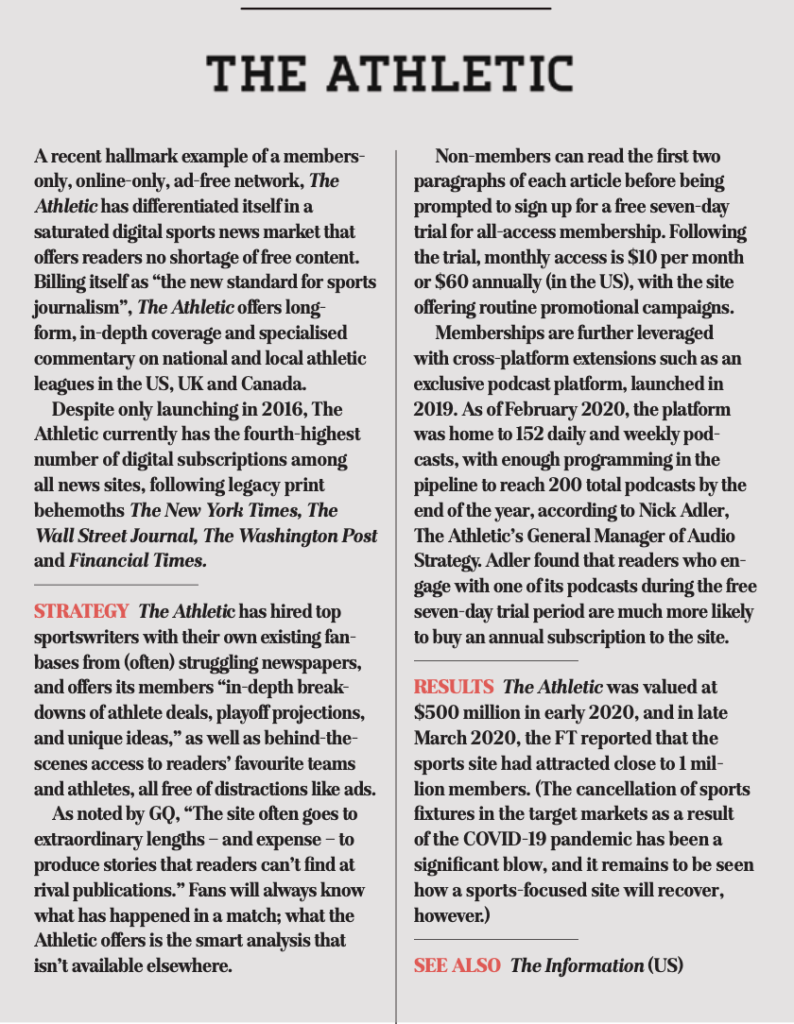 ---
9. MICRO MEMBERSHIPS
In 2018, the legacy publisher Hearst launched an "aggressive, digital-first subscription strategy." By monetising specific content areas that generated consistently high engagement, Hearst was able to boost membership numbers by the thousand, while restricting a very small percentage of its digital content.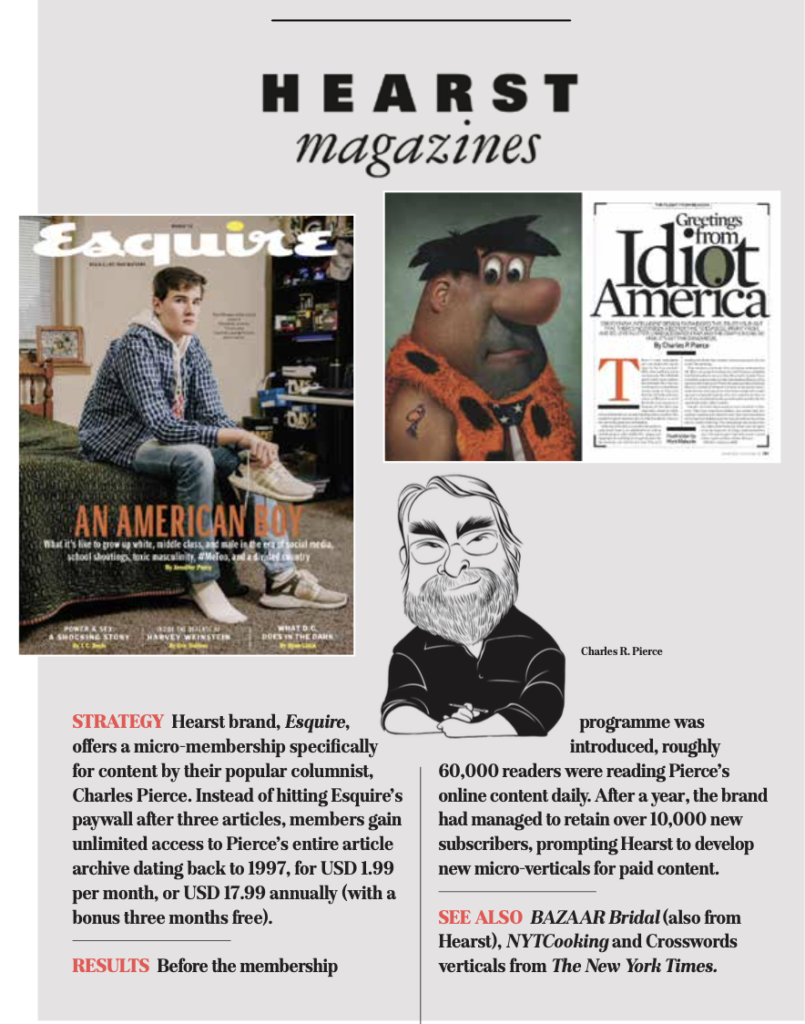 ---
10. DONATION-BASED MEMBERSHIPS
More and more digital publishers have been adopting models that allow access to readers who donate a sum of their choice. While content remains free across the site, non-members are usually prompted to donate on each page. Donation-based models are often used in the non-profit news sector, or for high-quality publications seeking to extend access to readers that would otherwise be financially prohibited from accessing content.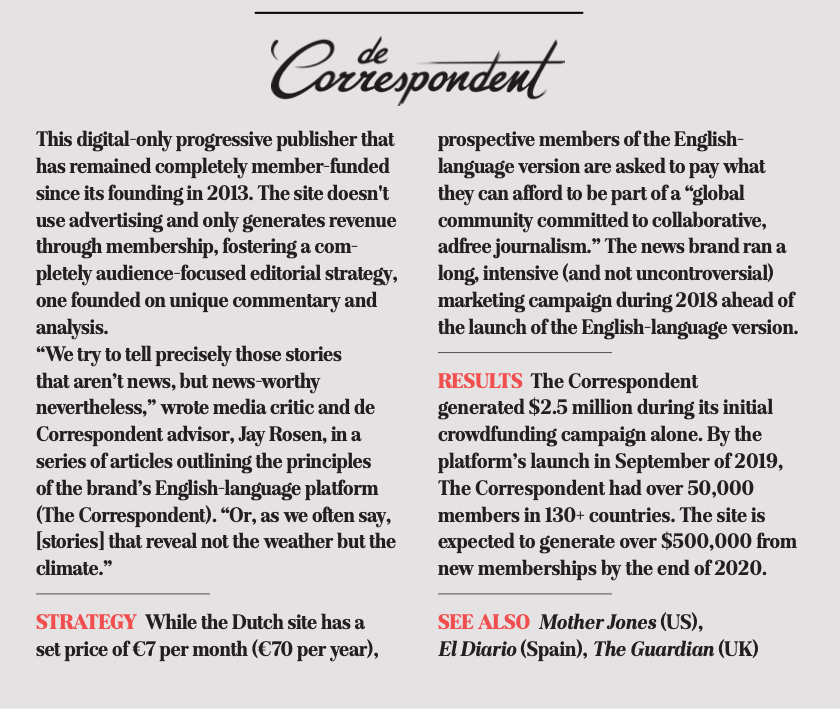 ---
Now that we've charted the paywall spectrum and learned how leading publishers are experimenting with models of their own, we can expect the strategies outlined above to further blur and hybridise in the years to come. The success of each strategy inevitably depends not just on audience behaviour, but on the publisher's ability to nimbly interpret those behaviours and pivot accordingly. A robust reader database is only as valuable as a publisher's ability to leverage that data into increased conversion rates and sustained engagement.
And we would like to reiterate one of our key messages in recent years: before getting caught up in how to charge, it is first essential to ensure that you have a unique, quality product that is worth paying for. Bottom line? When building a paywall, don't skimp on learning about who you're building it for.