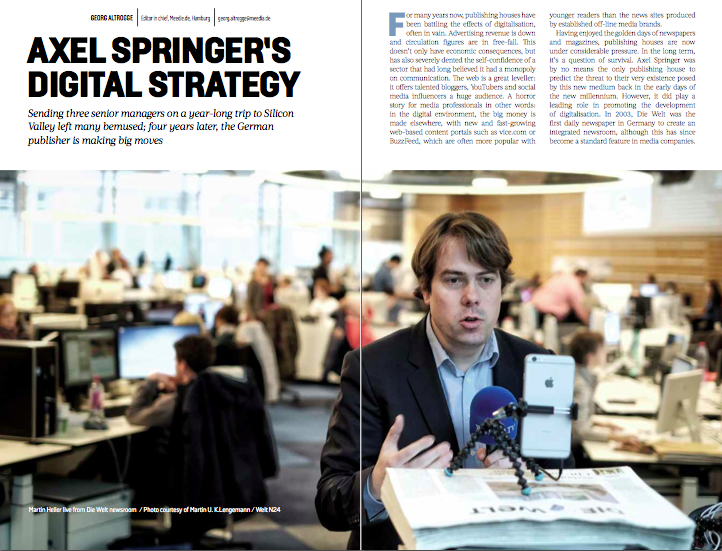 28 Nov

Axel Springer's Digital Strategy

Sending three senior managers on a year-long trip to Silicon Valley left many bemused; four years later, the German publisher is making big moves.


By Georg Altrogge Editor in chief, Meedie.de, Hamburg

For many years now, publishing houses have been battling the effects of digitalisation, often in vain. Advertising revenue is down and circulation figures are in free-fall. This doesn't only have economic consequences, but has also severely dented the self-confidence of a sector that had long believed it had a monopoly on communication. The web is a great leveller: it offers talented bloggers, YouTubers and social media influencers a huge audience. A horror story for media professionals in other words: in the digital environment, the big money is made elsewhere, with new and fast-growing web-based content portals such as vice.com or BuzzFeed, which are often more popular with younger readers than the news sites produced by established off-line media brands.

Having enjoyed the golden days of newspapers and magazines, publishing houses are now under considerable pressure. In the long term, it's a question of survival. Axel Springer was by no means the only publishing house to predict the threat to their very existence posed by this new medium back in the early days of the new millennium. However, it did play a leading role in promoting the development of digitalisation. In 2003, Die Welt was the first daily newspaper in Germany to create an integrated newsroom, although this has since become a standard feature in media companies. They also introduced the slogan promoted by the Guardian in the UK, "Online First", followed at a later date by "Online to Print". But this was only the beginning.

Springer's 53-year-old CEO, Mathias Döpfner, who took the helm back in 2002, realised very soon after assuming control that merely offering the traditional printed products online as well as on paper wasn't necessarily the answer. Döpfner had a radical plan to change the company: "Future growth lies in digitalisation and having a presence in other countries, especially the English-speaking market." He was one of the first to realise that the publishing houses must learn from the very companies who appeared to be their greatest enemies: the new world powers in Silicon Valley and the start-up and innovation culture spawned by this movement.

A Trip to Silicon Valley

When three senior managers from Axel Springer, including Kai Diekmann, Bild's Editor-in-Chief, were sent on a sabbatical in the summer of 2012 to spend a year in a shared house in Silicon Valley, many of the company's competitors were bemused and rather dismissive. It was even suggested that this was a punitive exercise, or an attempt to weaken the power of the executives dispatched to California. Their sole aim in the Valley was to understand the basic premise behind the digital game changers and to transfer as many of their experiences as possible to their own working environment.

This sabbatical, deprecated by many in the media industry as a folly, was to give the entire publishing house a huge boost. When Döpfner flew out to California to see how his delegation were getting on, accompanied by a number of other managers, he exchanged his business suit and tie for jeans, trainers and a hoodie. His transformed appearance seemed to symbolise the whole trip: if you don't want to fail, you have to change – and fundamentally. Not for nothing was the trip's motto "Leaving the comfort zone".

As early as July 2013, the media company reported that it intended to sell its TV listings magazines, women's magazines and its regional daily newspapers for a total of 920 million euros. Some of these titles had been close to the heart of the eponymous company founder, Axel Springer. The publisher, who died in 1985, had created his empire in the aftermath of the Second World War and bequeathed his millions and control of his publishing heritage to his widow, Friede Springer. Selling off these traditional titles represented a major breakthrough for Axel Springer. On his return from Silicon Valley, Kai Diekmann assumed responsibility for setting up Bild's internet portal and creating shared editorial teams for online and print material. Since then, Bild has attracted over 400,000 subscribers via its paid content service. The Bild portal has also become a rich source of ideas, experimenting with Facebook instant articles, Periscope videos and complete news broadcasts for the social media community.

Business Insider
In 2015, Axel Springer also took over Business Insider from its founder, Henry Blodget – yet another sign that the publishing house perceives its future increasingly in the US market, where growth opportunities have a more lucrative sheen than in the recession-hit European segments.
The Berlin-based media group is breaking new ground by investing in original digital media offerings such as Business Insider or the media start-up Upday, developed by Axel Springer in partnership with technology giant Samsung. The acquisition of Business Insider cost Döpfner 400 million euros, although the portal has yet to make a profit. The purchase represents a wager on the future, based on the "Money follows eyeballs" principle: BI has 100 million unique users throughout the world. This, and similar acquisitions, are an attempt to target digital natives and millennials, who have little interest in the traditional media names and their printed offerings. German publishers are now in agreement that in the medium term only niche products have any hope of surviving as purely printed titles. The Springer CEO is only too aware of this fact. The publishing house is also determined to improve its visibility in the international arena, by taking a stake in Politico. eu in 2014, for example.
At the company's AGM in April of this year, he issued the following statement: "We must defend newspaper journalism, but not necessarily newspapers on paper." The print circulation figures for its flagship newspaper, Bild, once sold in the heady realms of over five million copies a day, are falling dramatically, recently dropping to below two million. Sales have halved in the last ten years alone. The idea is that this should be offset by paid content in the digital sector. Döpfner has set his sights on Axel Springer becoming the "leading digital publisher" – and his aspirations extend beyond the national stage to the global arena.
Digital Strategy
Döpfner's digitalisation strategy is based on the company's four traditional core competencies: content, marketing, advertising and classified ads. By setting up and acquiring content portals, online marketers and classified websites, Döpfner is systematically transforming the former print-based publishing house and creating a digital company. At the same time, he is reaping the rewards of setting the process in motion earlier than his competitors. In 2014, over 50% of turnover and more than 70% of profits came from digital business – none of its rivals can demonstrate such impressive results in the change process. This success is reflected in the company's balance sheets. The profitable classifieds business recorded the group's highest growth over the course of last year – thanks to returns of up to 40%.
Axel Springer is in a good position financially and also seems to be distancing itself gradually from former rivalries with companies such as Google, Apple or Facebook. In the meantime, it has established a close relationship with Facebook via experiments with live video broadcasts and instant articles. Axel Springer's management team are keeping a close watch on the latest tempting offers made to the company by Silicon Valley. "Fascinating developments are underway," explains Döpfner. "The technology industry is defining its relationship with the content industry."
Döpfner is optimistic that the world's digital companies need the media industry and will continue to value the industry in the future. His company is keeping its relationship with Silicon Valley up close and personal, contrary to the careful distance maintained by other publishing houses. It is a risky strategy – but if Döpfner is correct in his assumptions, Axel Springer will be way out in front of its nearest rivals.
INNOVATION'S TAKE:
Deep, long-term understanding of how culture and technology are changing, and what we
are supposed to do about that with our news companies, is very difficult knowledge to acquire and propagate. Axel Springer made a bold move and then began applying the lessons learnt by its executives in an almost explosive manner to expand the company's digital growth strategy. It retains an open mind regarding the realistic future possibilities for print.
---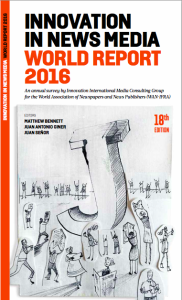 This article is one of many chapters published in our book, Innovations in News Media 2016 World Report.