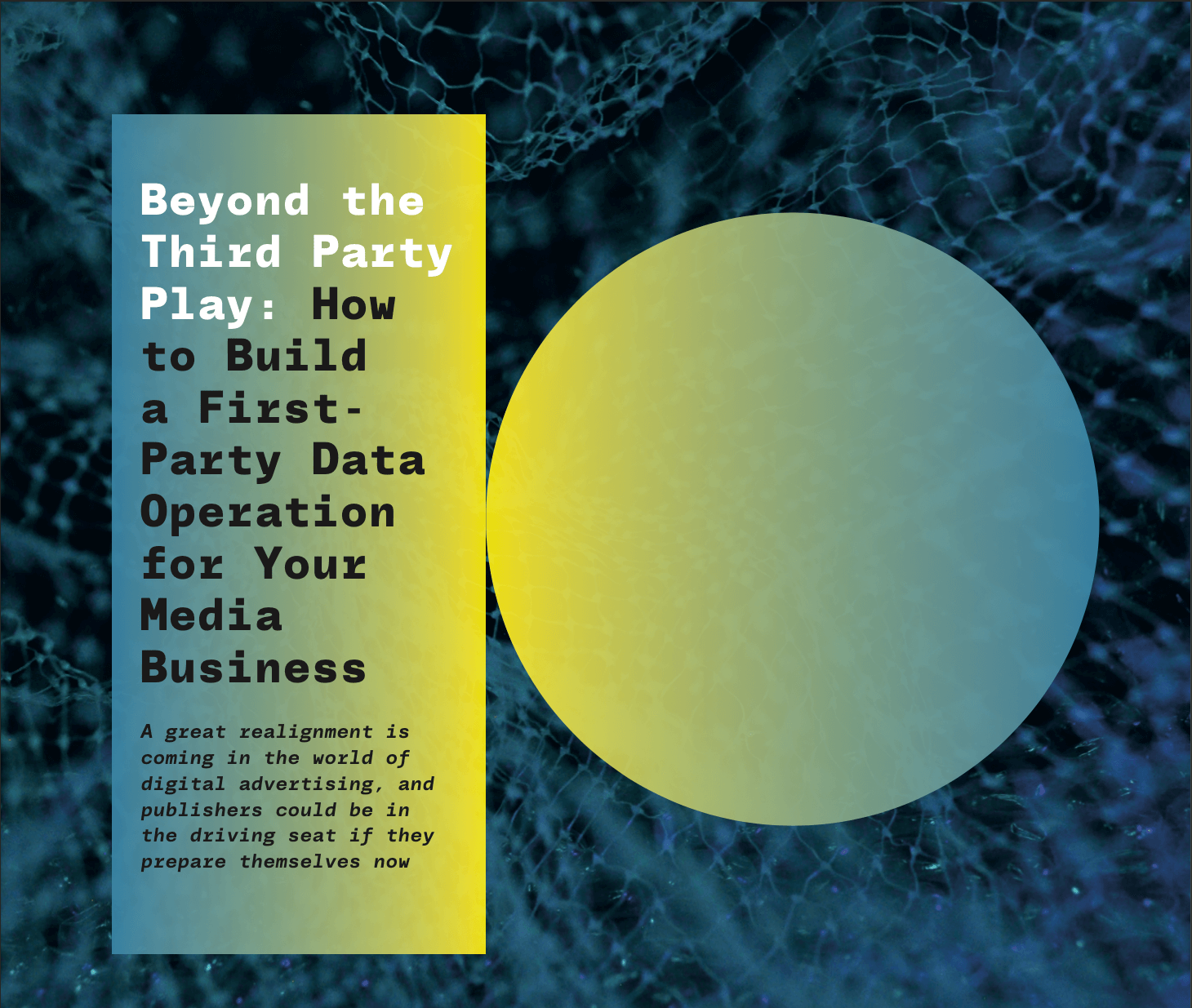 22 Jun

Beyond the Third Party Play: How to Build a First-Party Data Operation for Your Media Business

The Innovation in Media World Report provides a comprehensive snapshot of the key technological paradigms that publishers need to navigate in order to keep their businesses relevant and thriving in the years ahead.
Brace yourselves for the cookie-pocalypse!
And then breathe_and start to look beyond, for there is life after the cookie (and other types of third-party data). In fact, it could be a far better world for publishers, one they may even have a key role in shaping as a part of the digital advertising system finally hives off from Big-Tech and the hellish world of scale, clicks and eyeballs that they have imposed on us for decades.
THE AD COME BACK This is an exciting story and a potentially pivotal moment for media but before we dive full on into Google Chrome and the proposed phase- out of third party cookies in 2023 (itself an event that has had many twists and turns), let's go back a bit and take a look at digital advertising from two perspectives. The first is the story of the news business and publishers over the last two years when the media business as we knew it seemed to be turning on its head. As advertising spends cratered across the globe and other businesses looked doomed, a surge in demand for news and online subscriptions provided media businesses with a ray of hope. Editors, CEOs and digital leaders invested in reader-focused business models and moved to launch paywalls. The big stories of 2020, particularly interest in Covid, carried some momentum into early 2021, but of course it couldn't last. By January this year, outlets like Axios were reporting that news engagement had fallen off a cliff over the past year as compared to the extraordinary news cycle that the Trump era and the onset of Covid provided.
By the middle of 2021, another seismic shift was underway. Advertising was rebounding from the Covid-slump, and rebounding big. "Welcome to the roaring '20s," was how the global media investment company GroupM described the scene in their mid-year forecast for 2021, noting that they expected digital advertising to grow by 33% for the year. Those gains would continue into 2022 with ad spend- ing poised to grow 9.7 percent to $836.9 billion, GroupM said, by the end of the year. And so in a topsy-turvy way, completely emblematic of the times we live in, the message was once again reinforced to publishers: when thinking of business models, don't put all your eggs in one basket. Aim for flexibility and for a mixed- business model, because the loss of ad money overnight may have precipitated a round of useful and productive soul-searching, but ad money is definitely key to the recovery…
THE COOKIE CRUMBLES When the internet first came into being, the browsing experience was the same for everyone, and data privacy concerns were non-existent. In 1994, the Netscape browser for Web communications developed a tool called a cookie to verify whether a user had visited the site, enabling the site to remember preferences. While meant to primarily help e-commerce companies, the technology changed digital advertising forever.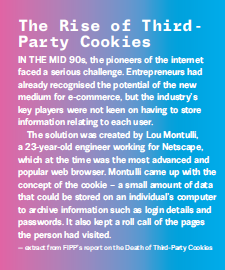 According to an Adobe report, more than 77 percent of websites use tracking cookies, as do 82 percent of all digital ads. As extensive profiles were built on users, the internet thus became ultra-personal, recognizing users' locations, browsing history, preferences, and crucially, gaining the ability to target ads at them. Third-party cookies were identified as a considerable privacy threat as far back as 1996 but the system continued until users' privacy concerns resulted in major changes over the last few years.
Firefox began blocking third-party cookies in 2019 and Apple followed suit in 2020. Apart from disabling third-party cookies in Safari, iOS14 prompted iPhone and iPad users to opt out of tracking in apps that monitor their behaviour and share that data with third parties. The enactment of laws like the General Data Protection Regulation (GDPR) in the European Union in 2016-2018, and the California Consumer Privacy Act (CCPA), placed further legal pressures on Big Tech companies. The final nail in the coffin was when Google announced it would block all-third party cookies in Chrome – initially planned for the end of 2022 and then extended to the end of 2023 as the company tries to work out an alternative for advertisers (more on that later). Given that Chrome holds an estimated 64 percent of the web browser market share, and third-party cookies are the glue that holds the whole system of targeted advertising together, you can see why marketers and advertisers alike generally view this as an extinction-level event.
BEYOND THE COOKIEPOCALYPSE Let's be clear here. Big Tech companies have everything to gain from the phase-out of third-party cookies. "We have to be aware that the international tech platforms already do have excellent first-party data," said Patrick Rademacher, senior manager/strategy at Ringier in Switzerland who was quoted in an INMA report on The Third-Party Cookie Trigger in 2020. "Google, Facebook, Instagram, etc., have 60% to 100% logged-in users. So moving away from third-party is something that will strengthen their competitive advantage even more – if the media industry doesn't act."
And therein lies the rub. Digital ad spending is back around the world but the way in which publishers interfaced with the system – through machine-based ad sales fueled by third-party cookies – is on the way out. This is not necessarily a bad thing. Programmatic advertising was initially embraced by publishers as they looked for ways to monetise their web-based content but with largely machine-based advertising sales that prioritised reach and eyeballs, things soured over the years. "CPMs have fallen, revenues dropped and in many ways the cookie has created a wall between the publishers and their audiences. For some, their ad inventory has become just a cheaply acquired afterthought for brands looking to cement their relationship with consumers across numerous sites and platforms," a FIPP report on The Death of Third-Party Cookies notes. Moreover, as Greg Piechota, INMA's researcher in residence points out, the programmatic market is dominated by tech companies that take nearly half of the advertising purchase because they organised the basic bidding platforms.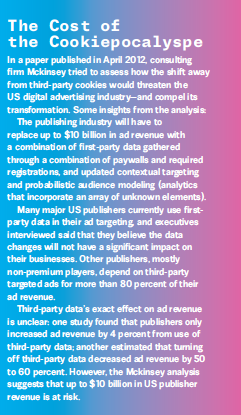 Both media companies and brands want to target and build relationships with actual people. What third-party data held by others offered was aggregations layered upon each other to create customer attributes rather than people. It worked for Big Tech, but not for everybody else. What if brands got together with publishers to provide smaller groups of customers with higher-calibre, increasingly personalised experiences? "To replace indiscriminate targeting with real value at every step of the customer journey," as the Adobe report puts it, with first party data acquired by publishers would be the foundation for strategic partnerships. Like it or not, publishers are now part of the ad tech ecosystem. "Looking across the global news media landscape, the irony appears to be that publishers more advanced in subscriptions are best prepared to integrate advertising as a new "client" of their first-party data. That is because the key difference between advanced subscription publishers and non-advanced subscription publishers is first-party data," INMA Executive Director and CEO Earl J. Wilkinson write. There is perhaps no better way to sum up just why this story should be the primary focus for all publishers from here on. If 2020 and 2021 gave publishers the perfect opportunity to focus on subscriptions, experiment with products, gather audience data and know their readers, now is the time to mobilise the learnings and of course, the data.
"Instead of a "subscription model" and an "advertising model" being at opposite ends of the publisher strategy continuum, the embrace of first-party data and on-site content consumption better merges the two models," Wilkinson concluded.
SCALING UP FIRST PARTY DATA OPERATION Direct-to-consumer (DTC) brands have a huge advantage in terms of collecting first-party data by virtue of having a business model built on direct relationships with their customers. Over the last few years, successful media companies have transitioned away from the transactional print-advertising model to one built on reader-relationships. The Covid years accelerated this process, as it did for many trends already evident in the world, leading to experimentation and innovation in digital subscription businesses, membership and partnership models, e-commerce, e-learning and virtual or hybrid events. While all of these are excellent building blocks, scale and strategy are the two most important factors to consider when it comes to building out a first-party data play.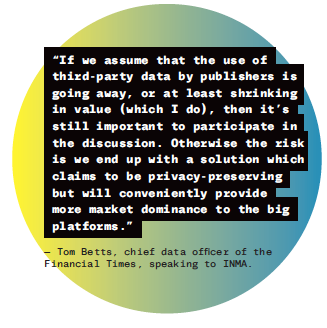 Over 2020, as companies first grappled with the news of Chrome's impending third-party cookie phaseout, Boston Consulting Group and Google interviewed marketing executives at 23 companies and seven advertising agencies across the U.S. Their key findings show that top brands take the following three actions:
Develop a comprehensive data strategy to prioritize investment and garner buy-in
Test, learn, and measure to determine the best activation methods
Build robust in-house tech capabilities while relying on strategic partners for other kinds of expertise
DATA STRATEGY Let's flesh each of these principles out further. The BCG report points out that many brands simply collect as much of that data as possible in the belief that collection itself would somehow translate to value. But attempting to collect unneeded data burdens customers, increases the cost of technology and personnel and raises the risk of data breaches and other privacy violations. The best brands create organisation-wide strategic goals for collection and investment in such data and also identify what data is essential.w
How do we apply this crucial learning to publishers? For starters, your organisation needs business executives who understand data and a person designated as manager for these strategies, especially if you are looking to mobilise new revenue streams. Historically, publishers and brands have kept data around ad revenue, subscriptions, content engagement and customer profiles stored separately. This thinking should change. As the INMA Third- Party Cookie report puts it, "If the sale of on-site advertising revenue becomes newly reliant on the same first-party data used for a media company's subscription business, then data strategies will require a re-thinking. What data does an advertiser need to visualize digestible segments for purchase, and might those user segments simultaneously inform the art and science behind subscription sales and engagement?"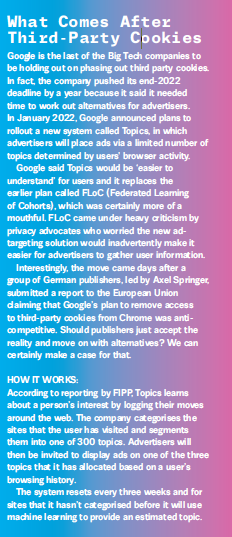 TEST AND LEARN First party data can be great for delivering personalised experiences. BCG recommends that companies should use a test-and-learn approach to determine what should be personalised and what level of personalisation is needed. "This could mean, for example, focusing on only one customer segment and investing only in the data and technology required to test that particular use case," the report notes. Once value is proven, brands can deploy additional technology such as artificial intelligence and machine learning and expand personalisation efforts to new customer segments and journeys.
"Collect more data over time by thinking through the right moment in the customer journey to ask for it. At each stage, aim to understand how to move users deeper into the funnel with the right offers that will net you more data to round out your customer profile. Don't try to collect too much data at one time," Micheal Silberman, SVP Strategy of the business analytics platform Piano, wrote in What's New in Publishing.
BUILD IN-HOUSE TECH CAPABILITIES Brands need to think more strategically about working with agencies rather than outsourcing all aspects of marketing to them, BCG notes, adding that it is more efficient and effective to consider which capabilities are best kept in-house and which ones an agency can provide. They recommend a hybrid approach where the technology stack and capabilities related to data analysis are kept in house while agencies can provide strategic advice.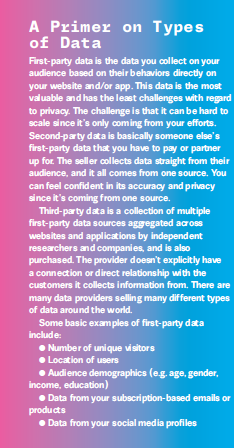 A number of leading publishers have already made significant strides in building up their own first party-data platforms over the last 12 months and beyond. Apart from the collection of scaleable and authentic data, these efforts include creating easily accessible audience segments for advertisers to use that data. Let's run through a few prominent examples: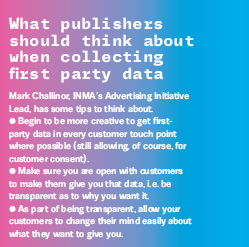 THE NEW YORK TIMES The New York Times announced in 2020 that it would stop using third-party data to target ads in 2021 and work on creating a proprietary first-party data platform. Axios reported that year that the publisher would start offering companies proprietary first-party audience segments to target ads which would be broken into five broad categories: age, income, business, demographic, and interest. "This can only work because we have 6 million subscribers and millions more registered users that we can identify and because we have a breadth of content," Allison Murphy, Senior Vice President of Ad Innovation, told Axios.
At an INMA conference in October 2021, The Times said there were three key areas in which they were focused on building products.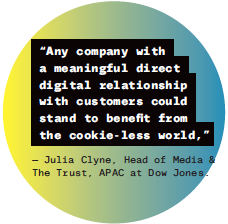 1. Contextual products: Targets users based on page context.
2. Behavioural products: Groups users into segments like demos, age, interest.
3. Insights products: Match what is known about the user, content, products, and ads to back up targeting recommendations.
The ad team also developed motivation targeting, which looks at how an article motivates the reader, and topic targeting, where they scanned a few years of NYT content and spotted themes or clusters of content the newspaper consistently wrote about. "Today we have about 20 emotions, seven motivations and 100 or more topic clusters," the publisher told WAN-IFRA in September 2021.
VOX MEDIA – FORTE Vox announced the launch of its first-party data platform at the end of 2019. Digiday reported that even with the shock of the pandemic that struck a few months following Vox's launch, Forte wound up having a very good year. More than 100 brands tried using the platform and by the end of 2020, Forte data was used to drive "nearly half" of Vox Media's display ad revenue, chief revenue officer Ryan Pauley told the publication. That share grew to about 66% in 2021 and is expected to grow further. Vox is still trying to figure out the way in which clients can use it and how widely it wants to make Forte segments available outside of its own ecosystem.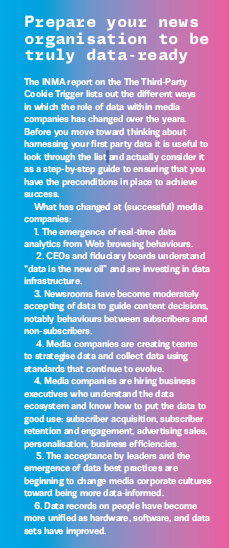 The bulk of the data Forte uses to infer audience interests and intent comes from the content Vox Media's audience consumes across both Vox Media and New York Media, which Vox acquired in 2019. But it draws from other sources too, including offline data about people who have attended in-person events, such as Eater's dinner series Young Guns, as well as subscriber data gathered from New York Media and commerce data gathered from New York Media's commerce brand, The Strategist.
INSIDER – SAGA Insider launched its first-party data platform in early 2020 and spent much of that year getting advertisers comfortable with their product. In 2021, over 140 advertisers ran ad campaigns on Insider using Saga data, up from 48 the previous year, the publisher told Digiday. While many of those were first-time customers, a significant percentage were not. What's more, the advertisers that bought ads from Insider using Saga had a renewal rate of 48%, and the amount of money those advertisers spent on average tripled, according to a company spokesperson. On the whole, the amount of revenue Insider generated on campaigns using Saga rose 175%, from a not-insignificant base. "We went from millions to tens of millions [in revenue]," said Jana Meron, Insider's SVP of programmatic and data strategy.
Above and beyond these very impressive numbers, Meron said that Saga is now being used by different parts of the Insider's organization for a number of different initiatives, including audience extension projects designed to drive subscription growth.
JP/POLITIKENS HUS The Danish publisher also developed its own proprietary first-party data platform in 2020. Describing the platform for an INMA report, the company said it organises data into segments, creating buckets of interest, then does audience
profiling. How much do they interact, and what are they interacting with? The publisher then tries to get as much descriptive data as possible, asking them questions as they log in about gender, age, and more. JP/Politiken offers 600 audiences/segments for direct and programmatic buying and saw a 70% increase in audience segment sizes by utilising first-party data.
SOUTH CHINA MORNING POST – LIGHTHOUSE The Hong-Kong-based publisher launched its first-party data platform Lighthouse in 2019 to better understand its users and provide advertisers with the tools necessary to target audiences with greater precision. Speaking at an INMA conference in July 2021, Ian Hocking, vice president of digital at South China Morning Post in Hong Kong, shared the amazing range and types of data that Lighthouse could offer as audience segments. These were:
Preference: A long-term attribute unlikely to change.
Opinion: Current way of thinking, which might change based on circumstances.
Sentiment: The positive, neutral, or negative feeling about an article.
Intent: Declared action to do something.
Behavioural: A predictable, usual way of being.
Interest: Declared passion for something.

"When we put all of that together in a profile, we start to build what we think looks much more like a person," Hocking said. "I think publishers that have a great, ongoing relationship with audiences to really benefit and present something interesting [comes from] building out not just an ID with an attribute attached to it, but a broad profile that really talks to them as individuals."
WASHINGTON POST — ZEUS INSIGHTS The Washington Post developed a first-party data ad targeting tool called Zeus Insights in 2019 which is licensed out to publishers and allows them to utilise first-party reader data to sell highly-targeted adverts. The platform monitors contextual data such as what article a person is reading or watching, what position they have scrolled to on a page, what URL they have used to arrive there and what they're clicking on. It currently has over 200 publishers who are at various stages of using the Zeus platform.
Speaking at an event organised by Insider on "how advertisers can navigate the death of third-party cookies, The Post's VP of Commercial Technology Jarrod Dicker said that the publisher is seeing it as an opportunity "both in terms of the investments we're making on the Post and also how we represent all of our Zeus partners, which is now at 200+ publishers."
"We've seen trends over the past few years where [the client-publisher] relationship has been growing: more focussed on direct, more focus on unique products even beyond branded content, but how we target, how we understand consumption. Publishers have a unique advantage in this next phase because consumption data is something that we've always deeply understood – we know what type of content users prefer, how they navigate through sites, and all of this can be worked out without ever having to know a user's identity," Dicker added.
According to the INMA report, the Post's Research Experimentation and Development (RED) group has data to support the prioritisation of first-party data based on content consumption over third-party crosssite shopping data:
Higher click-through rate: Ads that ran without any behavioural context from a third-party cookie had an
overall 25% higher click-through rate. This is based on machine-learned contextual adjacency when applied to high- quality content.
Better ad performance and recall: Ads performed better and reduced the amount of recall when they were content-based rather than cookie-based. Readers of brand-aligned journalism can yield better results than third-party cookies, especially for net-new customers.
Lowest cost-per-click: Content had twice the click-through rate and the lowest cost-per-click. High-quality journalism can, by itself, be used as a performance driver — especially on platforms omitting contextual adjacency.
As Earl. J. Wilkinson summarised in the report, The Post's research suggests the emerging game is convincing advertisers that a person's content consumption and brand engagement are better signals to serve up relevant advertising than a person's cross-site shopping.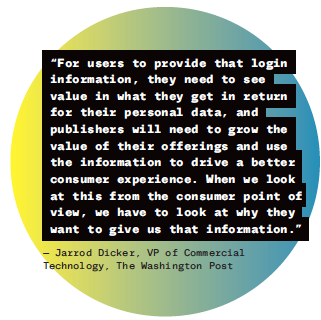 FUTURE PLC – APERTURE Future PLC, the U.K. company which published over 50 magazines, was another early mover, launching its first-party data platform in December 2020. The publisher spent months building out a tech stack to collect, streamline and scale the first-party data that it gets from its more than 350 million monthly visitors to its portfolio of 130 special interest sites and enthusiast publications.
"The specialist piece is a key differentiator," Future's global chief revenue officer Mike Peralta told Digiday in December 2020. "That's because enthusiast audiences naturally have higher purchase intent for products that are endemic to their passions.". Future has run over 200 campaigns through the platform to date and has seen a range of 50-70% better performance on campaigns that use its first-party audience segment data than campaigns that rely on third-party data, Peralta added.
In one sense, from an advertising perspective, first-party data actually represents something of a throwback to a system of contextual advertising where ads are placed next to relevant content. What the publisher is doing essentially is to divide those audiences into segments based on interests and sell ad space to advertisers who want to target those segments. The ways in which this is being done, however, is already becoming incredibly sophisticated. Each of the examples we highlight are perfect illustrations of the breadth and complexity of audience data that a publisher is able to collect because of their unique one-to-one relationship with audiences. While we focused on the early movers who have had some time to develop their strategies, there are a number of recent publisher entries to the first-party platform space, including News UK's Nucleus, Penske Media's Atlas Data Studio, Livingly's IRIS, Forbes' ForbesOne and Buzzfeed's Lighthouse. With Google pushing back the time limit on the cookie phaseout to the end of 2023,he the good news for publishers around the world is that there is ample time to learn and experiment.
There are already strong indications that publishers' first-party data has begun to significantly alter the landscape in some markets. Publishers' conversations about 2022 with advertisers and agencies are underway, and publishers' first-party data is a newly prominent topic for an unusually wide range of publishers, Digiday reported in December 2021. Where last year many publishers were either readying or launching their first-party data offerings, this year, most have something in the market. And conversely, advertisers have gotten their own data in order, and are increasingly willing to share it with publishers.
The deals and partnerships being forged now are more complicated — and in some cases, more expensive — than some are used to, but it will make the industry more comfortable with the change, while also moving ad buyers and sellers closer to understanding how much value publishers' audience data really has when third-party cookies are phased out, Max Willens writes in the article.
So is a strong first-party data play the right move for your organisation? There is overwhelming evidence to support the case, but scaling up will be the biggest challenge. Small publishers in particular will feel that they cannot compete in this world. Half of small publishers plan to rely more on non-advertising sources of revenue when third-party cookies are phased out at the end of 2021, according to a survey Digiday conducted in the first quarter of 2021.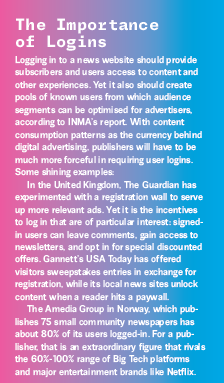 "Without third-party cookies and targeting, they don't have the scale to compete," said Fran Wills, the CEO of the Local Media Consortium, a trade group that negotiates preferred rates with vendors and platforms for over 5,000 local news publisher sites, told Digiday.
"I fully understand not all publishers can afford such a thing, " Thomas Lue Lytzen of JP Politikens Hus told INMA. "But I would at least recommend they start thinking about what they can do on first-party data. If they can't build something themselves, then they could probably talk to some of the companies out there trying to help media companies organise first-party data. Start first with evaluating or finding what you actually have on the first-party side and then try to look for some other media companies and work with them," he added.
Could these collaborations between media companies be the way of the future? Take for instance, the "Drive" effort by a collective of German regional publishers. In 2020, the German news agency Deutsche Presse-Agentur and the publishing consultancy Schickler created a cooperation between publishers with a simple idea: share resources, share data and share insights. The reasoning was that for smaller publishers, collection of data can be costly and tedious – each publisher has to recruit its own data science teams, build the data infrastructure and go through all the experiments only to realize that the critical amount of data is lacking. The data experts from Schickler
set up a joint data warehouse which collects in real time first-party customer data from all the news sites.
The pilot phase of the project included three regional publishers: Mittelbayerische Zeitung (Regensburg), Badische Zeitung (Freiburg) and Aachener Zeitung (Aachen).n the second half of 2020, five new publishers joined up: Lensing Media (Dortmund), Aschendorff (Münster), Südwest Presse (Ulm), Zeitungsgruppe Ostfriesland (Emden), and Rheinpfalz (Ludwigshafen). Up to 15 publishers are now part of the initiative.
In October 2021, Nieman Lab reported on the Swiss Digital Alliance launched in 2018 and includes the major private media companies in Switzerland: CH Media, NZZ Media Group, Ringier, and Tamedia as well as the Swiss public broadcasting corporation SRG. (There are similar alliances throughout Europe: Czech Republic, France, Hungary, Portugal, Spain, and the United Kingdom) Some of their news sites are free, others require a paid subscription, but they came together to launch OneLog, a plan that brings all the companies together to a single sign-on solution.
The initiative originated with a conversation between leading publishers who were worried about the looming battles over third-party cookies and their losing ground in the advertising market. They wanted to find ways to work together to regain a direct relationship with their readers and news consumers online. They all agreed that having more first-party data and increasing the share of registered visitors would allow them to build better relationships with readers and more relevant news products, Nieman Lab reported.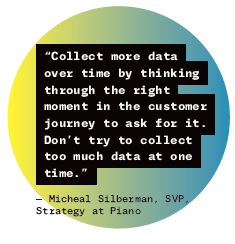 The Swiss Digital Alliance hopes the lack of friction will prompt readers to log in even if a news site has no paywall. And there are signs that the idea is already catching on. In April this year, The Fix reported that some publishers in the Czech Republic were preparing to adopt Czech Ad ID, a unified login system across the majority of big news websites to be able to track users. The plan was similarly a response to Google Chrome's impending replacement of the third-party cookie system.
Whether you find strength in the collective or work on your data teams and capabilities to make a strong individual play, the good news is that you have time, and plenty of examples to learn from. And remember, it's your chance to place the odds in your favour rather than waiting around for Big Tech to come up with another system to exploit you.
---
The Innovation in News Media World Report is published every year by INNOVATION Media Consulting, in association with FIPP. The report is co-edited by INNOVATION President, Juan Señor, and Senior Consultants, Ines Bravo and Jayant Sriram.