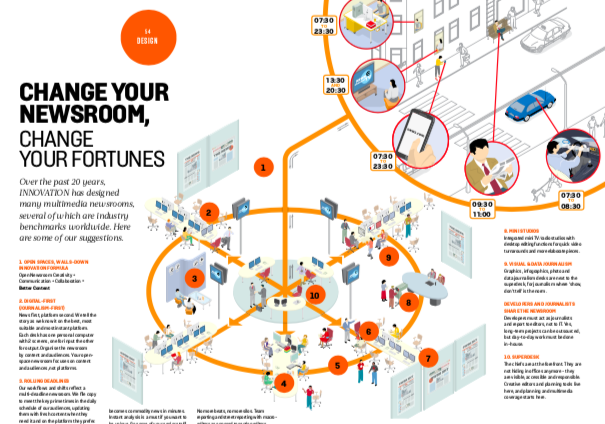 07 Jan

Change your newsroom, change your fortunes

Over the past 20 years, INNOVATION has designed many multimedia newsrooms,
several of which are industry benchmarks worldwide. Here are some of our suggestions.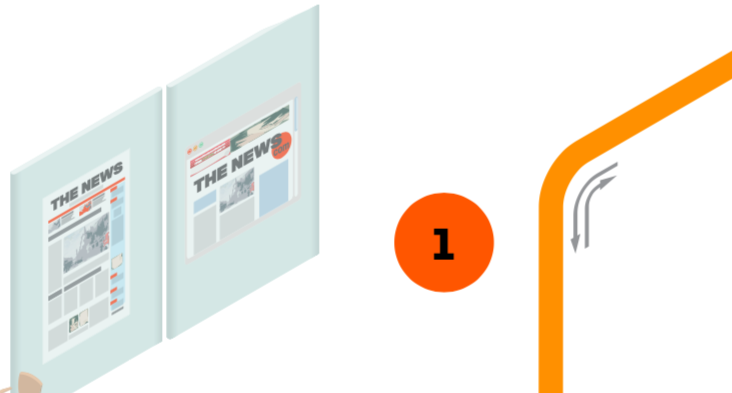 1. OPEN SPACES, WALLS-DOWN INNOVATION FORMULA
Open Newsroom Creativity + Communication + Collaboration = Better Content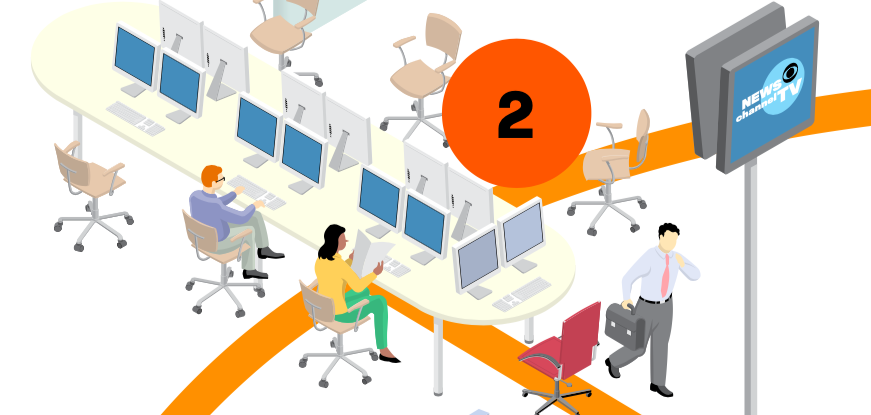 2. DIGITAL-FIRST (JOURNALISM-FIRST)
News first, platform second. We tell the story as we know it on the best, most suitable and most instant platform. Each desk has one personal computer with 2 screens, one for input the other for output. Organise the newsroom by content and audiences. Your open- space newsroom focuses on content and audiences, not platforms.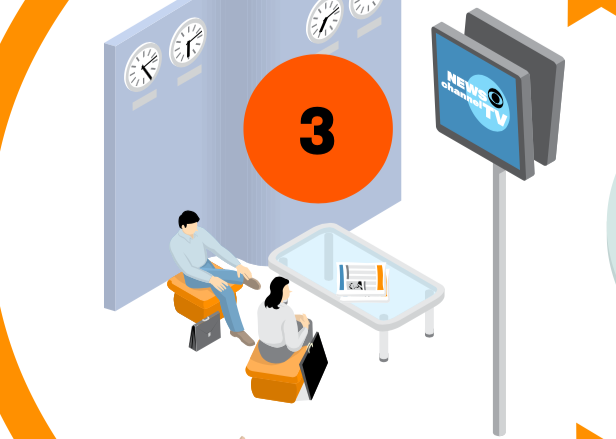 3. ROLLING DEADLINES
Our workflows and shifts reflect a multi-deadline newsroom. We file copy to meet the key prime times in the daily schedule of our audiences, updating them with fresh content when they need it and on the platform they prefer.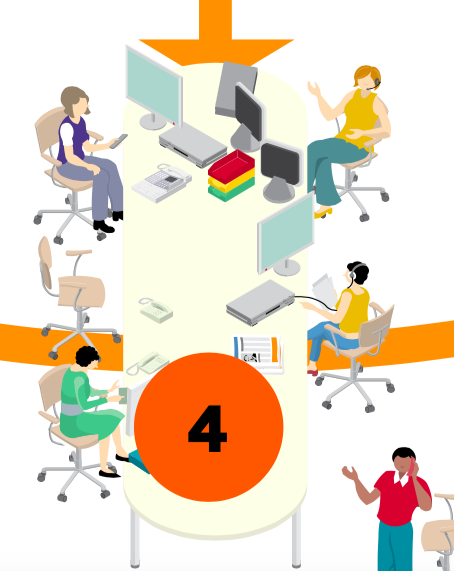 4. RADAR & ECHO
We monitor the world via technology and we share our content instantly. Radar for breaking news. Echo for social media. Our newsroom must have speed & depth. Radar and Echo become the speed so we can focus on the why and what's next as opposed to the who, where, and how many. Breaking-news becomes commodity news in minutes. Instant analysis is a must if you want to be unique. So some of your senior staff will make the difference if they can react
in time, help with insights and produce more "what does it mean" journalism.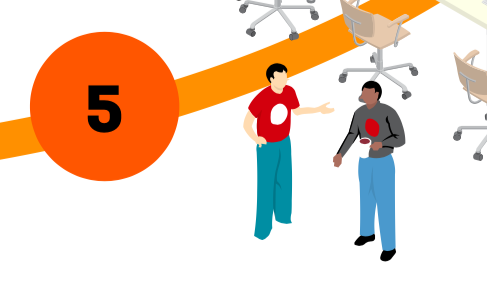 5. RADIAL SYSTEM
Sections, themes and products emanate from a central superdesk which commands and controls the news workflow.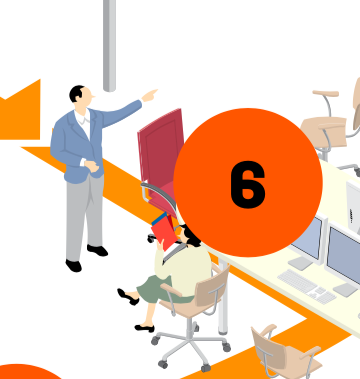 6. MACROEDITORS
No more beats, no more silos. Team reporting and street reporting with macro-editors as opposed to section editors.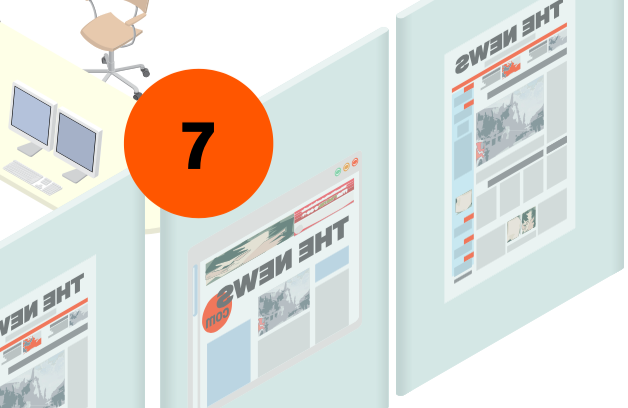 7. DIGITAL 'LIVE' ANALYTICS WALLS
They must be functional and not just decorative. In them we see our sites, social media sites and other competitors' sites with sound and visual alerts when KPIs are below target, so that everyone sees and feels the 24/7 energy of a multimedia operation.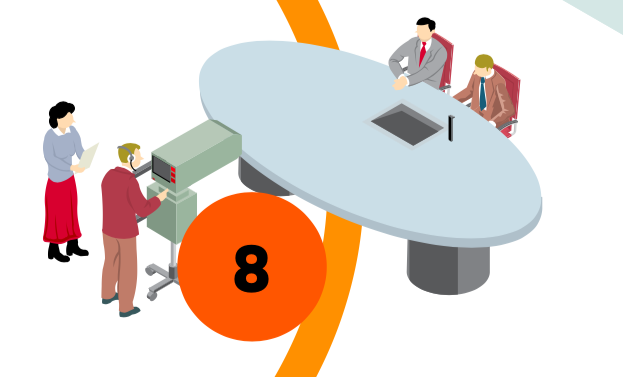 8. MINI STUDIOS
Integrated mini TV/radio studios with no more beats, no more silos. Team reporting, desktop editing functions for quick video turnarounds and more elaborate pieces.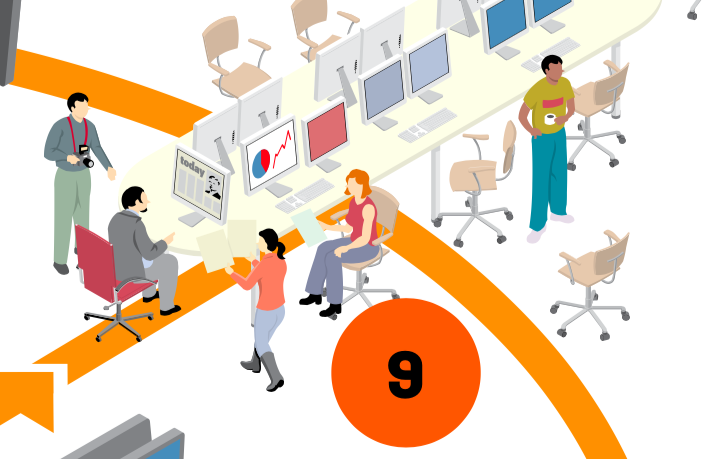 9. VISUAL & DATA JOURNALISM
Graphics, infographics, photo and data journalism desks are next to the superdesk, for journalism where 'show, don't tell,' is the norm.
Developers and journalists share the newsroom. Developers must act as journalists and report to editors, not to IT. Yes, long-term projects can be outsourced, but day-to-day work must be done in-house.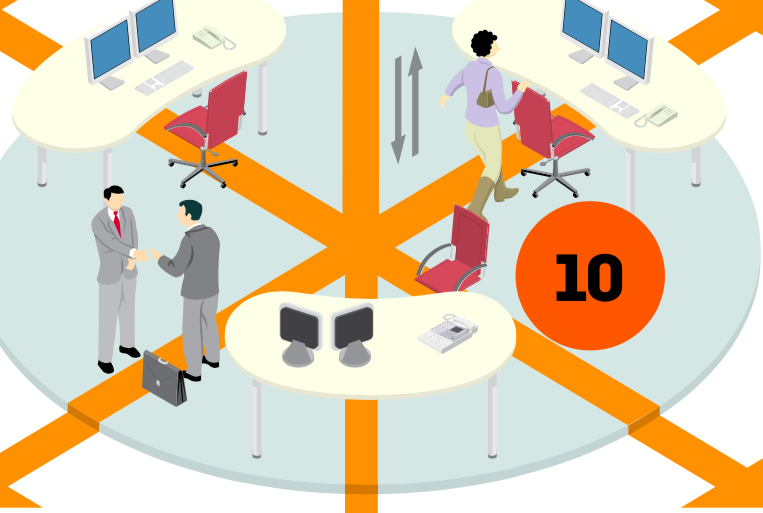 10. SUPERDESK
The chiefs are at the forefront. They are not hiding in offices anymore- they are visible, accessible and responsible. Creative editors and planning tools live here, and planning and multimedia coverage starts here.
INNOVATION's take:
If you change your newsroom, you change your fortunes. We have gathered ample evidence that the return on investment in the construction and upgrading of a modern multimedia newsroom is significant and vital to building leading media companies.
Daily newsroom workflows and content should reflect the content consumption habits of our audiences. This means our newsrooms must become real information engines where the story comes first, and the medium second.
The starting point is our audiences. First and foremost, we assess the news consumption cycle of our audiences and build newsrooms that produce multimedia content that meets their needs throughout the day on paper, online, on air, and on mobile devices. The workflow should follow our readers' digital journey.