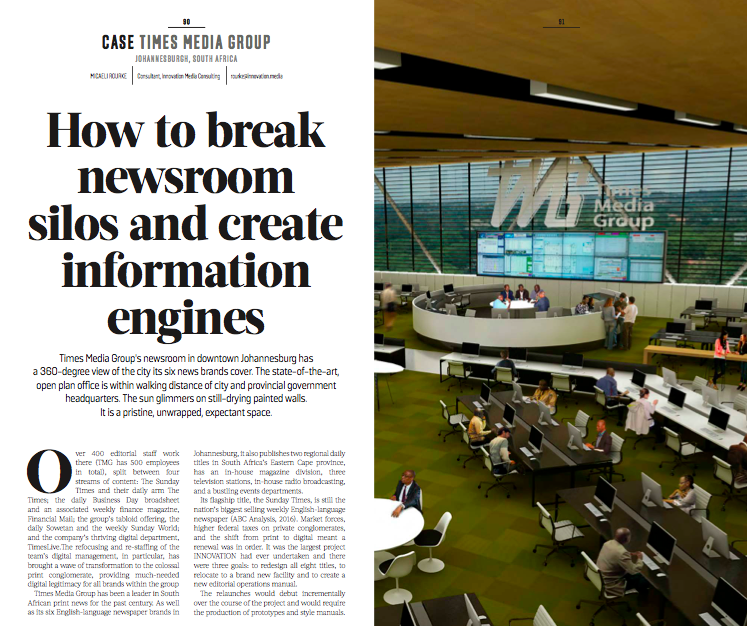 19 Feb

How to break newsroom silos and create information engines

Times Media Group's newsroom in downtown Johannesburg has a 360-degree view of the city its six news brands cover. The state-of-the-art, open plan office is within walking distance of city and provincial government headquarters. The sun glimmers on still-drying painted walls. It is a pristine, unwrapped, expectant space.


Over 400 editorial staff work there (TMG has 500 employees in total), split between four streams of content: The Sunday Times and their daily arm The Times; the daily Business Day broadsheet and an associated weekly finance magazine, Financial Mail; the group's tabloid offering, the daily Sowetan and the weekly Sunday World; and the company's thriving digital department, TimesLive.

The refocusing and re-staffing of the team's digital management, in particular, has brought a wave of transformation to the colossal print conglomerate, providing much-needed digital legitimacy for all brands within the group Times Media Group has been a leader in South African print news for the past century. As well as its six English-language newspaper brands in Johannesburg, it also publishes two regional daily titles in South Africa's Eastern Cape province, has an in-house magazine division, three television stations, in-house radio broadcasting, and a bustling events departments.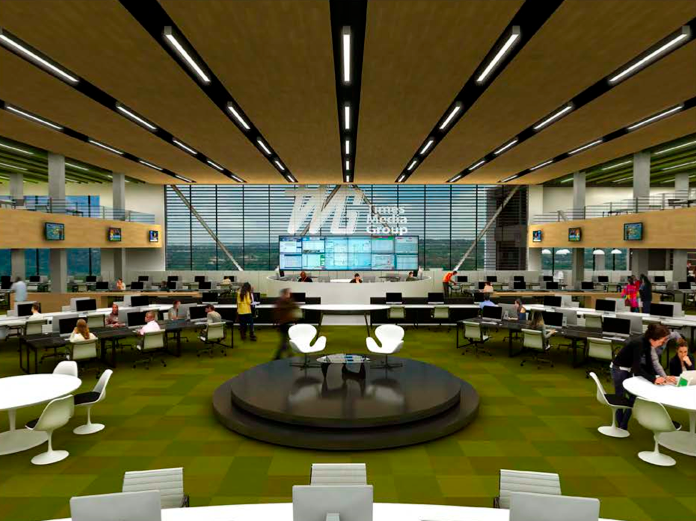 Its flagship title, the Sunday Times, is still the nation's biggest selling weekly English-language newspaper (ABC Analysis, 2016). Market forces, higher federal taxes on private conglomerates, and the shift from print to digital meant a renewal was in order. It was the largest project INNOVATION had ever undertaken and there were three goals: to redesign all eight titles, to relocate to a brand new facility and to create a new editorial operations manual.
The relaunches would debut incrementally over the course of the project and would require the production of prototypes and style manuals.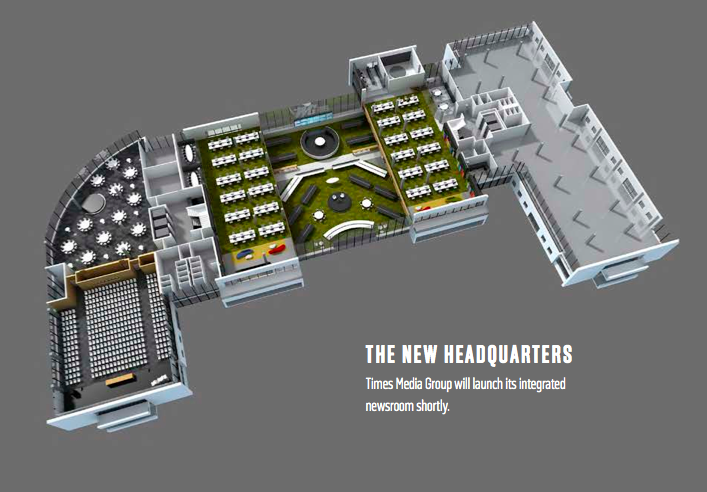 The new newsroom was to be open-plan, with shared services desks, a central super desk, unassigned hot seats for journalists and meeting spaces around the edges. The editorial manual would describe, step-by-step, how to get the most out of the new set up. The consumption cycles of South African print news consumers, and how those cycles dictate shifts and peak production times, were taken into account, as were developing trends in the South African new media landscape. Employee work groups were also outlined to allow TMG staff from every department to have a voice in the changes, including the architectural design of the new space, employee wellbeing, data analytics and audio journalism expansion.
The first design relaunch, Business Day and Financial Mail, came in October of 2016. Both brands soared, with increases in readership in both print and online, thanks to their new designs, which included micro-components for easily digestible news and an increased focus on visual storytelling, with sleek, modern page layouts.
The digital redesigns of both business titles came with the coordinated launch of the online platform, BusinessLIVE, BusinessLIVE didn't have a paywall, but a premium section of the site, BL Premium, did, launching to subscribers in early 2017. Feedback from print subscribers to both brands was resoundingly positive, setting a high bar for the rest of the company's scheduled relaunches.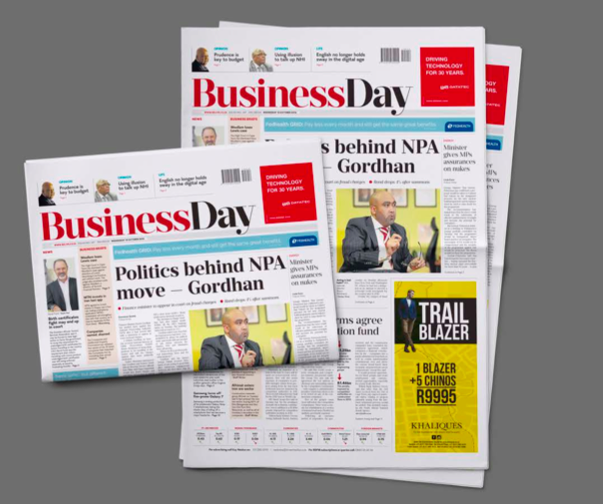 Sunday World, TMG's weekly tabloid newspaper, was next, in mid-November of 2016, and included informative infographics, photo spreads and cohesive, modular page designs with bold colours to compliment the brand's bold headlines. The relaunch was more turbulent than expected, though, due to a delayed promotional campaign and a lack of reader recognition for the new logo. Consumption plummeted in the weeks following the launch.
Focus group testing was done for the launch of Sunday World's sister- brand, the Sowetan, the historically alternative news brand made popular by its anti-Apartheid coverage prior to South Africa's democratisation in 1994. After taking into account user feedback on the designs, the paper relaunched in March 2017 with a modern news magazine style that distinguishes the brand from its numerous daily tabloid competitors.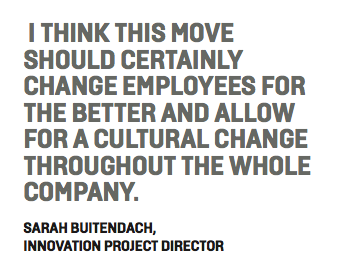 In the end, the redesigns were markedly more straight-forward and successful than producing the new operational model. Institutional factors and other setbacks meant that had to be amended significantly. The company was unable to fully implement the concept of shared service hubs, which are individual reference points for types of content (i.e. photos and videos for all six brands come from one desk).
INNOVATION refers to this as "one kitchen, many restaurants". More than 18 consultant-led working groups were initially met with overwhelming interest and participation. Over 150 people took part. The transition to employee leadership worked less well, and caused a loss of attention, communication and interest. This coincided with a layoff programme announced by TMG, which began in July 2016. That all meant management became more selective about which parts of the recipe were applied.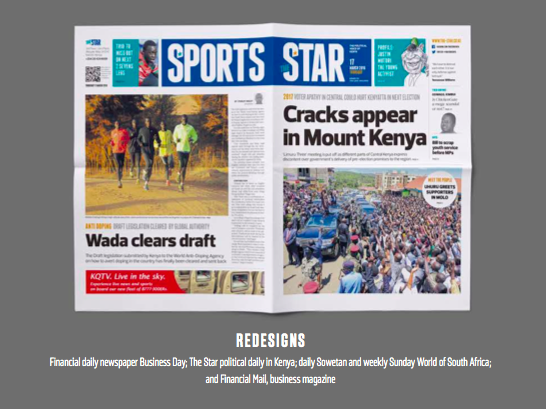 The relaunch of the Sunday Times is scheduled for June 2017. It will be the largest of the redesigns, with four completely redesigned body sections for the broadsheet brand, and a bespoke luxury design for the lifestyle supplement. Its daily sister-brand, The Times, will undergo a complete redesign and relaunch in the second half of this year.
Other publishers can learn five main lessons from this case: create visually compelling layouts; print really isn't dead, it can work alongside digital; quality across digital and print platforms must be of the same high standard; make sure institutional stability enables newsroom transformation; and build a professional newsroom that is organised around production ideas that really work.