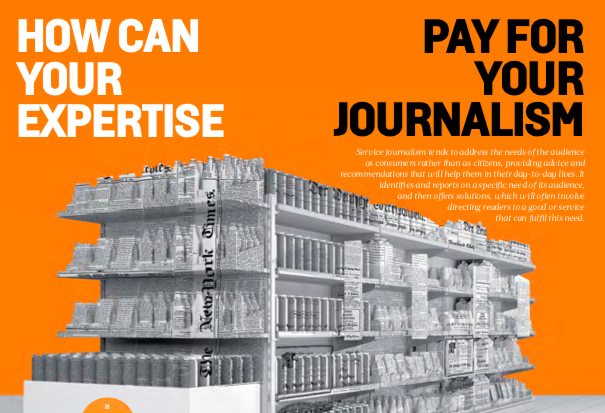 29 Oct

How can your expertise pay for your journalism

Service journalism tends to address the needs of the audience as consumers rather than as citizens, providing advice and recommendations that will help them in their day-to-day lives. It identifies and reports on a specific need of its audience, and then offers solutions, which will often involve directing readers to a good or service that can fulfill this need.

Service journalism is not new; indeed, it has been a signature value proposition for many magazines for decades. However, in recent years, publishers who traditionally focus on news have begun to explore and invest in service journalism, using their expertise to be useful to readers in their everyday lives, while hopefully bringing in some extra revenue.

One of the top reasons news media are taking an interest in service journalism is its revenue-generating potential. It is a format that can and has been monetized successfully by creating a new revenue stream: e-commerce, since sites often can get a percentage of sales from affiliate links out to products that they recommend.

Service content is also 'evergreen' content that can be marketed again and again, with particular potential for success on social media and other third party distributors. Evergreen content was also identified by Kantar Media in its research for the Reuters Institute as a type of content that consumers were more likely to pay for.

News media can capitalize on their trusted, reliable brands to make valuable recommendations and suggestions, and offer practical advice, that will help their audiences to make decisions about a variety of aspects of their lives.

For example

Getting into service journalism and affiliate marketing means creating or expanding content verticals, or buying them.

In October 2016, as part of a wider expansion of its lifestyle journalism with sections such as Smarter Living, Cooking, and Well, The New York Times Company bought technology review and recommendation site The Wirecutter and its sister site The Sweethome in a $30 million deal, garnering a foothold in service journalism funded by e-commerce revenue. The brands have now been combined into one site, Wirecutter, and its content remains outside the Times' paywall.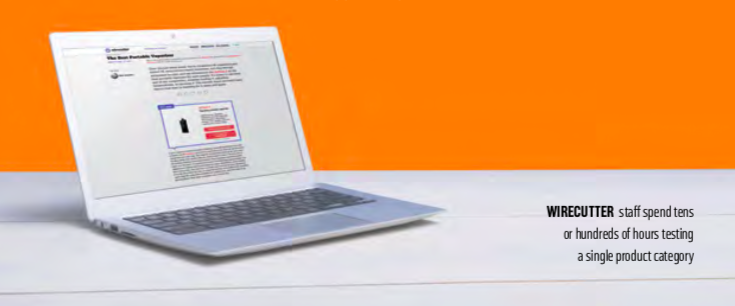 Wirecutter doesn't make any casual recommendations. The Times reports that "tens, some- times hundreds, of hours are dedicated to testing a single product category" on Wirecutter, the aim being to find "the right choice for most people," rather than the fanciest product. The site has a test kitchen in New York's Chinatown, and supplements testing by its own staff with input from "engineers, scientists, and other subject-matter experts."
For example, for its piece on the best everyday wine glass, Wirecutter reviewers (known as 'guides') considered 250 glasses, and blind-tasted wine in more than 80 different glasses with "a professional winemaker, a sommelier, and a wine critic."
Although its revenue figures today are unknown, it was widely reported that in 2015 Wirecutter drove $150 million in e-commerce sales, of which it would have kept somewhere between four and eight per cent. In 2017, sales were up 50 per cent from the year previous as categories expanded to include "baby and kid", and staff numbers had doubled to about 100, according to Bloomberg.
In February 2018, Tronc, formerly Tribune Publishing, announced its purchase of a majority stake in BestReviews, a site that like Wirecutter publishes reviews of consumer products and reportedly attracts more than 5 million monthly unique visitors. Tronc chief executive officer Justin Dearborn said in a statement, "We look forward to combining BestReviews deep product research and fully optimized commerce engine with tronc's digital properties, a combination which we believe will strengthen our e-commerce efforts."
In late 2017, Quartz launched Quartzy, a lifestyle and cultural vertical (there is a weekly news- letter of the same name), focusing on "living well in the global economy." It's a bit of a departure from Quartz's news-focused lens, and instead narrows in on things like cocktail recipes or packing tips to make its readers' lives better. (Quartzy was launched with a Facebook Messenger chatbot, too.) The site, quartzy.qz.com, contains a lot of service journalism, from tips on maintaining creativity, to explanatory articles about people doing quick cosmetic surgeries on their lunch hours. It hopes to capitalize on the fact that advertisers in fashion and beauty have been struggling to move to digital so there is cash up for grabs, according to WWD.

Why Service, Why Now?
Service journalism is a safe space, wrote Tim Herrera, editor of Smarter Living at The New York Times for NiemanLab's 2018 predictions. The on- line space is filled with "untrustworthy garbage," he wrote, "But, the pendulum is swinging back, and at the forefront of that swing will be service journalism and trusted guidance."
"The opportunity here is for news outlets to double down on service and strengthen their position as places readers can consume news and also learn to live better, healthier, and more conversant lives," Herrera wrote.
Indeed, as more and more of the content on the Internet turns out to be fake, audiences are increasingly looking to trusted media companies to provide solutions and advice, and information they need.
Challenges
A key challenge is how to maintain objectivity in reviewing and recommending products when you are making money if readers buy them. As well as the ethical implications, this is also a practical consideration: readers will only trust your re- views if these seem objective.
The Wirecutter addresses this by keeping its editorial and revenue teams separate, and ensuring that its writers and editors are never made aware of which companies may have established affiliate relationships with its business team prior to making their recommendations, the site explains.
So, how can news media get into service journalism?
The answer varies. Publishers are positioned well to offer their audience content that serves their needs, that is useful as well as informational. Becoming involved with service journalism may be as easy as hiring new talent to write vertical content, or it may be as complicated as delving into e-commerce sites. While it appears to be successful for large organisations like The New York Times, it may not work for all.
We at INNOVATION believe there are five questions publishers ought to ask themselves. Think of it as a bit of service journalism within an article about service journalism:
1. How would service journalism as a genre serve you as a publisher? What goals or aims would adding service journalism help you achieve? New revenue streams? Additional traffic? Boosting membership?
2. How would it serve your reader? Are there any interest areas or topics your audience has that your company could serve beyond news? What hot topics of interest, as determined by your analytics, might you create verticals for?
3. How will you monetise? Will your explainers become sponsored? Will your traditional service pieces (how-tos, listicles etc.) have affiliate links?
4. Will the quality of this new content push membership, drive subscriptions or foster further engagement? (It must.)
5. What does investing into service journalism require? Will you need to hire new staff? What resources would you need?
Your readers are looking to you to solve their problems, answer their questions and meet their needs. Striving towards the same high quality a journalist would put into an investigative news article, now news media can attract more readers with strong service journalism that provides useful and reliable advice amid the hustle and bustle of their everyday life.