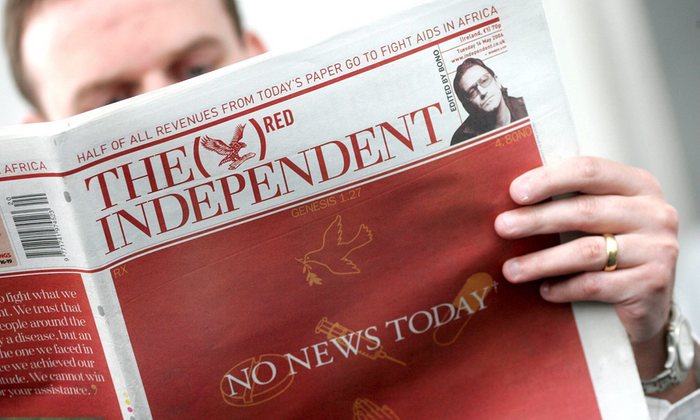 06 Apr

GUEST EDITORS: Taking newspapers out of the box for the day

Bono, Sir Elton John, Sir Richard Branson, Karl Lagerfeld and Lady Gaga have all guest edited newspaper in recent years, drawing attention to aspects of the news that are normally hidden in the standard editorial routine. INNOVATION took a look at some examples of how celebrity guest editors can revitalize a print brand, all in a day's work.

By Marta Bortero | Consultant, Innovation International Consulting Group, Medellín 

Guest editors invite innovation.

The idea has been around for 10 years in leading newspapers and promises more in the future. It is a chance to interrupt the predictable environment of newspapers and offer readers a new way of looking at things, a fresh idea to rally around or an extra touch of celebrity entertainment, but there is always someone famous at the forefront, and it's always done as a break in the routine that lasts a day.

PHOTOGRAPHY

Vanity Fair's signature photographic style invaded the pages of Die Welt Am Sonntag on November 16, 2014 to celebrate the use of images. The inspiration for change came from Mario Testino, the British fashion photographer born in Peru, who sent a strong message to the editorial staff: forget about Beat Balzli, the editor-in-chief of Die Welt Am Sonntag: "Now you're working for me: the images must be bigger".

Wall Paper allowed Robert Wilson—a multi-skilled designer, choreographer, theatre and opera director who experiments with portraits using mixed video, photo and art techniques on stars such as Isabella Rossellini and Johnny Depp, as well as on everyday objects and old cars—to leave his mark.

On November 23, 2013, Libération, the centre-left French newspaper founded by Jean-Paul Sartre, defended photography using the opposite technique: readers saw white space where they normally saw images. Articles ran without the visual impact photography provides, to sound the alarm as press photographers are sacked from newspapers around the world and professional work is replaced by images taken on smartphones. The day's edition was also dedicated to those press photographers who lose their lives in armed conflict.

Brigitte Ollier, from Libération's culture section, explained that the white photo frames created an uncomfortable silence thanks to the missing information, "It was a mute newspaper, a newspaper without the normal internal music accompanying the gaze".

The front page described the daily's creed: "Libération vows an eternal gratitude to photography, whether produced by photojourna -lists, fashion photographers, portraitists, or conceptual artists. Our passion for photography has never been questioned – not because it's used to beautify, shock or illustrate, but because photography takes the pulse of our world".

DESIGN

Design is also used as an excuse to invite great creators over for the day, like when Armani edited British daily The Independent. Rival designer Karl Lagerfeld knows the format better, though, and has guest edited Die Welt, Libération and Metro. He edited Die Welt Am Sonntag for a day on the theme of luxury, an area the German designer knows well.

The motivating force in his creative life became the mantra for editing the paper, "The moment you like your job, it is no longer work". It was obvious he enjoyed being editor of a newspaper and broke with the normal print routine. While it perhaps wasn't so shocking to see Lagerfeld editing Die Welt, it was more of surprise to see him editing the French centre-left daily Libération or Metro. At Libération, the Kaiser made it clear that creation at the crossroads of luxury, good           design and great ideas knows no boundaries.

BUT DOES IT WORK?

Guest editing requires enormous amounts of editorial coordination before the big day, but the main aim is to draw attention to worthy causes. Selling extra copies is a bonus. Special celebrity editions have an impact on circulation. The record for an increase in sales is still The Independent's 70,000 extra copies when U2's Bono edited it in 2007, after long conversations to reach an agreement. Elton John also made it work there, selling 10,000 more copies and convincing stars such as Elizabeth Taylor, Bill Clinton, Kanye West and Christiane Amanpour to encourage solidarity with World AIDS Day, covered from every angle in that day's edition.

Celebrity guest editors can have a big impact on that day's edition, can increase circulation and can also increase reader participation, if readers are invited to work as assistant editors to a star for the day.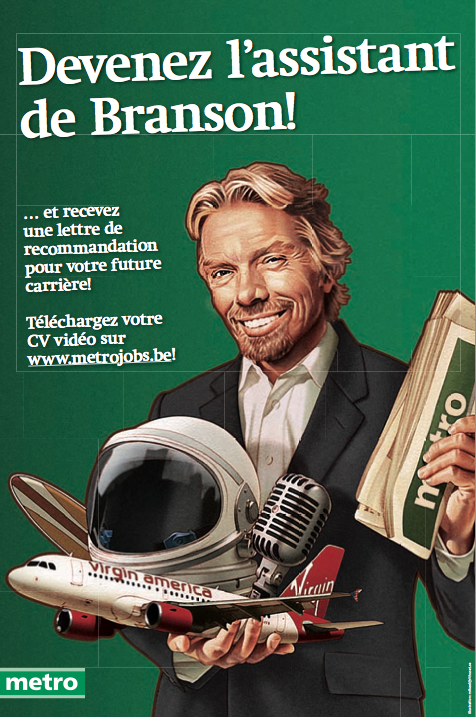 Metro—with its 18 million readers across 22 editions—provided Sir Richard Branson and Lady Gaga with a chance for lots of extra exposure when they both enjoyed guest editing the newspaper for a day alongside a reader. The founder of the Virgin Group asked young Metro readers to send in minute-long videos as a form of CV, explaining with entrepreneurial initiative why they wanted to be his editorial assistant for the day. The winner was Juan Nicolás Garzón Guevara from Bogotá in Colombia. Juan Nicolás accompanied Sir Richard on October 4, 2012 in New York and was also invited to Virgin Unite's World Business Forum, where new entrepreneurs are advised on how to: "Screw business as usual".
Lady Gaga launched a similar competition when she launched her album "Born This Way", this time asking candidate readers to better describe why they were born as they were and which factors in the fight for equality most motivated them. She said in a statement that, "I say I was born to be brave. That's part of my mission in life. I was born to follow my artistic visions. Look into yourself. Are you born to be brave?", and told the Metro newsroom she had been a victim of bullying. 20-year-old Jeroen Engelen from Holland, slightly older but no less fanatical than her usual 'little monsters', won the competition and arrived at the Metro newsroom in clothes he had designed himself.
FROM CELEBRITIES TO ISSUES
As Lady Gaga arrived at Metro with her pink hair and raunchy style, Colombian singer Juanes turned up in his black shirt to edit Bogotá newspaper El Tiempo, with an open invite to writers and analysts to offer arguments in favour of a climate of reconciliation and peace to help bring about the end of the armed conflict the country has struggled with for decades. The Sunday edition was called: "It's time for change" and the singer said the aim of that day's edition was to offer a "proposing, optimistic, inclusive, hopeful" vision of Colombia across the newspaper "without at the same time hiding the reality of the country".
Last February, El Mundo in Spain tried something different on World Cancer Day: a thematic edition with something about cancer on every page, as a homage to the patients, doctors, researchers, relatives, nurses and volunteers who fight against the disease. The print and digital editions maintained a hopeful tone, with positive figures: the number of patients who survive the disease has tripled since the 1970s. The website offered a special "Faces of Cancer" presentation, with the testimonies of nurses and volunteers.
It is clear the different ways of approaching guest editing for a day—celebrities, good causes, sensitive subjects, reader participation, design potential and great photography—all transcend how we normally think about newspapers and suggest new frontiers for us to cross. Letting someone else edit the paper for a day, after weeks of preparation, offers readers a welcome surprise from the standard 365-day news routine that makes them think, and a collector's edition to keep.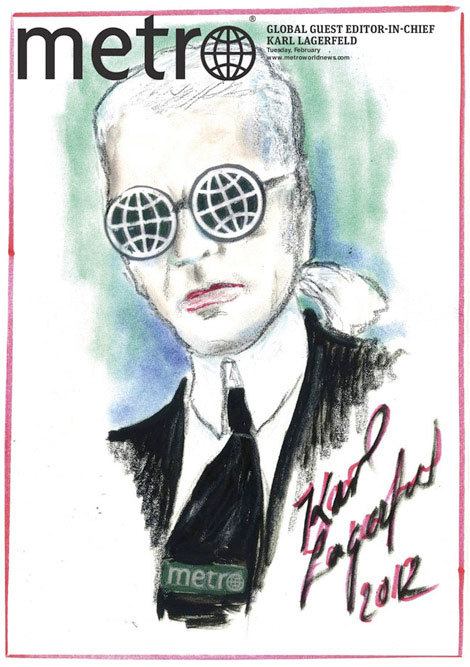 INNOVATION'S TAKE
Beyond the success of celebrity editing for a day, which requires enormous preparatory effort, newspapers should think about how to incorporate these more impactful changes into their normal product.