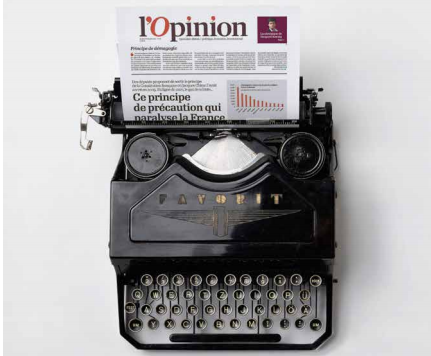 03 Mar

L'Opinion aims high with premium editorial content for influential subscribers

Nicolás Beytout and Christophe Chenut are trying to invest €20 million over four years to create the first new general interest print daily to survive in Paris since the 1970s, targeting premium top-tier subscribers with a cross-platform flow of serious politics and economics news. 

By Juan Antonio Giner, President & Founder, Innovation Media Consulting Group, Wales

Since the arrival of Libération in 1973, no new generalist print daily in Paris has been able to survive. Those that tried—Information, Le Quotidien de la République, La Truffe and Le Jour—have all closed. L'Opinion, an "arthouse newspaper" like Le 1, was created by Nicolás Beytout, the former editor of Le Figaro and Les Echos, on May 14, 2013; it is a Monday to Friday national newspaper, printed in Paris and Marseille, that defines itself as liberal, European and pro-business.

It was brought to life outside the French periodical press system, so there are no trade union pressures, it depends on the near-monopoly of newspaper distribution and, above all, its 8-12 pages and no more than 40 staff mean very low costs. As it approaches its second anniversary, I visited its modern facilities at number 14 Rue de Bassano, in one of the nicer areas of Paris, to talk to the chairman and editor of the publication, Nicolás Beytout, and its CEO, Christophe Chenut.

On Balance

The first thing I asked the pair is what they would do differently today than when they launched the daily: "At the start, we thought we were a print outlet with a digital arm; today we see ourselves more as a digital outlet with a print arm", they respond immediately.

"We always saw ourselves", says Beytout: "as 'new media' and not just a print newspaper, but print imposed its needs from the start and the organisation of the newsroom ended up relegating digital to second place. That was a mistake. Today we see it all much more clearly, we must concentrate almost exclusively on the new narratives and digital multimedia platforms and, at the end of the day, 'tip' the best, most relevant content into the pages of the print edition".

Chenut adds: "That's why we're changing our CMS and developing our own that lets us do that reverse publishing".

The Value of Print
For both of them, the success of L'Opinion is linked to the quality of the audience they can find with the digital edition and the influence, visibility and prestige that print offers. The editor explains that "when we interview politicians and businessmen, the first thing they ask us before answering is: 'is this for the print edition or the web?'. For most of them, print is still the medium of reference and where they want to see themselves appear".

In fact, print and digital are two sides of the same journalism and publishing coin: both editions are sold together to subscribers and advertisers, although 90% of ad revenues come from the print edition. Just 10% come from the website. "We print about 35,000 copies a day", says Chenut: "and we sell about half of them, but then we get about 700,000 unique visitors each month". The daily, with its distinctive red colour, is printed in the berliner format and sold folded.

The Newsroom
Of the 40 staff at L'Opinion, 30 are journalists and 10 are administrative and sales staff.

"We hired big-name, well-known journalists", says Beytout: "because we knew that quality
reporting is expensive and needs contacts. Many of our journalists used to work at big titles like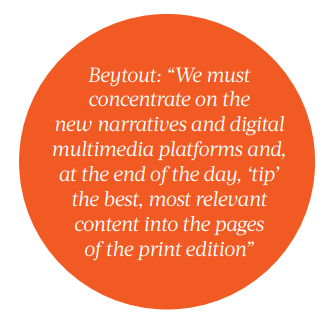 Les Echos, Paris Match, L'Est Republicain, Europe 1, Le Parisien, Challenges or Courier International, and they came over here because they believed L'Opinion was going to be what it has been; innovative, influential and top quality".
Hiring top veterans meant more spending up front but, at the same time, guaranteed well-respected names, something the creators would not have achieved with a newsroom full of new starts or digital natives. Today all of them work for both the website and the print edition.
The online offer includes 30 minutes of video and around 15 interviews each day, all accessible across all of the digital formats.
Readers
L'Opinion's print deadline is 8 p.m. (Libération's is 7:30 p.m.) and the PDF version is available for subscribers half an hour later at 8.30 p.m. They also send out a stream of daily e-mail newsletters in the morning and in the evening.
The paper aims for high-end, luxury advertisers and big brands interested in reaching influential "opinion makers" and sometimes adds a second, subject-based section (Les Cahiers de L'Opinion) to attract advertisers from specific niches.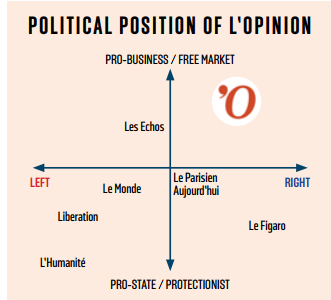 "We are a very young media company, targeting the leadership class", says Chenut: "While our market share in the national press is 3%, we triple that, up to 9%, in terms of the most quoted media outlets on radio and TV, which is a very high multiplier".
Sobriety
L'Opinion prefers text over graphs, and photos are limited to the portraits of its most well-known writers. Whilst only publishing 8-12 pages, the appearance of weight is prejudicial and quick-read formats its readers, with little free time, would appreciate, are notoriously absent.
In any case, the graphic monotony gives the paper sobriety and serenity; this is a daily without shrillness where political and economic discourse dominate culture and lifestyle, a daily that can only justify its existence if it adds value to what other media outlets, print or digital, already publish.
All of that makes the newspaper a complement to traditional titles, which try to do everything for everyone and end up being papers for no one. L'Opinion's effort to be selective makes it valuable and that explains why its public visibility is so much higher than its market share.
A five-column editorial with the editor's byline—mostly by Nicolas Beytout and sometimes his chief editor, Rémi Godeau—is to be found on the front page and there are always some thoughts from Michel Schifres below.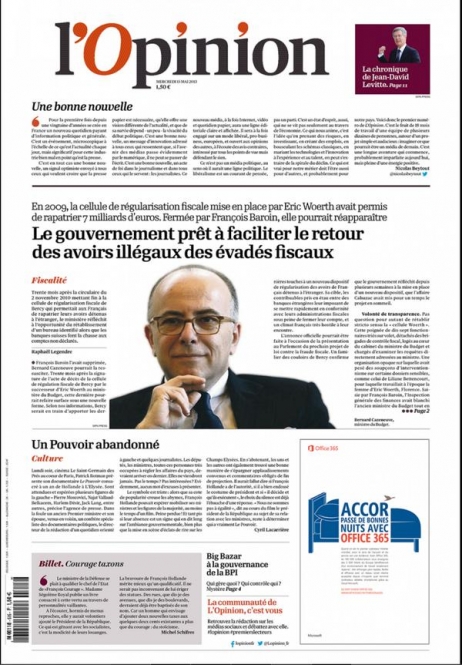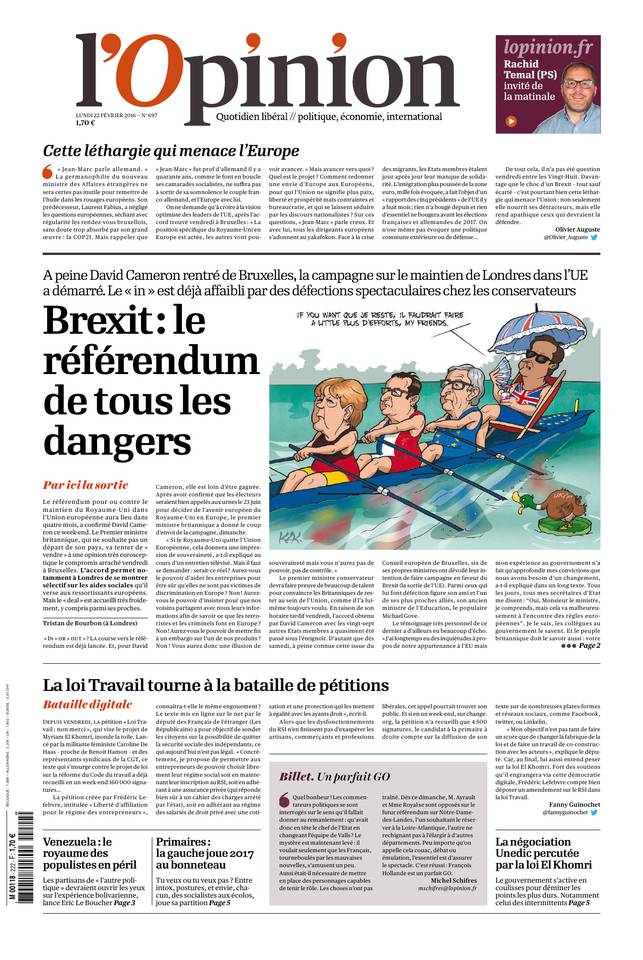 Income
The paper sells for €1,70 a copy (Le Figaro costs €2 ). Subscriptions to the print and digital versions come in three basic flavours for individual subscribers: a six-month trial period for €149, a full subscription for €24,90 a month, and a digital-only subscription for €19,90 a month.
There is also a reduced student subscription starting at €16 a month and two corporate subscription options allowing companies to subscribe up to 10 users in a €1490 deal that comes with invitations to 'The Club Very O'pinion People' and one of four annual L'Opinion conferences.
Chenut says his main challenge is getting more groups to subscribe with big discounts: the print subscription includes lots of licences to access the digital version of L'Opinion: he might sell 50 subscriptions to the print version and include 200 website licences.
The business plan contemplates an investment of around €20 million over four years, at the end of which they hope to break even.
INNOVATION'S TAKE
L'Opinion is an experiment in how to preserve print newspapers into the future with quality content, more analytical than opinionated, more explanation than news. They save their readers time and offer up key points and trends. Its Achilles' Heel is how not to cannibalise that content in the digital version, but the payment model minimises that risk and what could be a disadvantage becomes a benefit for readers who, paying, can get their news wherever, however and whenever the want.