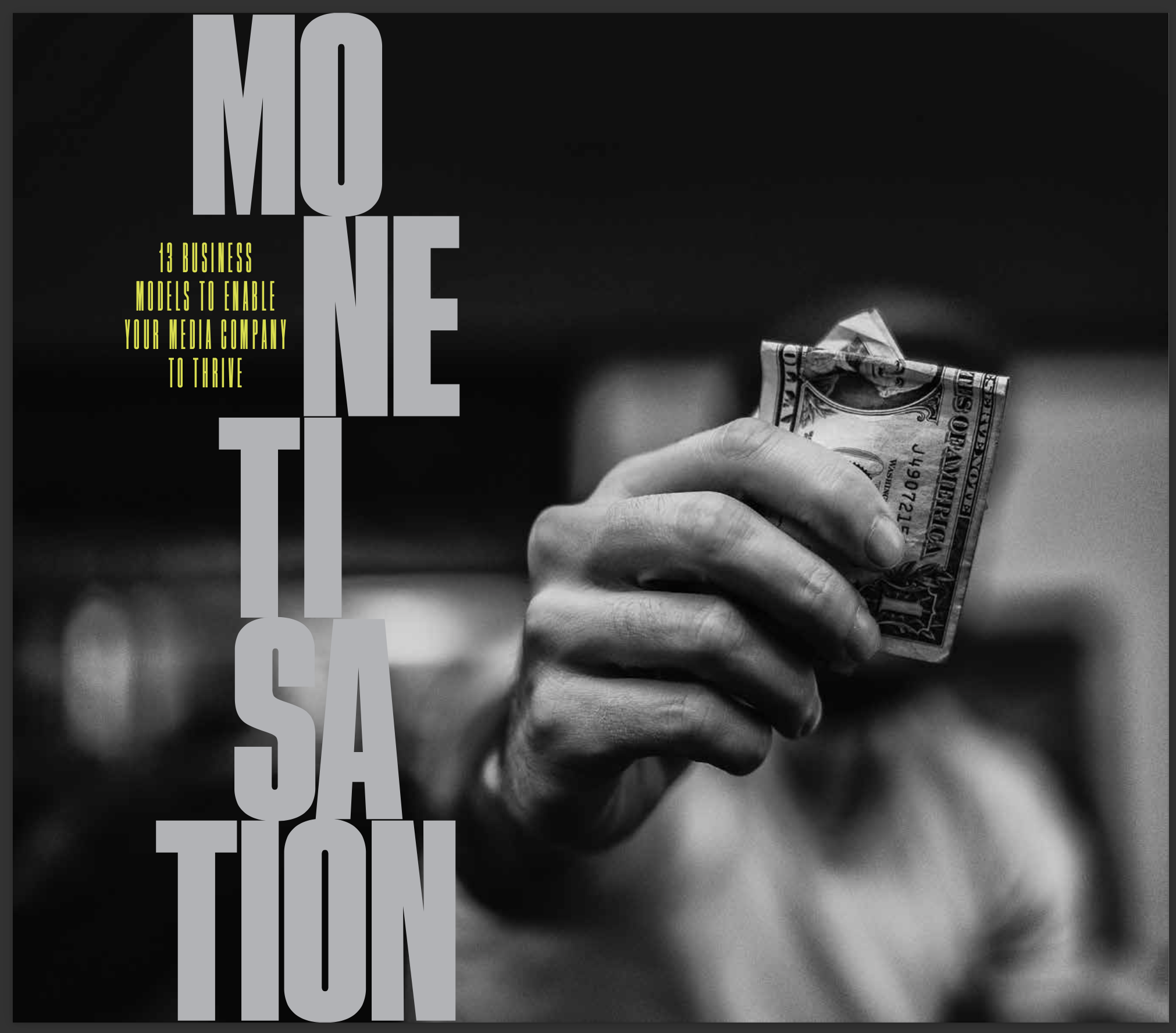 15 May

13 Business Models to Enable Your Media Company to Thrive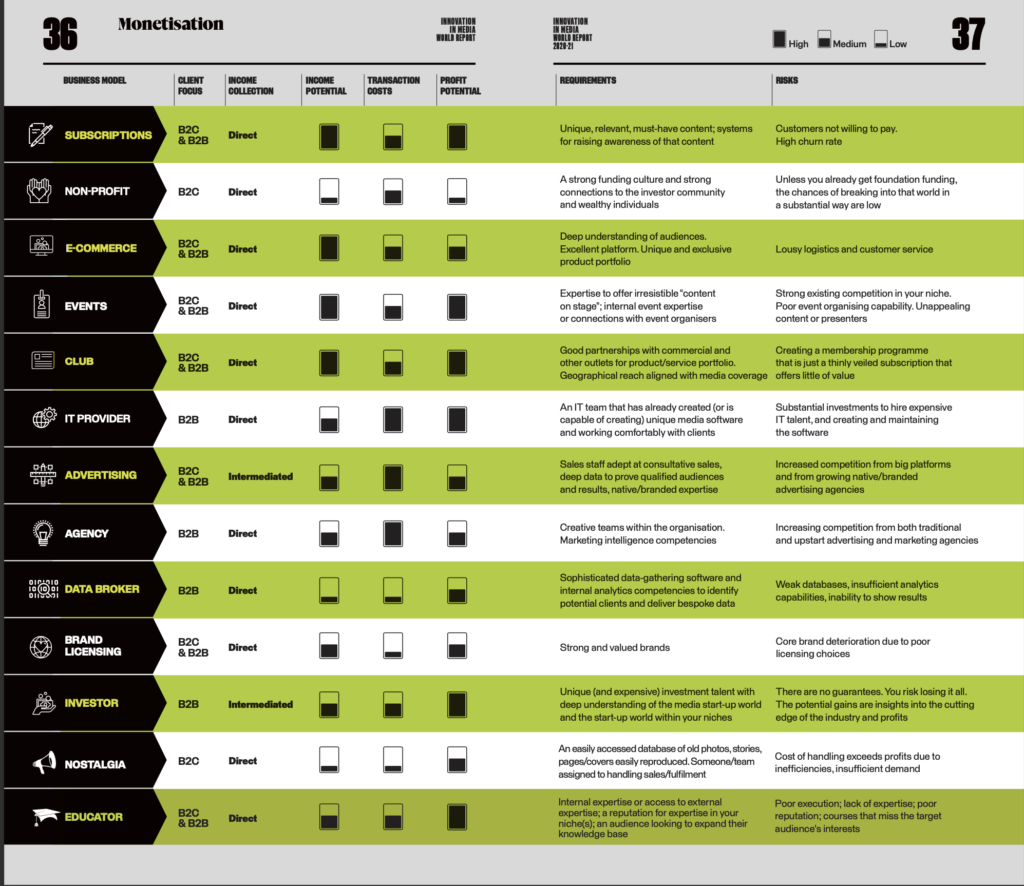 ---
The Subscription Business Model
"Reader revenue is providing stable and growing income while advertising has remained volatile, with many reporting worse than expected results in 2019"

– The Reuters Institute
Not only is subscription revenue growing, it is also morphing beyond its original form to include greatly expanded niche vertical subscriptions, profitable enterprise B2B sales, conversions to high-end product subscriptions, and, most importantly, whole departments dedicated to retention.
This transformation of reader revenue has prompted what media industry magazine Folio called "a deep rethink around what a magazine is or can be". "I do think there is an unbundling of the magazine subscription," Esquire Editor-in-chief Michael Sebastian told Folio."Just as iTunes detached tracks from albums, we may be seeing the general access model for paid content splinter into passion points that micro-subscriptions serve with product mixes that go far beyond text and images."
We are also seeing the creation of entire departments dedicated to subscriber retention. Tellingly, back in late 2016, The Washington Post had no one dedicated to retention. Today, there are 25 people working on retention. Similarly, The New York Times tripled its retention- focused staff between 2015 and 2017. "You don't get money from conversion, it's from retention," Kjersti Thorneus, Director of Product Management at Schibsted Media Group, told WhatsNewInPublishing.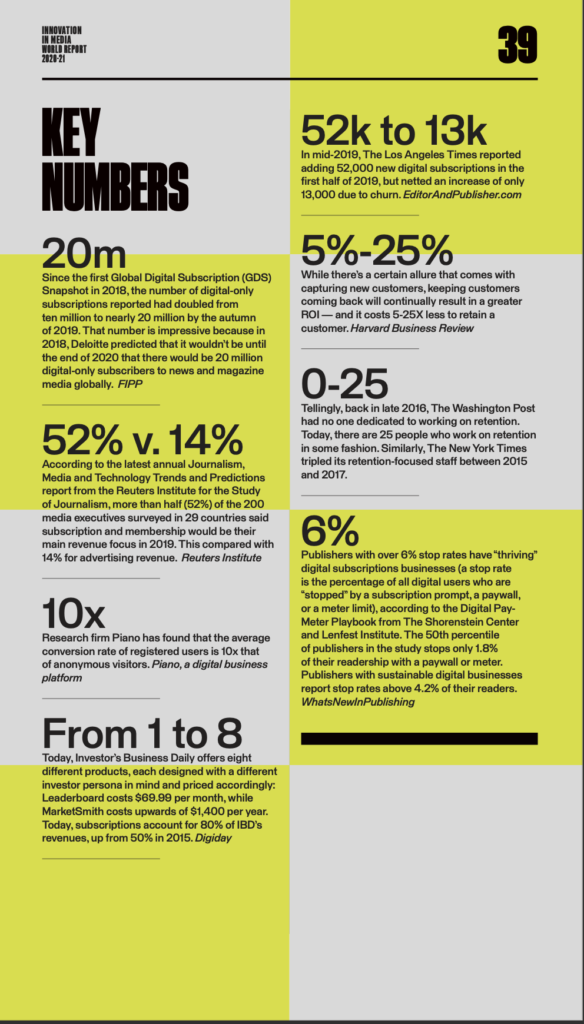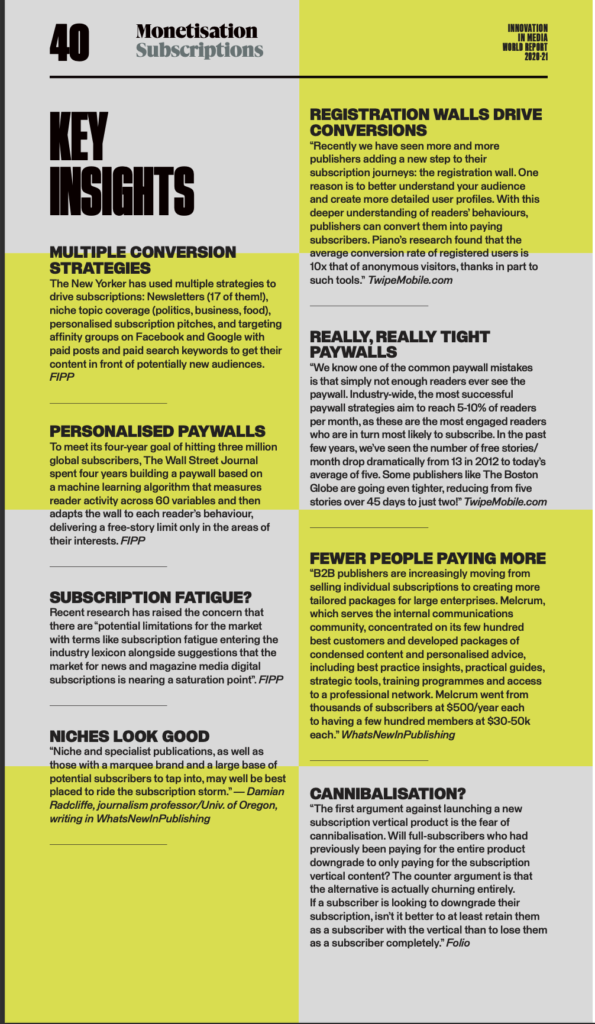 ---
The Advertising Business Model
"Digital advertising is still a growth industry. With the ability to offer compelling content, brand safety, and high-end audiences, savvy publishers are well- positioned to be prosperous in 2020."

— Tim Bourgeois, Digital Media Auditor and Consultant

For all the doom and gloom about advertising, it nonetheless remains a growth area. The challenge is how to get your share. The advertising industry faces an "existential need for change," according to a blunt report published in late autumn 2019 by research firm Forrester. The media and ad agencies must "disassemble what remains of their out- moded model" or risk "falling further into irrelevance," the competing for the cash not already taken by the platforms and squandered by ad blocking is to fix the broken online advertising model, according to Jessica Rovello, CEO of content company Arkadium. The "downward spiral" of the current system is caused by poor digital ad formats that lead to ad blocking, reduction in revenue, more ads per page, and ultimately an awful user experience. To counter this, bet- ter engaging, less intrusive digital adverts will lead to an upward spiral, which will decrease ad blocking, increase revenue, lead to less, but more relevant ads per page and create a better user experience, Rovello said.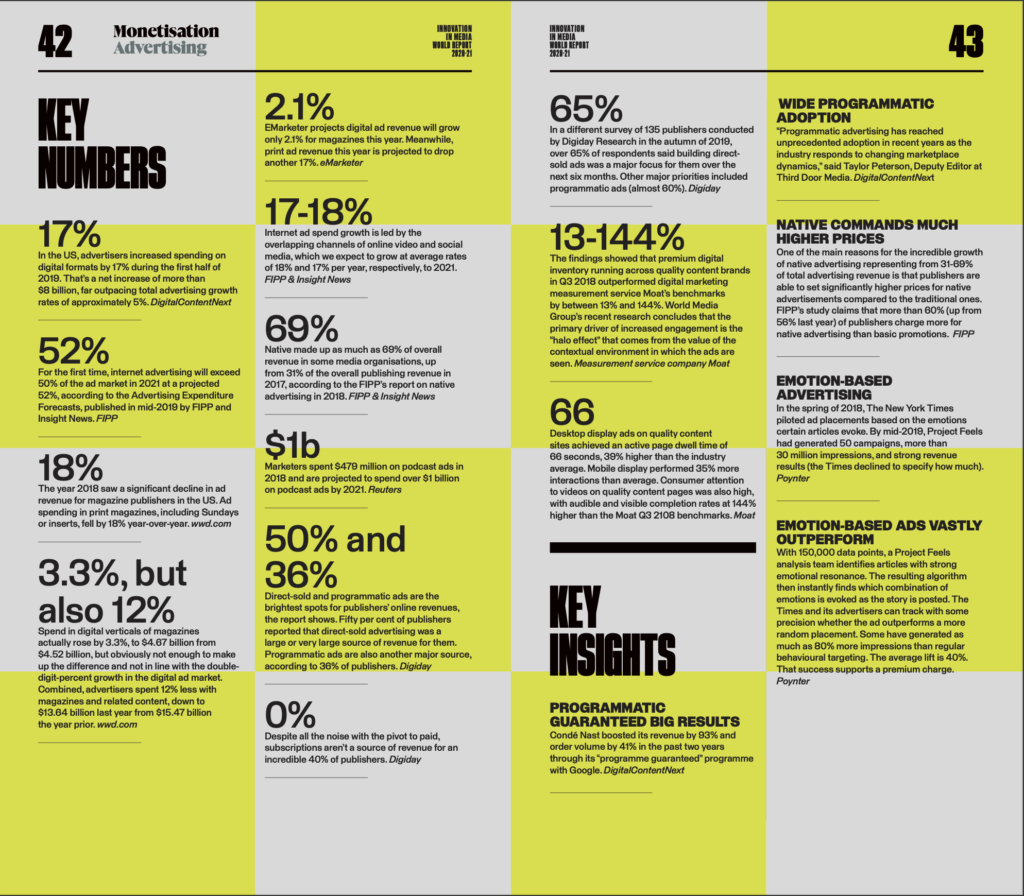 ---
The Data Brokers Business Model
"This is where first-party data becomes so important. Rather than developing entirely new inventory strategies, which is a heavy lift, publishers can look to what they already have — rich behavioural, subscriber, and social data, most of it seriously under- leveraged. When used properly, first-party data can help publishers drive revenue in two ways — directly and indirectly. It can help them to stop working harder and start working smarter.

— StreetFightMagazine

Selling data-as-a-service (DaaS) has proven to be very lucrative for some companies. Its success has fulfilled the prophecy of Prescott Shibles, Senior VP/Data of advertising firm Randall-Reilly, who told the Connectiv Executive Summit that "targeting data will soon be worth more than advertising inventory." Today data can actually make you some serious money. Unfortunately, few media companies have figured out how to make that happen. "Publishers who want to not only compete but also thrive in today's media market need to look at what they already have in their back pocket," said Fred Marthoz, Managing Director at data solutions company Lotame, speaking to WhatsNewInPublishing.com. "We often talk about the pivot to video or the pivot to podcasts. The pivot to data is really the biggest opportunity in the market today."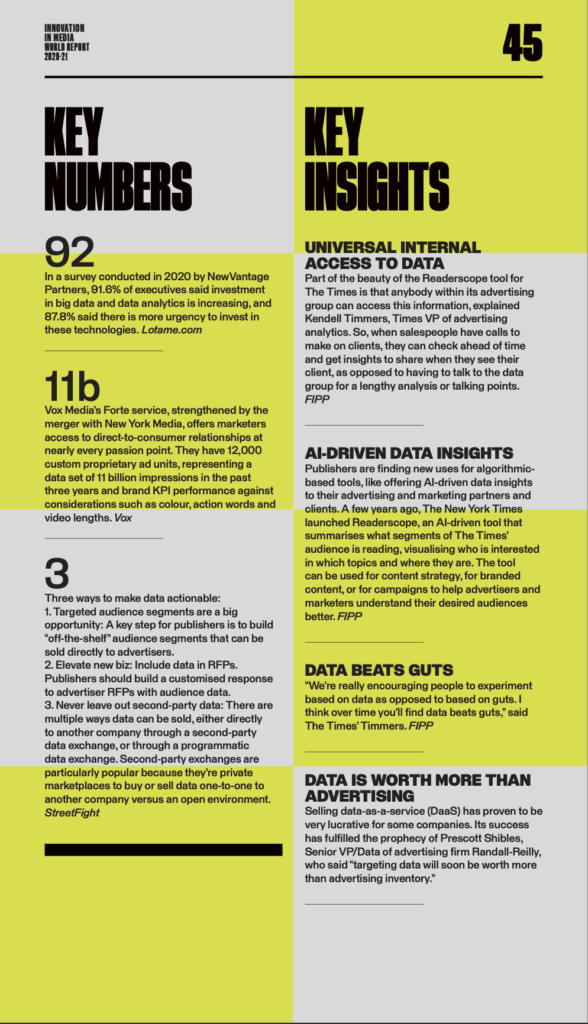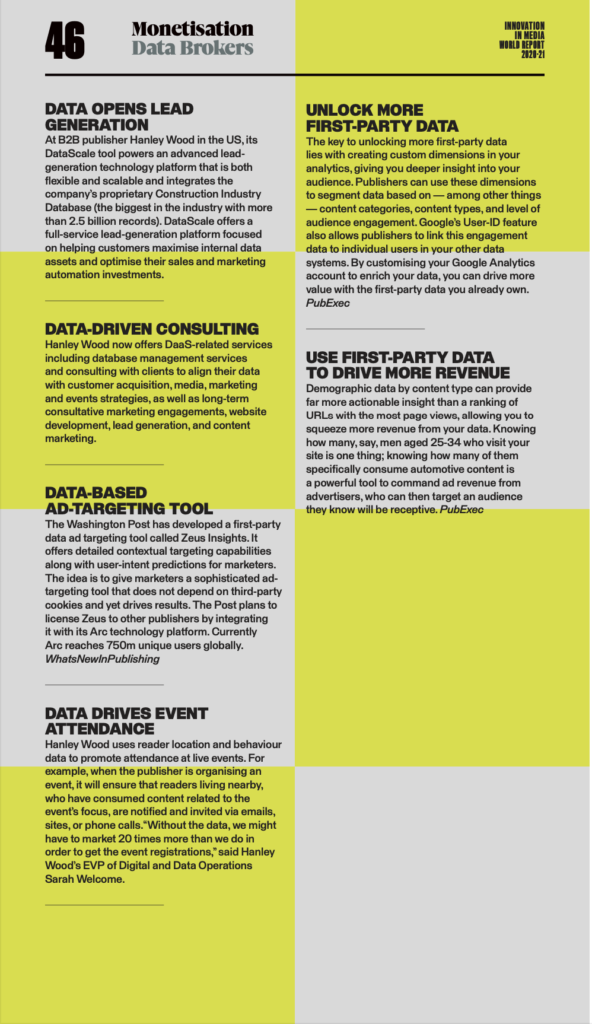 ---
The Club Business Model
"A subscription model requires audiences to pay money to get access to a product or service. A subscription conveys a transactional relationship. A membership model invites audiences to give their time, money, connections, professional expertise, ideas, and other non-financial contributions to support organisations they believe in."

— Kate Myers, Executive Director/Revenue and Operations at First Look Media, a US-based journalism organisation

For starters, membership is not:
A branding campaign you can launch when revenue flags
A subscription by another name
A strictly American media kind of thing
A consultancy buzzword
What is it?
"In membership, there's a different social contract or value proposition between the site and its members," wrote Staff Writer Christine Schmidt for the journalism think-tank Nieman Lab. "At the basic level of: What do you give? What do you get? Subscribers pay their money and get access to a product. But members join the cause and participate because they believe in it."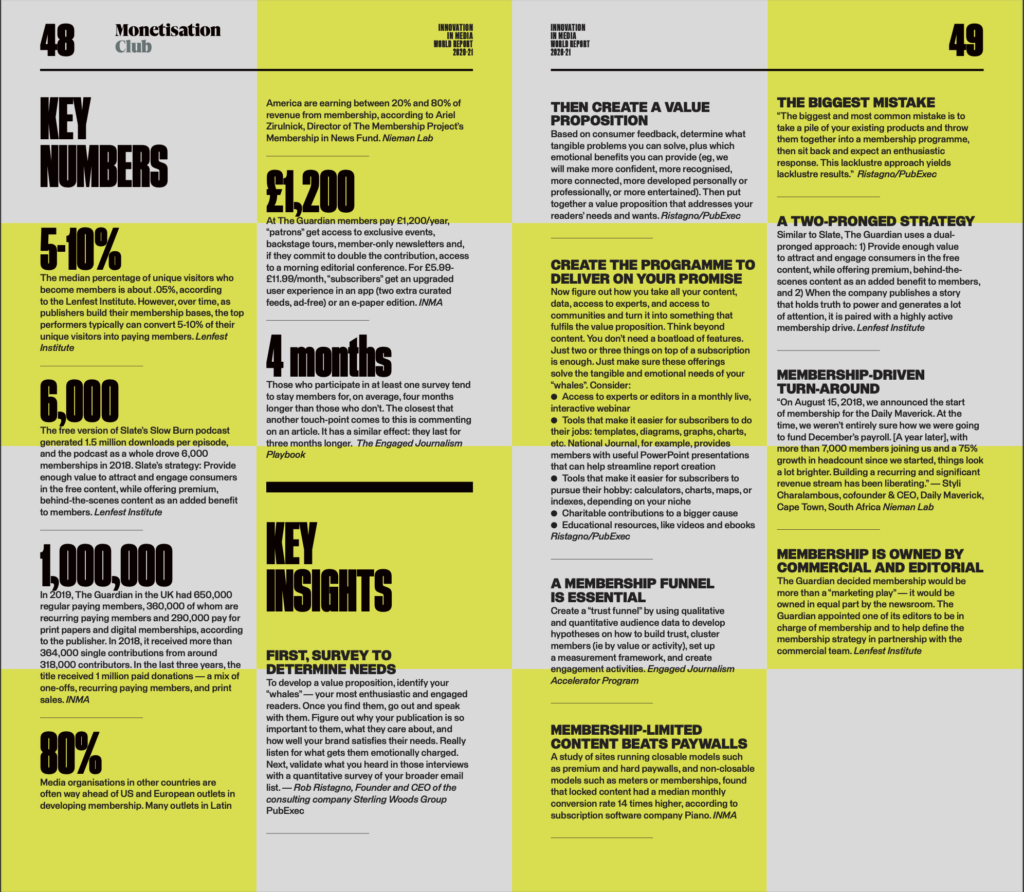 ---
The E-Commerce Business Model
"[What] smart publishers end up doing well is to become a discovery platform for their readers. The best sites aren't just talking about deals… it's really about what types of products are out there that reach this bar of 'we want to write about it'."

— Stackcommerce VP/Business Development Ben Gafni speaking to WhatsNewInPublishing

E-commerce and mobile commerce (m-commerce) together enable both the instant creation of a need and then the instant satisfaction of that need. Media companies' brick-and-mortar pop-up stores do the same thing.
The media company as a retailer business model can also serve every level of the sales funnel. Media companies whose trusted editorial teams give readers expert reviews of products fulfil a consumer's need for product-purchase information at the beginning, middle, and end of the funnel.
In both cases, the success of publishers'e-commerce and m-commerce initiatives proves the power of a media company to deliver results to partners and advertisers while also creating two new and potentially robust revenue streams: 1) Direct or commission revenue from product sales, and 2) Advertising revenue from brands who purchase native ads and branded content around the service journalism.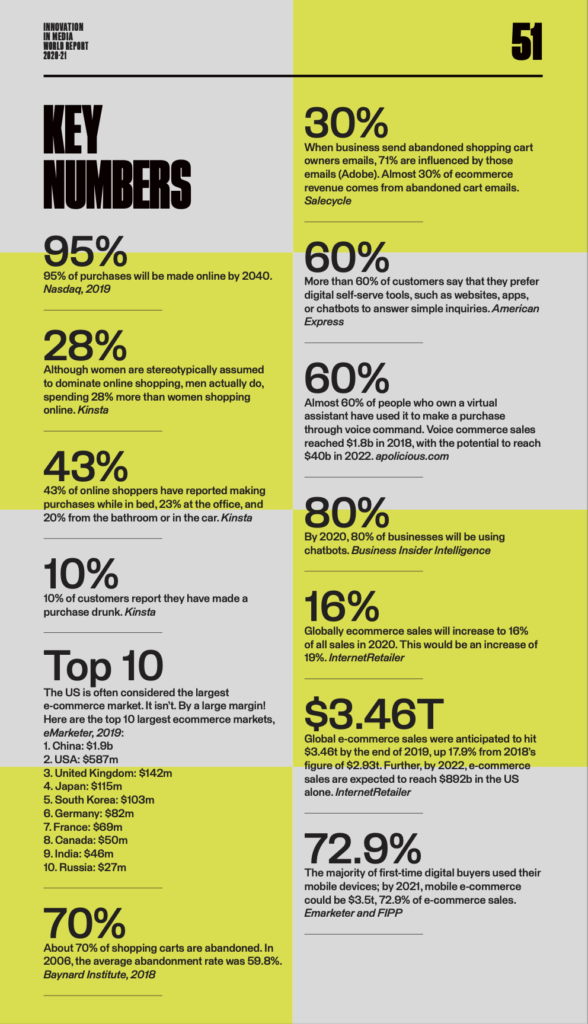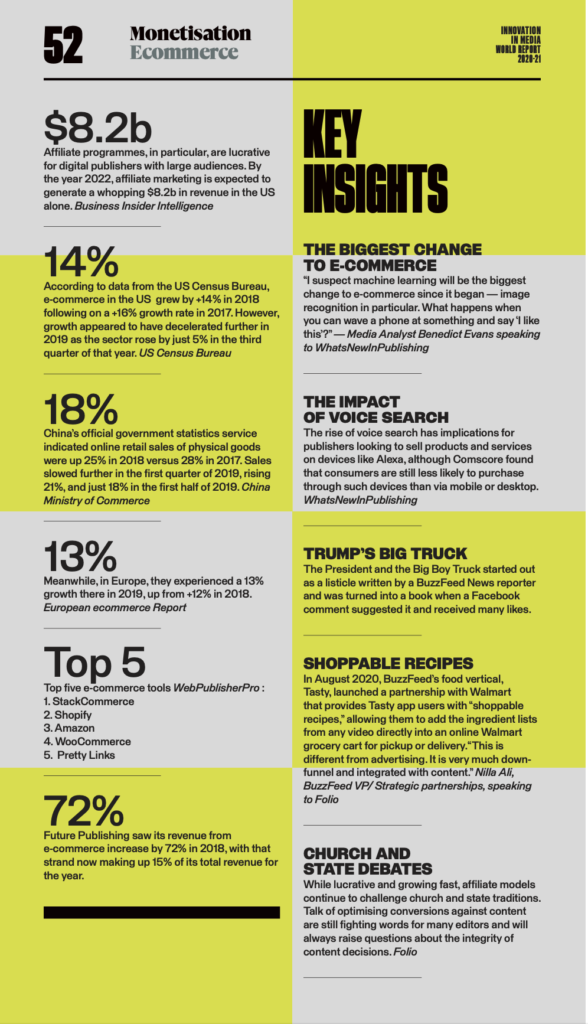 ---
The Events Business Model
"The increasing benefits from events are being driven by the growth of the "experience economy." According to the FIPP 2019 Events in Magazine Media report, 78% of millennials choose to spend money on a desirable experience rather than a material product. "People have so many digital experiences these days, they're craving that live experience more and more."

— Michael Caruso, Editor-in- chief at Smithsonian Magazine.

Media companies have a leg up on almost everyone else in the events space. Maybe two legs! OK, most media companies do not employ an army of event planners; many don't even have one event planner on staff. But that's the kind of expertise you can buy. Media companies DO have almost ev-erything else needed to run a successful event:
Relevant content
Niche expertise
A loyal following in that niche
A targeted mailing list
A niche customer database
Existing relationships with potential event sponsors
Media platforms with large followings to promote events
That is the kind of stuff you CAN'T buy! Magazine media companies who do run events say events:
Deepen the company's connections with its readers
Attract new readers and subscribers
Attract new advertisers who might not be interested in a print or digital relationship
Deliver new revenue from fees and sponsorships
Raise awareness and brand recognition
Make news
Create content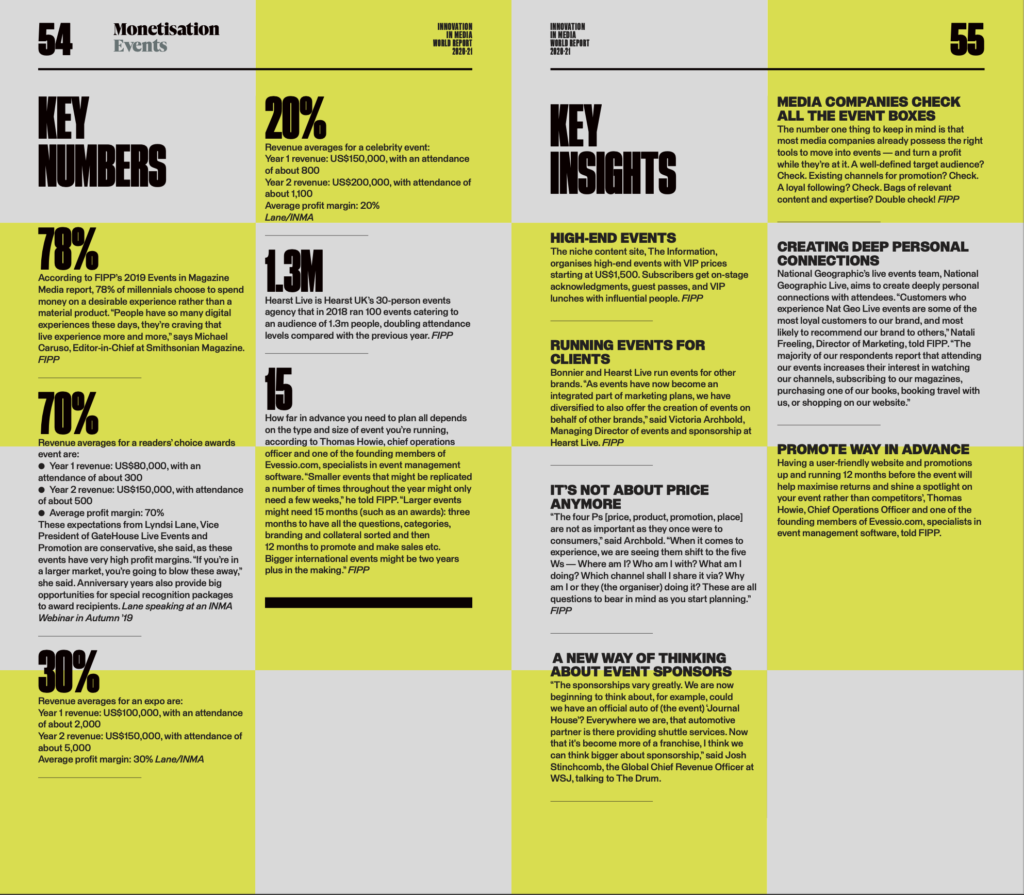 ---
The Non-Profit Business Model
"But while the overall funding for non-profit news sites presents a 'robust picture', according to a recent Institute for Non-profit News survey of 88 of the network's media members, large donations by rich philanthropists and foundations generally have benefited only a handful of new startups and nationally focused nonprofit media "

— Bill Birnbauer, Lecturer, School of Media, Film and Journalism, Monash University, Australia

It ain't easy. Unless you are one of the established big non-profits, you are left with the crumbs and little chance of breaking into the big time to get significant foundation support. To supplement whatever funding you do get, your best chances for survival are to find other sources of revenue, including individual donors, memberships, and e-commerce.
Philanthropic funding of journalism is happening, but it's barely a drop in the bucket and what little is happening is heavily concentrated in the United States with a sprinkling in Europe and virtually nothing happening any where else in the world.
More than 93% of journalism-focused grant money goes to US-based organisations, leaving just 6% for Europe, and only about 1% for media outlets in the developing world, according to Media Impact Funders (MIF) and the Foundation Centre.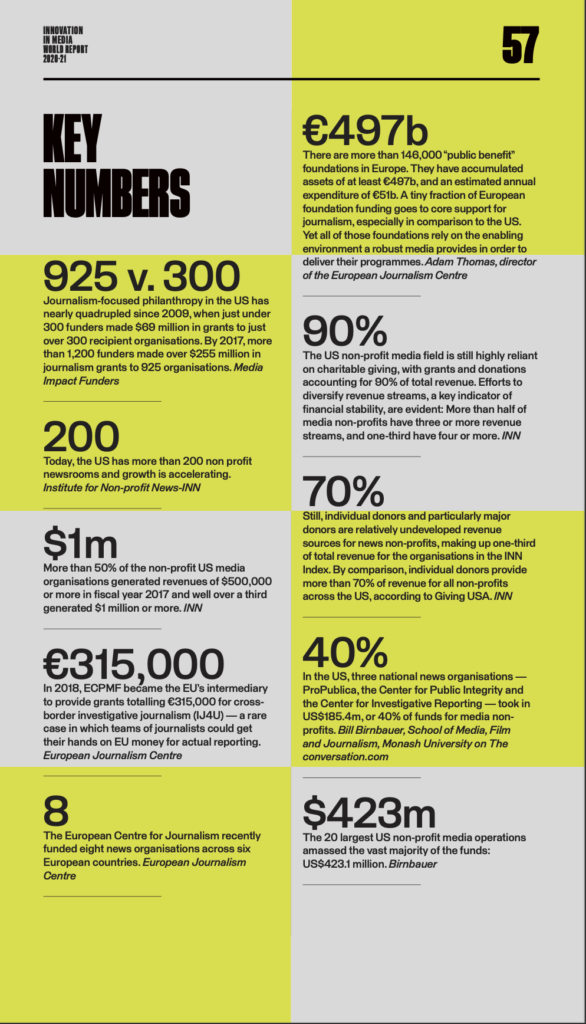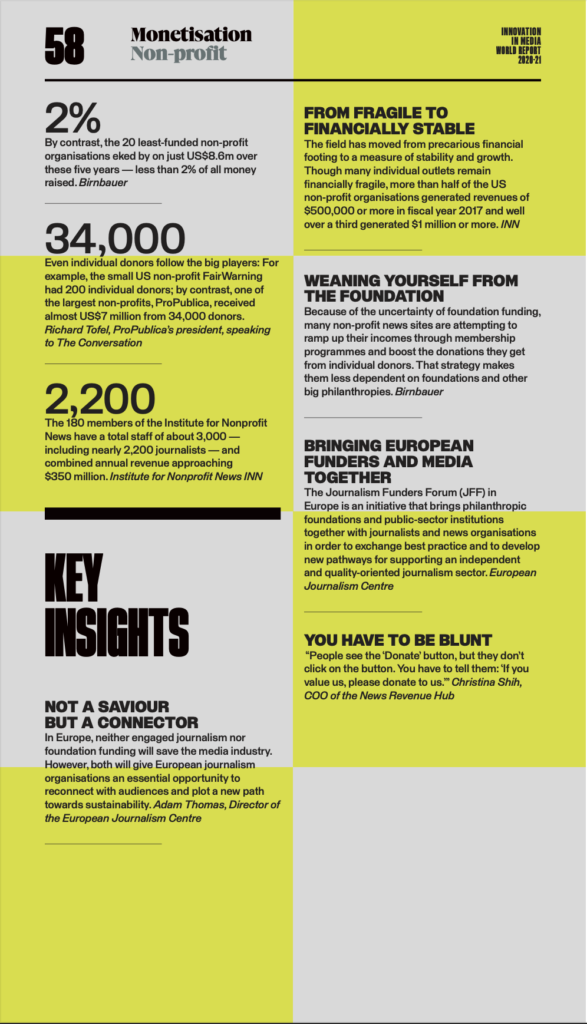 ---
The Agency Business Model
"One day we might be working with a 10-person small business and the next day we might be working with the largest telecom provider in the country"

— Tom Needham, Business Journals Content Studio executive director

It's hard. It's expensive. It's time-consuming. It's fraught with ethical church-state issues. But it is also one of the fastest growing sources of revenue for media companies.
What makes a successful agency?
• Knowledge of a desired audience
• Knowledge of the brand's customers
• Access to and a relationship with the desired audience
• An audience database second to none
• Exquisite storytellers. Expert videographers
• Media tech expertise
• Proven, sophisticated design capabilities
• Multimedia, multi-platform, multi-channel expertise
• Proven marketing expertise
• A nuanced understanding of how to build sophisticated multi-platform campaigns
Does that list sound like a media company to you? Sure sounds like a media company to me.
The expertise inside media companies is looking like an agency to more and more brands around the world. Many have given up trying to create branded content and media campaigns on their own, or even with traditional legacy agencies.
As a result, many media companies that have created in-house agencies are seeing results that have come to represent from five to 60% of total revenue!
The Brand Licensing Business Model
"Robust brand extension strategies are vital to maintaining relevance in today's hyper-competitive marketplace. To a degree, brand extendibility represents the most logical way to achieve profitable brand growth, however, many companies struggle with how far to stretch, where specifically to extend, and how to ensure success"

— Mitch Duckler; Managing Partner at Full Surge, a brand strategy consulting firm, told WhatsNewinPublishing

Manufacturers are increasingly willing to partner with publishers to make branded products because of then-digital properties (ie, compelling content and robust social media accounts), according to Business Insider. Additionally, publishers also possess the first party data of millions of customers.
"Brand extension strategies are a fantastic way to spread the impact of your company into new areas and products. Used correctly, brand extension can reinforce the credibility of your company, help you connect with new audiences, and even strengthen your image around the world," Steve Harvey, Co-founder of Fabrik-Brands a creative and branding agency, told WhatsNewinPublishing.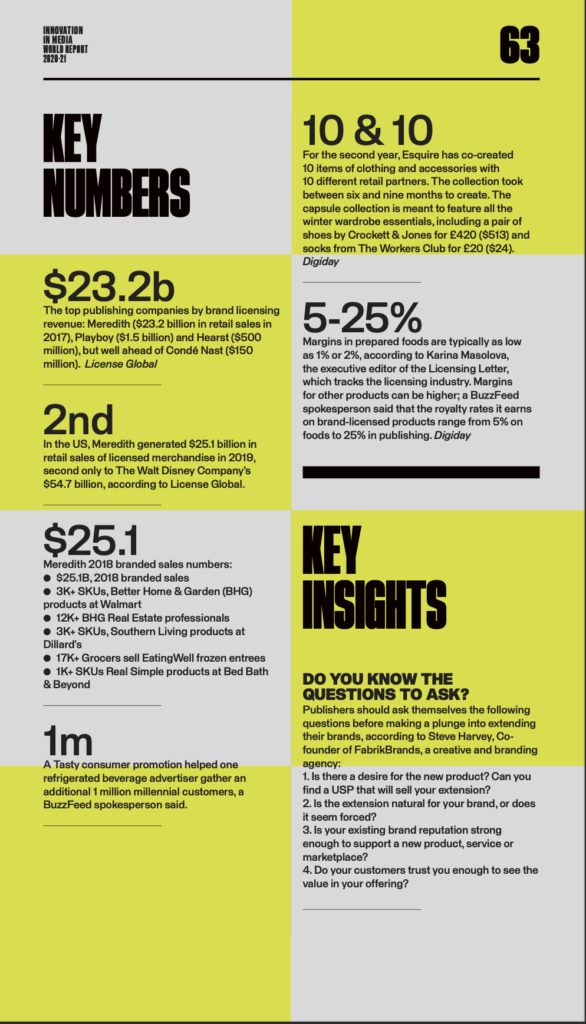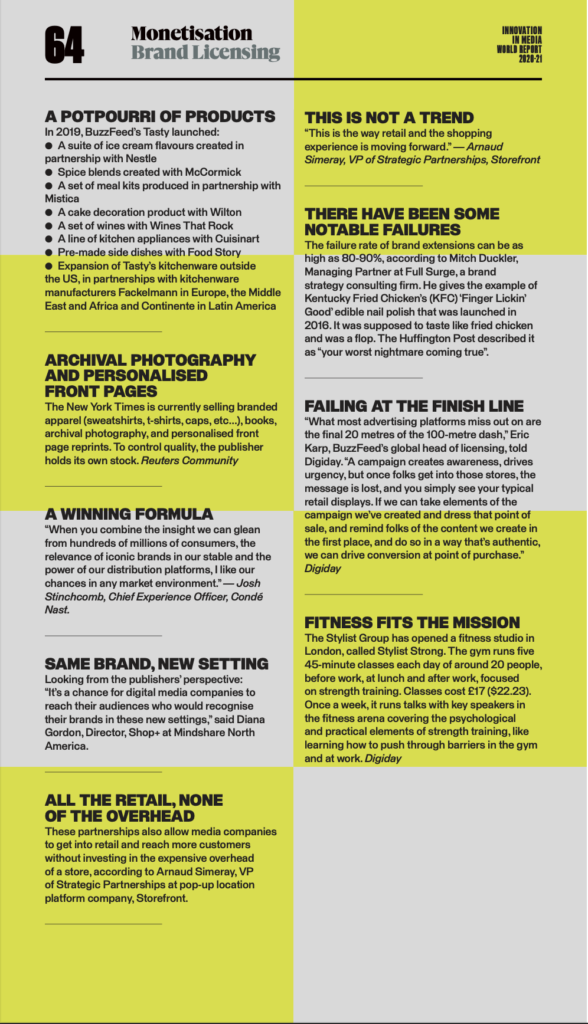 ---
The IT Provider Business Model
"The Washington Post is one of several companies selling a content management platform. WordPress, whose parent company Automattic raised $300 million from Salesforce earlier this month, is perhaps the most well known. Vox Media, which owns The Verge, Recode, Eater and is acquiring New York Magazine, licenses its Chorus publishing platform to media outlets such as the sports site The Ringer"

— Nat Levy, Geekwire.com

Being an IT provider is to be a member of a very exclusive club.
Only the largest, best-funded, and most established publishers can create and then sell or license technologies and, as a result, tech sales and licensing was the least common revenue source for publishers in a Digiday 2018 survey.
Most publishers lack the resources to build tech products because it takes lots of expensive talent and lots of time to build market-ready technologies.
Purch, for example, started in 2015 and took four years to build its $24 million ad platform for publishers, according to Digiday.
It also takes big investments, like Amazon CEO Jeff Bezos's purchase of The Washington Post, which then built Arc and Zeus, its content management platform and advertising platforms, to license to other publishers.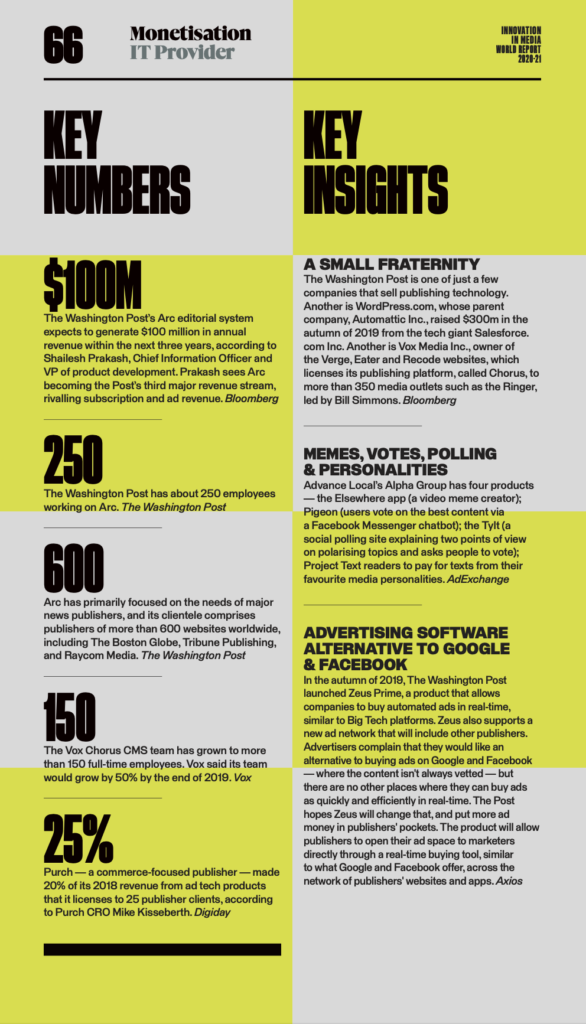 ---
The Educator Business Model
"Masterclasses started in 2010 to offer classroom-style sessions taught by an expert. These classes and workshops tend to have a higher price point than our Guardian Live events, because of the educational content provided. A masterclass could be three hours long, and over the course of one day, a weekend, or even running over six weeks."

— Lyndal Reed, Head of Strategy and Development for the Guardian Live

The Educator business model might sound a lot like a subset of the Events business model.
But it's a horse of a different colour, wholly separate from the consumer-oriented festivals, aw ards dinners, travel excursions, bridal expositions, beach parties, and such that make up the bulk of media company events. Events with an educational focus are much more substantial and require a very different approach.
For example, in 2010, the Guardian launched its Masterclass series.
"We boast a diverse programme of courses across a variety of disciplines, including journalism, creative writing, photography and design, film and digital media, music and cultural appreciation, social media and data visualisation, business skills and wellbeing," said Lyndal Reed, Head of Strategy and Development for the Guardian Live.
"[These are] classroom-style sessions taught by an expert. The classes and workshops tend to have a higher price point than our Guardian Live events, because of the educational content provided," she said. "A masterclass could be three hours long, and over the course of one day, a weekend, or even running over six weeks.
"We now have a very diverse classes and workshops portfolio, covering topics from digital media, photography and copywriting, to self-improvement and even foraging!" she said. "As long as the subjects align with our key verticals – for example, arts and culture – we would consider it a good fit."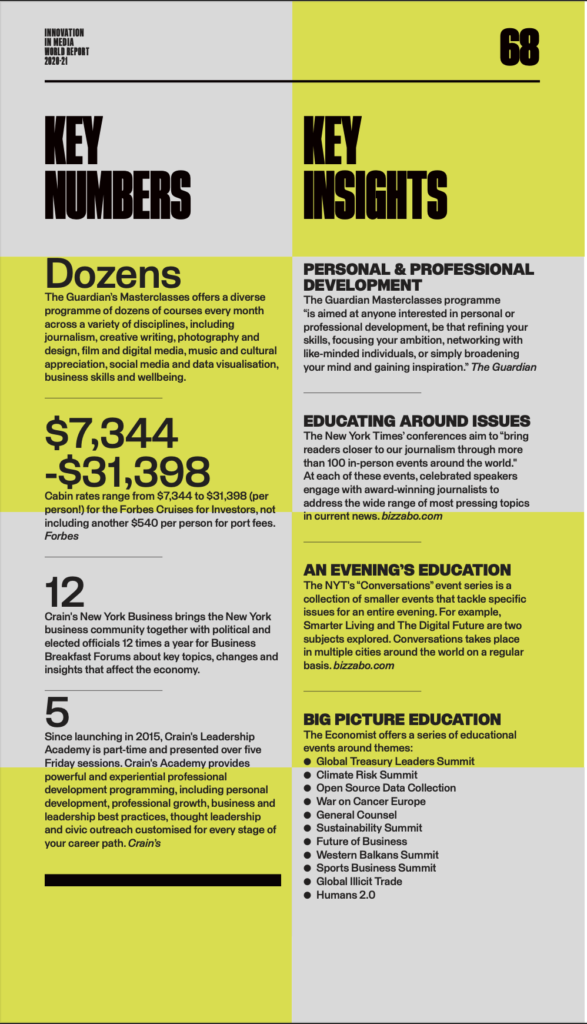 ---
The Investor Business Model
"I think big media companies that are looking for paths forward are wise to participate, even if modestly, in the startup world. The visibility and signals the market sends can be immensely valuable in thinking through approaches that might benefit a larger group."

— Marcus Brauchli, co-founder and managing partner of North Base Media, a media investment firm

Being an investor, like being an IT provider, is not for the feint of heart or those with thin wallets.
Most media companies' resources are either insufficient to be making big investments or are tied up in reinvesting in the company itself.
But some of the legacy media companies still have the wherewithal to make substantial investments in a wide variety of companies in a wide variety of industries. Usually, however, the investments are made w ith an eye either toward gaining a foothold in a new area of media or in a promising industry related to the media company's expertise.
But for those who do invest, the results can be both financially lucrative and immensely beneficial for both the media mission and the business mission of the company. Investing provides perhaps a potential new source of revenue and almost certainly unique insights into new technologies, new markets, and new (and potentially competitive) businesses.
That said, they can also tank, resulting in the loss of all or most of the money invested. Proceed with caution.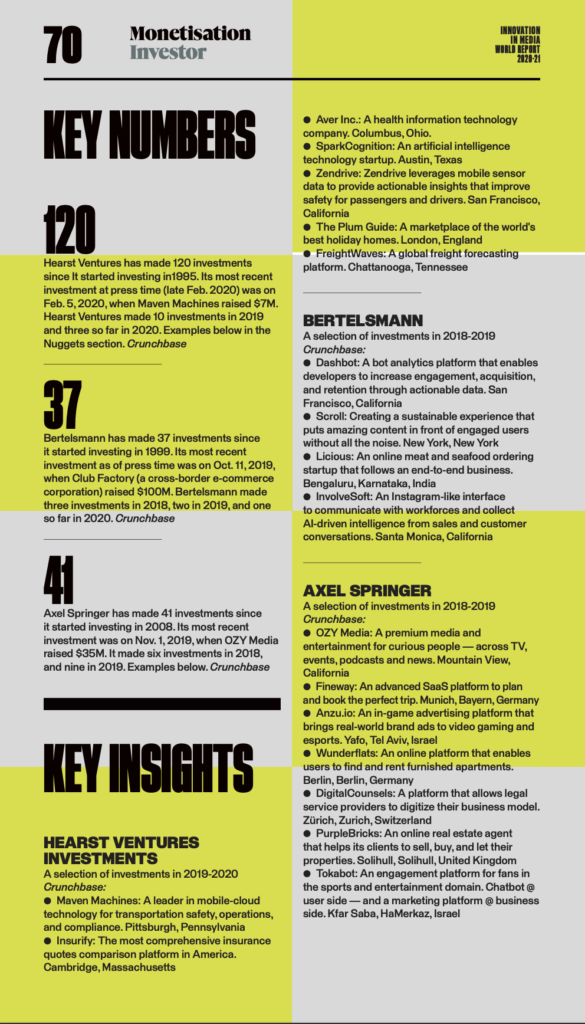 ---
The Nostalgia Business Model
"You're monetizing it [your archives] from the advertising side and the consumer side. You have the long tail of people buying it as a single copy. We also push it out to subscribers. And advertisers love them — they can own it entirely."

— New Yorker Publisher Lisa Hughes speaking to Digiday

Publishers are sitting on a gold mine.
Your archives.
Don't get too excited: Revenue from selling archived materials is not going to replace lost print advertising income or compete with revenue from events.
But your archives are assets that you have already paid for, so aside from handling, it's clear profit.
The biggest market
is old photos and collections of previously published material in themed print and e-book collections.
In The Newr York Times' Innovation report, one of the big missed opportunities called out was the use of its archived content, wrote Lucia Moses of Digiday. "It's one of the big advantages legacy publishers have over digital upstarts: access to years of high-quality content — content that can be resurfaced or repackaged and sold to both readers and advertisers.
"The New Yorker has long repurposed its archives as print anthologies on topics ranging from cats to food " wrote Moses. "[It has also taken the] coffee-table book approach digital. Since 2011, it's published eight single topic e-anthologies, drawing from already published material. Readers have downloaded them hundreds of thousands of times. Some are single-copy purchases of $2.99 each and up; the rest were downloaded as part of a subscription."