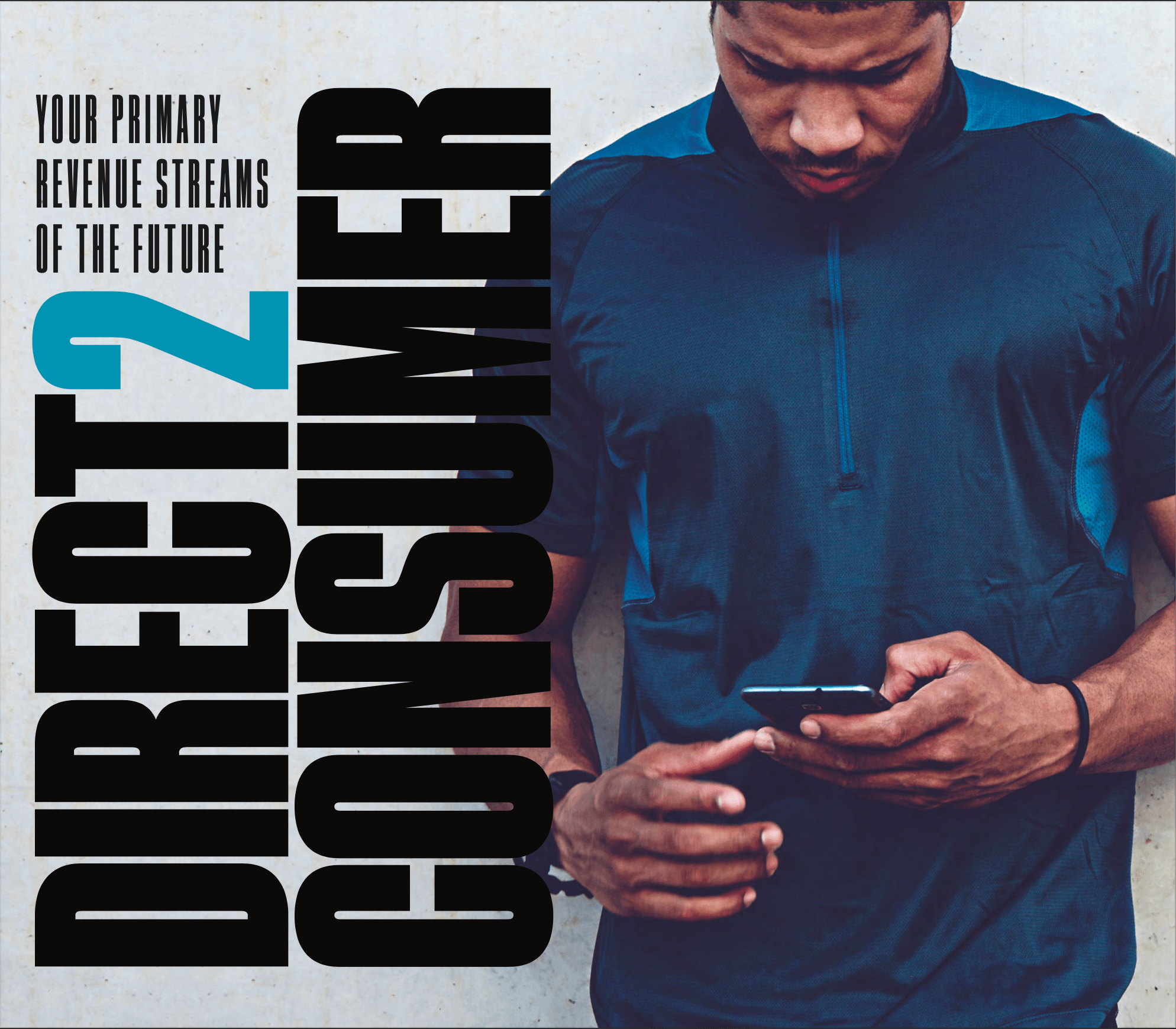 31 Jan

Direct2Consumer: Your Primary Revenue Streams of the Future

Successful media companies must morph from the dying transactional, print-advertising business model to a lasting and profitable reader-relationship model

The media industry's centuries-old marriage to advertisers was never a marriage made in heaven. They always wanted lower rates, special treatment, up-front placement, expensive make-goods, more traffic, proof of sales, free editorial copy, pictures of their ribbon-cuttings, stories about their new hires, and prominent play of their charity checque presentations, etc., etc., ad nauseam. But now, given the shameful way those unfaithful advertisers are lavishing their cash on the harlots in the big houses down the street, it's time to say "enough!" and get a divorce. It's time to dedicate ourselves to the partners who have almost always been there for us and almost always valued us for what we do so well: journalism that makes their lives easier, more rewarding, more successful, more exciting, more fun, more informed. They love us for our trusted information, and, lately, they are showing that they are willing to pay to get that information.

FORGIVE THEIR DALLIANCES

Yes, they have only almost always been there for us because they have had their dalliances outside of our relationship, wooed by the siren song of free information on the internet, but when those sources turned out to be whacky, untrustworthy, false, and sometimes dangerous, they started coming back home again. "The magazine media industry is on the brink of a new chapter in its history, morphing from transactional, print advertising to being hyperfocused on building lasting and profitable relationships with readers," wrote Martha Williams, author of the FIPP 2020 Paywalls Report.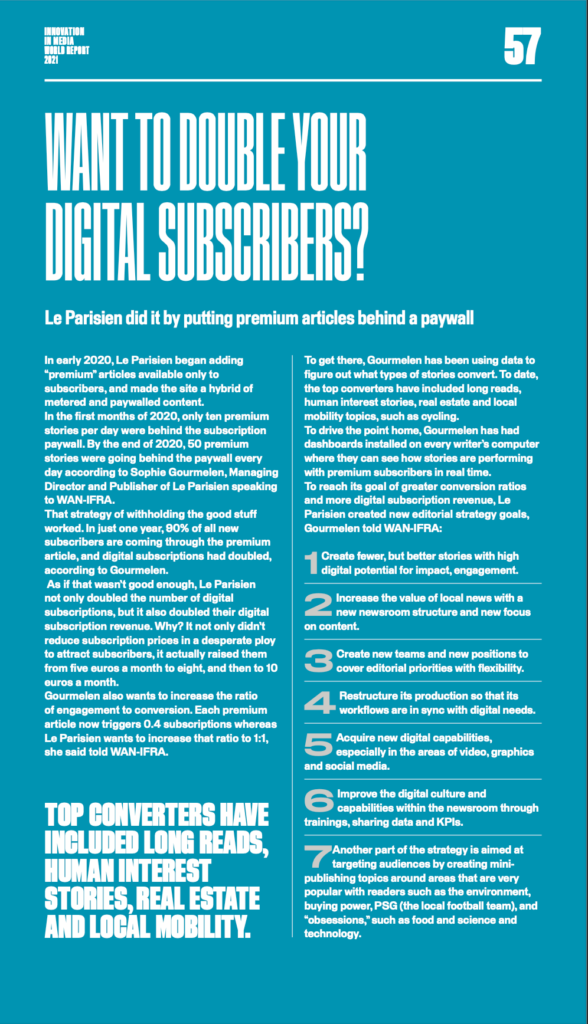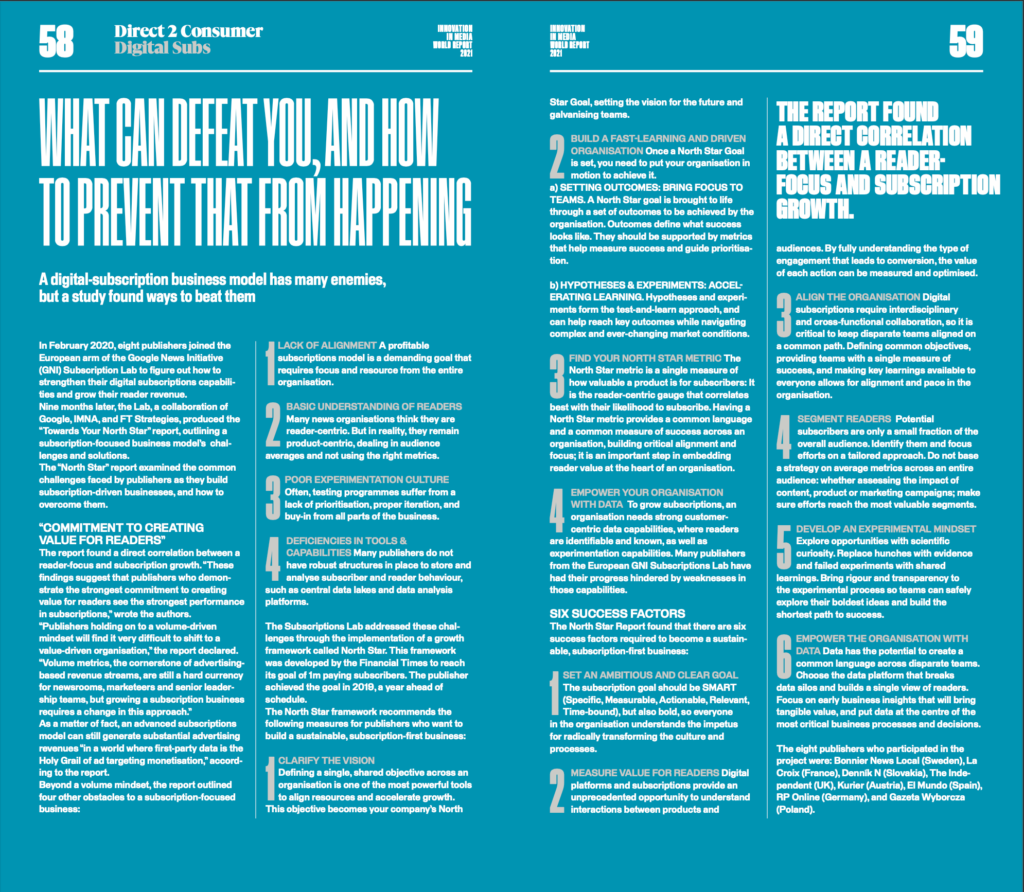 "The reader relationship strategy is about creating engagement, customer satisfaction, and lifetime value with users through targeted content, products, advertising, and services for individual customers," wrote Williams, the CEO of consultancy Data & AI for Media. "It's about collecting user data with permission through registration and paywalls, and leveraging those data to drive user satisfaction."
BUILD PERSONAL RELATIONSHIPS WITH READERS
"Our brands and broad print distribution are no longer enough. The Internet requires media companies to build personal relationships with readers," said Troy Young, President of Hearst Magazines, in a 2019 memo to his staff. "Our ability to capture interaction data at scale, turn it to insight, and leverage it broadly across our organisation will define our success." Building those relationships requires not only that deep data but also an acceptance throughout the media organisation of a reader-first focus, daily discipline, and a commitment to pay attention to the data. "The relationship strategy requires a deep understanding of each user through audience data, and a whole-organisation transformation that requires a customer-focus discipline," according to the report. "The real-time data collection, analysis, and targeting is the glue that keeps customers engaged with relevant information."
IDENTIFY THE REGULAR VISITORS
The first thing to do when building a subscription model is to identify not only the readers who already visit your site on a regular basis but also those who regularly open your newsletters and regularly click on your content on multiple platforms and devices — all behaviours you can identify through analytics. "All of those actions indicate an engaged audience, which is more important than the size of the audience itself," Matt Skibinski, reader revenue advisor at the Lenfest Institute for Journalism, told Folio magazine. "There are cases where smaller, niche publishers have a really high conversion rate and have enough of a digital subscription business to be meaningful," Skibinski said. "Even though their overall audience pales in comparison to larger brands, the people who access their content use it in their everyday lives, consider it valuable, and feel a strong affinity to it." So how do you identify those ideal readers who are most likely to become subscribers?
USE DATA, ANALYTICS, AND MACHINE LEARNING
The Economist, for example, created a personalised, engaging experience online by leveraging its rich customer database and a machine-learning-driven engine called Lytics to leverage an exhaustive database of audience data. "The strategy has been responsible for an 80% decreased cost of customer acquisition, a 3x increase of digital subscriptions since 2016 by using behavioural scoring and predictive modelling, and increased dwell time onsite with recommended stories for targeted readers," according to the Paywall Report. However, publishers "can only retain customers for a lifetime if they hold up their end of the bargain," the report cautioned. The Paywall Report listed how to uphold your end of the bargain:
Give the customer many reasons to come back on a daily and weekly basis
Delight them with surprises and help make their lives frictionless and fun
Anticipate and solve life's niggling problems for them l Feed their passions
Transport them to content, advertising, shopping and entertaining places created just for them, made possible by data and artificial intelligence that enables personalisation
BUILD A FOREVER TRANSACTION
Converting a visitor to a subscriber is not the end of the media executive's conversion journey; it's only the beginning. "Execs just weren't putting the pieces together, and I wanted to highlight the fact that it's not just about subscriptions, but about longterm relationships with the customer," best-selling subscription economy author Robbie Baxter told FIPP. "It's not about the transaction; it's about the relationship." "From heavy-duty machinery company Caterpillar loaning out cranes, to Pret-a-Manger and Burger King offering coffee subscriptions, every business seems to have recognised the value of formalising the relationships they have with returning customers," Baxter said. "It's not that high-tech, it's just about knowing your customer and providing ongoing value to them." Baxter emphasised thinking about the following questions:
What is the forever promise you've made?
Who have you made it to?
What are they expecting to see from you?
Who might you think you serve, but actually don't?
Who do you lose (eg. with entry offers)?
Who sticks around?
"It's about helping customers solve a problem, and delivering on the promise you've made to them," she said. "If [people] trust your organisation to solve their problem, or achieve their goal forever, they take off their 'consumer hat', don a 'member hat', and stop considering alternatives," Baxter said. After identifying who are the most likely conversion targets, the next extremely important step is to avoid making the subscription options too complicated. "The more noise — bundles, discounts, special offers — you have, the harder it is for you to tell what your customers really value," Baxter told FIPP. "You end up with a muddy business model. "If your introductory offer is amazing, you'll get a lot of subscribers but a lot of people are going to leave," she said, citing the example of Disney+ initially presenting the extremely popular musical Hamilton for free to new subscribers before backtracking.
"The big question was, are the people who joined only for Hamilton going to stay?" asked Baxter. The answer was no. Disney+ realised that it needed to charge people something or it wouldn't attract the right kind of long-term customer. "It's all about knowing your audience," said Baxter. "Even Amazon doesn't serve everybody!" Organisations should identify what kind of customer is high value for their business purposes and go after them and forget the people who are only after deals and tchotchkes. With the increasing success of subscriptions, some publishers have been able to eliminate low-price trial offers, thus improving profitability, while focusing instead on the real value of a subscription including enhanced membership benefits to reward increased loyalty. Hearst, for example, told CampaignLive that it was able to remove a number of its most keenly priced trial offers, and still grow subscribers by 33%. That said, freebies don't always have to lead to churn.
"What is the attractive freebie?" asked Baxter. "Does it align with your mission? Is it more or less likely to bring in the right kind of people?" Freebies can also serve a useful purpose when trying to establish the reasons that people leave a service or subscription. "Segment out reasons so you can remedy them," Baxter suggested. "If someone doesn't have time to use your product, then it might be worthwhile offering them a discount or freebie. But if they are leaving because they hate the product, there's no reason to give them anything. The remedy must fit the problem." Audible, for instance, offers those who attempt to cancel their subscription one free credit (worth one audiobook) or three months at a discounted rate. Indie movie streaming site MUBI, like many companies in these trouble pandemic times, now offers the option to "pause" a membership.
This allows people to take a breather without breaking their loyalty, said Baxter. But for all the work your data analysts, marketers, and customer relations people might be doing right, the folks with their hands on the wheel to drive this success are the journalists. If they are not on board with doing readerfocused journalism, nothing else will work. "A successful media company may find that moving to a member mindset is difficult because it must necessarily become reader/viewer-first," said Baxter. "The content needs to be content that is worth paying for, as opposed to content worth writing."
It must also be content focused on their readers' needs and desires. So, the journalists must be willing to pay attention to what the data analysts have to say, and deliver content that converts.
Some things to consider in looking at the data are:
What is the last article someone reads before they subscribe?
What do subscribers read vs. non-subscribers?
Who are the most valuable readers?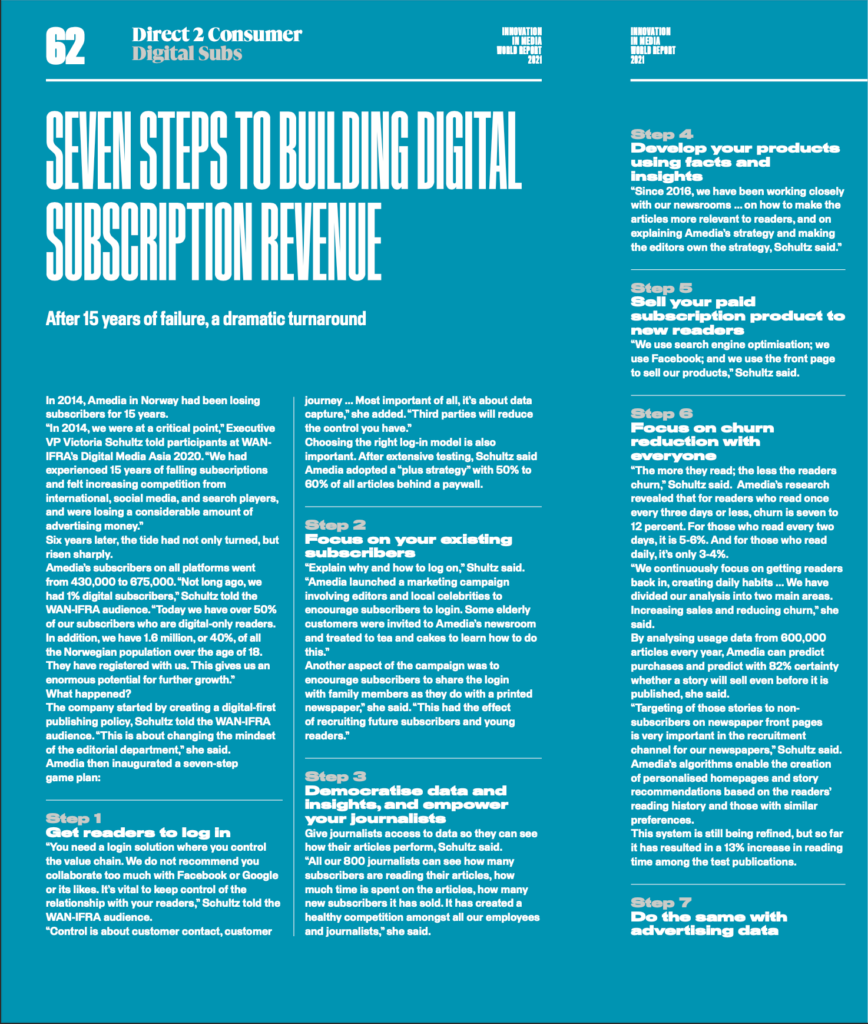 Here's another thing many media companies haven't yet considered that can be crucial in the run-up to a subscription business model: Product managers. "In addition to sophisticated data analysts, it's important to have product managers as well," Baxter said. "You need a 'product person' who is employed to think about the whole package: How does someone log in, navigate around the site, choose what to download, plus pricing, features, and content. Employ someone whose job it is to think about those things." Another essential organisational change is to refocus your customer service team to become a customer success team! "They should be proactive about what the problem is and how to solve it," Baxter said. "Having this mindset is a big change — not being reactive, but proactive."
This new role is critical to transforming how subscribers are treated beginning on day one and continuing every day thereafter. "A really important part of the onboarding process with new subscribers, for example, is to send preemptive reminders to help them make the most of your content, or send a text message saying 'Read this tonight!' with some personalised recommendations," said Baxter.
"Those are examples of a customer success team in action." Another overlooked part of the subscriber journey — retention — historically has been addressed only when the customer calls to cancel. The retention effort actually must begin the day the subscriber signs on, and must continue throughout the relationship, ramping up months before the subscription is about to expire if the subscriber is showing any concerning behaviours. The data team should be monitoring reader behaviour regularly and if they notice a dropoff in whatever that reader had been doing (reading stories or opening newsletters or commenting), the customer success team should be notified so they can intervene with emails and texts reminding the reader when something the matches the reader's interests is about to be published. Engage, engage, engage.
---
CLUBS, MEMBERSHIPS AND PARTNERSHIPS
It's all about whales, wine, and profitable symbiosis
We all need more "whales." The term dates back more than two decades in the gaming and media worlds. It refers to the biggest spenders "who make up a tiny group (think about 2% of audiences) that drives most of the revenue for publishers", according to GameBeat, an online magazine covering the gaming industry. "Whales" are the people publishers want as members, not just subscribers. They are also the cohort of subscribers most likely to join our niche clubs.
MEMBERSHIPS
To build a successful membership revenue stream, the first thing publishers must do is figure out a way to identify their "whales". "You know your whales when you see them," Rob Ristagno, Founder and CEO of the Sterling Woods Group, told What's New In Publishng (WNIP). "They're wearing a hat with your logo on it. They treat your editors like celebrities. They read and comment on everything you send them. They're the most committed 10-15% of your audience [and] generate as much as 70 to 90% of reader revenue." Ristagno said whales do more than generate revenue.
Whales:
Are less price sensitive, making them more profitable
Churn less often and buy more often, thus increasing their lifetime value
Provide favourable word-of-mouth marketing
Want to help you innovate
Behave more predictably
STOP TRYING TO BE EVERYTHING TO EVERYONE
"The key is focus: We need to stop being everything to everyone and start honing in on our best readers," Ristagno told WNIP. "Survey them to understand their needs and wants, followed by developing a value proposition to address them." The needs and wants that media companies can fulfil and that people are willing to pay for, include the following, according to INMA's Researcher-in-Residence, Grzegorz Piechota:
Cognitive needs (acquiring information, knowledge, and understanding) l Affective needs (emotions, pleasure, and feeling) l Personal integrative needs (credibility, status, and stability) l Social integrative needs (family, friends, and community) l Tension release needs (escape and diversion) "It's interesting that when we lock content, we just focus on one of these needs — the cognitive need," Piechota said during a 2019 INMA webinar. "We charge people to access the information, for the access to knowledge. But in fact, people actually engage with the media for many other reasons."
IT'S THE NUMBER OF PERKS, BUT THE RIGHT ONES
"You don't need a boatload of features to be successful [with memberships]," Ristagno told WNIP. "Rather, just two or three things on top of a subscription to your content is usually enough to drive conversions. Just make sure these offerings solve the tangible and emotional needs of your whales," including things like access to experts or editors, tools that make it easier for members to do their jobs or pursue their hobbies, and educational resources, like videos and eBooks." Memberships have been booming lately. The Guardian is a poster child for memberships, growing from 12,000 members in 2016 to more than 900,000 monthly supporters in late 2020.
ONE NEW CONTRIBUTOR EVERY 2 MINUTES
"The Guardian has gained 268,000 new digital subscriptions and recurring contributions over the last year — that's an increase of 43%, and a joining rate of one person every two minutes," wrote Editor in Chief Katharine Viner in December 2020. "Total digital recurring support now stands at more than 900,000 people, up from 632,000 only a year ago." The Daily Beast's membership product, Beast Inside, saw an almost 100% growth in sign-ups in the second quarter of 2020 compared to the first, and helped the publisher recoup some of its revenue losses, according to Digiday. While Daily Beast CRO Mia Libby did not share specific figures with Digiday, she did say that the average order value on Beast Inside memberships is up 35% and that memberships are their second largest revenue stream.
---
WE WANTED TO BUILD A PROGRAMME AIMED AT BARS AND RESTAURANTS THAT ARE REALLY STRUGGLING AND HELP FOLKS WHO ARE IN BOSTON FEEL MORE CONNECTED TO THEIR COMMUNITY WHILE STILL BEING SOCIALLY DISTANT."

Matt Karolian General Manager, boston.com "

---
CLUBS
Clubs are an even more refined and focused form of memberships, zeroing in on very niche interests, and offering both value and community. The Boston Globe wanted to help bars and restaurants struggling with lost revenue from the pandemic so they started a cocktail club. "We wanted to build a programme aimed at bars and restaurants that are really struggling and help folks who are in Boston feel more connected to their community while still being socially distant and safe," boston.com General Manager Matt Karolian told the Nieman Lab. "We thought, what if we bring bartenders into people's homes to show them how to make this perfect cocktail that they've been missing, and support the bars and restaurants in the process?"
A CLUB FOR FUN AND A GOOD CAUSE
The club launched on New Year's Eve with more than 500 signups for the first Zoom meeting
where they watched a Boston bartender teach them how to make two cocktails. Boston.com partnered with Boston mixologist Jackson Cannon to identify bartenders and restaurants representing Boston's unique food and bar scene. The bartenders brainstorm with Cannon about what cocktails to showcase. Registered club members have the option of buying a $59 cocktail kit ahead of each week's event that includes everything they'll need to make the drinks being showcased, according to the Nieman Lab. The proceeds from kit sales are donated to Off Their Plate, a grassroots organisation that helps feed frontline workers, including service workers, during the pandemic. The bartenders themselves are paid by boston.com the equivalent of what they would have made on a really good weekend night. Club members are encouraged to use Venmo to send tips to the bartenders.
REPLICATING AN EXPERIENCE
"We say 'Hey, if you're having a great time, and you're enjoying the cocktail, please take care of them,'" Karolian said. "We're trying to replicate the experience as much as possible and make sure that folks who are important parts of our community can continue to be able to make a living." Karolian told the Nieman Lab that the Cocktail Club is modelled after Boston.com's Book Club, which brings in local authors and booksellers to talk to members. Wine clubs have been around for a while and are still going strong. According to the Nieman Lab, the first major publication to use its prestige as a platform for vintners was the United Kingdom's Sunday Times, which debuted its wine club in 1973 and is still thriving almost 50 years later. In the United States, media companies were not able to ramp up wine clubs in a big way because running a national operation required complying with different liquor laws in each of the 50 states plus Washington and federal laws. That roadblock was removed when companies who specialise in liquor distribution began springing up and offering their services to publishers, allowing the media companies to have a national wine club brand without having to deal with local logistics. When The Wall Street Journal launched its club, it partnered with one of those companies, Direct Wines, in a move that pushed the WSJ into the forefront for then-novel media-owned wine clubs in the U.S., according the the Neiman Lab.
A CONTENT CONNECTION … OR NOT
Some media wine clubs, like the New York Times, make it clear to their wine club members that the club and its recommendations are not affiliated with what is in the paper. Others, like Eater, tout the connection. "It's the only wine club out there that's actually curated by the editorial team itself," Eater General Manager Jill Dehnert told the Nieman Lab. Prices vary widely from club to club. "The New York Times Wine Club has two tiers, the 'Sampler' ($90 for 6 bottles) and the 'Reserve' ($210 for 6 bottles)," according the the Nieman Lab. "That excludes shipping ($9.95) and tax. NPR offers 12 bottles for $149.99, plus tax and shipping. The Eater Wine Club ($110 per month for 4 bottles) seems high, but unlike most offerings, that number is all-inclusive. It comes out to about $27/bottle, ten dollars less than the total cost of a New York Times Reserve bottle," according to the Nieman Lab.
BEYOND BOOZE
Not all clubs revolve around alcohol. How about crocheting and kids books? I Like Crochet magazine has a "Collections Club" tht includes carefully curated collections of designer crochet patterns from scarves and shawls to afghans and baby items, all handselected by the editorial team. Meredith Corp.'s Parents magazine debuted its Raising a Future Reader Club in August 2020. Starting with its first-ever list of "100 Books to Inspire Your Kids", Parents magazine asked wellknown authors to share the book that opened their own or their children's eyes to the joy of reading. The initial club offering included tips on how to raise a child who loves to read.
PARTNERSHIPS
Partnerships are another form of direct-to-consumer revenue streams that have been around a while but that have picked up steam in the drive for more D2C revenue. The Wall Street Journal is one of the leaders in subscription bundling partnerships. In just the last five years, the WSJ built more than 40 bundling partnerships in 25 countries, with partnerships really blossoming lately in specific regions like Asia, according to Jonathan Wright, global managing director of WSJ's parent company Dow Jones, speaking to Digiday.
FIND SIMPATICO COMPANIES
In 2019, the WSJ and Standard Chartered Bank signed what Wright called a "significant partnership deal" that gave WSJ and Barron's subscriptions to the bank's "top-tier" Asia-based customers, according to Digiday. "Other partners in recent years have included trading platforms, telecomm companies, membership groups, airlines and language schools," Wright said. Since the beginning of 2020, Business Insider partnered with American Express to give added impetus to its subscription boom (subscriptions more than doubled in 2020).
---
PEOPLE OFTEN THINK IT'S JUST ABOUT DRIVING SUBSCRIPTIONS, BUT IT'S NOT. IT'S ABOUT DRIVING TO A CONNECTED RELATIONSHIP WHERE YOU CONTINUE TO EARN THE RIGHT TO BE CONNECTED."

James Henderson CEO, Zephr

---
FREE SIX- OR 12-MONTH TRIAL SUBSCRIPTIONS
In late 2020, BI started offering American Express credit card holders free six- or 12-month trials to the digital publication, depending on the type of credit card they use, according to BI's SVP of Consumer Subscriptions Selma Stern speaking to Digiday. The Washington Post is also exploring partnerships with brands in the fields of education, healthcare and finance, according to Post Chief Marketing Officer Miki King speaking to Digiday. Those industries are "the most appealing as there is a decent amount of overlap with the paper's coverage and the interests of the customers these partners can offer," she said. "Any of the areas where people are seeking info beyond what the provider of that service can give to them offers a real opportunity for the Post." There's more to this partnering thing than meets the eye.
PARTNERSHIP BENEFITS BEYOND SUBS
"People often think it's just about driving subscriptions, but it's not," said James Henderson, CEO and co-founder of subscription software company Zephr, speaking to Digiday. "It's about driving to a connected relationship where you continue to earn the right to be connected, but you are the business that can leverage the firstparty data relationship." Both parties benefit, gaining data that can inform their businesses. These partnerships are "mutually beneficial because while the subscriptions are free to the non-publisher linked consumers, partner organisations have also been able to improve their own key metrics, such as acquisition, engagement and retention of their customers by using our subscriptions and content," Dow Jones' Wright told Digiday. So, if you haven't identified your "whales" and converted them to members or created niche clubs or partnered with like-minded companies in simpatico industries, you might want to give these direct-to-consumer revenue streams a shot.
More in our next segment, including E-Commerce, E-Learning and Events