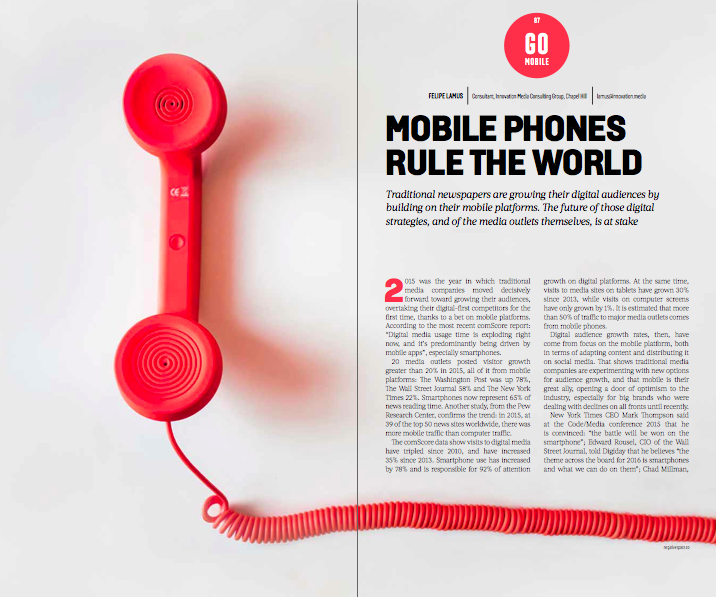 13 Feb

Mobile Phones Rule the World

Traditional newspapers are growing their digital audiences by building on their mobile platforms. The future of those digital strategies, and of the media outlets themselves, is at stake.


By Felipe Lamus | Consultant | Innovation Media Consulting Group | Chapel Hill

2015 was the year in which traditional media companies moved decisively forward toward growing their audiences, overtaking their digital-first competitors for the first time, thanks to a bet on mobile platforms. According to the most recent comScore report: "Digital media usage time is exploding right now, and it's predominantly being driven by mobile apps", especially smartphones.

20 media outlets posted visitor growth greater than 20% in 2015, all of it from mobile platforms: The Washington Post was up 78%, The Wall Street Journal 58% and The New York Times 22%. Smartphones now represent 65% of news reading time. Another study, from the Pew Research Center, confirms the trend: in 2015, at 39 of the top 50 news sites worldwide, there was more mobile traffic than computer traffic.

The comScore data show visits to digital media have tripled since 2010, and have increased 35% since 2013. Smartphone use has increased by 78% and is responsible for 92% of attention growth on digital platforms. At the same time, visits to media sites on tablets have grown 30% since 2013, while visits on computer screens have only grown by 1%. It is estimated that more than 50% of traffic to major media outlets comes from mobile phones.

Digital audience growth rates, then, have come from focus on the mobile platform, both in terms of adapting content and distributing it on social media. That shows traditional media companies are experimenting with new options for audience growth, and that mobile is their great ally, opening a door of optimism to the industry, especially for big brands who were dealing with declines on all fronts until recently.

New York Times CEO Mark Thompson said at the Code/Media conference 2015 that he is convinced: "the battle will be won on the smartphone"; Edward Rousel, CIO of the Wall Street Journal, told Digiday that he believes "the theme across the board for 2016 is smartphones and what we can do on them"; Chad Millman,VP of Digital Content at ESPN, told Nieman Lab in an interview that: "mobile is everything. We always have to be thinking about mobile first".

Media companies must go where their audiences are, and audiences are increasingly on smartphones. Mobile is the ideal platform to reach younger readers, and to engage better with older ones. We live in a multi-platform world, and the sign above the gate reads "mobile".

Factors for Success

There are several factors emerging as key to a successful mobile strategy. First, build a great smartphone app. Then, offer serious news in small formats, with the best multimedia stories to hook readers into interacting with them. The most important thing is to always experiment.
In November 2015, The Guardian launched its Mobile Innovation Lab to investigate what works and what doesn't on mobile platforms. The lab works on five key areas: live coverage, video, context, content interaction and notifications.
The Wall Street Journal has one app for video and another for news, and launched a competition among its more than 5,000 employees for new app ideas. From the 60 entries, a gaming app won and its development will be financed by the paper;
New York Times subscribers can download cooking, crossword and daily news apps. Their opinion app was discontinued, but The Times has assigned 40 developers to work exclusively on mobiles.
New Yorker Today is a new iPhone app that offers all of the articles in the magazine as well as the most recent news, videos and blogs. The magazine wants to give their readers an easier way to find stories. The new app lets you access more than 8,000 cartoons and mark articles to read later.
The Washington Post launched an app that promises zero latency, big font sizes and attractive design. Readers who download it get free access for a month to the Washington Post, thanks to an advertiser.
Creating stories specifically for mobile platforms is one of the biggest learning curves. The content works better when it is built for the platform, not as an adjustment after the fact. The New York Times is developing one sentence stories for the Apple Watch. Publishers say the most read stories on mobiles were conceived from the start for mobiles.
Ready for Platforms
Big global digital platforms are working to optimise their mobile offerings for themselves and for media companies, who are publishing their content on third-party platforms such as Facebook Instant Articles, Snapchat Discover or Apple News. This part of a media outlet's strategy creates income, monetisation and analytical challenges.
Apple News allows for the personalisation of news and a menu of news sites and topics that the user can select. The idea is to save the reader the trouble of using several apps to find his news. Articles are optimised for iOS and media companies can opt in to iAds;
Facebook recently launched Instant Articles, a platform designed for publishers that allows them to upload articles that instantly go in to Facebook's newsfeed all over the world. The articles can also be updated instantly from the publisher's CMS;
Google launched Accelerated Mobile Pages (AMP), an open-source effort to give priority in its mobile search results to pages using the new format and a play to keep users in their mobile browser instead of moving in to apps. Google says the new pages are 4x faster and use 10x less data. The New York Times, Buzz Media and Vox worked alongside Google to develop AMP;
According to The Mobile Economy 2016 report from GSMA, 2015 was a year of constant growth for the global mobile industry, with 7.6 billion mobile connections and 4.7 billion unique subscribers, with a forecast rise to 5.6 billion subscribers—or 70% of the world's population— by 2020. Most of them, 90% of the next billion subscribers, will come from developing countries. 4G coverage has accelerated to more than a billion 4G connections in 151 countries.
The ad industry is trying to adapt too. In 2014, just 8% of ads were for mobile platforms: $25 billion in the US alone. Mobile ads are now growing at more than 34% year-on-year.
INNOVATION'S TAKE
Mobile is a reality, and mobile-first, not digital first, must now be our focus. Digital is mostly mobile now, and that trend is set to continue over the next few years. We must make sure our sites, apps and news content experiences are ready for our mobile readers.
---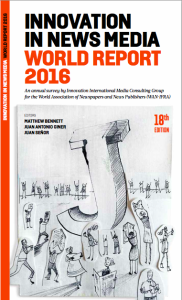 This article is one of many chapters published in our book, Innovations in News Media 2016 World Report.