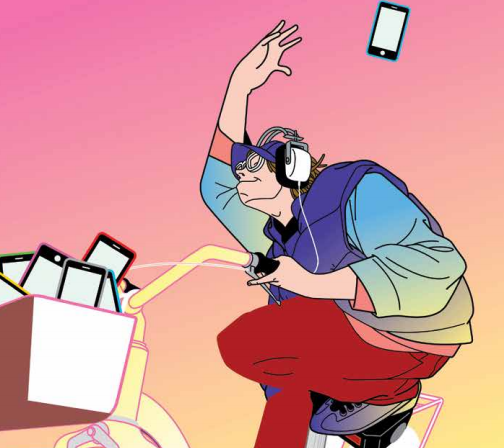 23 Mar

Breakfast Bites: Your Morning Dose of Mobile Daily News

Newsletters are having something of a second youth and some media outlets are making the most of the opportunity. Those who are not yet doing so must begin to incorporate them into their content distribution strategy immediately. INNOVATION took a look at some examples of daily email newsletters that have helped to build momentum for the resurgence of the information stream.

By Chus del Río | Consultant, Innovation Media Consulting Group, Madrid

Spam almost caused the format to disappear a few years ago, but it has bounced back thanks to increasing use of mobile phones. Email is in people's pockets and we check it constantly; the media industry is more and more aware it must offer users content wherever we are.

There are four aspects that will allow us to better understand these changes in attitude towards email blasts:

It is not difficult to conclude that newsletters must be adapted to mobile devices and that the best times of day to reach users is first thing in the morning. As the day breaks, people want to know both what has happened since they fell asleep and what will likely happen over the next few hours.

We are receptive, with our minds waking, busy planning our days and anticipating our needs, and we're open to receiving news and diary information that fulfills those needs. Such an analysis allows us to explain the quick spread of morning newsletters around the world. The digitally native media has pioneered the their development, chiseling out a well-defined style and format.

Newsletters generally contain more text than images and easy reading is more important than design, but this in the end is also pragmatic and practical design. It offers a global vision of the news, removed from the traditional headline lists that have been circulated by news organisations since the beginning of the digital age. The aim, beyond more traffic, is to offer users an attractive service, increase engagement and then to exploit them with advertising, increasingly with native ad formats. Individual journalists or experts with a strong personal brand can compete on an equal footing with media giants in this field.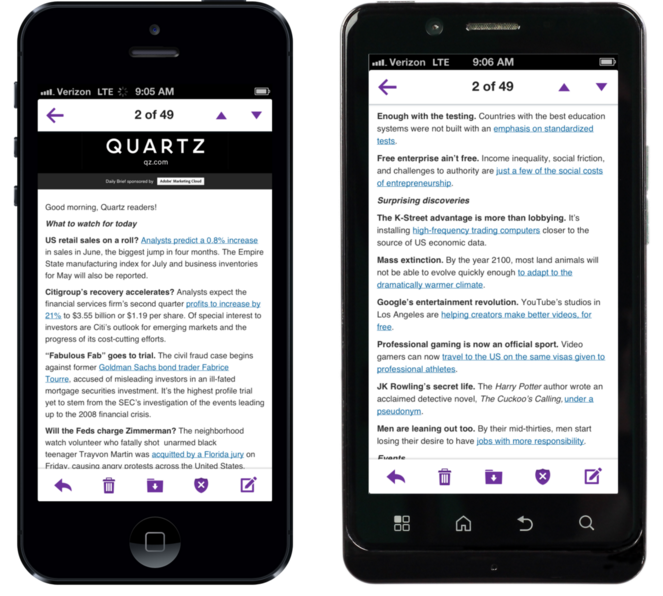 CURATION EXAMPLES
Among the newsletters that have become most popular in the US over the past few years are OZY's Presidential Daily Brief, Quartz's Daily Brief, Vox's Sentences, HuffPost Hill, Dave Pell's Next Draft and theSkimm.
They all offer users a selection of curated content. Some limit their selection to certain topics while others look specifically at national or international news. There are sports focused newsletters, tech focused summaries and media and fashion mails. Niches have become a very fertile ground for digital consumption.
The sites' own product definitions offer many clues as to what companies need to think about when they decide to offer a newsletter. "theSkimm is an email newsletter for anyone short on time. No one wants to be the deer in the headlights when someone says 'Did you hear about the latest in Syria?' or 'Did you hear about Johnny Football?'. Our concept is simple: We read, You Skimm".
"This is a service everyone needs", reads the spiel: "You may follow the 'right' people on Twitter or get the 'right' breaking news alerts but with so much noise, it's hard to filter what you need to know in politics, international affairs, sports, entertainment, technology etc. theSkimm is your filter. We cross party and subject lines to break down what it seems everyone else is talking about."
Dave Pell is categorical with Next Draft: "I am the algorithm. Each morning I visit about 75 news sites, and from that swirling nightmare of information quicksand, I pluck the top ten most fascinating items of the day, which I deliver with a fast, pithy wit that will make your computer device vibrate with delight. No bots. No computer algorithms".
EXPRESSO CURTO
A great non-US example is 'Expresso Curto', sent out each morning by the prestigious Lisbon newspaper, Expresso. The formula created by Ricardo Costa's newsroom is working well. An authored text sums up the most important news from the previous day and alerts the reader to what is about to happen. The links lead to Expresso articles, international news sites, and the paper's Portuguese competitors.
About a fortnight after its launch, an Expresso reader called Jose Relvas published a Facebook comment that perfectly describes the essence of the product in a comment that could be applied to any of the successful newsletters described in this article.
"A few days ago I got something called 'Expresso Curto'. I didn't open it for a few days. I thought it was just some spam promising a new Nespresso or an online promotion for Expresso. Last week, while I was waiting around at the hospital […], I opened up 'Expresso Curto' to kill some time. From that moment on, that email goes with my morning coffee. 'Expresso Curto' is one of the best things produced by the Portuguese media over the last few years".
"It is well written, simple and uses a register similar to that smells like a chronicle, drawing our attention to everything that needs to be seen. Each day, 'Expresso Curto' has the byline of a different Expresso journalist (Henrique Monteiro, Ricardo Costa, Pedro Santos Guerreiro, etc.). Although the philosophy is the same, each writer brings his own expertise to that day's e-mail chronicle. With a single stroke, we get to know what is happening, with contextualised information and more: the authors, rivalries apart, are not worried about linking out to other sources, including competing titles, to illustrate their news."
9 STELLAR DAILY NEWSLETTERS
INNOVATION'S TAKE
Newsletters are a great way to bring back a sense of completion to always-on global news, but must be tightly written and it is not yet clear 'early morning'—although a fine time to catch readers with a relatively clear mind—is the best time of day for readers to interact with them.