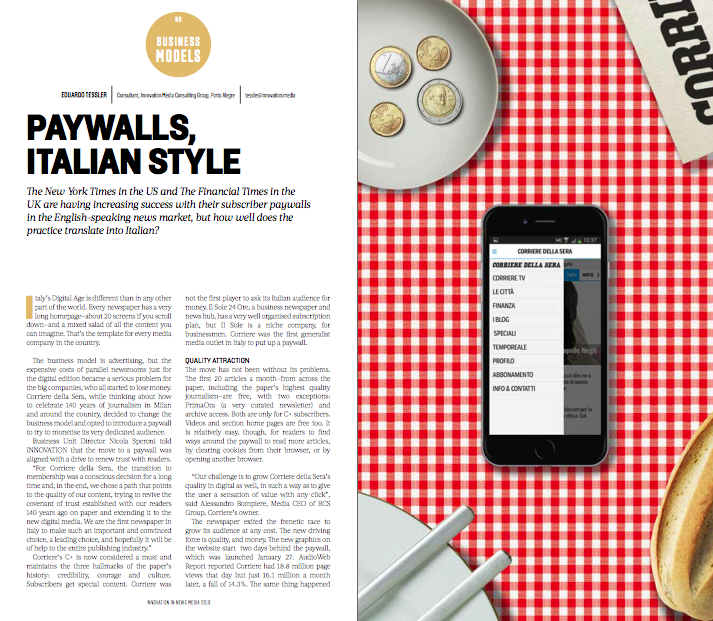 20 Feb

Paywalls, Italian Style

The New York Times in the US and The Financial Times in the UK are having increasing success with their subscriber paywalls in the English-speaking news market, but how well does the practice translate into Italian?

By Eduardo Tessler | Consultant | Innovation Media Consulting Group | Porto Alegre


Italy's Digital Age is different than in any other part of the world. Every newspaper has a very long homepage — about 20 screens if you scroll down — and a mixed salad of all the content you can imagine. That's the template for every media company in the country.

The business model is advertising, but the expensive costs of parallel newsrooms just for the digital edition became a serious problem for the big companies, who all started to lose money. Corriere della Sera, while thinking about how to celebrate 140 years of journalism in Milan and around the country, decided to change the business model and opted to introduce a paywall to try to monetise its very dedicated audience.

Business Unit Director Nicola Speroni told INNOVATION that the move to a paywall was aligned with a drive to renew trust with readers.

"For Corriere della Sera, the transition to membership was a conscious decision for a long time and, in the end, we chose a path that points to the quality of our content, trying to revive the covenant of trust established with our readers 140 years ago on paper and extending it to the new digital media. We are the first newspaper in Italy to make such an important and convinced choice, a leading choice, and hopefully it will be of help to the entire publishing industry."

Corriere's C+ is now considered a must and maintains the three hallmarks of the paper's history: credibility, courage and culture. Subscribers get special content. Corriere was not the first player to ask its Italian audience for money. Il Sole 24 Ore, a business newspaper and news hub, has a very well organised subscription plan, but Il Sole is a niche company, for businessmen. Corriere was the first generalist media outlet in Italy to put up a paywall.

Quality Attraction

The move has not been without its problems. The first 20 articles a month—from across the paper, including the paper's highest quality journalism—are free, with two exceptions: PrimaOra (a very curated newsletter) and archive access. Both are only for C+ subscribers. Videos and section home pages are free too. It is relatively easy, though, for readers to find ways around the paywall to read more articles, by clearing cookies from their browser, or by opening another browser.

"Our challenge is to grow Corriere della Sera's quality in digital as well, in such a way as to give the user a sensation of value with any click", said Alessandro Bompiere, Media CEO of RCS Group, Corriere's owner.

The newspaper exited the frenetic race to grow its audience at any cost. The new driving force is quality, and money. The new graphics on the website start two days behind the paywall, which was launched January 27. AudioWeb Report reported Corriere had 18.8 million page views that day but just 16.1 million a month later, a fall of 14.3%. The same thing happened to unique users, which fell from 3.1 million to 2.4 million. By the end of March, however, there were 30,000 new subscribers.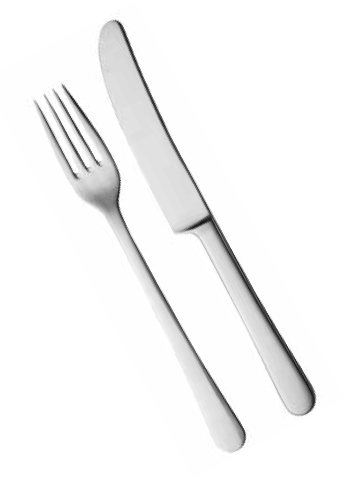 What Do They Buy?
There are three subscription levels—Naviga+ (€9,99/month), Digita+ (€19,99/month) and Tutto+ (€24,99/month). Naviga+ gets you everything online, including the curated newsletter PrimaOra and archive access; Digita+ adds a digital version of the print newspaper; and Tutto+ tops it off with a print copy of the Sunday edition, which is a way of mixing old habits and new needs.
So far, 86% of subscribers have chosen Naviga+, 10% Digita+ and 4% Tutto+. Everyone gets access to subscriber goodies like movie tickets, e-books, and also meetings with Corriere`s main opinion-makers in Milan and other events.
When Corriere bet on digital, the newsroom workflow changed. Mono-media thoughts about print were out and an almost round- the-clock news desk was in. Print and digital newsroom workflows were merged, although they remained physically separate in two buildings.
Everyone now works for the brand, not the platform. The first meeting is held at 8 a.m.. Newsroom Director Luciano Fontana explained the strategy in a letter to staff: "We want to create an intense relationship with our readers not only in print, but also in digital. We have to offer fantastic content online that is worth paying for".
It`s too early to know if Corriere`s strategy is a winner or not. Other players are waiting before they decide what to do. Ad revenue for Italian newspapers is falling, down 4.6% a year (FCP, April 2015-March 2016). It`s time to look for, and find, new income streams.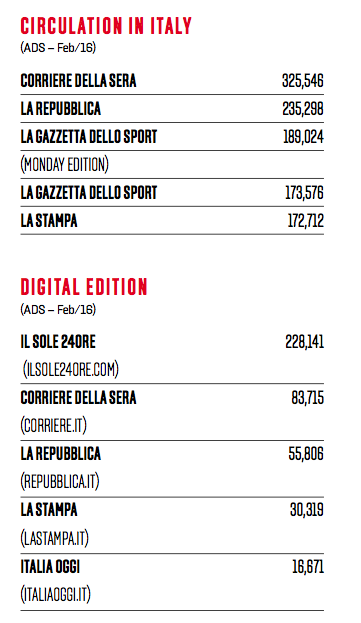 INNOVATION'S TAKE
Like large, consolidated news brands in the United States and United Kingdom, Italy's Corriere della Sera appears to have discovered some of the key elements for transitioning to a growing digital subscriber base, in terms of the business model, a renewed focus on quality and trust before page views and clicks, and newsroom workflows. It must continue to experiment with pricing and subscription models to unearth the hidden value in those new subscriber relations.
---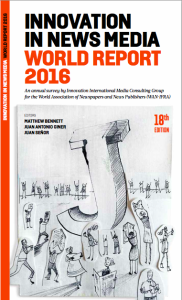 This article is one of many chapters published in our book, Innovations in News Media 2016 World Report.