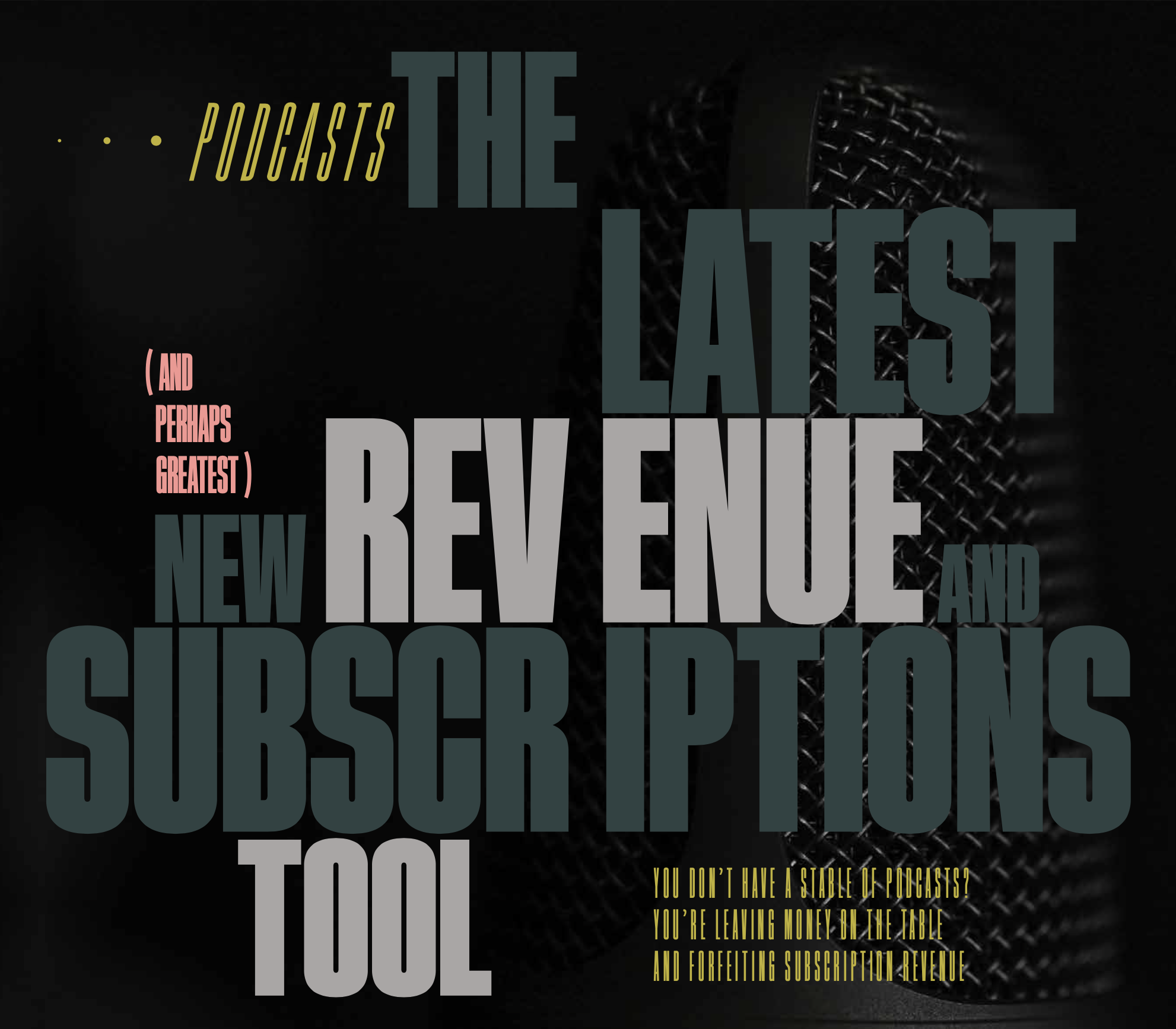 30 May

Podcasts: The Latest (And Perhaps Greatest) New Revenue And Subscriptions Tool

By now, your head must still be spinning after a decade of endless sure-fire revenue solutions you've been told you absolutely must have right away:

• A website

• An app

• A tablet edition

• Aresposive mobile site

• A bazzilion page views

• A pivot to video

• An ad studio

• A pop-up shop

• A native ad team

• An in-house events team

• A hard pay wall (or flexible wall or registration wall)

Aside from the proven value of responsive mobile sites and paywalls (see the chapter on revenue models), all of the above have, well, underwhelmed. Even websites nearly bankrupted us as we used them to commit the original sin of media: We gave our content away for free!

So, while we hate to add yet another sure-fire silver bullet, this one might actually be the real thing.

Podcasts.

Podcasts are not the be-all and end-all solution, but they could be a very important arrow in your quiver of revenue models.

If you go by statistics alone, the arguments for podcasts as a fast-growing, relatively inexpensive, extremely effective, lucrative revenue source and subscription-driver are hard to dispute.

"Podcasting shows explosive year-over-year growth," stated the authors of the 2019 Edison Research study. In the US alone, the number of individuals (over the age of 12) who have ever listened to a podcast crossed 50% for the first time. The study found that 32% listen monthly, compared to 26% last year.

That increase is the largest since the data has been tracked.

Another study by podcast measurement company Chartable found 23-25% of US adults listen to podcasts daily or a few times a week. Using the latest US Census data, Chartable concluded that translates into roughly 60 million people listening a few times a week or more, and 91 million people listen at least once a week.

Globally, podcasts are also rapidly gaining traction, in some cases more dramatically than in the US. In the first quarter of 2019, the percent of respondents to a Reuters Digital News Report study who had listened to a podcast in the past month showed four countries surpassing the US podcast audience at the time, and seven other countries with rates over 20%:

• 58% – South Korea

• 40% – Spain

• 37% – Ireland

• 35% – Sweden

• 35% – United States

• 30% – Italy

• 29% – Canada

• 27% – Australia

• 25% – France

• 23% – Japan

• 21% – Germany

• 21% – United Kingdom

In March 2019, of the five fastest growing countries in terms of podcast use, four were Spanish speaking. Chile leads the group with a growth rate of 83.95%, followed by Argentina (55.28%), Peru (49.1%), Mexico (47.84%) and lastly China (43.62%), according to audio tech company VoxNest.

Not only are vast numbers of podcast fans listening, but they are also listening A LOT, consuming multiple episodes in one sitting and listening for previously unheard of lengths of time!

The Edison Share of the Ear report found that the average listener consumes seven podcast episodes a week, which is also increasing over time.

Beyond their voracious appetite, listeners are also committed. We've all heard the witticism that the human attention span has shrunk to less than that of a goldfish (reputed to be eight seconds).

Not the podcast listener.

According to the 2018 Infinite Dial Report, the average podcast listener finishes 80% of a podcast episode (which average nearly 39 minutes, according to podcast.co). Contrast that with a "good" YouTube finishing rate of 50% and viewing time of one to eight minutes, according to Chartable. The average Facebook Watching time is just 23 seconds, according to a study by digital agency Uhuru.

So, we've established the size and dedication of the podcast audience. How about the market opportunity?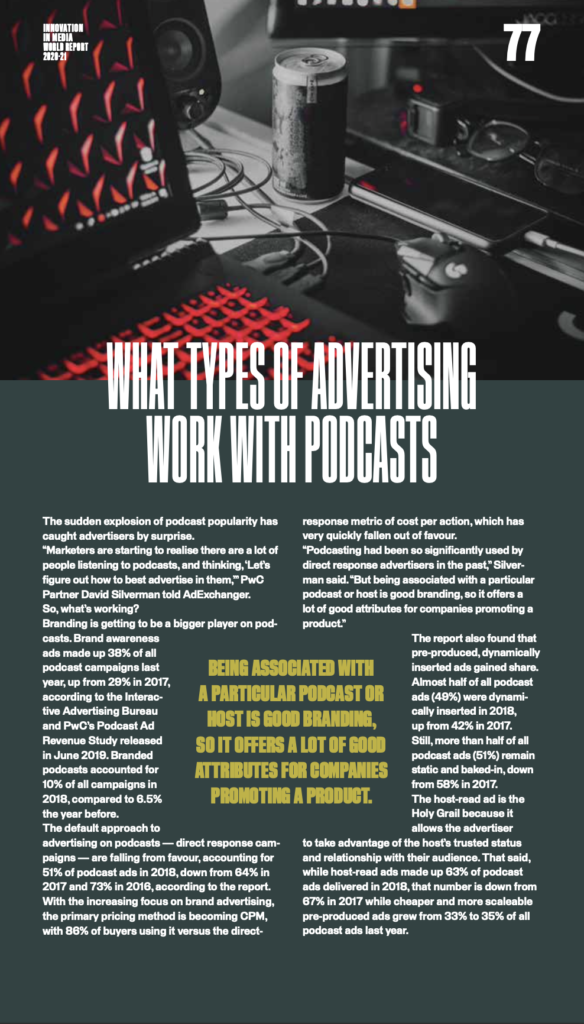 Some observers believe that as a result of podcasting's explosive growth, we've already hit Podcast Saturation or are close to it.
Yes, the existence of hundreds of thousands of podcasts would seem to be overwhelming and a daunting environment for newcomers looking to be discovered.
But consider the fact that there are more than 35 million YouTube channels. In that context, we are a long way from Podcast Saturation.
Given this appealing opportunity to gain revenue and listeners, media companies and individuals are launching new podcasts at a torrid pace.
In 2018, an average of 575 podcasts were started every day — that's about one new podcast every three minutes, according to the Edison report.
In June 2019, there were 750,000 podcasts in the Apple Podcasts directory alone, up from 550,000 in June 2018, according to Podcast Insights. Of those 750,000, almost one-third or more than 210,000 of them published their first episode in 2018. Google has reported that it is tracking 2 million podcasts. So a lot of folks still see an opportunity.
Since 2014, the share of time spent listening to spoken word audio has increased 20%, while time spent listening to music decreased 5%, according to Edison Research.
Another driver of podcast growth is mobile technology : 22% of listening to spoken word audio in 2019 is now on a mobile device, compared to 9% five years ago, according to the Edison report. While a majority of podcasts are still listened to at home, the advent of Bluetooth and other connections in the car have made podcasts a key listening tool for end users while they commute. In fact, Edison's report said that 58% of podcast users claim that they have listened to a podcast in the car.
The market outlook gets better: The average age of the podcast listener is 39 years old and, perhaps more importantly for advertisers, the average salary of the average podcast listener is $87,000, according to a new study from Nielsen. Apple remains the dominant podcast listening app. Here are the top five:
• Apple Podcasts (and iTunes): 57.9%
• Spotify: 13.1%
• Overcast: 2.8
• Castbox: 2.7%
• Stitcher: 2.3%
• Google Podcast: 1.8%
Aside from rapidly improving technology, what's driving the attraction to podcasts?
For the listener, podcasts are entertaining, provocative, educational, and fill previously uninspiring times of the day (the twice-daily commutes, daily chores, long walks, grocery shopping, etc). Podcasts also become an almost personal relationship. "There's something very intimate about podcasts — you're literally letting an individual into your personal space for 30 minutes," Grazia magazine Editor Hattie Brett told us.
---
"There has been so much demand for sponsorship that it more than pays for itself"

Tom Standage, The Economist Head of Digital Strategy

---
"As such, you develop a relationship with the person who is hosting the podcast and, over time, really come to trust them," Brett said. "So for media brands, that have been built on developing trust with their readers, it's a natural extension; a way to show a more intimate side of your team to your audience."
For the media company, it's a relatively cheaply produced revenue-producer and subscriber attraction asset that cannot be poached.
"Podcasts are not like a text story, where a free title [or site] can come along and basically republish it, diluting the value of your paid offering," Enders Analysis Senior Analyst Joseph Evans told Digiday* If you want a particular podcast, you have to go to the source. And they're a lot cheaper to put together than video, particularly the kind of editorial podcasts that news sites are looking into."
Revenue is finally catching up to viewing
The podcast ad market is ascendant. Roughly $479 million was spent on podcast ads in the
US in 2018, which was a 53% increase from $314 million in 2017, according to the LAB's 2019 Podcast Revenue Report. Looking ahead, podcast advertising revenue is projected to increase to $1 billion in 2021, according to the IAB.
For example, the Financial Times has nine open-access podcasts including "The FT News Briefing," which gets more than 1 million monthly downloads, according to the FT. Their average listen-through rate is 75% and 2019 audio ad revenue tripled over 2018, Head of Audio for Commercial Alastair Mackie told Digiday.
"There has been so much demand for sponsorship that it more than pays for itself," Economist Head of Digital Strategy Tom Standage told the journalism think-tank Nieman Lab."The big change is commercial, which is that we had advertisers who started to come to us last year and say,'We are only going to buy two kinds of ads next year: print and podcast. What have you got?'"
As impressive as that number is, the audio market in China (which is dominated by self-improvement audio products) was estimated to be worth around $7.3 billion in 2018, according to China's Administration of Press, Publication, Radio, Film and Television. What makes the figure even more impressive is that it is focused only on consumers paying directly for audio content online and does not include ad-driven podcasts.
Podcast advertising isn't threatening conventional radio ad spending… yet. Podcast advertising is on double-digit growth trajectory while radio ad growth will begin contracting next year and continue declining for the foreseeable future, according to research and marketplace intelligence company Magna. In 2019, podcast advertising was a mere a 3% share of the $16.2 billion US audio ad marketplace, but will comprise an 8.2% share by 2022, according to Magna.

A New Hotel Amenity: The Podcasting Booth
On the road? Need to record a podcast episode? No problem… if you're staying at one of the hotels offering the latest in unique amenities: a podcast booth
• At the Los Angeles Mayfair Hotel, guests can reserve a custom recording booth next to a library and a private patio
• If you're at the Ace Hotel in London or Los Angeles, you can borrow in-room recording gear free of charge via a program called Studio A
• Stockholm's very posh Hotel At Six offers a rentable podcast studio.
The World's Longest Podcast
The current Guinness World Record for the world's longest audio livestream is 52 hours and was set in 2012 by Turkish radio disc jockeys Cenk and Erdem. In late 2018, nine students from the University of North Texas in the US recorded a 58-hour long livestream in an attempt to break the record. At press time, the Guinness site still listed the Turk disc jockeys as the record holders.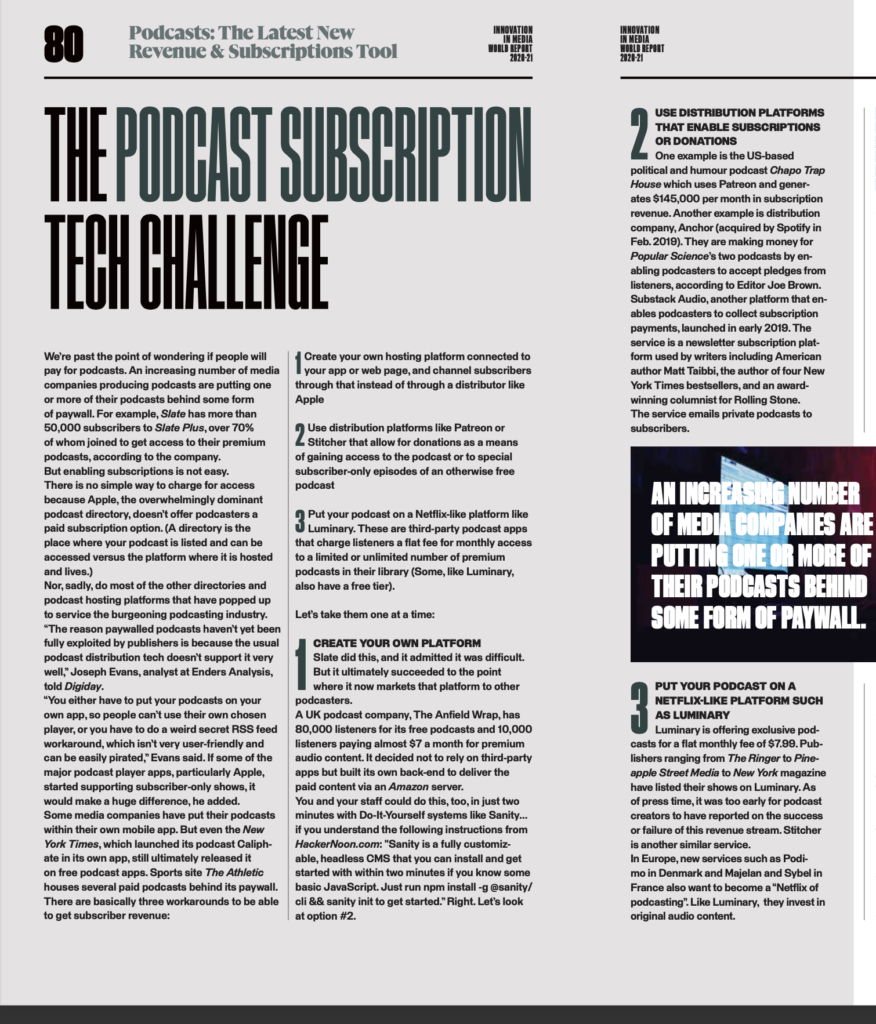 Diehn told Digiday. "Is it tipping; is it a publisher-by-publisher premium subscriber model; is it the Patreon single show, single-creator-support model; is it a Netflix-type model? There's not going to be one thing."
One thing we do know is working are the CPMs.
Economist podcast CPMs are higher than YouTube's network average CPM rates of between $2 and $3, the Economist's Standage told Digiday. For other podcasts in the UK with downloads in the six-figure range, podcast ads can command at least a 30% premium on preroll video ads, with some low-end CPMs around $11.84 and the coveted host-read ads getting more than $40 CPMs, according to Digiday.
"CPMs are typically higher than w hat is seen in the linear broadcast space, due in part to the comparatively small podcast audience and growing demand as more advertisers across more sectors show interest in experimenting with podcasts," according to Magna's September 2019 Podcasting Report. "Pricing remains a challenge, as CPMs can range anywhere from $10-$25 for pre- and post-roll spots to $20-$80 for mid-roll spots to $70 + for highly sought-after shows."
For the successful podcasts, the numbers are impressive. For example, Freakonomics Radio, which averages 1.5 million downloads per episode, an advertiser paving $50 for every 1,000 downloads would result in an impressive $225,000 payment per episode for three mentions of the advertiser.
The impact of these high CPMs is the rapid growth of podcast ad revenue as a percentage of total media company revenue. For example, National Public Radio in the US, one of the leading podcast producers, is set to see its podcast sponsorship revenues surpass those from broadcast next year for the first time.
Podcasts have been a "huge return on investment for us and a major growth engine for our business," Deborah Cowan, Chief Financial Officer at NPR, told WhatsNewInPublishing.
The story is similar at Slate, one of the early entrants in podcasting, where audio could represent "nearly half" of the publisher's revenues, up from 28% in late 2018, according to Digiday. Slate's 30 podcasts generated 180M listens in 2018, a 78% increase year over year.
"You don't get clients saying they want to be on pre-roll, but you get clients saying they want to be on the Economist's podcast," MediaCom Head of Investment Charlie Yeates told Digiday.
Part of the reason the ad revenue is increasing is the change in the methodology and ease of placing podcast ads. In the early days, most podcast ads were host-read (a time-consuming process to sell and create, and virtually unscalable). Also, a podcast's back catalogue was inaccessible. Equally challenging was the process of verification: Checking that the ads actually appeared.
Now, dynamically inserted ads enable brands to create a single ad and place it in large numbers of podcasts in tightly scripted campaigns. Some reports estimate that 48.8% of all podcast ads are now placed programmatically. With this kind of scale, podcast ads are approaching TV and major web platform scale and reach.
What are the podcasting revenue models?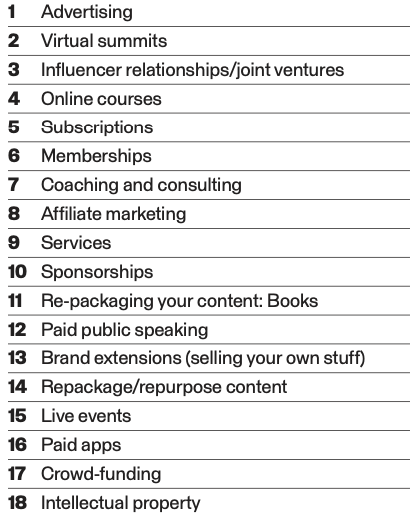 Many of these are self-explanatory, but let's take a look at a few that bear an examination.
VIRTUAL SUMMITS
Virtual summits have all of the same benefits of real summits at a fraction of the cost (for you and for your attendees). Your attendees are already accustomed to and comfortable interacting with you in the virtual world, so this would be an easy format for them. In addition, they don't have to pay to fly or drive anywhere and aren't facing all of the attendant costs of food and lodging.
"A virtual summit is a collection of webinar interviews that you conduct over several days," said Navid Moazzez, creator of the Virtual
Summit Mastery online service. "As the host, you curate a couple dozen or so industry leaders and sell all-access passes to the event."
For example, The How I Built This podcast tour has been so successful that National Public Radio in the US created a spin-off small business and entrepreneur virtual conference called the How I Built This Summit.
With virtual summits, you get to:
• Build an email list to use with some of your other revenue models
• Generate additional revenue (and perhaps new sponsors who like the summit format)
• Build the authority' of your brands
• Network with leaders in your niche (as speakers)
• Create evergreen long-tail content that can also be monetised
ONLINE COURSES
Online courses are another efficient, relatively pain-free revenue model: Once you've done the hard work of creating the course, you can run it over and over and over again.
"Teachable and Thinkific are two online course platforms that you can use to create and host your online courses on with ease," according to Moazzez.
"Don't try to hit a gigantic home run with your first info-product," Moazzez recommended. "Keep the project small and make sure it provides incredible value. Think of your first info-product as warming up your audience so that you can up-sell them on your first really big premium course.
"You may even want to consider giving your first info-product away for free," Moazzez said. "Your audience will feel almost guilty if they don't buy your premium product when it comes out."
According to Moazzez, here are the benefits of online courses:
• Leverage existing content
• Unlike physical products, there are no shipping hassles
• Unlike affiliate sales, you get to keep all the revenue (unless a partner promotes your course)
• Unlike sponsorships, you don't have to continually hunt down opportunities
• By creating your own course, you guarantee that the content will be highly relevant to your audience
• You'll never run out of stock
SUBSCRIPTIONS
One of the poster children for paid podcasts is Slate, a US-based daily web magazine and podcast network.
Slate jumped on the podcast bandwagon long before it was a bandwagon. Slate launched its first podcast on July 15,2005, just five years after the creation of the first rudimentary system that enabled the selection, automatic downloading and storage of serial episodic audio content on PCs.
By late 2019, Slate was making almost half of its overall revenue from podcast advertising, with total downloads up 39% following a 78% increase in 2018.
In 2014, Slate introduced a subscription product called Slate Plus, which included benefits such as discounted tickets to live events, and access to web-only content and certain podcasts. A year later, it had attracted 9,000 subscribers generating about $500,000 in annual revenue. By 2019, the subscriber total was up to 50,000 people paying $60 a year, or $3 million. According to Slate, 70% of the Slate Plus members joined to access the podcasts, which means the podcasts are responsible for $2.1 of the $3 million.
In addition to the benefits Slate Plus offers, other potential subscriber benefits could include:
• Early access to episodes
• Ad-free episodes
• Access to the back catalogue of episodes
Getting podcast subscriptions to grow is challenging because of technical difficulties associated with any subscription offering. The podcasting world is fragmented with many podcast listing apps offering the service but few offering a paid subscription option. Apple, which dominates market share, does not offer in-app payment functionality (see the sidebar on podcast subscription tech challenges).
One workaround is the growing collection of podcast platforms — Patreon, Substack, Glow — that give podcasters the opportunity to offer personalised RSS feeds to paying subscribers, with those feeds being accessible on most podcast apps.
But subscriptions are not always a good alternative to advertising.
For example, the US-based show, The Athletic, uses both approaches. It started with 20 podcasts that were for subscribers only. But as it expanded to 120 podcasts, most were set up to run on a schedule of one free episode per week, plus an additional episode for subscribers only. "Podcast ads fetch $25 CPMs, making a free-mium model based on ad revenue more attractive [than subscriptions]," Athletic Co-Founder Adam Hansmann told Digiday.
Just two months after introducing advertising in late 2019, the advertising revenue stream grew enough in that time to compete with subscription revenue, Athletic Audio GM Nick Adler told Digiday.
Figuring out what should be ad-supported and what can support a subscription is a process, internet radio service Stitcher's Diehn told Digiday. Further, the formats that typically see subscriptions as a better strategy' for monetisation are scripted fiction, which may not drive as much advertiser appeal — or niche podcasts that have 10,000 to 50,000 listeners — since there are fewer options for those topics, he said.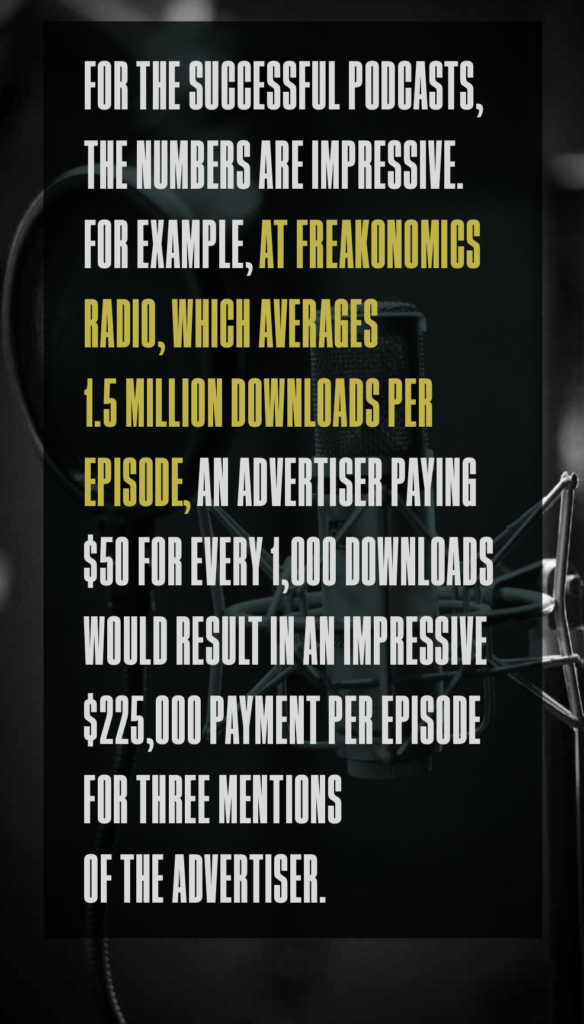 Why Podcasts Work for Advertisers
According to the "AudioiActivated" Study, a four-continent research project commissioned by BBC StoryWorks (BBC Global News's branded content division), podcasts deliver the following results for advertisers:
• Podcast branding messages stand out, with 16% higher engagement and 12% higher memory encoding than the surrounding content, almost 20% higher than radio measures which score 5% lower than content
• 76% of listeners say they've taken action after hearing a podcast ad, which could include visiting a site, making a purchase, or taking out a subscription
• 94% of listeners consume podcasts while doing other tasks. This mode of listening elevates engagement with the brand, the study found
• Podcasts are consumed in ways that are additive to the marketing mix
• Podcasts are a particularly effective way to reach ad avoiders
• The language of a podcast creates subconscious associations with the brand
• Podcasts deliver lifts in awareness (+89%), brand consideration (+57%), brand favourability (+24%), and purchase intent (+14%)
Because of the unique way podcasts are consumed — usually whilst multitasking — brands are now able to reach people in what were previously thought to be unreachable moments. This is an enviable commercial opportunity as it is additive to the marketing mix.
MEMBERSHIPS
Memberships are the other side of the subscription coin, but without the hassle of finding or creating a platform to accept payments for podcast access. With memberships, media companies can offer benefits that they can house behind a pay wall on their own site.
For example, paying members could access:
• Behind-the-scenes extras
• Live Q&A sessions
• Bonus interviews
• Exclusive community
• Tutorials on subjects relevant to the podcast subject
---
"Increasingly podcasts are getting turned into properties for other mediums"

Seth Resler, Analyst, Jacobs

---
COACHING AND CONSULTING
This is not a big revenue generator, but it could lead to other revenue streams. Once you've developed your podcast and your studio, even if it's bare-bones, you w ill still have more podcasting expertise than most people in your niche or geographic market.
You could offer coaching or consulting to aspiring individual or business podcasters, but another more lucrative approach in the long run w ould be to offer your expertise to advertisers who might want to add podcasts to their marketing, native advertising or branded content campaigns. So, you could make money with the consulting and then with the ad revenues for running their audio content.
AFFILIATE MARKETING
While it might seem obvious, podcasts offer a twist on affiliate marketing that your run-of-the-mill digital content does not: Longevity.
The typical text story or video might gain a fewr search visitors over time, but podcast listeners are constandy discovering podcasts that might have been running for months or even years… and they often start at the beginning of the series, especially if it's an extended sequential story' like Serial or a sequential approach to a topic or recipes that relate to a season of the year.
As a result, the affiliate deals you cut months or years ago will still be generating revenue long after their first appearance.
REPACKAGING YOUR CONTENT: BOOKS AND E-BOOKS
You've already spent the time and money to create what your listeners are telling you by their dow nloads is valuable.
Transcribe the content of your podcasts around a particular topic (recipes, themes, most popular, influencer interview's, geographic locations, tips, etc). Create an e-book and let your listeners know it's available for a fee.
Welcome to Night Vale, a podcast covering strange happenings in a desert community in the southwest US, translated the popularity' of its podcast into a novel. When the book became available for pre-order, it became Amazon's #2 title seven months ahead of its October release date.
After that initial success. Welcome to Night Vale released three more novels.
Following on the success of the novels, Welcome to Night Vale released four books featuring scripts from the show as well as commentary, introductions by the authors, and original illustrations.
HOST A LIVE EVENT
Live events can be costly and time-consuming to run. However, if you have an experienced events team that runs events all the time, a live event, even if it's just you doing your podcast in front of a live audience, will attract paying customers. According to long-time podcaster Robin Kinnie, president of Motor City (Detroit) Woman and Audio Engineers, live shows are:
• A great way to connect with your audience: Live shows give loyal listeners the opportunity to meet you face-to-face and give you the opportunity to learn more about your listeners.
• A new way to monetise your podcast: You can approach your advertisers, offering them the opportunity to meet potential customers in person. You can charge an admission fee. And you can make money from concessions and the sale of podcast swag (souvenirs).
• A unique way to promote relevant local businesses or nonprofits: If you're looking for a space to host a live event, consider your advertisers (restaurants, theatres, sports facilities) or partners (museums, nonprofits). The business or nonprofit will probably welcome the traffic and publicity, and might even pay you for the privilege of hosting the event.
• An opportunity to expand your reach by sharing the live podcast on YouTube: Your podcasts are purely audio, but your live shows can be captured on video and shared on YouTube. You not only extend the shelf life of the event but you also expose your podcast to a whole new and massive universe of potential listeners on a platform you'd heretofore been absent from. You can also use the recording as a tool for prospective advertisers.
Many podcasts have picked up on this revenue option: Watch What Crappens, a podcast about Bravo's reality TV shows, charges $25 a seat but listeners can also fork out $200 for a VIP experience. The true-crime podcast Crime Junkies sold out many shows on its 2019-2020 tour, where tickets averaged $30 but a premium package that included a private meeting with the hosts went for $100.
Even with those prices, live podcast events aren't going to be a huge contributor to your bottom line. The revenue is welcome, but their primary value is marketing and promotion.
Apparently, podcast fans are hungry to see their hosts live and in-person. One in five heavy podcast listeners — those who listen more than six hours per week — have attended a live podcast show where the average price was $42, according to a recent study by MARU/Match-box and Westwood One.
One of the best podcasts at running live events is Welcome to Night Vale.
The Welcome to Night Vale podcast opened their first live podcast tour in 2018 with two sold-out shows at the Neptune Theatre in Seattle. With tickets priced at $30 and 800 seats in the auditorium, the podcast brought in just under $50,000.
The 2018 tour included 20 more shows, including European cities such as London and Berlin and additional US locations. By the time the 2020 schedule was announced, the tour had exploded to more than 50 events in cities across the US and Europe with ticket prices ranging from $25-$35.
While the show often gets 400,000 downloads per episode, touring is more reliable and lucrative," Night Vale Co-Founder Jeffrey Cranor told podcast database company Listen-Notes. "Advertisers are fickle."
INTELLECTUAL PROPERTY
One revenue source that might not have occurred to you is to convert your intellectual property (your podcast) into movies or television shows. While it's only happened to a small percentage of podcasts to date, it's still a possibility with a potentially lucrative outcome. And it's a possibility expected to soar in the near future with the increasing demand for movie and television series content.
FX recently reached a deal with Sony Pictures Television to turn Welcome to Night Vale into a TV show.
"Increasingly, podcasts are getting turned into properties for other mediums," said Seth Resler, an analyst at US-based media strategy firm Jacobs. Startup, Swrord and Scale, Pod Save America, 2 Dope Queens, Up and Vanished, Lore, Dirty John, Homecoming, Serial, The Bright Sessions, CrimeTown, Alice Isn't Dead, Desus and Mero, Atlanta Monster, Tanis, Limetown, and more have all spaw ned television shows.
"At CES this year [2019], a panellist in one podcasting session predicted that in the coming years, we will see a quarter of all television showrs and movies being developed out of podcasts," Resler said. "As a result, the panellist predicted a boom in scripted podcasts, with the hope that the hits would find a profit in the licensing of intellectual property rights."
One seemingly small but significant development in the recognition of podcasts as a force in media wras the announcement in late 2019 of a new Pulitzer Prize audio category. The prize will be aw arded "for a distinguished example of audio journalism that serves the public interest, characterized by revelatory reporting and illuminating storytelling," according to the Pulitzer Board.
With all these options for raising revenue and attracting paid subscribers, podcasts are already beginning to contribute to media companies' bottom lines, from single digit percentages of total revenue to nearly half.
"Our current Golden Age of Television started 80 years after the invention of TV," said Chartable Co-Founder and CEO Dave Zohrob. By comparison, the Golden Age of Podcasts only took 15 years from the invention of the medium, and it's just getting started."
So, if you haven't climbed on board yet, there's still plenty of room on the bandwagon. And it's a hell of a lot cheaper, easier, and more immediately lucrative than, say, an in-house agency or building a VR capability. Right?