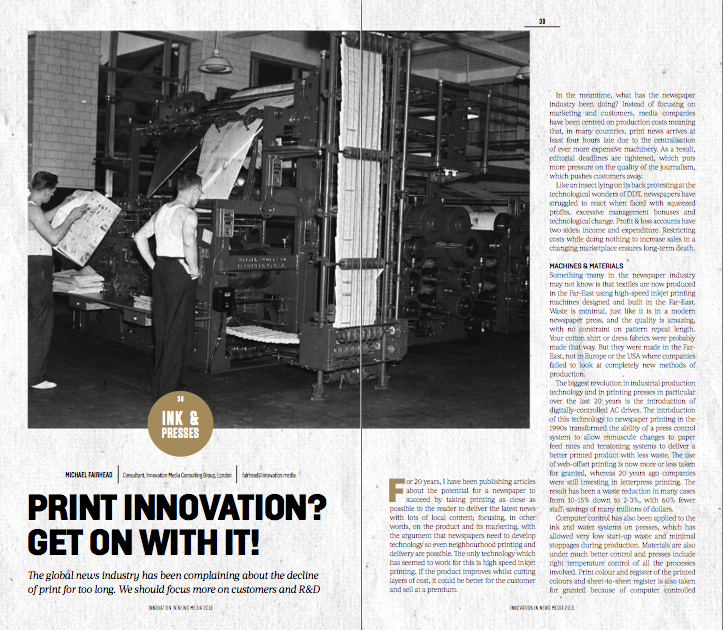 11 Nov

Print Innovation? Get On With It!

The global news industry has been complaining about the decline of print for too long. We should focus more on customers and R&D

By Michael Fairhead | Consultant, Innovation Media Consulting Group, London

For 20 years, I have been publishing articles about the potential for a newspaper to succeed by taking printing as close as possible to the reader to deliver the latest news with lots of local content; focusing, in other words, on the product and its marketing, with the argument that newspapers need to develop technology so even neighbourhood printing and delivery are possible. The only technology which has seemed to work for this is high speed inkjet printing. If the product improves whilst cutting layers of cost, it could be better for the customer and sell at a premium.

In the meantime, what has the newspaper industry been doing? Instead of focusing on marketing and customers, media companies have been centred on production costs meaning that, in many countries, print news arrives at least four hours late due to the centralisation of ever more expensive machinery. As a result, editorial deadlines are tightened, which puts more pressure on the quality of the journalism, which pushes customers away.

Like an insect lying on its back protesting at the technological wonders of DDT, newspapers have struggled to react when faced with squeezed profits, excessive management bonuses and technological change. Profit & loss accounts have two sides: income and expenditure. Restricting costs while doing nothing to increase sales in a changing marketplace ensures long-term death.

Machines & Materials

Something many in the newspaper industry may not know is that textiles are now produced in the Far-East using high-speed inkjet printing machines designed and built in the Far-East. Waste is minimal, just like it is in a modern newspaper press, and the quality is amazing, with no constraint on pattern repeat length. Your cotton shirt or dress fabrics were probably made that way. But they were made in the Far- East, not in Europe or the USA where companies failed to look at completely new methods of production. The biggest revolution in industrial production technology and in printing presses in particular over the last 20 years is the introduction of digitally-controlled AC drives.

The introduction of this technology to newspaper printing in the 1990s transformed the ability of a press control system to allow minuscule changes to paper feed rates and tensioning systems to deliver a better printed product with less waste. The use of web-offset printing is now more or less taken for granted, whereas 20 years ago companies were still investing in letterpress printing. The result has been a waste reduction in many cases from 10-15% down to 2-3%, with 60% fewer staff: savings of many millions of dollars.

Computer control has also been applied to the ink and water systems on presses, which has allowed very low start-up waste and minimal stoppages during production. Materials are also under much better control and presses include tight temperature control of all the processes involved. Print colour and register of the printed colours and sheet-to-sheet register is also taken for granted because of computer controlled systems first developed in the early 1960s for experiments sent up on rockets and in satellites. The paper we print on has become much more consistent and the ink and paper companies have worked together to achieve a perfect printed result with minimal show-through and little ink coming off on the reader's fingers. Folder deliveries have improved from the early work we did on high speed delivery in the 1980s to a level where press speed is no longer really a constraint.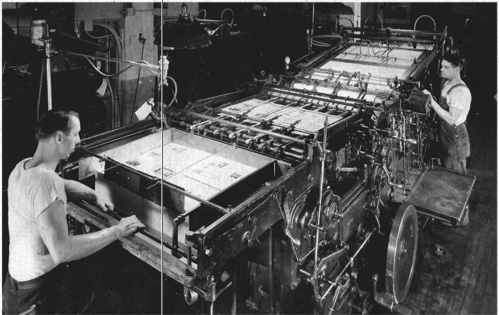 Straight to the Printed Page
For 20 years, it has been possible to produce printing plates directly from the digital information stored in a computer. The historical method was to produce an intermediate photographic negative or positive and then to use a contact exposure to generate a plate. The new process allows greatly improved print register and much shorter production time, cutting out a whole process, so costs have also been reduced.
Next up is the automation of the production of colour images within a computer. One can take a digital photograph on a camera at a remote location, transmit the image automatically to the editorial computer system and put it automatically into a pre-allocated space on the page and then produce printing plates automatically. The concept of colour photograph to printed result is feasible without human intervention if the printing press is computer- to-paper. The only constraint is the ability of the photographer to take a photograph and crop it on the camera. In the space of 30 years, what was a late news box running a few lines of text eight minutes from press start is now a complete full-colour 72-page update that can be done in one minute without a press stop.
Presses are being made three-wide and no doubt will one day go four- or even more wide, up to paper master reel size, as paper suppliers further refine their production methods. Press cylinders are made from stainless steel to eliminate corrosion and hollow so they can spin faster with less collapse of bearings, which may have several ball trains in one bearing to allow for tiny misalignment affecting running at high speed.
The most exciting thing over the past few years has been the development of mixed heatset/ coldset presses in the Gulf countries. One press we reviewed has three single-width mixed heatset/coldset press lines feeding to one, two or all three folders. So you can print big books heatset, coldset, or mixed, and if you want to, you can print three different products at the same time. The constraints on purity of water supply, water temperature, air conditioning, computer control temperature, electrical supply condition and so on are mind-boggling, but the results are amazing and very customer directed.
Print Delivery Problems
20 years ago, mailroom systems were already ahead of newspaper presses in technology because of the needs of heatset production for magazines. Like newspaper presses, materials used, digital DC control systems and alignment, product mix and inset systems have become much more reliable and sophisticated. Pretty much everything which has been suggested to improve products for readers and advertisers is possible and the production has very few stoppages, very low manning, and speeds to match the speed of the fastest press.
Where does newspaper production go from here? The focus has been on three factors, cost, product quality, and consistency. This has led to the use of the most sophisticated automaticcontrol systems available in the world today and to fully automated plants. The capital cost of these plants is enormous and the centralisation is largely justified in terms of plant cost per unit produced. It's an accountant's dream.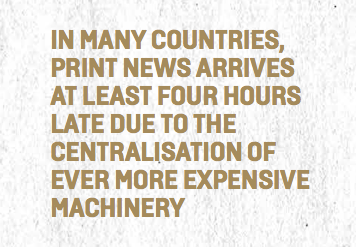 However, it is a marketer's nightmare. Because of the increasing centralisation of production the time from press to customer has increased. That is not compensated for by the time gains within the production process before the press or the gains in volume produced in the plant in a given time. Sure the product is glitzy and colourful and has lots of sections and is cheaper but the customer gets his or her product later. The internet isn't later than it was. TV isn't later than it was. Radio isn't later than it was. Social media is not later than it was. All of those media are running earlier. Immediacy is the name of the game. Daily newspapers are getting to customers later. But the media consuming public increasingly wants an earlier product, not a later one. However one dresses up the product, the sad fact is that the newspaper industry has had its eyes focussed on the wrong finishing line.
Of course the customer has experienced— and now wants — all the bells and whistles that newspapers now deliver, but the customer wants his or her better, more colourful, multi- sectioned, containing magazines, product with more considered journalism earlier, not later. Someone once said that to sell more, one has to be more interesting. The printed medium is made with super-expensive state-of-the-art- equipment. So the newspaper company has to reduce not only its number of production staff but also the number and quality of journalists and sales/marketing staff. Thus the product, despite the glitz, is becoming less interesting.
Build a News Tesla
As someone who spent a life before newspapers in industrial R&D and marketing with blue chip marketing companies I am drawn to asking the question: how do we completely change the way our product is produced so that the desires of the customer are met? Is it possible and how do we do it? In other words: is a paradigm shift possible? Looked at from that point of view, one sees that the pre-press production system is pretty much working as well as it could do. Digital information and transmission allows news to be collected as soon as it is written, with images, highlighting colours, advertising and so on, as a complete medium. One can run those finished pages directly to a screen or a printer anywhere in the world, with a one- or two- minute transmission time.
Using high speed inkjet technology, one can in principle print thousands of pages per minute. The quality is as good as offset printing on newsprint. Maybe one can use other output technology. That ought to be explored. Since the focus of the industry has been on volume of production rather than on how to improve delivery of the news to the customer, no serious R&D investment has been made into alternative ways of delivering the product to customers.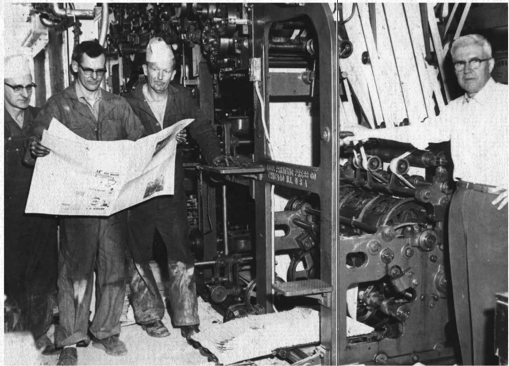 The people involved have been quick to decry any alternative to current technology. If it were space travel, then the investment in technological change would be made. Teflon, Velcro, Lycra or computerised AC drive systems would never have happened if NASA had had the same attitude. Yet the worldwide newspaper industry has a turnover ten times the and has done nothing for 20 years to explore methods or technology: it just relies on a hand- out from suppliers.
So what about if the industry started from scratch and did some R&D? Some completely fresh ideas would emerge. It is not inevitable that everything goes on-line. People say it is only oldies like me who want to read a newspaper at all. I know a lot of 30- and 40-year olds who like to have a portable medium where they have time to consider ideas, do the crossword puzzle, see who has gotten married, been born, or died. People don't buy newspapers because the content doesn't cut the mustard for them.
I don't have a fistful of free answers which will instantly turn newspapers from loss to profit. I am certain, however, that there is a crying need for investment in a new paradigm. This needs to be achieved by investment in completely new ways of getting better products to our customers. The direction of all printed media is not towards customers but towards pundits. It needs investment in different printing technology. It needs consideration of different priorities and above all it needs open minded exploration into how to fit it to what customers want.
Not many people buy Ferraris, sexy as they are. A million times as many people buy Toyotas and Fords because those companies took the trouble to ask what customers actually want. People dismissed Elon Musk and Tesla. Now they are running around like headless chickens because he is suddenly exploring how to build and sell not 100,000 battery-powered cars a year in the US but a million of them, competitively, following an immense response from the marketplace. Do you see any parallels with newspapers, my dear friends? "Yes we can" really does need to replace "no we can't".
INNOVATION'S TAKE
Digital Micro-Printing is coming! Our old newsstands are disappearing, while there are more than three million ATMs (Automated Teller Machines, "cash machines") all around the world. What if, in the near feature, newspapers and magazines decided to print their editions in hundreds of thousands of new DMPs instead of at a few centralised presses? 24/7 outlets, always open and ready to print updated, full- colour editions of newspapers and magazines: just insert your credit card and select the newspaper you want to read. Seconds later, it will be in your hands.
---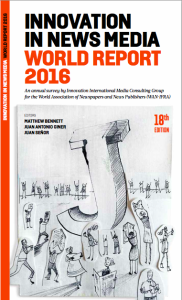 This article is one of many chapters published in our book, Innovations in News Media 2016 World Report.