20 May

How to transform a print-first organisation into a fast-moving, digital-first asset

Multi-title Hanley Wood went from a Balkanized, print-first, top-heavy, sluggish organisation to a streamlined, fast-moving, highly productive digital-first, data-, content- and revenue-producing machine

 By John Wilpers, Senior Director/North America, INNOVATION Media Consulting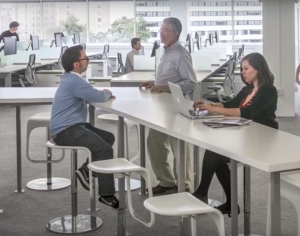 At B2B publisher Hanley Wood in the US, where they had three dozen print and digital brands each operating totally separately, change came quickly and thoroughly. Innovation Media Consulting worked with management and staff to identify problems and create solutions.
"INNOVATION helped Hanley Wood transform its editorial platform from a Balkanized, print-first, top-heavy, sluggish organisation to a streamlined, fast-moving, highly productive digital-first asset," said former CEO Frank Anton. "And we did it quickly and without engendering almost any resistance from the existing editorial staff.
As rosy as his assessment is, it was not a walk in the park. "It wasn't easy," said Anton. "Like most publishers, even those like Hanley Wood that are focused on a single market, all Hanley Wood magazines had separate editorial staffs that reported to publishers. Each staff operated independently, jealously guarded that independence, and found digital work to be a distraction. And just about everybody had an office."
Today's Hanley Wood has no resemblance to the Hanley Wood of old. "Today everybody sits in open seating and communicates and cooperates with peers," said Anton. "Subject matter experts work on several magazines. Content is produced, for the most part, with a platform-neutral mindset, and it is produced much more quickly. The editorial platform has been split in two, with each section managed by an editorial director who has responsibility for a cluster of digital/print brands."
Video: Watch the physical transformation of this legacy company
The project was a journalistic and business success: "Costs were substantially reduced," said Anton. "Quality standards were maintained and, in many cases, improved. Readers like the timeliness of digital content and still have  loyalty to their 'own' magazines. The digital-first strategy appeals to Next Gen journalists, making recruiting easier. All in all, the work with Innovation exceeded expectations."
Reinventing legacy editorial teams is not for the faint of heart, but neither is the media business these days. If you want to play in this game, you must ruthlessly examine your editorial team and completely reimagine it for the digital, mobile and, soon, artificial intelligence world of the future.
INNOVATION Media Consulting are the global experts in helping media companies make transition to a profitable, successful future. Contact me at wilpers@innovation.media.