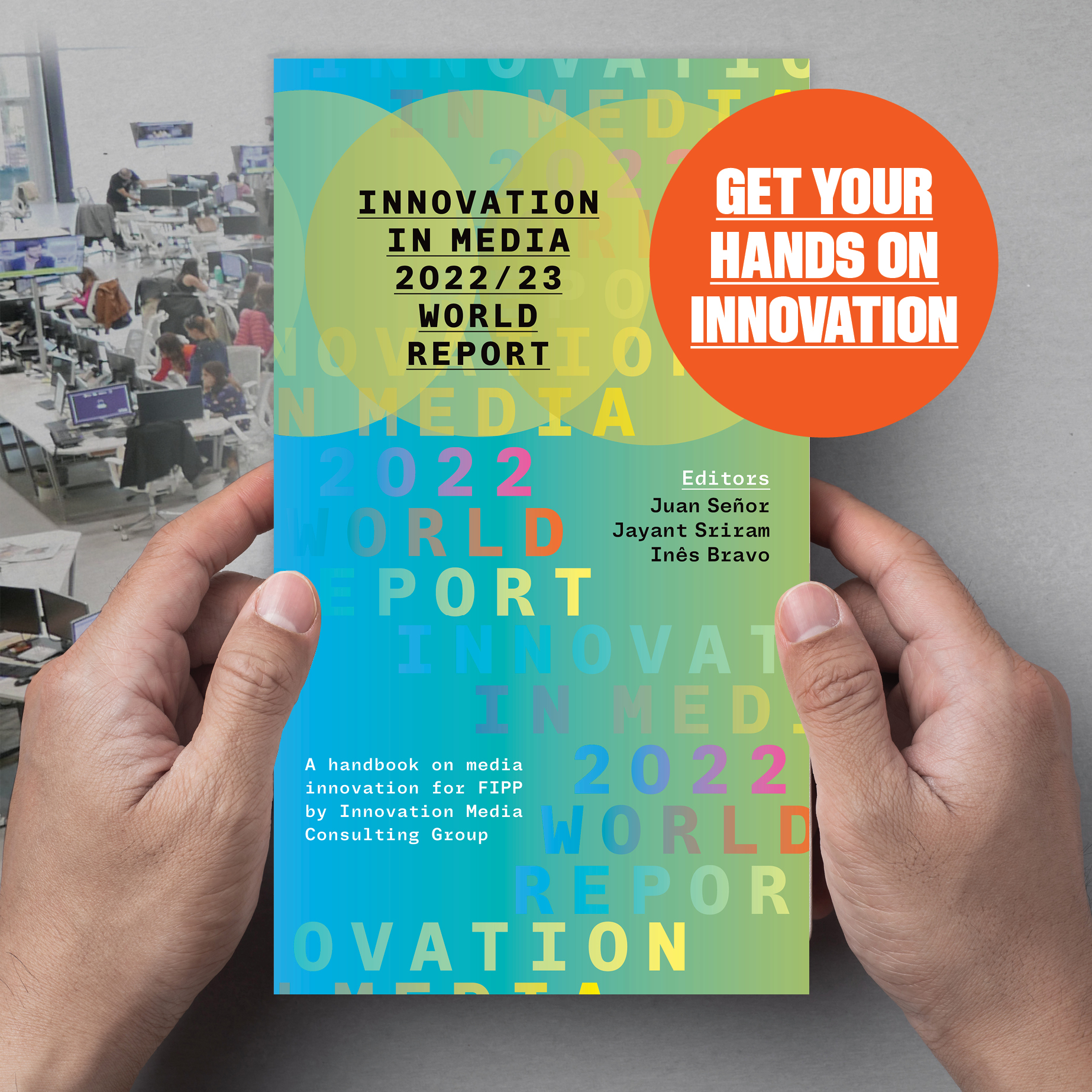 26 May

Six Technological Paradigms to Navigate in a Changing Media World

We're Back!

After two years of uncertainty through which we published digital-only editions, we are back in print this year and back with a live in-person event to launch this book. And you, our dear readers, are back at work, and back navigating the real world. The world of media has changed though, irrevocably in some respects, and there are new technological paradigms to contend with. We have identified six such areas for publishers to consider as we begin the process of building for a better and brighter future. 

1 There is a seismic shift coming in the world of digital advertising. 2023 will be the year of the much-vaunted 'cookiepocalypse', when third-party cookies on Google's chrome browser will be phased out, thus ending programmatic advertising as we know it. Should we fret, or see this as an opportunity? Digital advertising has long proven to be a fickle friend for publishers, stacked as it is in favour of Big Tech. With global privacy concerns putting an end to third-party data tracking there is an opportunity for publishers to focus instead on leveraging their own first-party data as a proposition to sell to advertisers. And that's what makes this story so compelling – a real live example of how good journalism can be good business. "If you're thoughtful about it, the subscriptions business powers your advertising business. You have a direct reader relationship, great data comes from that relationship and can drive a much more effective, analytical, targeted advertising business," Jon Slade, chief commercial officer at Financial Times recently said in a interview. We couldn't agree more.

2 Ignore the old mediums at your peril. In this case, the humble email, widely referenced through the years as being "the cockroach of the internet." The email newsletter was having a moment even before the pandemic but it has emerged now as the single most versatile and valuable tool in a publisher's arsenal. Use it as a 'pop-up' tool to capitalise on big news stories, as a medium to promote personalities within your newsroom, as a direct conduit to your readers or as a publishing business model in itself. In the newsletter economy, there are only possibilities.

3 Audio isn't far behind in the old is gold stakes, proving to have multiple uses for publishers. We know, of course, about the boom in podcasts and their potential for bringing in advertising revenue. Added to that reliable revenue tool now are new possibilities and technology for text-to-voice features for articles, which are proving to be particularly effective at engaging audiences and building habit, and now a boom in live audio with Clubhouse and its antecedents like Twitter Spaces. Could it be that years of digital innovation are taking us back to a place where the spoken word goes back to being our primary medium? That's not an outlandish theory at all.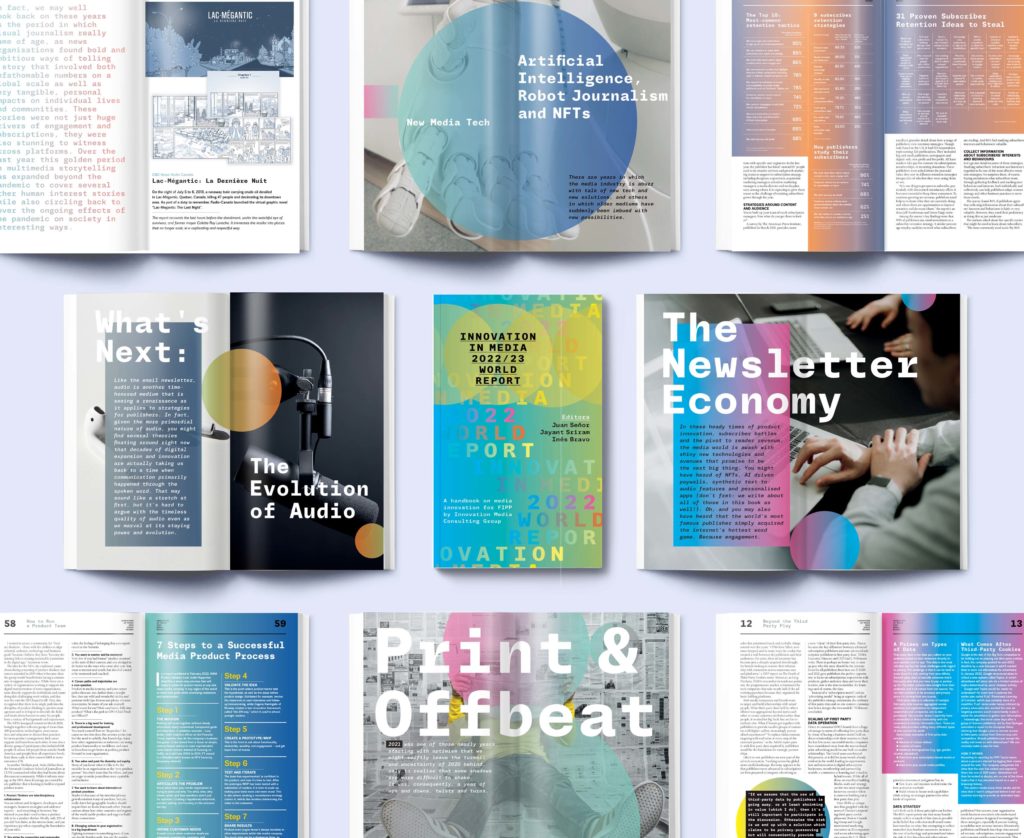 4 The past two years have seen breathless innovation as news organisations have raced to launch new podcasts, newsletters, live blogs, instant analysis and more. What stays and what doesn't beyond the pandemic and how can this process of change be made more sustainable? There has never been a more important time for news organisations to think of product teams and product thinking, to break silos and to place the audience experience first in any strategy. The definition and roles of product thinkers are rapidly evolving however, and we try to bring some clarity to this space through outstanding case studies. A related, but equally important question here – how do we introduce more data and analytics to newsrooms without causing too much anxiety? 
5 Keep an eye on what's next with the new technologies that help newsrooms function better. We are talking Artificial Intelligence and we go through an array of machine learning functions that publishers are relying on to predict audience behavior, improve the presentation of content and optimise customer service. And though there is still a healthy degree of skepticism we are seeing more examples of actual articles being written by robots for some subject areas. Could this be a cause for concern or a reason for optimism that journalists might be freed up from mundane work? We'll let you make up your minds as we also give you the latest on the NFT craze currently sweeping through media as a possible revenue stream of the future.
6 The last two years have come with significant business challenges but they have proven to be a golden age of sorts for subscriptions as audiences around the world looked to get news from trusted sources and finally realised that quality journalism is worth paying for. But as the big news stories that brought this subscription bump fade into the rear view, how do we keep a hold of these new subscribers and ensure that the momentum toward reader revenue stays? There are a variety of fascinating strategies on offer, all centred on different understandings of audiences, particularly on the 'light readers' who now represent the biggest opportunities for growth in all news organisations.
We end this year's book with a visual treat and a study in contrasts – a round-up of the best visual storytelling formats in digital over the past year, followed by our annual roundup of the best offbeat print and physical campaigns. Print is, after all, where we started and where we will continue to venture, even as we enjoy and marvel at the innovation and change taking place around us. We are happy to be in your hands once again along with your screens, and long may it be so. Happy reading, and here's to a great recovery from a fragile world.
The 2022 Innovation in Media World Report is now available for pre-order.