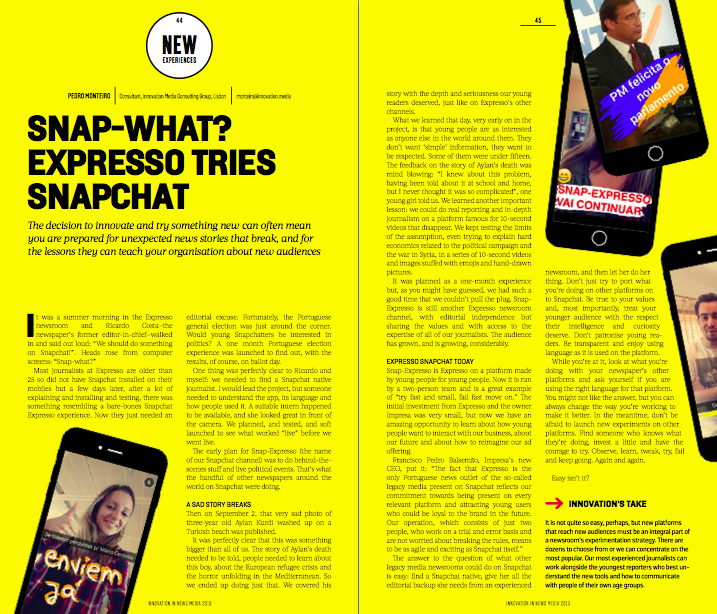 18 Nov

Snap-what? Expresso tries Snapchat

The decision to innovate and try something new can often mean you are prepared for unexpected news stories that break, and for the lessons they can teach your organisation about new audiences.

By Pedro Monteiro Consultant, Innovation Media Consulting Group, Lisbon

It was a summer morning in the Expresso newsroom and Ricardo Costa—the newspaper's former editor-in-chief—walked in and said out loud: "We should do something on Snapchat!". Heads rose from computer screens: "Snap-what?"

Most journalists at Expresso are older than 25 so did not have Snapchat installed on their mobiles but a few days later, after a lot of explaining and installing and testing, there was something resembling a bare-bones Snapchat Expresso experience. Now they just needed an editorial excuse. Fortunately, the Portuguese general election was just around the corner. Would young Snapchatters be interested in politics? A one month Portuguese election experience was launched to find out, with the results, of course, on ballot day.

One thing was perfectly clear to Ricardo and myself: we needed to find a Snapchat native journalist. I would lead the project, but someone needed to understand the app, its language and how people used it. A suitable intern happened to be available, and she looked great in front of the camera. We planned, and tested, and soft launched to see what worked "live" before we went live.

The early plan for Snap-Expresso (the name of our Snapchat channel) was to do behind-the- scenes stuff and live political events. That's what the handful of other newspapers around the world on Snapchat were doing.

A Sad Story Breaks

Then on September 2, that very sad photo of three-year old Aylan Kurdi washed up on a Turkish beach was published.

It was perfectly clear that this was something bigger than all of us. The story of Aylan's death needed to be told, people needed to learn about this boy, about the European refugee crisis and the horror unfolding in the Mediterranean. So we ended up doing just that. We covered his story with the depth and seriousness our young readers deserved, just like on Expresso's other channels.

What we learned that day, very early on in the project, is that young people are as interested as anyone else in the world around them. They don't want 'simple' information, they want to be respected. Some of them were under fifteen. The feedback on the story of Aylan's death was mind blowing: "I knew about this problem, having been told about it at school and home, but I never thought it was so complicated", one young girl told us. We learned another important lesson: we could do real reporting and in-depth journalism on a platform famous for 10-second videos that disappear. We kept testing the limits of the assumption, even trying to explain hard economics related to the political campaign and the war in Syria, in a series of 10-second videos and images stuffed with emojis and hand-drawn pictures.

It was planned as a one-month experience but, as you might have guessed, we had such a good time that we couldn't pull the plug. Snap- Expresso is still another Expresso newsroom channel, with editorial independence but sharing the values and with access to the expertise of all of our journalists. The audience has grown, and is growing, considerably.

Expresso Snapchat Today

Snap-Expresso is Expresso on a platform made by young people for young people. Now it is run by a two-person team and is a great example of "try fast and small, fail fast move on." The initial investment from Expresso and the owner Impresa was very small, but now we have an amazing opportunity to learn about how young people want to interact with our business, about our future and about how to reimagine our ad offering.

Francisco Pedro Balsemão, Impresa's new CEO, put it: "The fact that Expresso is the only Portuguese news outlet of the so-called legacy media present on Snapchat reflects our commitment towards being present on every relevant platform and attracting young users who could be loyal to the brand in the future. Our operation, which consists of just two people, who work on a trial and error basis and are not worried about breaking the rules, means to be as agile and exciting as Snapchat itself."

The answer to the question of what other legacy media newsrooms could do on Snapchat is easy: find a Snapchat native, give her all the editorial backup she needs from an experienced newsroom, and then let her do her thing. Don't just try to port what you're doing on other platforms on to Snapchat. Be true to your values and, most importantly, treat your younger audience with the respect their intelligence and curiosity deserve. Don't patronise young readers. Be transparent and enjoy using language as it is used on the platform.

While you're at it, look at what you're doing with your newspaper's other platforms and ask yourself if you are using the right language for that platform. You might not like the answer, but you can always change the way you're working to make it better. In the meantime, don't be afraid to launch new experiments on other platforms. Find someone who knows what they're doing, invest a little and have the courage to try. Observe, learn, tweak, try, fail and keep going. Again and again.

Easy isn't it?
INNOVATION'S TAKE
It is not quite so easy, perhaps, but new platforms that reach new audiences must be an integral part of a newsroom's experimentation strategy. There are dozens to choose from or we can concentrate on the most popular. Our most experienced journalists can work alongside the youngest reporters who best understand the new tools and how to communicate with people of their own age groups.
---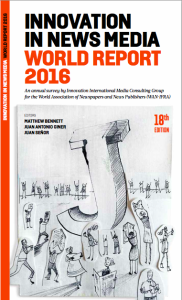 This article is one of many chapters published in our book, Innovations in News Media 2016 World Report.