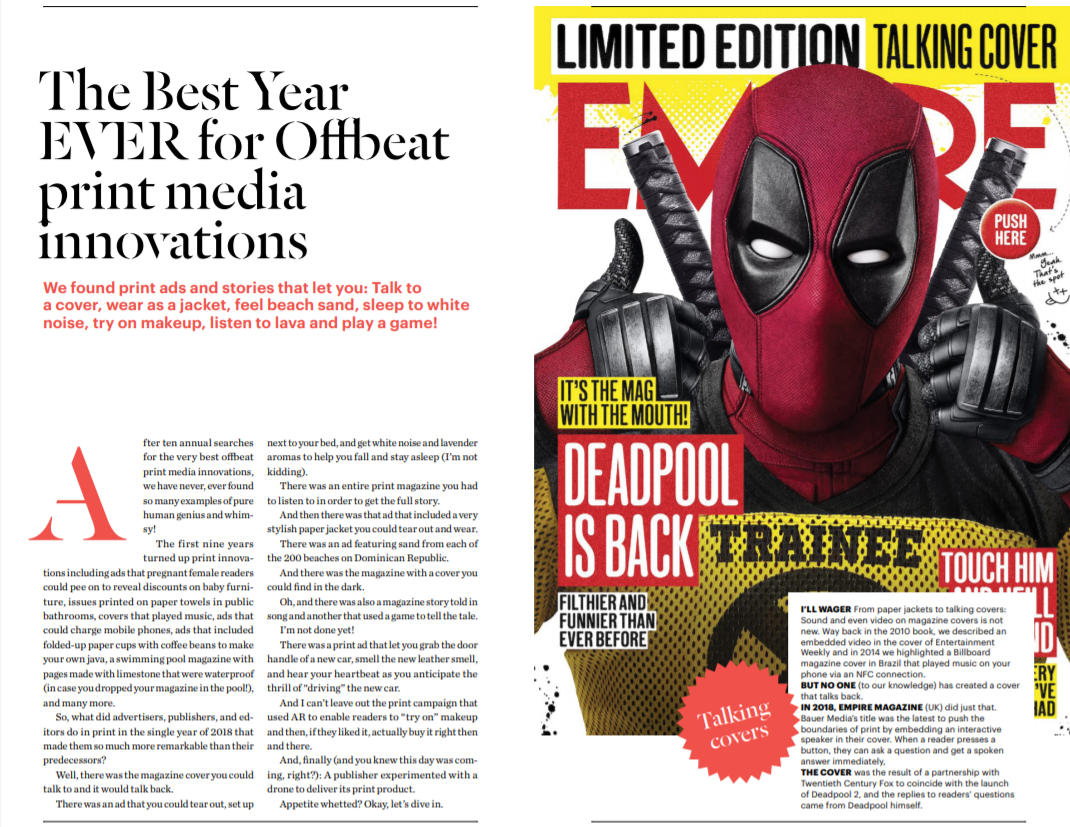 13 Feb

THE BEST YEAR EVER FOR OFFBEAT PRINT MEDIA INNOVATIONS
We found print ads and stories that let you do the following: Talk to a cover, wear as a jacket, feel beach sand, sleep to white noise, try on makeup, listen to lava and play a game!
After ten annual searches for the very best offbeat print media innovations, we have never, ever found so many examples of pure human genius and whimsy!
The first nine years turned up print innovations including ads that pregnant female readers could pee on to reveal discounts on baby furniture, issues printed on paper towels in public bathrooms, covers that played music, ads that could charge mobile phones, ads that included folded-up paper cups with coffee beans to make your own java, a swimming pool magazine with pages made with limestone that were waterproof (in case you dropped your magazine in the pool!), and many more.
So, what did advertisers, publishers, and editors do in print in the single year of 2018 that made them so much more remarkable than their predecessors?
Well, there was the magazine cover you could talk to and it would talk back.
There was an ad that you could tear out, set up next to your bed, and get white noise and lavender aromas to help you fall and stay asleep (I'm not kidding).
There was an entire print magazine you had to listen to in order to get the full story.
And then there was that ad that included a very stylish paper jacket you could tear out and wear.
There was an ad featuring sand from each of the 200 beaches on Dominican Republic.
And there was the magazine with a cover you could find in the dark.
Oh, and there was also a magazine story told in song and another that used a game to tell the tale.
I'm not done yet! There was a print ad that let you grab the door handle of a new car, smell the new leather smell, and hear your heartbeat as you anticipate the thrill of "driving" the new car.
And I can't leave out the print campaign that used AR to enable readers to "try on" makeup and then, if they liked it, actually buy it right then and there. And, finally (and you knew this day was coming, right?): A publisher experimented with a drone to deliver its print product.
Appetite whetted? Okay, let's dive in.
Stories told (almost) exclusively with sound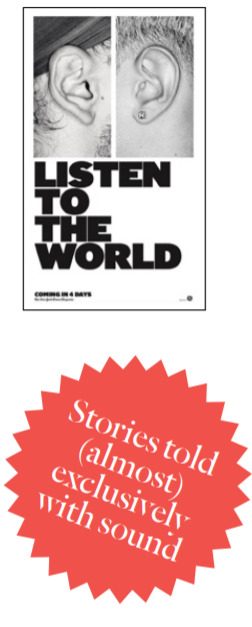 OK, IT'S NOT A PAGE In that same storytelling vein, the New York Times magazine staff wondered if they could create their annual Voyages edition with the usual exquisite travel pictures… but no words. Only sounds.
They committed themselves to making the edition a soundscape ecology project, examining topics where sounds were central and could, on their own, convey both information and the experience. They did use a few words: short introductory remarks and one short essay.
They took the sound-centric approach so seriously that there were not even captions with the pictures. Readers had to fire up the associated podcast to get the full impact of the "story". The podcast wasn't optional, it was absolutely essential to the experience.
Each "story" included not only the sounds associated with the place, but also contributions from experts, scientists, and others familiar with the location.
"We chose places based on what they sound like," Jake Silverstein, the magazine's Editor-in-Chief, told the Neiman Journalism Lab. "We were looking for sounds that could really convince readers and listeners of our central thesis: that you can learn a lot about the world by listening to it."
Intriguingly, the list included the Gol Gumbaz mausoleum in India (not a place I would associate with sounds of any kind), a national park in Mozambique that features a huge bat population, rat life in New York subways, and the Kilauea volcano in Hawaii.
"I have never actually heard how lava moves before," Silverstein told the Neiman Lab. "It's a mind-blowing sound." In all, the magazine included pictures and sound stories about 11 locations and "soundscapes".
There was even a business angle: General Electric (GE) was the sole sponsor across all platforms (there was also a digital version). GE worked with the Times' T Brand Studio and the agency Giant Spoon to go to Chile, Uganda, and the North Sea to create branded content pieces about GE's power and renewable energy businesses.
And to top it all off, the Times Magazine crossword puzzle editors decided to make more than half of the clues audio clues!
A PAPER JACKET YOU CAN WEAR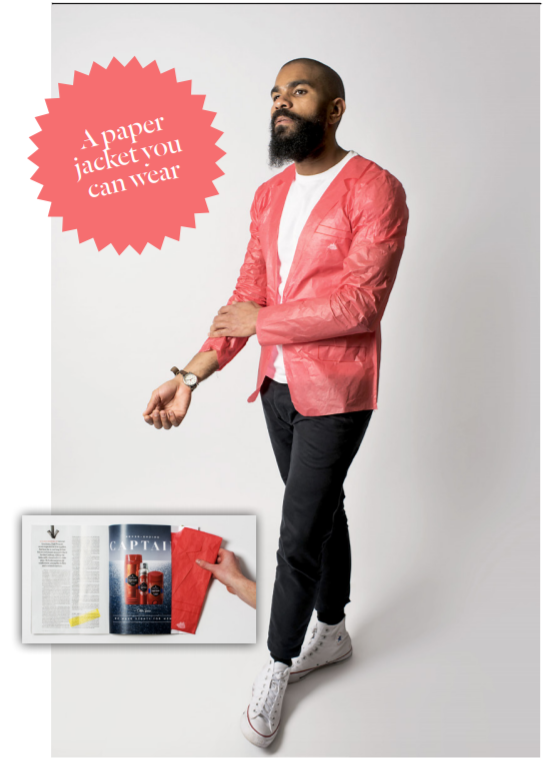 OLD SPICE has a reputation for crazy, charming, and cutting edge ads. This particular ad took the company's reputation to a new level: a stunning, bright-red jacket scented paper jacket! Fragrance advertisers have long used scent strips in advertisements, but Old Spice decided to take that much further.
In the March 2018 issue of GQ, a full-sized disposable paper blazer, scented with Old Spice Captain, was inserted into a pocket in the ad.
Ad Week called the jacket a "ludicrous item" but trumpeted: "With this paper blazer, everyone gets to live the luxurious life of Old Spice Captain. Smell the smells, live the life, but don't go out in the rain because you will likely get paper machéd."
THE AD THAT HELPS YOU SLEEP
UNTIL NOW, when the team planning the IKEA bedroom campaign in the UAE first met, no one had the notion of creating a high-tech sleep tool.
IKEA had done research showing that "nine in ten people in the UAE are not getting the ideal eight hours of sleep a night" and that "a third are seriously deprived, with 32.4% admitting their nightly shut-eye averages only six hours," according to Gary Rolf, Creative Group Head at Memac Ogilvy/Dubai, speaking to AdForum.
"Our job was to highlight the importance of sleep and point out that our bedroom range at IKEA can help improve the quality of your shut-eye," Rolf said.
As it happened, Rolf himself had been seriously sleep-deprived as his 18-month-old twin boys had not been sleeping soundly as infants. On the advice of friends, they had tried white noise and lavender, and, to his surprise, it worked.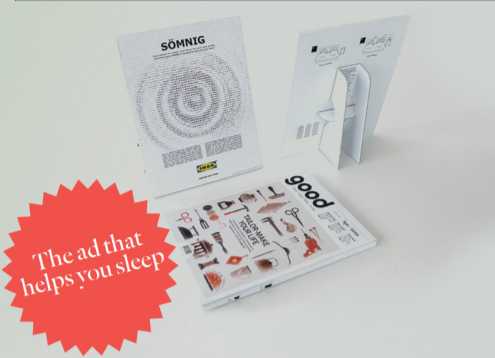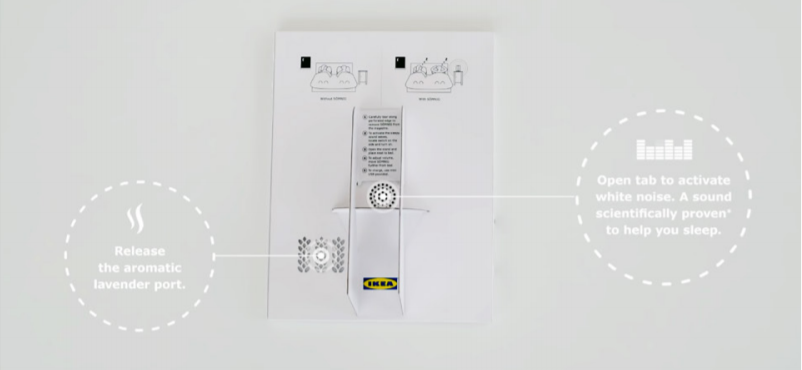 "I'd never heard of it before, but it turns out it's a sound frequency that helps induce deep sleep," Rolf said. "We were also advised to use a lavender aroma in their bedroom because the scent is known to relax muscles and lower heart rate. Seeing as these two sleeping tips worked so well with the boys (and with us as parents), I thought: Let's use both — so we made a flat pack sleeping aid in the form of a print ad."
Here's how it works: Readers simply remove the stiff paper ad from the magazine, fold-out tabs that enable it to stand up, plug it into a USB to charge, switch it on, and place it next to their bed. When activated, the ad emits a white noise frequency and also features an aromatic lavender port that releases the aroma from the lavender-infused ink used in the ad. The sound waves help circulate the lavender scent.
STORIES TOLD WITH SONGS, POEMS AND BOARD GAMES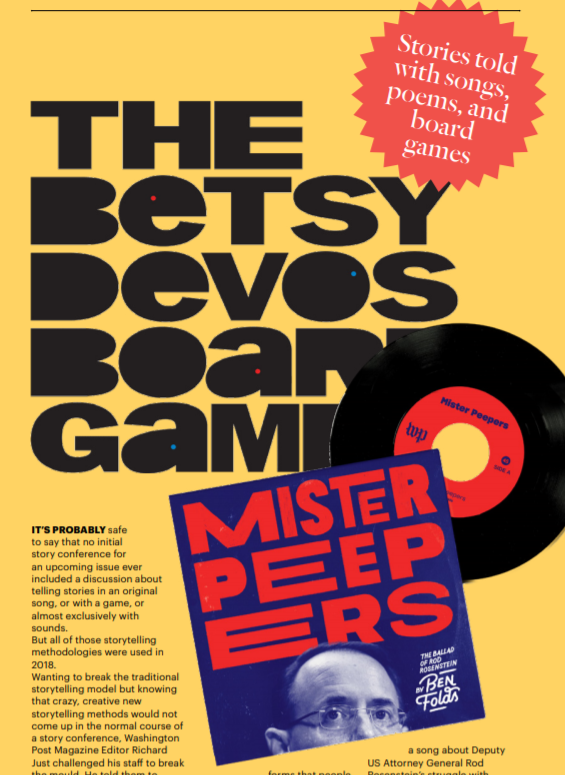 IT'S PROBABLY safe to say that no initial story conference for an upcoming issue ever included a discussion about telling stories in an original song, or with a game, or almost exclusively with sounds.
But all of those storytelling methodologies were used in 2018.
Wanting to break the traditional storytelling model but knowing that crazy, creative new storytelling methods would not come up in the normal course of a story conference, Washington Post Magazine Editor Richard Just challenged his staff to break the mould. He told them to forget the words and pictures on print models which often creates a facts-and-information overload.
How creative can you be, he asked them. Could they tell a story in a way "that would rattle around in your brain and stay with you," Just said in an interview with The Poynter Institute.
"There are a lot of storytelling forms that people don't use in journalism," Just said. "Once we started thinking about all the forms you possibly could do, the list kept getting longer."
They ended up using songs, poems, board games, a three-act play, and a Mad-Libs Do-It-Yourself (DIY) story. Just approached singer-songwriter Ben Folds to create a song about Deputy US Attorney General Rod Rosenstein's struggle with President Donald Trump. The song, "Mister Peepers", is available for streaming.
The issue also included poems by Eliza Griswold and Robert Pinsky, verse by Gene Weingarten, a Betsy DeVos board game and a three-act play
YOU DON'T HAVE TO GO TO THE STORE TO TRY ON MAKEUP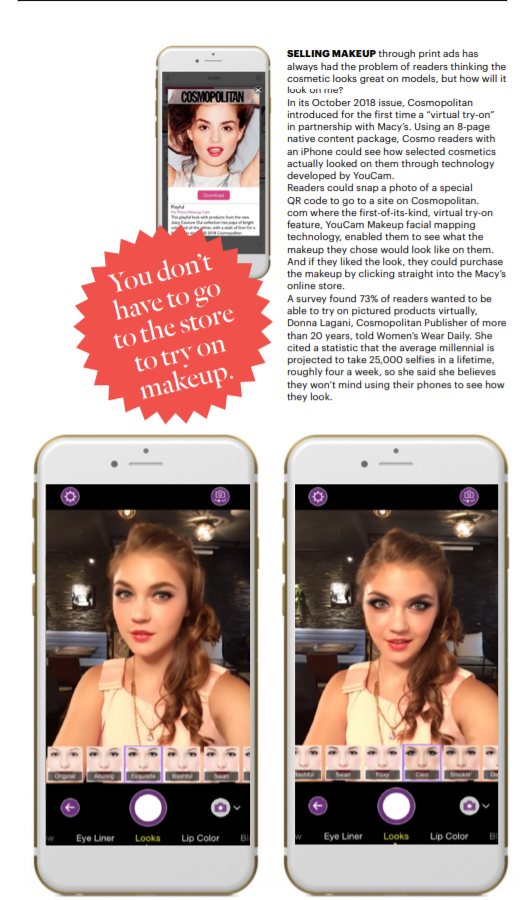 SELLING MAKEUP through print ads has always had the problem of readers thinking the cosmetic looks great on models, but how will it look on me?
In its October 2018 issue, Cosmopolitan introduced for the first time a "virtual try-on" in partnership with Macy's. Using an 8-page native content package, Cosmo readers with an iPhone could see how selected cosmetics actually looked on them through technology developed by YouCam.
Readers could snap a photo of a special QR code to go to a site on Cosmopolitan. com where the first-of-its-kind, virtual try-on feature, YouCam Makeup facial mapping technology, enabled them to see what the makeup they chose would look like on them.
And if they liked the look, they could purchase the makeup by clicking straight into the Macy's online store.
A survey found 73% of readers wanted to be able to try on pictured products virtually, Donna Lagani, Cosmopolitan Publisher of more than 20 years, told Women's Wear Daily. She cited a statistic that the average millennial is projected to take 25,000 selfies in a lifetime, roughly four a week, so she said she believes they won't mind using their phones to see how they look.
AN AD WITH REAL BEACH SAND
PHYSICAL EXPERIENCES (that I can write about here) don't get much more sensual than Caribbean beach sand. So how about an ad that contains real beach sand from 200 different beaches in the Dominican Republic?
The Dominican Republic gets 5.5 million tourists a year, but almost all of those tourists go to the same three beaches (Punta Cana, Bávaro and La Romana, if you're curious). The country wanted to attract visitors to the 197 other beaches and, thereby, to the communities around those beaches to promote economic development.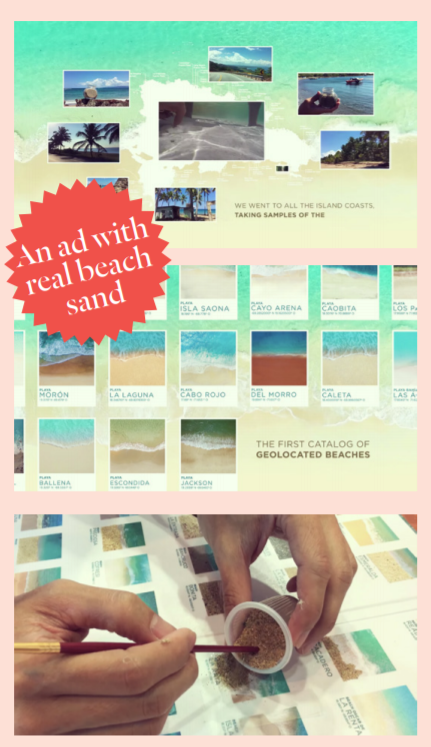 Remarkably, each of the 200 beaches has its own signature sand colour and texture. And, with millions of tourists at the three main beaches, the other beaches offer unspoiled, uncrowded, peaceful sand and blue water.
Over a six-month period, the agency McCann Santo Domingo collected sand and water from each of the 200 beaches and created a geolocated catalog of every beach with its unique colour signature of sand and water. Potential visitors could see and feel the variety of beach experiences available to them.
Printed catalogues were distributed around the world to Dominican consulates and tourism fair organisers and then a virtual version was built where readers could request a hard copy of the catalogue with all the sand samples.
DELIVERY BY DRONE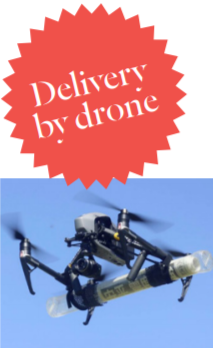 IT WAS ONLY a matter of time, right? Drone delivery of a print product.
You're not going to see drones swooping from the sky with your favourite magazine any time soon, but a Japanese newspaper experimented with drone delivery with an eye toward being able to keep people informed during emergencies like earthquakes when roads and bridges might be impassable and power for computers and cell towers might be knocked out.
Anticipating such a natural disaster, the daily Hokkaido Shimbun successfully flew a drone carrying 10 copies of its newspaper 200 meters across a river in the city of Asahikawa. So, how far away is the day when you can say, "Hey, Siri, fly me my magazine!"
Given the rich selection of print innovations last year, we can't wait to see what 2020 brings!
SOMETIMES THE BEST PRINT ADS INCORPORATE DIGITAL ELEMENTS
In this case, it's a print ad that used a microprocessor and a record-breaking number of LEDs to reveal a stunning series of red lights on the back of the new Audi A8. Readers could also use an embedded faux key fob to animate the organic light-emitting diode (OLED) taillights, or the lights were activated just by opening the page.
The ad appeared in the Nov/Dec issue of Departures, a magazine published by Meredith Corporation exclusively for American Express Platinum Card Members.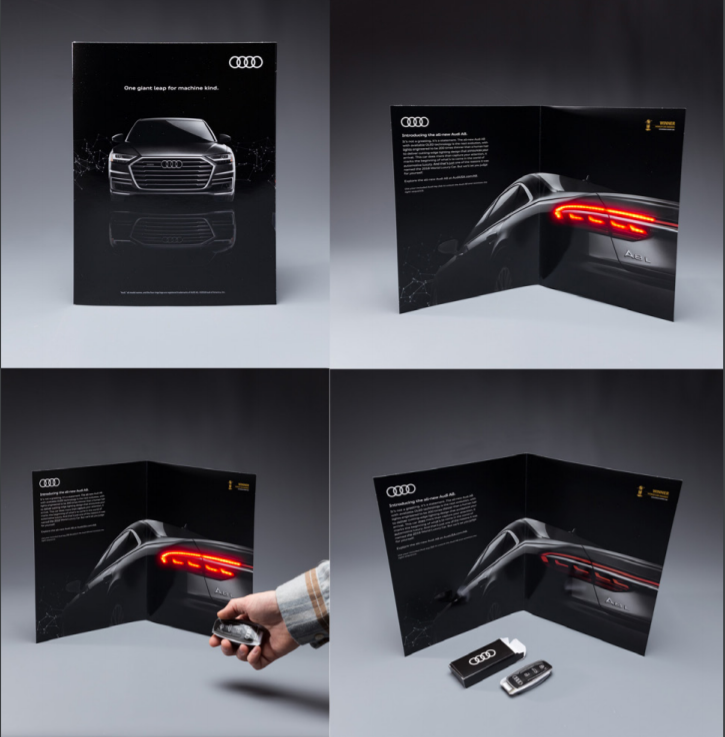 "We knew we had to create something truly innovative, show stopping, and 'never been done before,'" Giulio Capua, Vice President and Publisher of Departures, said. "This project underscores the power of print" and technology.
The ad mimics the lighting technology and user experience in the real Audi A8's state-of-the-art exterior lighting, with precise light that doesn't cast harsh shadows or require reflectors.
---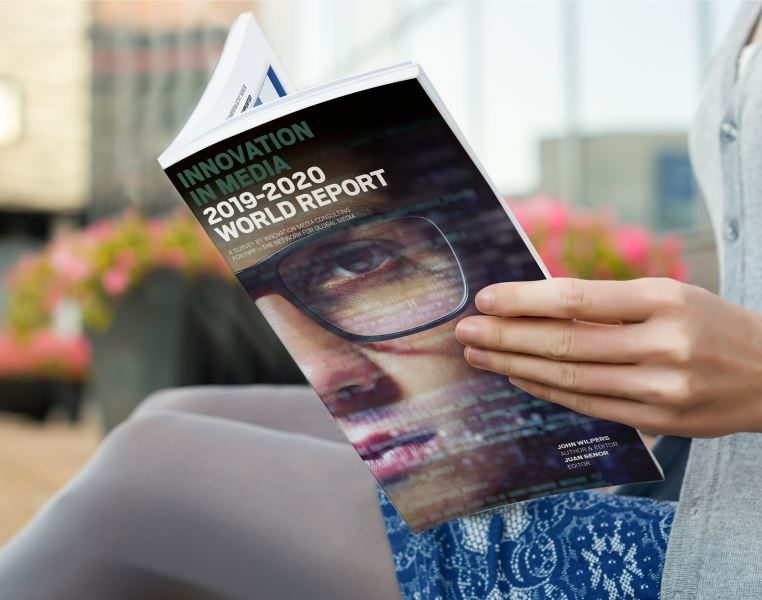 This article, along with many many more is available in full, within the pages of our Innovation in Media 2019-2020 World report, available for purchase in print or digital edition.