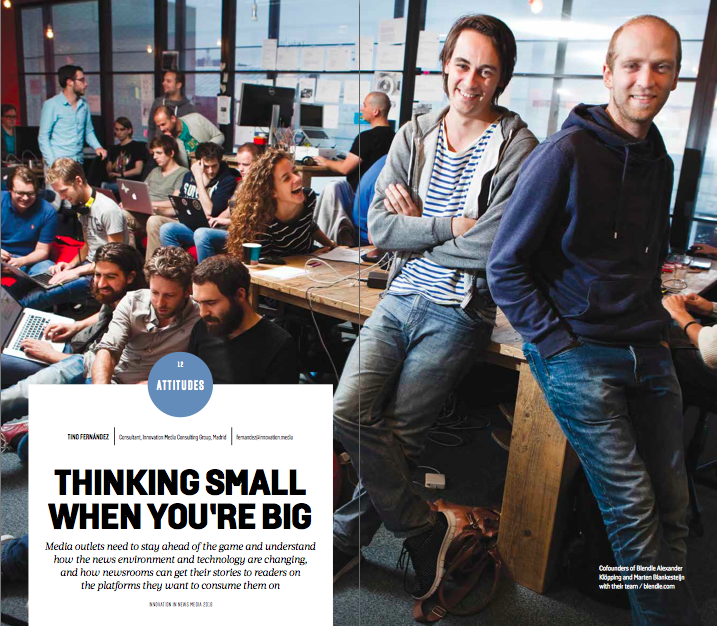 18 Oct

Thinking small when you're big

Media outlets need to stay ahead of the game and understand how the news environment and technology are changing, and how newsrooms can get their stories to readers on the platforms they want to consume them on.

By Tino Fernández | Consultant, Innovation Media Consulting Group, Madrid

Perhaps it's not the definitive magic formula, but more and more companies are using it to breathe fresh air and new ideas into different projects, scalable business models and different ways of closing in on the sustainable audiences of the future. The New York Times was one of the first media organisations to begin housing start ups on its premises. These new companies use The Times as an exceptionally valuable co-working platform and benefit from their symbolic relationship with the company that publishes the newspaper.

Others have followed that path. The Philadelphia Media Network, the owner of The Philadelphia Inquirer and The Philadelphia Daily News, also offers space to tech companies and means to expose its professionals to the world of new companies and technology, learning lessons along the way about how to improve its journalism. The start-up mentality is useful for identifying new audiences, making projects profitable and generating new income streams. The company is working on its own digital offers, and the best way to go faster and be more efficient is to learn from new companies working in mobile and e-commerce. The idea is for start-up apps like SnipSnap (mobile scanning and coupons), ElectNext (connects voters to candidates), or CloudMine (app development platform) to appear under the brand umbrella of The Inquirer, The Daily News or Philly.com.

ACCELERATORS & INCUBATORS

To this must be added initiatives like Matter, launched by the Knight Foundation, KQED and Public Radio Exchange (PRX), which The Associated Press, Belo Corporation, Community Newspaper Holdings, Inc. and The McClatchy Company have joined as partners. Matter is meant to introduce innovation and new business processes into newsrooms, as well as serving as a project accelerator for media entrepreneurs who have profitable, sustainable business models.

The Japanese daily Asahi Shimbun, founded in 1879, is the second largest newspaper in the world in terms of circulation, and has its Asahi Media Lab Open Innovation Office, which is basically a tech start-up accelerator that includes co-working, mentoring and investment. Its start-ups include Runtrip (runners looking for routes), Weddit (wedding planner) and PetBoard (video phone emergency vet).
Other media companies are trying to adopt the methods, philosophy and talent of some start- ups and entrepreneurs, via acquisitions (CNN and Zite, or The FT and Assanka), investments like Digital Media in Journal Register Co., or Media News Group announcing its intention to invest in start-ups related to journalism, content, advertising or audience development.
The Boston Globe, for example, has an incubator in which half a dozen start-up entrepreneurs in different phases of development work at the company's headquarters. New companies such as Twine, Muckrock or Schedit are developing video and social network projects, and will soon become Globe suppliers.
SUPPORTING START UPS
The New York Times and Axel Springer have decided to support the growth of the Dutch start up Blendle, founded in 2013 by two 27-year old journalists, Alexander Klopping and Marten Blankesteijn, who have launched a micro-payments system they now want to export to the US market in English. Duco van Lanschot, international operations manager at Blendle, said recently that in Holland and Germany they have already proven it is possible to make young audiences pay for quality journalism, as long as they don't come up against paywalls all the time or ads, or do not have to register on every website. They only have to pay for the articles they actually read, and they can get a refund if they do not like a story.
The Dutch start up thought about its international expansion from the beginning; the US is the next logical step. More than half of Blendle users are under 35, which is interesting for those who are experimenting with payment models. For a good number of publishers, it is a marketing tool to capture Millennials. This Spotify for newspapers (or iTunes for journalism) has signed up 200 publishers for its system, including The New York Times, The Wall Street Journal, The Washington Post and The Economist.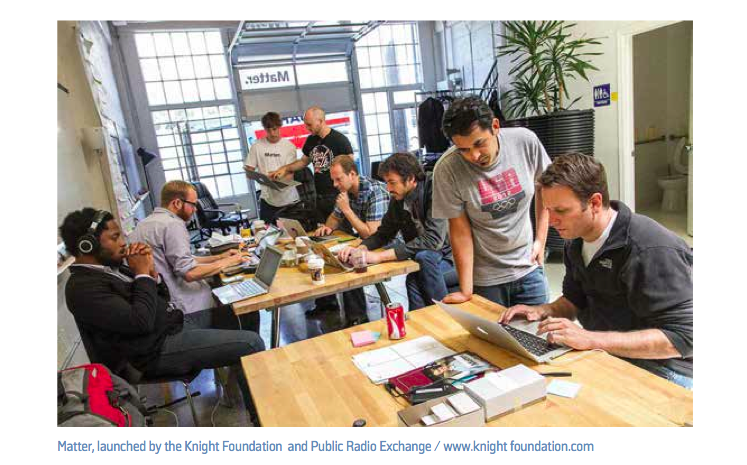 If Blendle is Spotify for newspapers, Story- hunter is Airbnb. Jaron Gilinsky, a freelance journalist who worked for Current TV and The New York Times, is the creator of this platform for freelancers which functions in much the same way as the popular room renting service. Those professional freelancers who are accepted and validated by Storyhunter can include videos or photo packages, feature reports or story pitches they would like to develop if someone bought them. There are 3,500 members on the platform, and they have received nearly a million dollars in investment from business angels (mostly friends and family of the founder), as well as a VC financing round and companies like 500 Startups or Great Oaks Venture Capital.
Curiously, Airbnb, following the steps of other digital brands like CNET or WebMD, is also moving into print magazines like Pineapple, a quarterly 128-page publication without ads.
Finally, there is Beacon: a crowdfunding platform for journalism that was co-founded by the former Facebook managing editor Dan Fletcher, who decided to grow thanks to alliances with existing media outlets to launch crowdfunding campaigns for specific issues. The latest agreement is with Newsweek, which is taking part to search for new journalism models, especially those that encourage greater transparency at every stage of the news and publishing process. Although crowdfunding is not the solution to the financial problems faced by many publishers and journalists, at Newsweek they believe they can help provide greater freedom of the press for certain projects that are hard to finance.
INNOVATION'S TAKE: A start-up mentality is key in every news organisation, large or small. Create, experiment, test and trial. Talk to users, observe readers, see what sticks. If we cannot grow it in-house for some reason, see how partnerships with smaller companies or incubators might help us discover new ideas and attitudes.
---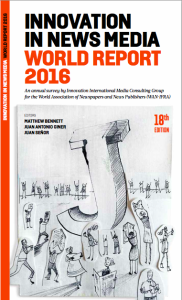 This article is one of many chapters published in our Innovation in News Media 2016-2017 World Report.