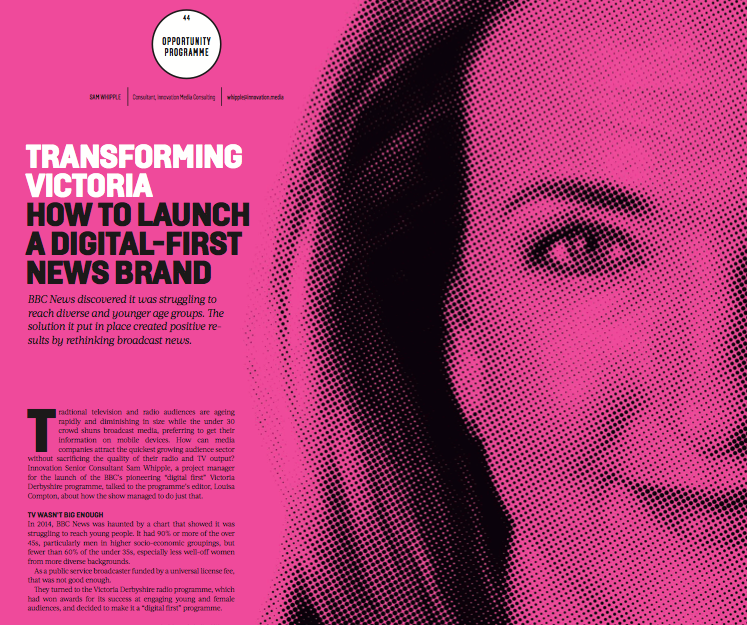 27 Nov

Transforming Victoria: How to launch a digital-first news brand

BBC News discovered it was struggling to reach diverse and younger age groups. The solution it put in place created positive results by rethinking broadcast news.

Traditional television and radio audiences are ageing rapidly and diminishing in size while the under 30 crowd shuns broadcast media, preferring to get their information on mobile devices. How can media companies attract the quickest growing audience sector without sacrificing the quality of their radio and TV output?

Innovation Senior Consultant Sam Whipple, a project manager for the launch of the BBC's pioneering "digital first" Victoria Derbyshire programme, talked to the programme's editor, Louisa Compton, about how the show managed to do just that.

TV wasn't big enough

In 2014, BBC News was haunted by a chart that showed it was struggling to reach young people. It had 90% or more of the over 45s, particularly men in higher socio-economic groupings, but fewer than 60% of the under 35s, especially less well-off women from more diverse backgrounds.

As a public service broadcaster funded by a universal license fee, that was not good enough.

They turned to the Victoria Derbyshire radio programme, which had won awards for its success at engaging young and female audiences, and decided to make it a "digital first" programme.

"We felt we could take all those brilliantly innovative, creative ways of telling stories that you see on social media or YouTube and really exciting websites, and try to put them on TV and be the first to do that", said Compton.

Every film would be made to work on a mobile, films would be published online before TV, and audience discussion around stories would be encouraged before, during and after its publication. The TV broadcast became a significant moment within the lifetime of a story, not the whole thing.

Reach as many people as possible

The digital-first programme starts and ends with the target audience, which is unlikely to come to TV: the team would have to get their content onto platforms they use. The programme airs from 9-11 a.m., not exactly prime time.

Most people, said Compton, are: "flicking through social media, flicking through YouTube on their lunch break, on the way to work, on their way to school, on their way to university, when they get home in the evening and it's just common sense you want your stories to reach as many people as possible". Millions would be able to access the programme for the first time, but only if it was interesting and they could trust it.

Don't underestimate the audience

A new relationship with the audience is needed. There would be no more talking down to viewers. Journalists would have to listen to and respect them. "They collectively will know more about stories than anyone in the newsroom can", Compton explained. You have to talk their language and avoid jargon: "if your friends in the pub wouldn't necessarily be comfortable using a term, then we shouldn't be using it on air". Look at how the programme responded when Victoria Derbyshire herself was diagnosed with breast cancer in 2016. "We expect people to be really honest and to let us into their lives. So, when something like that happens, we felt, of course, we are going to do the same and tell people what's going on."

Derbyshire published a series of video diaries and recounted every step of her treatment for the audience, in a very personal and revealing way. She shot them herself on her mobile and the videos reached over 14 million people online. She still gets messages from people thanking her for helping them get through the same treatment. "That's really good public service journalism," said Compton.

The greatest resource

Story selection is critical. Understanding the audience helps to select interesting stories. The programme tries to select topics that are not normally covered but that are important to people. And a close relationship means the audience becomes your ally.

"Our audience is the greatest resource we could ever have", Compton explained: "They will come to us with the best stories".

In September 2016, a 19-year-old viewer posted a comment on the Facebook page, saying her tax credits had been stopped because she was supposedly married, but she had never met her "husband", who would have been 74 had he not already died! The programme followed up and discovered the company administering tax credits had made hundreds of similar errors. Within hours of the story airing, British tax authorities had cancelled the company's contract.

Hundreds more victims contacted the programme and emergency questions were asked in parliament, quoting the programme. It was a major scoop and had a profound impact on the audience it was aimed at.

Publish at midnight

This close relationship with the audience creates a new lifetime for a story.

A traditional news broadcast is linear: plan and gather information, produce the finished product, and broadcast. Once the story has run, it's over. To develop the story, you have to wait until the next programme.

In a digital first world, a story is cyclical and published well before the broadcast. Why would you release your scoop before your own programme? So that more people can enjoy the story. Some will watch the programme as well. The programme still wants to be first with the story, but they do not have a prime time slot: "We publish all our stories online at midnight so people can read the online text piece as soon as they wake up and they can watch our film in advance", says Compton.

Reader comments sometimes help to steer the broadcast version and live interview questions, and the live broadcast is still the most significant moment in the life of the story: an exciting showtime with its own drama.

"Some of our live interviews have reached five or six million people on digital platforms and I am pretty sure that if we had pre-recorded them and turned them into a film they may not necessarily have reached that same audience."

As the drama unfolds on air, the team promotes it on social media and viewers' comments are shared on screen. When the programme ends, clips of the best bits are uploaded, encouraging more people to join the debate and see the highlights. It is a virtuous cycle.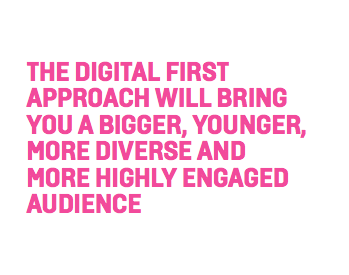 Rip up the rule book
Many broadcasters move to digital as an after-thought, only uploading TV content produced for broadcast. A digital first programme makes every film look good on a mobile, which encourages creativity. This is how you ensure a digital or mobile first approach does not undermine your broadcast output. While classic TV might not work on a mobile, the reverse is not true: films created for mobile can look great on TV.
You are not wasting resources: the content already created for broadcast is made available to many more viewers online.
As an example, in December 2015, Derbyshire interviewed Shaker Aamer, a British citizen held for nearly 14 years at the US detention camp in Guantanamo Bay. The full interview is 1 hour and 30 minutes, longer than you would ever run on television; most of it would have ended up on the cutting room floor. They posted the full interview on YouTube, where it has been seen 160,000 times so far, and over 50% of people watched it all the way to the end.
Take that risk
Anyone who has worked in broadcast knows it isn't easy to get producers to change their ways. And it wasn't. "The biggest challenge was trying to change people who've only ever worked in TV and their pre-conceptions of what we should and shouldn't do and to break down the choreography of TV", said Compton. "It's alright to rip up the rule book when it comes to TV". It's important, she explained to give them "the confidence to say 'let's just try it and if it doesn't work we will reconsider'".
She instilled a learning culture, with a clear vision for the programme: everyone knew what they were trying to achieve. Innovation and failure are not to be feared; if it doesn't work, you adapt and improve. Your digital audience provides instant feedback, so you can react quickly. Training and support are really important because some people need to learn new skills. For this programme, staff were trained on social media strategy, video journalism and creativity in storytelling. They were constantly pushed to improve and learn from each other. After two years, that approach is working: "I can see huge changes now from the way people operated when we first launched".
Do it your own way
Those changes have brought rewards. In its first two years, it has won a BAFTA for its coverage of the story of the abuse of young footballers. It has been nominated for five prestigious Royal Television Society awards and numerous others. It won one for young journalism and two Pink News broadcaster of the year awards for its coverage of LGBT issues..
"The judges praised the type of story and the way we tell those stories … we had reporters doing the kind of stories you won't see elsewhere and presenting them in a way you wouldn't see elsewhere and I think that makes a huge difference."
That approach works. In March 2017, the highest rated programme on BBC2 (the TV Channel the Victoria Derbyshire programme is broadcast on) was the prime-time car show Top Gear with 3.7 million viewers. The 86 news videos posted the same month by the Victoria Derbyshire programme have been seen 4.3 million times on its Facebook page, an average of 49,000 views per video.
The digital first approach, far from damaging your broadcasts, will bring you a bigger, younger, more diverse and more highly engaged audience than your broadcasts ever will.
Advertisers will take note because they look for bigger, more engaged audiences, which your more creative, innovative journalism is producing.
---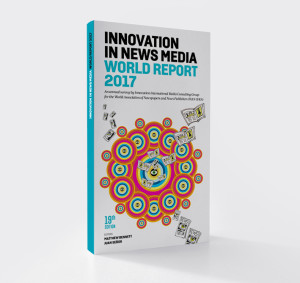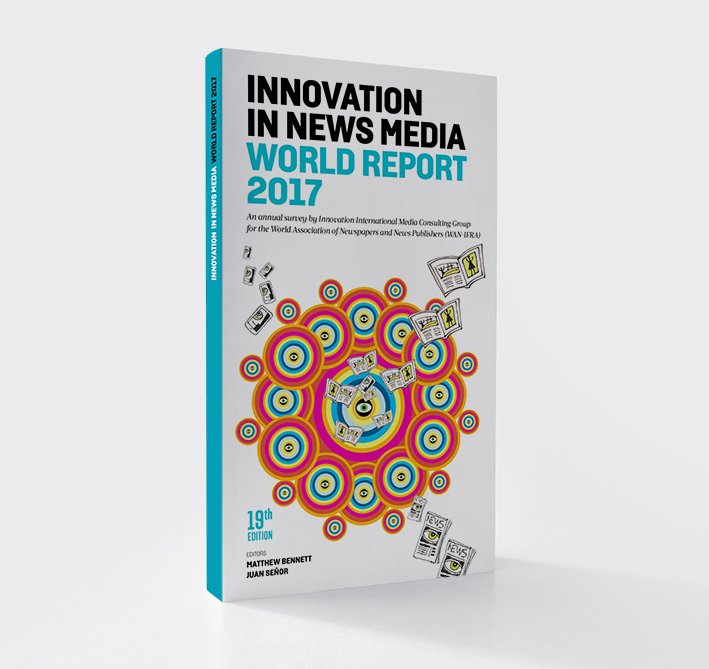 This article is one of many chapters published in our book, Innovations in News Media World Report 2017.