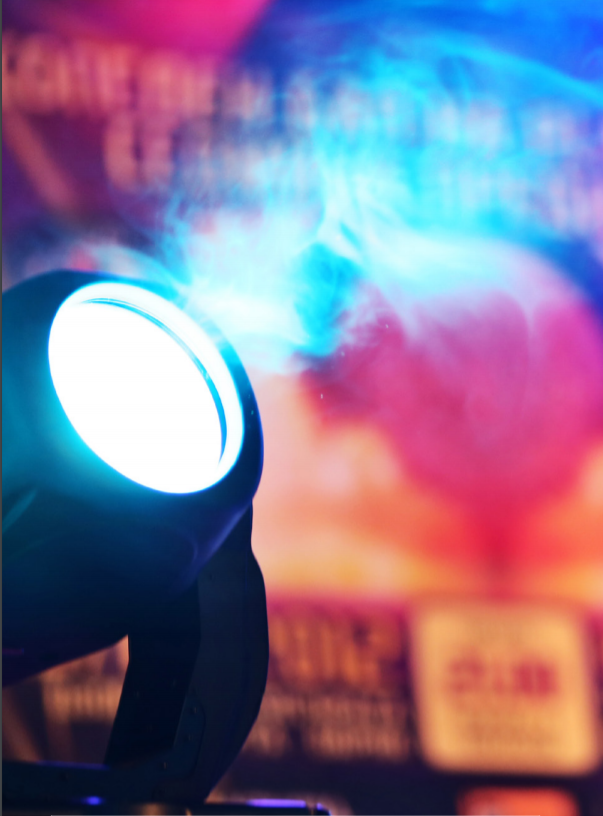 30 Oct

WHY AREN'T MORE MEDIA COMPANIES DOING EVENTS? DAMN GOOD QUESTION!
Media companies have almost all the tools needed to run profitable events, but many shy away. They shouldn't.

Media companies have a leg up on almost everyone else in the events space. Maybe two legs!
OK, most media companies do not employ an army of event planners; many don't even have one event planner on staff. But that's the kind of expertise you can buy.
Media companies DO have almost everything else needed to run a successful event:
Relevant content
Niche expertise
A loyal following in that niche
A targeted mailing list
A niche customer database
Existing relationships with potential event sponsors
Media platforms with large followings to promote events

That is the kind of stuff you CAN'T buy!
Magazine media companies who do run events say events:
Deepen the company's connections with its readers
Attract new readers and subscribers
Attract new advertisers who might not be interested in a print or digital relationship
Deliver new revenue from fees and sponsorships
Raise awareness and brand recognition
Make news
Create content

So why aren't more media companies adopting the events business model?
Damn good question!
There are all sorts of reasons: They're too busy; it looks daunting; they don't have the talent, etc. But as the list of media company assets listed above demonstrates, publishers have almost everything required to run a successful events division.
Media companies ramp up events
Media companies have profitably run events for decades, but with the decline of print advertising and the inability of digital advertising to make up the difference, even publishers with a history of running events are ramping up their events in a big way.
Hearst UK, for example, doubled its "experiential" revenue from 2016 to 2017, according to Hearst UK Chief Brand Officer Duncan Chater.
"Experiential is critical in marketing today," Chater said onstage at the 2018 Digiday Publishing Summit Europe. "Many millennials would rather spend money on experiences over products."
Chater said Hearst's 30-person events agency, Hearst Live, programmed 100 events last year for 1.3 million people, driving revenue through both ticket sales and sponsorship.
So who's doing events well and what can we learn from their experience to make launching an events operation smooth and successful?
"A defining moment"
Calling the recession at the end of the last decade a "defining moment," Active Interest Media (AIM) made a commitment to finding new and significant revenue sources, Chief Innovation Officer Jonathan Dorn told FIPP.
The company, with 57 titles and 80 websites, identified events as "a form of insulation against economic turbulence," Dorn said. "The different brands have evolved at different paces over the years, but we have been in a mad rush in the last three to four years as the need to diversify revenue streams has become more pronounced.
"We made a strong push to develop and acquire events. We are now more than a 50% events company by revenue," Dorn told FIPP. "All five groups have consumer events and some have B2B events."
"None of my events are break-even"
Over at Slate, they pull off a nice trick: They take their regular podcasts on the road and charge fans to watch the podcast "live" in a theatre. For a steep extra fee, fans can have cocktails with the podcast hosts before or after the event.
"None of my events break-even because we make money on all of our shows," Slate Live Executive Producer Faith Smith told The Business of Content. "We have a great audience that really shows up at the box office. But we don't only look at revenue and the bottom line to determine if an event is a success.
"It's really the best way to get to know our podcast audience," she said. "It's a very galvanising experience if you're a fan to see your favourite podcasters live and in person, to meet them at a pre-show or post-show cocktail hour."
Slate Live produces 25 live podcast shows every year at venues across the United States, and another 25 events for their tech vertical Future Tense.
"It's a very important factor in our Slate Plus membership drive," Smith told Business of Content Editor Simon Owens. "It's one of the benefits you get when you sign up for Slate Plus: You get a 30% discount on all ticket sales. You get early access to tickets. We do occasionally do shows or gatherings only for Slate Plus members."
Slate Plus members pay just US$5 a month to join, which also includes access to bonus material from Slate stories and podcasts. As of the end of 2018, Slate had 50,000 Slate Plus members. The live events are clearly a valued benefit to Plus members as up to 40% of attendees at the live podcasts are Plus members, according to Smith.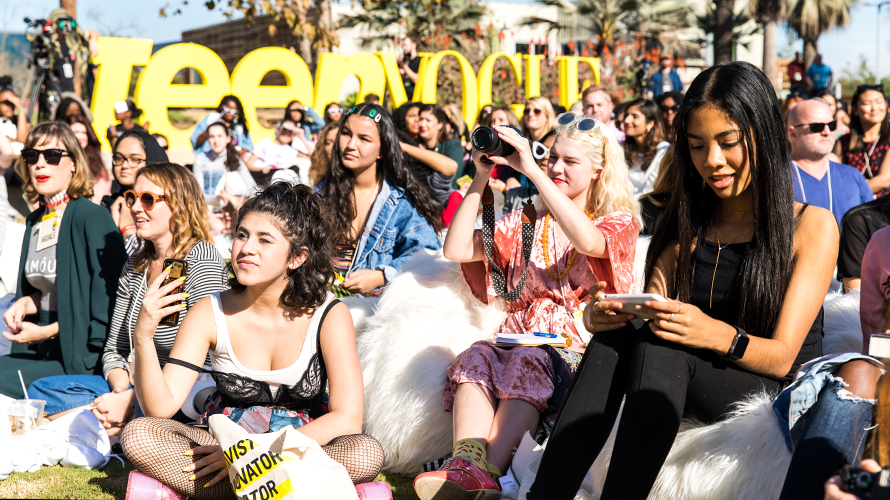 A one-year 900% revenue increase
In 2017, Teen Vogue launched their first Teen Vogue Summit. It sold out. So they decided to do two Summits in 2018. Same story.
Teen Vogue experienced a 900% year-over-year increase in the brand's experiential revenue from Q4 2017 to Q3 of 2018 versus the same period in 2016-2017, according to the company.
The Summits average 600 tickets for each depending on the venue space, with prices ranging from US$199 for the Friday day pass to US$499 for a weekend pass.
Success breeds success: High-powered sponsors have been beating down Teen Vogue's door. The list of sponsors includes Pottery Barn's PBteen, PlayStation, bareMinerals, Puma, LOLA, Victoria's Secret PINK, and Google's initiative Made With Code.
Sponsors work with both Teen Vogue's editorial and sales teams to create unique activities that resonate with the Summit audience. "We're really looking for partners who can be additive because all of our sponsorships involve some level of integration into the programming," Condé Nast Culture Collection Sales Director Julie Graybill told Folio.
For example, at the third summit, teen bedroom furniture and decor company PBteen matched its activities with the summit theme of career building and inspiring change. PBTeen created "inspirational hubs" where summit attendees could hang out on PBTeen furniture and get a customisable, editor-curated "change-maker kit" grab bag.
Similarly, Google's Made With Code also focused on career development, offering an on-site coding workshop that featured a unique coding challenge for summit-goers to try to solve.
"They're really looking to tap into this audience," said Graybill. "It's all about these Gen Z and young millennials, and they're trusting a brand like Teen Vogue to know what these young people are going to want to talk about."
The Teen Vogue Summit organisers do something that many event organisers ignore: postevent reports.
"We provide all the sponsors post-event a very thorough recap of brand list metrics, social metrics, and media value depending on the social KPIs of the campaign, but everyone has seen and been very happy with brand list and strong social buzz coming out of the events," Graybill said.
The magazine that exists only on stage
One of the media events that proved the viability of "content on stage" came from a company called "Pop-Up Magazine" that was founded in 2009.

A group of editors thought it would be fun to create the magazine experience on stage. They thought they'd do it once. After all, the audience at the first event in San Francisco's Brava Theater was made up mostly of friends and family.
Almost a decade later, however, Pop-Up Magazine is an international phenomenon that is on track to fill 45,000 seats for 10 shows in seven US cities and Toronto in 2019. Tickets range from US$45 to US$65. In addition to ticket revenue, the company makes money from sponsorships.
Pop-Up also created a brand studio that now employs 20 people at its San Francisco HQ plus smaller staffs at offices in Los Angeles and New York City. Their clients have included Marriott Traveler and Mail Chimp.
And Pop-Up also generates print and digital advertising with their "old media" venture — the weekly California Sunday Magazine that is inserted into the Los Angeles Times and San Francisco Chronicle's Sunday editions.
The "magazine" event succeeds because the organisers assemble storytellers working in all mediums for a one-of-a-kind, in-room experience. The "cast" includes photographers, musicians, poets, videographers, audio journalists, and more, often putting their work on a giant screen to visually and auditorily deliver feature magazine-style stories.
In addition to being entertaining, the acts are also often immersive. One presentation had a choose-your-own-adventure flavour as the audience told the storytellers where to go with the narrative using glow sticks. There have also been taste tests and a science reporter has promised to resurrect an extinct flower in a future show.
Selling events to those who can't attend
Looking beyond the actual event, New York-based site Girlboss is planning to have the digital audience for events exceed the events' live audiences.
The site, aimed at empowering millennial women, has held four annual Girlboss Rallies in New York. Attendance for the fourth was estimated at 2,000 with about 800 paying US$295 each to attend panel discussions and presentations by high-powered female speakers, according to the company.
Rather than go to the expense of scaling the Rally to other cities, Girlboss decided to bring the event to its followers online. The company will take the videos it creates for the attendees and add them as one of the enticements to pay for a membership called Girlboss Collective. At the end of November 2018, after just a few months of promotion, the Collective had 25,000 people on the waitlist to join when it launches in 2019. The company has not announced the price of membership.
By creating a new and membership-based audience, Girlboss will also be able to sell bigger programmes to advertisers (who already represent the majority of Rally revenue).
It's not free money, though. To deliver value, Girlboss doesn't just put a camera at the back of a room but instead has a team of more than 30 people (some staff, some freelance) involved in creating the Rally videos.
But the payback is more than the membership fees. Because the video team also films the sponsor activities at the Rally, the Girlboss team can work with advertisers to transform those onsite videos into clips which can be remixed into branded content to be distributed across multiple channels, including Instagram, where Girlboss has more than 800,000 followers.
Moveable events
Events needn't be on stage.
The New York Times partners with Urban Adventures, a subsidiary of Australian company Intrepid Travel, to offer half-day and full-day tours in cities around the world based on content from the Times' travel section, especially the "36 Hours" columns (which are already available in print).
The trips, which run from US$75 and up depending on the specifics of the tour, focus on local themes such as food, history, art, etc., and include:
In Budapest, tasting products from the Mangalica hog, native to H]ungary and prized for its extra lard
In Marrakesh, having lunch with a Moroccan family and seeing how dishes are prepared outside of the hotels and cafes
In Tokyo, interacting with humanoid robots in English and seeing the future
In Mexico City, visiting the workshop and laboratory where Carla Fernández and her team create the clothes for her collections and learning of the social impact of their designs.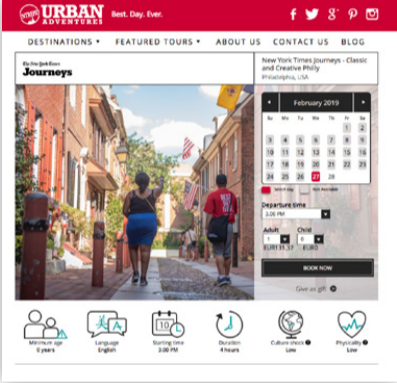 The goal for The Times, which launched its travel services in 2013 with educational cruises and expanded to longer regional tours for small groups, is to deepen readers' relationship to the newspaper, Senior VP/Audience David Rubin told Women's Wear Daily.
"The big shift for The Times, over the last five to eight years, is we're committed to being a subscriber-first business and that's about relationships and that model requires us to have people who really get what we do and love it and want to pay for it," Rubin said. "The repeat and highly engaged, committed relationship is more important to us than an atomic reading, if you will, a one-off big reading.
"With The Times, if you go back far enough to where we're largely regional and largely print, seeing everybody with the newspaper was a community-building thing," Rubin said. "So how we recreate that community is certainly something we talk about and while this is not at the same scale as the newspaper, of course, these are the kinds of things we can do."
One last thing: Create repeat award events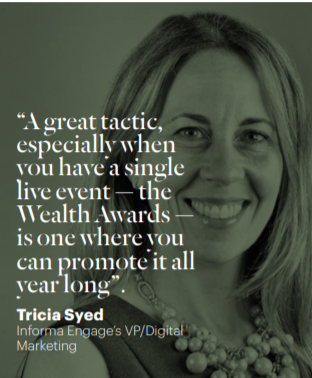 There is one type of event where the attendees actually do a lot of the marketing for you all year long: the annual awards event.
"A great tactic, especially when you have a single live event — the Wealth Awards — is one where you can promote it all year long," Informa Engage's VP/Digital Marketing Tricia Syed told Folio. "With an awards event, you have the advantage of the winners promoting their status to the audience as well.
"Another tactic for increasing engagement and participation, specifically for the Wealth Awards, was creating an award that focused the spotlight on the individuals instead of firms and initiatives," she said. "These categories got the highest number of nominations this year.
"Of course, as you get closer to the event, you increase the frequency and the visibility: but having it prominent on your website, no matter how passive, keeps it in the minds of your audience and advertisers," she said.
"I view events as critical platforms for publishers and brands as they foster connections between buyers and sellers or solutions companies and their potential or existing customers," she said. "Today, in the world of lead-gen marketing and digital campaigns the more behavioural data we can capture and share the more value to the client. At an event, the behaviour is literal and actionable and memorable. Events provide real-time networking and the opportunity to identify where customers are in their journey."
All of those ideas should give you the information and motivation to get out there and start making money from events. Remember, even the event companies who have been doing business for years in your region or your niche don't have the advantages and resources you already possess.
This article, along with many many more is available in full, within the pages of our Innovation in Media 2019-2020 World report, available for purchase in print or digital edition.