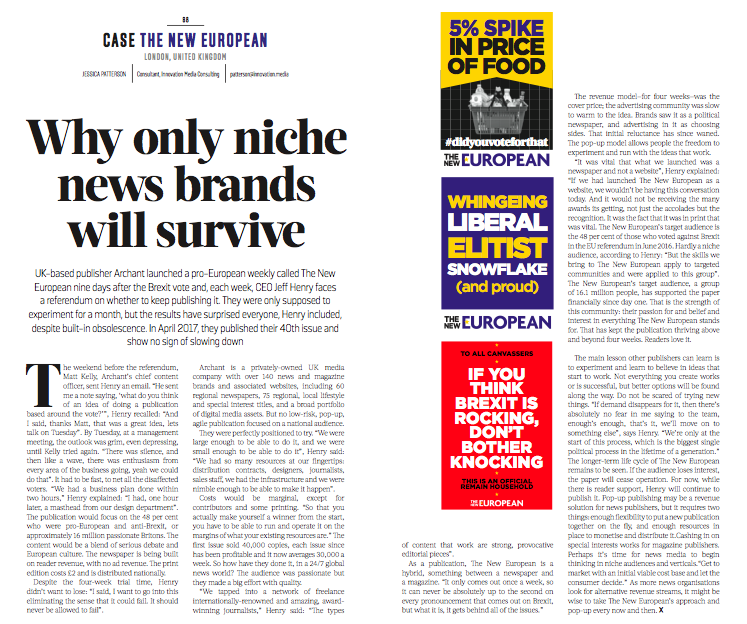 12 Feb

Why only niche news brands will survive

UK-based publisher Archant launched a pro-European weekly called The New European nine days after the Brexit vote and, each week, CEO Jeff Henry faces a referendum on whether to keep publishing it. They were only supposed to experiment for a month, but the results have surprised everyone, Henry included, despite built-in obsolescence. In April 2017, they published their 40th issue and show no sign of slowing down.

The weekend before the referendum, Matt Kelly, Archant's chief content officer, sent Henry an email. "He sent me a note saying, 'what do you think of an idea of doing a publication based around the vote?'", Henry recalled: "And I said, thanks Matt, that was a great idea, lets talk on Tuesday".

By Tuesday, at a management meeting, the outlook was grim, even depressing, until Kelly tried again. "There was silence, and then like a wave, there was enthusiasm from every area of the business going, yeah we could do that".

It had to be fast, to net all the disaffected voters.

"We had a business plan done within two hours," Henry explained: "I had, one hour later, a masthead from our design department". The publication would focus on the 48 per cent who were pro-European and anti-Brexit, or approximately 16 million passionate Britons. The content would be a blend of serious debate and European culture. The newspaper is being built on reader revenue, with no ad revenue. The print edition costs £2 and is distributed nationally.

Despite the four-week trial time, Henry didn't want to lose: "I said, I want to go into this eliminating the sense that it could fail. It should never be allowed to fail".

Archant is a privately-owned UK media company with over 140 news and magazine brands and associated websites, including 60 regional newspapers, 75 regional, local lifestyle and special interest titles, and a broad portfolio of digital media assets. But no low-risk, pop-up, agile publication focused on a national audience.

They were perfectly positioned to try. "We were large enough to be able to do it, and we were small enough to be able to do it", Henry said: "We had so many resources at our fingertips: distribution contracts, designers, journalists, sales staff, we had the infrastructure and we were nimble enough to be able to make it happen".

Costs would be marginal, except for contributors and some printing. "So that you actually make yourself a winner from the start, you have to be able to run and operate it on the margins of what your existing resources are." The first issue sold 40,000 copies, each issue since has been profitable and it now averages 30,000 a week. So how have they done it, in a 24/7 global news world? The audience was passionate but they made a big effort with quality.

"We tapped into a network of freelance internationally-renowned and amazing, award- winning journalists," Henry said: "The types of content that work are strong, provocative editorial pieces".

As a publication, The New European is a hybrid, something between a newspaper and a magazine. "It only comes out once a week, so it can never be absolutely up to the second on every pronouncement that comes out on Brexit, but what it is, it gets behind all of the issues."

The revenue model—for four weeks—was the cover price; the advertising community was slow to warm to the idea. Brands saw it as a political newspaper, and advertising in it as choosing sides. That initial reluctance has since waned. The pop-up model allows people the freedom to experiment and run with the ideas that work.

"It was vital that what we launched was a newspaper and not a website", Henry explained: "If we had launched The New European as a website, we wouldn't be having this conversation today. And it would not be receiving the many awards its getting, not just the accolades but the recognition. It was the fact that it was in print that was vital. The New European's target audience is the 48 per cent of those who voted against Brexit in the EU referendum in June 2016. Hardly a niche audience, according to Henry: "But the skills we bring to The New European apply to targeted communities and were applied to this group".
The New European's target audience, a group of 16.1 million people, has supported the paper financially since day one. That is the strength of this community: their passion for and belief and interest in everything The New European stands for. That has kept the publication thriving above and beyond four weeks. Readers love it.
The main lesson other publishers can learn is to experiment and learn to believe in ideas that start to work. Not everything you create works or is successful, but better options will be found along the way. Do not be scared of trying new things. "If demand disappears for it, then there's absolutely no fear in me saying to the team, enough's enough, that's it, we'll move on to something else", says Henry. "We're only at the start of this process, which is the biggest single political process in the lifetime of a generation."
The longer-term life cycle of The New European remains to be seen. If the audience loses interest, the paper will cease operation. For now, while there is reader support, Henry will continue to publish it.
Pop-up publishing may be a revenue solution for news publishers, but it requires two things: enough flexibility to put a new publication together on the fly, and enough resources in place to monetise and distribute it.Cashing in on special interests works for magazine publishers. Perhaps it's time for news media to begin thinking in niche audiences and verticals."Get to market with an initial viable cost base and let the consumer decide." As more news organisations look for alternative revenue streams, it might be wise to take The New European's approach and pop-up every now and then.