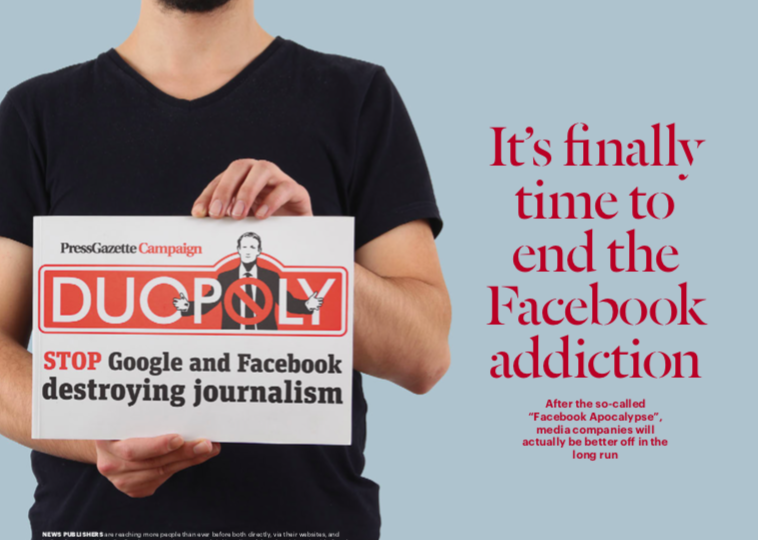 22 Oct

It's finally time to end the Facebook addiction

After the so-called "Facebook Apocalypse", media companies will actually be better off in the long run.

How often does a drug dealer cut off his own customers?
Never, right?

But that's basically what happened on January 11, 2018 when Facebook smacked media companies upside the head and said: "Yo, fools, we're changing our algorithm again, and this one really sucks for you! Good luck!"

For years, Facebook had been giving publishers great highs. The dopamine rush of a trillion page views, likes, shares, and referrals was so addicting that, even though Facebook kept changing the terms of the deal, media companies nonetheless kept spending tons of time and money to meet their dealer's demands.

But like any addictive drug, while the highs were exhilarating, they were also fleeting and often shallow. Readers could not recall the sources of the stories they read, they didn't subscribe in great numbers, they didn't read more stories during a session, they didn't come back to the site, and revenues were way below expectations.

And then the highs started getting less satisfying. The decline of Facebook traffic referrals increased dramatically in 2017. The average number of engagements with publisher posts on Facebook fell by more than 20% in just the first six months of 2017, according to a BuzzSumo study of 880 million Facebook posts. Worse, they fell another 35% in the second half of 2017.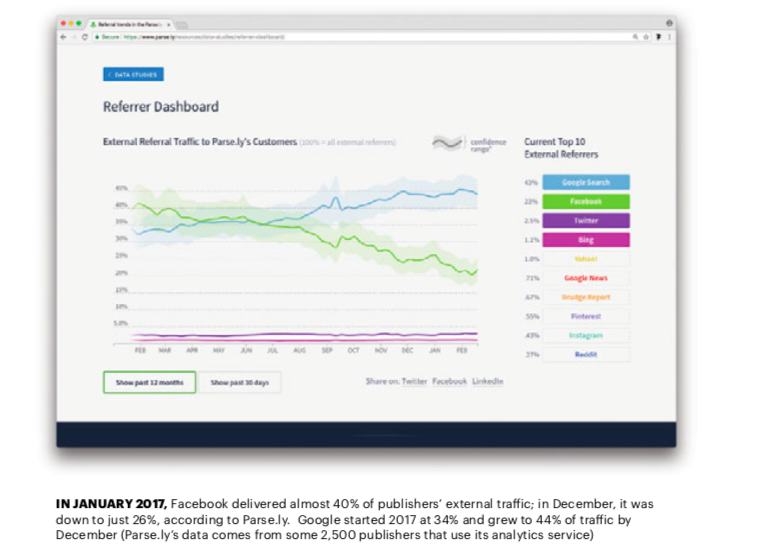 Google is now the dominant referral source
By the end of 2017, Google had taken over as publishers' main source of external page views, according to data from digital analytics company Parse.ly.
It was a stunning reversal: In January 2017, Facebook delivered almost 40% of publishers' external traffic; in December, it was down to just 26%, according to Parse.ly. Google started 2017 at 34% and grew to 44% of traffic by December (Parse.ly's data comes from some 2,500 publishers that use its analytics service).
And in late January, in announcing Face- book's 2017 fourth quarter results, CEO Mark Zuckerberg, said, "we made changes that reduced time spent on Facebook by roughly 50 million hours every day." Whoa!
On top of that, he announced that Facebook had LOST daily active users in the US and Canada for the first time ever in the fourth quarter, dropping from 185 million to 184 million.
Never mind that his announcement included such nuggets as the fact that more than 2.1 billion people now use Facebook every month and that the business grew 47% year-over-year to $40 billion, the headlines nonetheless were all about the 50-million-hour deficit.
Adding injury to insult, the return on investment has also been shrinking.
Nobody makes serious money on Facebook
"Publishers really do not make significant money on Facebook," wrote University of Oxford researcher Grzegorz Piechota in a World Association of Newspapers and News Publishers (WAN-IFRA) 2017 report. Piechota found Facebook contributed an average of just 7% to the digital income of WAN- IFRA members.
For example, one new Facebook product with highly touted revenue potential — mid-roll video ads in live and on-demand videos — was launched in the spring of 2017, but by the end of the year the ads had seriously underwhelmed participants.
One publisher told Digiday (anonymously for obvious reasons) that his Facebook-monetised videos had an average CPM of 15 cents. A second publisher had an average CPM of 75 cents, while a third made roughly US$500 from more than 20 million total video views of one video in September (that's $0.025 CPM for you math whizzes).
"Even leading news publishers in the US that have embraced the idea of cross-platform publishing and have built vibrant communities on Facebook have not really been able to monetise their engagement with the platform's products," Piechota wrote. "New business models, e.g., digital subscriptions, ecommerce and branded content, seem to offer publishers greater returns in the short term than do the platforms' monetisation programmes."
No love lost with Facebook
In Europe, a Digiday survey of publishers found great dissatisfaction with Facebook. Also com- menting anonymously, media executives said:
• "I'm quite cynical toward Facebook. I value that our audience on our site is owned by us. If someone is on Facebook, they're in a sea of stuff."
• "We did 100% Instant Articles. We worked closely with them, tried everything with monetisation. We decided it makes no sense. We went to 0%. We didn't see we lost traffic overall."
• "Google is still a much more reliable source of quality traffic than Facebook."
• "We had 70% Facebook reliance a year ago. Last week, Google surpassed it. For us, Facebook has been a disaster for the past year."
"Dependence generates desperation — a mad, shameless chase to gain clicks through Facebook, a relentless effort to game Google's algorithms," wrote former New Republic Editor Franklin Foer in The Atlantic.
"Dependence on the platform is not just hard on the business — I think it's terrible for the soul, because the values of these platform companies end up shaping the values of all the media outlets that depend on them. Media ends up embracing the ethos of Facebook and Google," Foer wrote for the blog of journalism think tank Nieman Lab.
For all sorts of reasons, Facebook is and has been a double-edged sword for publishers: a flood of traffic and exposure paired with a loss of control, loss of data, loss of connection to the audience… and negligible revenue.
As a result of all that as well as the never-ending and unpredictable algorithm changes, media companies have been reducing their emphasis on Facebook and looking elsewhere.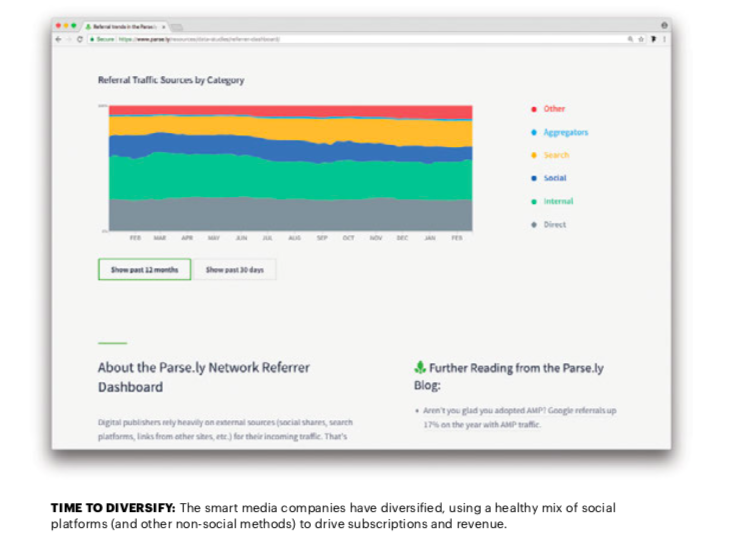 Time to diversify
The smart media companies have diversified, using a healthy mix of social platforms (and other non-social methods) to drive subscriptions and revenue.
Some social platforms already outperform Facebook; some pay more attention to publishers (Google and Apple News), some offer better financial rewards (Snapchat — see details below) and some offer a better user experience (Instagram — see details below).
Take the Huffington Post, for example. Despite being Facebook's biggest publisher, according to NewWhip's analysis of likes, comments and shares, they, too, moved to diversify.
HuffPost is pushing resources into Twitter and Instagram where they see growth instead of constriction, according to Global Social Media Editor Ethan Klapper speaking to Digiday. The HuffPost is changing the focus of their social media team to be subject-centric and audience-centric instead of platform-centric, according to Klapper.
"This shift is about responding to the consumption habits of our changing audience and branching out to reach new audiences that present growth opportunities for us," he said. "Merely being platform-centric represents an older way of thinking that often doesn't always take into account what the audience is looking for."
So, now what?
If we're weaning ourselves from a pathological dependency on Facebook, what's the alternative? In the immediate aftermath of what some called the "Facebook Apocalypse", there were some pathetic screams of indignity, as if a natural right had been stripped away (hello, Facebook is a business, not our distribution channel!).
But most of the reaction was of the "it's about time" variety, looking at the change as the kick in the butt many media companies needed to cure their Facebook addiction.
Everyone started talking about the importance of seeing Facebook in a new light (a pool to go fishing for subscribers) and, most importantly, diversifying where and how we publish
For those who have already begun to diversify, it's paying dividends.
At The Daily Beast, for example. "We're significantly less reliant on Facebook than our competitors, thanks to a strategic choice to remain as diversified as possible," Janaki Challa, the Beast's Director of Audience Growth, told Digiday.
The US-based Beast gets more social referral traffic from Twitter and Reddit than Facebook, and even Flipboard is turning into a referral source, according to a SimilarWeb analysis.
Almost two-thirds have no distributed content plan
But not everyone has figured out what to do with the platforms.
Actually, as it turns out, many of us don't know what to do on the platforms and, worse, a disturbing number have no distributed content strategy at all.
A 2017 survey by Publishing Executive found that "63% of publishers indicate they are concerned about distributed content, but only 27% of publishers have a plan to address distributed content — and only 8% say they have a thorough plan in place."
Part of the problem might be how media companies see social media. "Our mistake has been to look at Facebook — and all social media for that matter — as another publishing channel," wrote Publishing Executive Editor-in-Chief Denis Wilson on his own site. "We are good at building audiences and so we do the same thing on social media. We're obsessed with how many people follow our page and what the organic reach and engagement is with each post.
"Instead, what we really need to measure is how well we are using Facebook to build our own audience database," he wrote. "We will change our definition of success on social media once we realise that Facebook is NOT a publishing channel… it's an audience development tool."
Oxford's Piechota agrees. Speaking at the FIPP and VDZ's 2017 Digital Innovators' Summit (DIS) in Berlin, Piechota said. "We could have content optimised for acquisition, retention and upgrades. This way, you will increase revenue from the audience you have. Suddenly, you've changed perspective, you are no longer thinking about plat- forms as competition, but as fishing ponds for customers that will expand reach of branded content campaigns. You are hiring them to do the job for you.
"Maybe we should forget about chasing each platform and focus on the audience, and think about how we can make revenue from them," he concluded.
Audiences — committed, loyal, paying audiences — are now the name of the game. "So many publishers think they have audiences, when what they really have is traffic," wrote Casey Newton, Silicon Valley editor at The Verge, "I think we're about to find out who has an audience."
How to secure an audience in the platform era?
To jump-start the distributed content strategy planning process, here is a guide to surviving in the platform era from Bloomberg Media CEO Justin Smith.
Smith presented the guide, which offers an overall editorial strategy as well as a strategy for distributed content, at the 2017 Digital Publishing Summit in Vail, Colorado.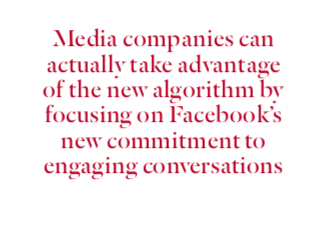 A Publisher's Survival Guide for the Platform Era
1. Obsess over differentiation
2. Become a brand management whiz
3. Fight (until your last breath) to keep a direct relationship with your audience
4. Be tough and picky about platform partnerships
5. Reinvent brand advertising and wean yourself off programmatic
6. Productise your data
7. Define the right video strategy for you
8. Think globally, but operate locally
9. Fragment yourself into as many niches as possible
10. Do things that platforms can't do
11. Be relentless about talent and execution
Let's take a closer look at what Smith said about a few of those guidelines:
1. Obsess over differentiation. Digital journalism is commoditised. Chase uniqueness, not scale. Be the "must read" for your audience.
2. Fight (until your last breath) to keep your direct relationship with your audience. Spend your time and resources on innovating your direct relationship instead of working with platforms. Build your business around your own products and services — apps, live events, and new technology of your own.
3. Be tough and picky about platform partner- ships. Publishers risk spreading themselves too thin. Focus on platforms of greatest importance for your audience. Be willing to walk away from unfair deal terms (i.e., most of them). Court the "sleeping giants" — the telcos, Amazon, and smaller social networks — that could offer you better terms.
4. Fragment yourself. Create narrow brand verticals to develop content and advertising engagement. "Niche the niche" until you're a mosaic. Ensure a strong umbrella brand structure.
5. Do things that platforms can't do. Position yourselves as custom content creators and strategic partners. Platforms are merely intermediaries. Lean into your strengths — as storytellers, designers, and brands. Expand into creative design, marketing
No one, including Smith, is saying you should give up on Facebook or distributed content.
Facebook remains "the world's most powerful distributor of that most precious of resources called attention," wrote Wolfgang Blau, President at Condé Nast International, on Medium. "No matter which business model you pursue as a publishing company outside of China — paywalls, membership schemes, conferences, education services, brand licensing or advertising — I would like to see how you think you could afford to not keep using Facebook as a pathway to potential users, clients or communities who aren't aware of your offers yet".
Obviously, we shouldn't quit Facebook cold turkey.
This could be a good thing Media companies can actually take advantage of the new algorithm by focus- ing on Facebook's new commitment to engaging conversations. It "will be a way to build engaged, invested, loyal audiences," wrote Tory Starr, Boston-based WGBH Radio Director of Social Media, on their blog. "Yes, these audiences will be smaller, but the potential for turning these audiences into email subscribers, donors, or even loyal [paying] members of your station, will be higher with this focus."
Starr also recommended diversifying: "Double down on getting your content out in as many different channels as possible where there are invested audiences. That means exploring Show pages on Facebook Watch, investing the time and energy needed to host a valuable Facebook Group, and opening up a 1-1 audience channel on Messenger. This also means thinking beyond Facebook: Is your news site optimised for Apple News and Google AMP?
"It also means thinking more about the share-ability of what you post on social media," Starr wrote. "Publishers and media brands will benefit from producing content that is easily shared by individuals on the News Feed, and by investing in collaborations, influencer marketing, and outreach."
The message of the "Facebook Apocalypse" is that we must be very smart, measured, and strategic in how we use the platforms, not just letting them use us.
Part of that intelligent platform strategy is to diversify and choose which platforms to use. At Innovation Media Consulting, we see media companies that have yielded to the temptation to be on every platform. As a result, they are spread too thin, significantly weakening their ability to do any one of the platforms well enough to have an impact.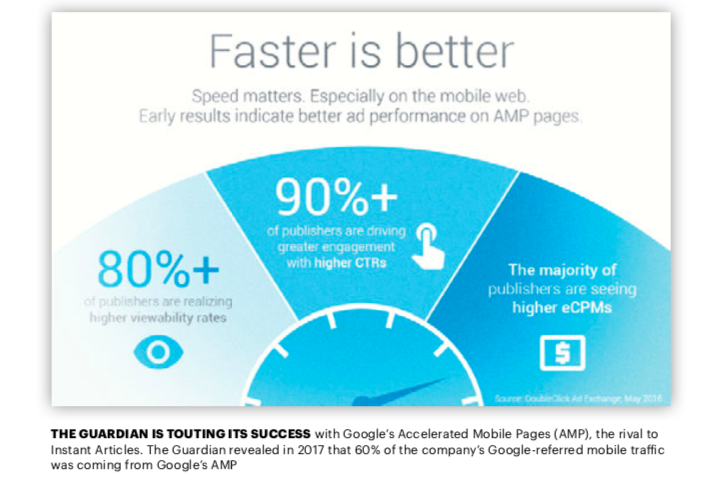 Diversification to other platforms and tools
like newsletters will require reallocation of staff and time. For example, Condé Nast is shifting staff formerly allocated to Facebook to Instagram Stories, according to EVP of Research Analytics and Audience Development Stephanie Fried speaking to Digiday.
Media companies should find out which platforms their readers use, and then build content specifically for those unique platforms and readers. "You don't have to jump on every train but you do need to target the content for the platforms that you are on," Lars Moll, General Manager: Product Management at BILD Group, told the audience at the FIPP 2017 Congress in London.
So, let's look at some of the platforms to see what media companies can do to maximise the impact of their participation on each one:
1) AMAZON ECHO
Amazon offers content creators four versions of their voice-enabled Echo device (see our Tech chapter for a more in-depth tech-focused examination of the Echo).
• Echo (a 15cm tall tubular-shaped speaker)
• Echo Dot (a shorter 3.3cm, hockey-puck shaped Echo)
• Echo Show (a tablet-sized 19x19cm Echo with a screen)
• Echo Spot (a 10.4cm tall, hockey-puck-shaped Echo with a small screen)
Amazon offers media companies two ways to use the Echo products: Flash Briefings and Skills. Briefings are audio reports most suited to news organisations but also of use to publishers covering niches where readers like to be kept up to date on developments. Skills are more broadly defined with content creators providing information that can be accessed any time on demand by asking the device for the information (e.g., "Hey, Alexa, ask Allrecipes for a slow cooker recipe for pulled pork").
For example, The Washington Post has created both Briefings and Skills. Its daily politics brief takes about an hour to create, which includes not only the writing but also the original taping by its author and then the editing before it is fed to Amazon in a feed.
The Post sold two sponsorships to its politics briefing, and will be increasing the skills and briefs it offers on Echo in 2018. "We haven't invested significantly more time than other platforms, but what we have done has paid off insanely well," Director of Digital Products Joey Marburger told Digiday.
The Daily Mail in the UK posts all of its stories to Echo from its content management system, making the process simple and quick. The drawback is that, by feeding their text content directly to Amazon, the Mail uses the automated Amazon voice service called Alexa to read the updates. While the costs and time commitments of this approach are lower, the trade-off is that the Mail will sound just like all the other Alexa "skills" read by the Amazon voice, losing the opportunity to brand The Mail with a unique voice.
Make Alexa services a premium service?
Unlike most other Echo content creators, the Daily Mail has made its Echo product a premium service, limiting access to its Mail Plus subscribers who pay £9.99 per month.
Bloomberg updates its Alexa products like the Bloomberg Market Minute several times a day. "Alexa may not be commanding high monetary value at the moment, but it's clear people have fallen in love with it," Bloomberg Digital's Global Head of Mobile Applications Ambika Nigam told Digiday. "Right now, the real currency is understanding how people are using voice interfaces so that we can deliver a truly delightful and personalised experience."
The Echo Show is less than a year old, but it has attracted big media players including Bloomberg, Meredith, The Washington Post, The Daily Mail, CNBC, and The Telegraph (which hired six people just to create content for the Echo Show).
"Publishers have a massive opportunity to wake up their customers, literally, with night- stand devices like the Echo Spot and Google Mini," according to a spokesman at the audio content creation agency SpokenLayar. "Top headlines, general news, favourite content categories, and, ideally, content created especially for sleepy audiences are all options for publishers looking to capitalise on this new position.
"While every brand is different, there are ways to be playful here like starting softly and building in volume, or gamifying the morning news with rewards for answering questions later in the day on social media or in-app," SpokenLayer believes.
"Publishers should be thinking of unique ways to drive affiliate fees in voice in the same way the Wirecutter did," according to Spoken-Layar. "We believe there's an eventual ad unit in voice that drives people to install apps or purchase on Amazon for high CPAs rather than mediocre CPMs."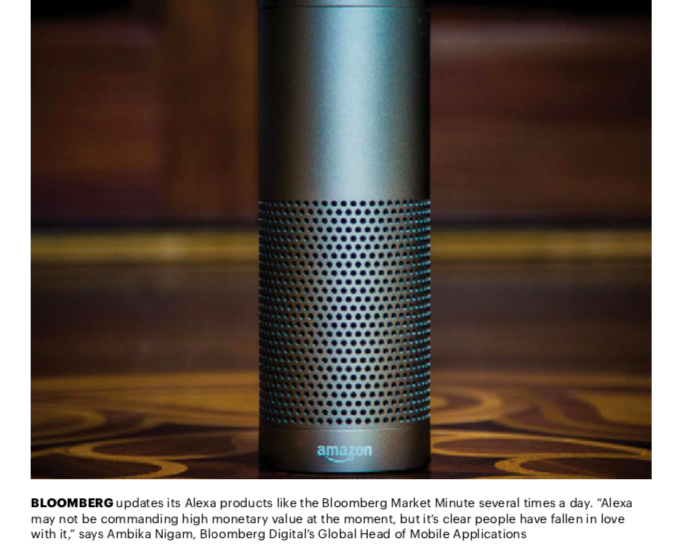 2) FACEBOOK GROUPS
Even with the new unfavourable algorithm, Facebook can and will continue to drive traffic for media companies.
In June 2017, Facebook introduced "Groups for Pages," offering media companies the same opportunity individuals have had to create their own groups. For example, The Times of London embraced Groups, but they did so in the context of the revised vision of Facebook as a subscription- building tool instead of publishing platform.
Over the last six months of 2017, The Times created Facebook groups dedicated to particular topics — Brexit-focused 52|48 (1,300 members), First Edition for book lovers (1,200), and Screen Times for movie buffs (400 members) — to build awareness and loyal audiences which lead to those readers becoming subscribers.
Some publishers, including The Information and The Atlantic, are using private Facebook groups as a benefit of subscription or paid mem- bership programmes.
Groups can get really, really big
Brands are actually way ahead of us in terms of leveraging the power of groups. Retailers like bike brand Peloton and kitchen appliance brand Instant Pot all have Facebook Groups. Peloton's bike-lovers' group has 64,000 members while Instant Pot Group has 1.2 million members.
To make Groups more attractive to media companies and others, Facebook released analytics tools in June 2017 to enable publishers to track key data, including the number of active members and how often they post and comment. Before these tool were created, Group administrators actually had to manually count their data. Groups also offer media companies the ability to weed out trolls by qualifying potential members before they join a particular group. The focus on groups makes sense in light of what the new Facebook algorithm was created to reward: "meaningful interactions between people".
Groups give content creators a way to break into the new Newsfeed by getting people to interact with each other around your content. Comments are king; likes and shares are out (they are now truly nothing more than vanity metrics).
To satisfy the new algorithm's preference for interactions, publishers must not only create great content but they must also draw attention to it and cultivate conversations around it.
That means it's time to resurrect the position of Community Manager, many of whom disappeared from the media landscape over the last several years.
"Media outlets that acclimate to Facebook's new focus on 'meaningful social interactions' will have an even greater need for community management, as users tend to comment more on content that sparks emotional reaction — good, bad or otherwise," Brad Wellen, Group Director of Social Media at New York based media agency Huge, told Digiday.
As with all things Facebook, there is a caveat.
"One day when there are too many groups with too many notices annoying too many readers… well, Facebook will be Facebook and will de-prioritise Groups," wrote Ned Berke, Entrepreneur-in-Residence at the US-based Tow- Knight Centre for Entrepreneurial Journalism, on MediaShift.org.
3) FACEBOOK INSTANT ARTICLES
While Facebook Groups are looking good, the same cannot be said for Facebook Instant Articles.
"Two years since the product's launch, Instant Articles has been criticised for underwhelming monetisation, the absence of robust subscription options, an inability for publishers to directly connect to their readers, the limited amount of user data returned by Facebook, and the lack of autonomy provided to publishers over their ad space," wrote Pete Brown, a Senior Research Fellow at the US-based Tow Center for Digital Journalism, on the Columbia Journalism Review.
Big media companies including The New York Times, The Guardian, Hearst, and Fox News have pulled out almost completely from Facebook's proprietary publishing format, raising doubts about its future. The Guardian was one of the first UK media companies to adopt Instant Articles back in the spring of 2015, running all of its articles in the app.
Meanwhile the Guardian is touting its success with Google's Accelerated Mobile Pages (AMP), the rival to Instant Articles. The Guardian revealed last year that 60% of the company's Google-referred mobile traffic was coming from Google's AMP.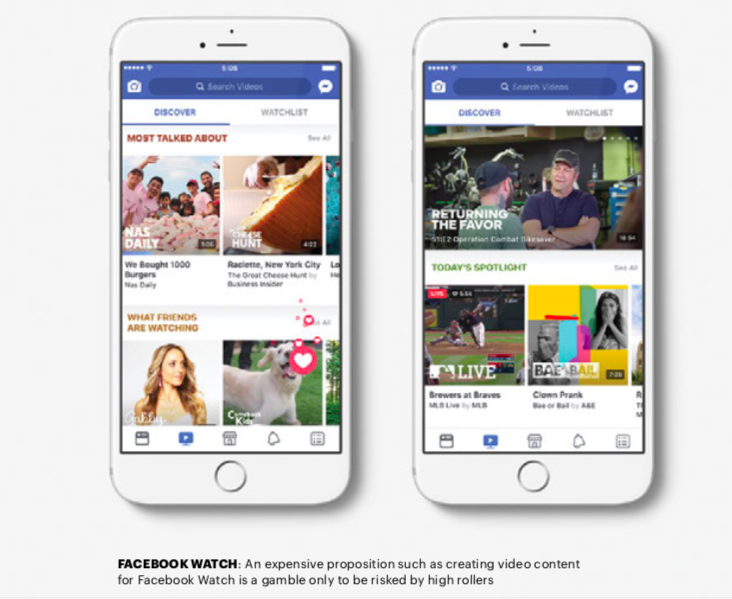 Big media companies deserting Instant Articles
Other media companies — BBC News, National Geographic Partners, and the Wall Street Journal — initially strong on Instant Articles, are now barely using it, according to an analysis by NewsWhip.
On the other hand, some media companies are finding success with AMP.
After holding out for almost two years, The New York Daily News went full bore on Instant Articles. Today, The Daily News posts 92% of its links as Instant Articles, according to research from the Tow Center for Digital Journalism.
The Daily News also turned over ad sales on its stories to Facebook.
It's turned out well for them. "We are very, very comfortable with automated revenue models," said Grant Whitmore, Executive Vice President of Digital, talking with The Columbia Journalism Review.
In France, news site Libération, which publishes all of its 150+ daily stories on Instant Articles, now makes more money through ads sold by Facebook on Instant Articles than on their own mobile pages, amounting to more than half of their mobile ad revenue, according to Head of Digital Xavier Grangier. Instant Article revenue for Libération is almost three times what Libération makes on its own mobile pages, Libération signs up 2,000 new morning briefing newsletter subscribers a month, which had about 200,000 subscribers in late 2017. By comparison, Libération itself only signs up about 500 subscribers a month, according to Grangier.
Bauer Xcel Media is having a similar experience — Instant Article readers are 50 times more likely to sign up for newsletters than readers going to Bauer's own sites. The discrepancy in both cases could be explained by the fact that Instant Article readers don't have to enter their email addresses because Facebook automatically pulls them in.
4) FACEBOOK WATCH
If your fellow publishers are to be trusted (and why not?), then Facebook Watch is another platform to approach with caution.
While it can be a good idea to be an early player to test new products, an expensive proposition such as creating video content for Facebook Watch is a gamble only to be risked by high rollers.
"The revenue's not there," Brian Rifkin, Co-Founder of digital video player company JW Player, told Digiday. "If I'm a publisher, I can get a lot more per ad if I run that on my site and run a pre-roll there. Offset that with if I ran it on Facebook, I'll get a lot more views but less money per impression."
The publishers who joined Watch as partners have complained that the anticipated revenue has not materialised. Facebook has kept the ad sales to themselves, much to the chagrin of their publisher partners.
Original Watch partners having second thoughts
"We're at a point now with our Facebook strategy, where we're thinking in some cases it makes more sense to get the second season of one of our [Watch] shows sponsored by an advertiser and then run it on Facebook or other platforms — and not have the show exclusively licensed by Facebook," one Facebook Watch partner with multiple shows (who preferred to remain anonymous) told Digiday.
"Right now, Watch is not delivering a huge audience — the shows that do are because the publisher has built up a huge audience on their
pages," the publisher said. "As a result, it's becoming increasingly clear that, where six months ago it wasn't a question that we wanted to bring shows to Watch, now we're questioning if we even should if [Facebook isn't] bringing audience or monetisation in any sort of efficient way.
"At some point there has to be an answer to how am I going to make money on your platform," he said.
In the midst of this unhappiness, there is the draw of other, more publisher-friendly social platforms that offer better monetisation terms. Snapchat does not offer to help with production costs, but it does give publishers the power to sell ad slots inside the shows and evenly split the revenue. Twitter offers its Amplify video partners 70% of any ad revenue.
There is a way around the ROI dilemma of Watch for non-partners: Repurpose existing videos. While Facebook does not allow its more than 100 subsidised Watch media partners to sell ad-vertising, publishers who are not being paid by Facebook can post and sell.
For example, the USA Today Network is posting its feel-good show called "Humankind" on Watch. In December 2017 alone, they garnered 274 million views and by January 2018 had attracted more than one million followers to the "Humankind" Facebook page, according to Network President of Sales Michael Kuntz.
If Watch becomes more of a YouTube offering than a tightly curated site, that could open more monetisation opportunities for publishers will- ing to take the USA Today Network approach.
5) GOOGLE ACCELERATED MOBILE PAGES (AMP)
Google is viewed by publishers as a far better partner than Facebook (but that's a pretty low bar, right?).
For content creators, Google's Accelerated Mobile Pages (AMP) and Progressive Web Apps (PWA) have proven to be tools that deliver results.
"AMP is seen [by publishers] as more publisher-friendly than Facebook Instant Articles: It's open-source, so theoretically, publishers can bend it to their will to some extent, which is different from Instant Articles [and] many publishers have said that monetising on AMP is on a par with their own sites, and many also are getting increased search traffic there," wrote Digiday Senior Editor Lucia Moses.
Of course, the Google-publisher relationship is not all sunshine and rainbows. Search is still opaque, many publishers are not yet successfully monetising AMP pages, and formatting pages is restrictive, forcing publishers to spend money reformatting content uniquely for AMP.
But Google does stand in stark contrast to Facebook in publisher relations, offering helpful case studies, guidance and outreach with weekly video conferences in some cases.
"It's allowed us to get our PWA much further along, much faster than we would have otherwise; they had a talk last week connecting AMP and PWA and featured us," Salah Zalatimo, Forbes Media's SVP of Product and Tech, told Digiday. "We don't have that with Facebook."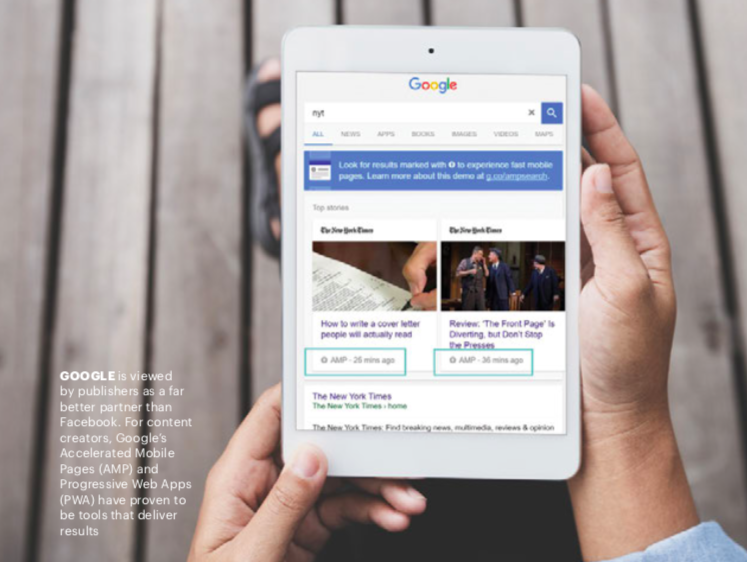 6) INSTAGRAM
Instagram is an engagement monster for celebri- ties and brands, outperforming its parent Facebook by a margin of three to one, according to a SocialBakers' mid-2017 research report.
For media companies, not so much.
For media companies, Facebook out-performs Instagram three to one.
That said, there is one key metric that should entice content creators to use Instagram: Engagement.
Fifteen to 25% of the people who saw a link in an Instagram Story swiped up on it to visit the company's site, according to a MarketingLand survey. Click-through rates on Facebook are a quarter to a sixth of that number at media sites like Outside magazine, according to Outside's Online Editor Scott Rosenfield.
Engagement with brands on Instagram is 10 times higher than Facebook, 54 times higher than Pinterest, and 84 times higher than Twitter, according to research by Forrester.
Younger audiences drawn to Instagram
There are many Instagram success stories. The Economist, for example, hit one million Instagram followers in mid-2017. "Instagram is one of our fastest-growing social media platforms, with engagements rising nearly 70% year on year," wrote Ria Jones, The Economist Digital and Social Media Picture Editor, on Medium.
"Our presence has allowed us to cultivate a younger audience, and we are proud to have an even gender split of followers," wrote Jones. "As Instagram rolls out new features, we have taken the opportunity to experiment. Our Instagram Stories have been a successful addition, using photos and footage shot by Economist correspondents based in foreign bureaus. We'll also be trying out live video on Instagram in the coming months."
Over at Outside magazine, Instagram has become their third-largest traffic driver among social networks, Rosenfeld told MarketingLand. "It has overtaken Pinterest despite employing similar strategies on both platforms," he said.
Facebook still sends Outside the most visitors of any social platform, but at a 4% click-through rate, the dominant social network lags the 15% swipe-through rate that the publication averages on Instagram, Rosenfeld said.
Now media have to convert that visitor engagement into subscription conversions. "They [publishers] should start putting more emphasis on Instagram: Look at it less as just a photos platform and more of a conversion platform play," SocialBakers Chairman and Founder Jan Rezab told AdWeek.
7) PINTEREST
"They [Pinterest] don't understand publishers, and they don't care," one publishing CEO who requested anonymity told Digiday. "Working with publishers is not a priority of theirs."
Enough said?
Statistically, yes.
Pinterest-driven traffic to media companies is almost invisible. More than 50% of publishers get less than one half of 1% of their monthly traffic from Pinterest, according to social analytics firm Parse.ly; just 1.5% of the publishers Parse. ly tracks get even 10% of their traffic from there.
But some publishers don't see Pinterest that way.
At Bauer Xcel Media, Pinterest could ultimately drive one-third of their referral traffic, according to VP of Audience Development Kate Spies talking to Digiday.
The prospect of a second stream of search data, which could help stand up new sources of revenue intrigues her, Spies said. The Pinterest visits she's getting already are being put to use: the data she gets from Pinterest referrals will help build an interest graph that will eventually power an ecommerce strategy, she told Digiday.
The rewards of Pinterest ecommerce could be significant. Pinterest users are driven by a singular intent, making them more easily segmented and sold to than the audience on a general news or entertainment site. A Parse.ly survey found that Pinterest delivered more revenue per click than any other platform.
8) PUSH NOTIFICATIONS
The Facebook Apocalypse has transformed a lot of formerly second-tier tools into essential audience builders.
In the effort to replace the loss of reach on Facebook, publishers will have to replace the Facebook fire hose with a lot of smaller hoses whose accumulated impact might match or, in the long run, even exceed the results of the Newsfeed.
Push notifications don't represent a large volume of traffic, but that audience may be the most loyal users.
Despite the small numbers, "a lot of people would consider their push audience their most loyal, their most engaged audience," Pete Brown, a Senior Research Fellow at the Tow Center for Digital Journalism and the author of "Pushed Beyond Breaking," a 2017 report on push notifications, told Digiday.
Why?
People who get your push notifications have a demonstrated affinity for your brand and your content because they have to have downloaded your app or followed you in a platform such as Apple News or Google Play Newsstand.
To milk push notifications for all they're worth, media companies are upping their push game.
Different companies have different approaches to what they think will build audiences. For example, The Wall Street Journal thought greater choice is the answer and so they tripled the topics its app users can choose from as well as making it possible to follow its writers and get push notifications when they publish.
USA Today is trying more pictures, videos and GIFs in its push notifications. So far, the results prove the strategy is working as traffic is up 18% year over year, according to the company.
CNN will be banking on rich media in their push notifications in the second quarter of 2018. "You're seeing a lot more sophistication," said Mike Herrick, Senior Vice President of Product and Engineering at Urban Airship, a push notifications technology provider, told Digiday. "The assets that are owned are going to be the most strategic."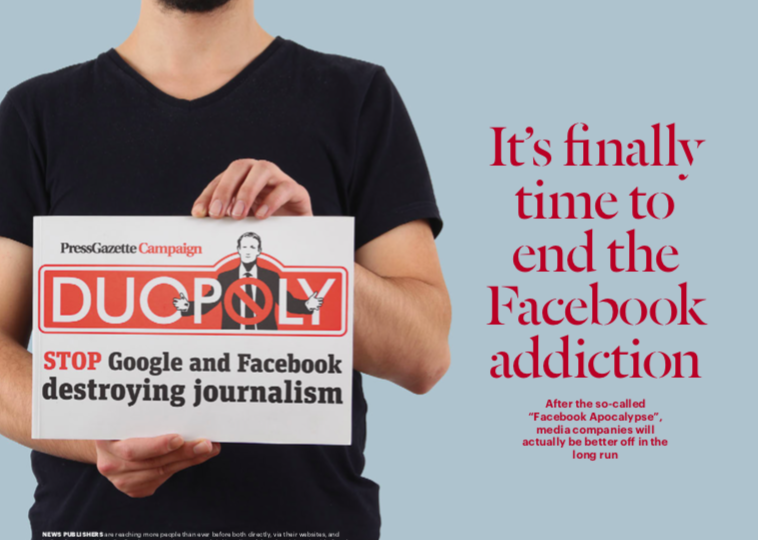 9) SNAPCHAT
Is Snapchat a sinking ship?
If so, how wise is it to continue to invest time and money in it? On the other hand, Snapchat does have a self-reported 178 million daily users…
In late 2017, Snap published its third quarter earnings report as a public company. As Verge reported: "This first two did not go well, and the third was no better. The company missed investors' expectations in terms of revenue and user growth, and the share price plunged over 15% in after-hours trading."
While revenue was up 62% over the same period in 2016, the losses increased by a greater percentage, with a deficit of $443 million, almost four times the 2016 third-quarter losses.
The company claims that its 178 million daily users represent a 17% annual increase, and that those users create 3.5 billion snaps a day.
To make a less-than-rosy picture even darker, Instagram Stories and WhatsApp have both passed Snapchat in size, with more than 300 million monthly users each.
As a result of the problems, including difficulties in monetising their content, some media companies have stopped publishing to Snapchat's Discover Edition. CNN, for example, which had a ten-person team dedicated to creating a show called "The Update", stopped in August 2017, blaming low monetisation.
All that said, there are media companies who find Snapchat to be worth the investment.
Some media companies love Snapchat
In contrast to CNN, news site NBC News said in January that it was very happy on Snapchat. "One of the reasons we were excited to launch 'Stay Tuned' in partnership with Snap was to reach an audience that was not engaging with NBC News content on more traditional platforms," Nick Ascheim, Senior Vice President of Digital at NBC News, told Digiday. "Given that we are seeing such strong results among a younger demographic, we feel that we've achieved that goal."
NBC News attracted 29 million unique viewers in just five months after launch, of whom four million became subscribers, according to the company. That's an impressive number.
It gets better: More than 66% of its audience is under the age of 25 and more than half watch three or more episodes per week with more than half completing the full episode without skipping any of the segments, NBC News said.
And to make Snapchat more appealing to publishers who want to drive traffic to their own sites, the company announced in January that it was enabling links out to the web. Media companies could now link to snapchat.com and potentially monetise content outside of the app.
10) TWITTER
If Snapchat is a sinking ship, Twitter is a phoenix. After several years of stagnant performance, Twitter cut Facebook's referral lead almost in half in just a few months at the end of 2017.
In October, Facebook sent 4.7 visitors to publishers per post for each visitor Twitter sent, according to Social Flow, a publishing tool used by 300 major publishers, including The Wall Street Journal and The New York Times. By December, Facebook was only sending 2.5 visitors per post to Twitter's one.
This is good news in the light of the "Facebook Apocalypse" and shows that Twitter represents another arrow in media companies' quivers full of content distribution weapons.
"Twitter has always been an important place for us to reach a hyper-engaged audience and now we're seeing the traffic it drives beginning to rival that of Facebook," Esquire.com site director Michael Sebastian told BuzzFeed News.
Twitter on the verge of big resurgence?
It could be that Twitter's recent product tweaks have contributed to the traffic uptick, according to SocialFlow CEO Jim Anderson in a talk with BuzzFeed News. For example, longer tweets are generating more engagement than shorter tweets for publishers, according to Anderson.
WHATSAPP: "People liked the convenience of having it come through to their phone, pushed to them where they are, without having to go to our site, on a service they are already signed up to." Alana Coates, Audience Engagement Editor, Financial Times thinks Twitter's algorithm is helping. "It stands to reason that professionally produced content is going to do well with algorithms." Anderson said.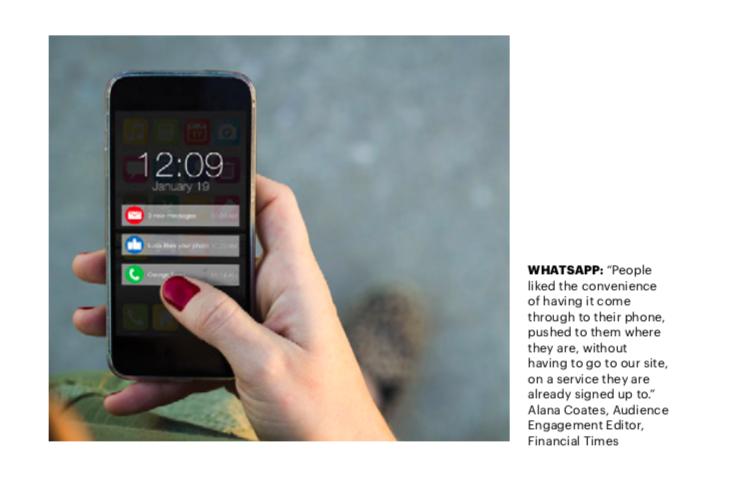 And in late January, word leaked of an initiative by Twitter to make it easier to post videos on the social-media company's app, according to sources speaking to Bloomberg. The move could attract more users and cement a nascent turnaround, according to Bloomberg.
The new product would ease the current cumbersome process of sharing media on Twitter, especially video.
Bloomberg itself is a beneficiary of the changes. After just one month offering their new 24-7 news network called "TicToc" exclusively on Twitter, Bloomberg is getting 750,000 daily viewers and one million daily views, according to the company. Between its launch on 18 December 2017 and 24 January 2018, Tic Toc collected 50 million tweet impressions.
Those are all very nice so-called "vanity" metrics. But in the new world of looking at distributed content platforms less as publishing outlets and more as methods of attracting sub- scribers, Bloomberg is focused on one metric: followers.
"As we build our relationship with users, our ability to connect with them is vastly improved if they are following us," Scott Havens, Global Head of Digital at Bloomberg Media, told Digiday "The core goal is to drive that number up" because followers have been shown to be the most loyal and most likely to subscribe.
TicToc launched with seven brand sponsors, including AT&T, Infiniti and Goldman Sachs. The sponsors could choose from a variety of custom integrations, such as messaging integrated into the TicToc Twitter feed, sponsored segments, and end cards showing the sponsor name, according to Digiday.
For TicToc video clips, sponsors buy ads through Twitter Amplify, with the buys ranging from US$1.5 million to US$3 million, according to The Wall Street Journal. TicToc is projecting to break even or make a profit within its first year, according to Havens.
11) MESSAGING APPS (WHATSAPP, ETC.)
All the kerfuffle over the "Facebook Apocalypse" may end up being a tempest in a teapot as messaging apps increase their dominance over social media platforms as the place where people connect with one another.
As you may remember, the five messaging apps passed the social networks in users back in the spring of 2015.
And messaging apps have continued their dominance ever since.
A year ago, media companies were having a difficult time figuring out how to inject themselves in what is a much more private space than plat- forms like Facebook.
But some, including the Financial Times, are finding success.
Since the spring of 2016, the FT has been broadcasting market-related stories twice a day through WhatsApp.
WhatsApp meets people where they are
"People liked the convenience of having it come through to their phone, pushed to them where they are, without having to go to our site, on a service they are already signed up to," said Alana Coates, Audience Engagement Editor at the Financial Times, told Digiday.
"The hope was that we get a smaller but more engaged audience." One significant indicator of the power of WhatsApp is its superior power to drive traffic compared to social media. Each post on WhatsApp drives the same traffic as a post on the FT's Twitter account, which has almost five times the number of followers, according to Coates. The likelihood that readers from WhatsApp will return to the FT within the next seven days is 40% higher than the average, she said.
Some publishers have complained that while publishing to WhatsApp may look easy, it really isn't. But Coates and the FT have taken the easy way out, turning their WhatsApp posting and subscriber sign-up over to a third-party company.
"It's worth us making an effort in a place where readers are very active anyway," she told Digiday. "The main thing is the convenience for readers already being on a service."
Apocalypse, or just the nudge we needed?
So, what's the upshot of all this distributed content turmoil?
I believe the "Facebook Apocalypse" was more than a nudge. It was a wake-up call.
How could we continue to justify depending on a source of traffic, even a large source, if almost half of the visitors there didn't remember the name of the publication that created the story they read, while two-thirds DID remember the name of the social media platform that "gave" them the story?
Self-abuse or at least self-delusion is just plain stupid.
It's time to turn the tables: Creatively diversify the platforms we use, and limit our use of them to driving conversions.
The platforms are NOT our distribution channels. They are not our friends. They are in business. As we are. Our relationship with them should make business sense to us.
If not, we need to say, "Sayonara" to those who don't meet our needs and focus on using those that help us serve our audiences and make money.