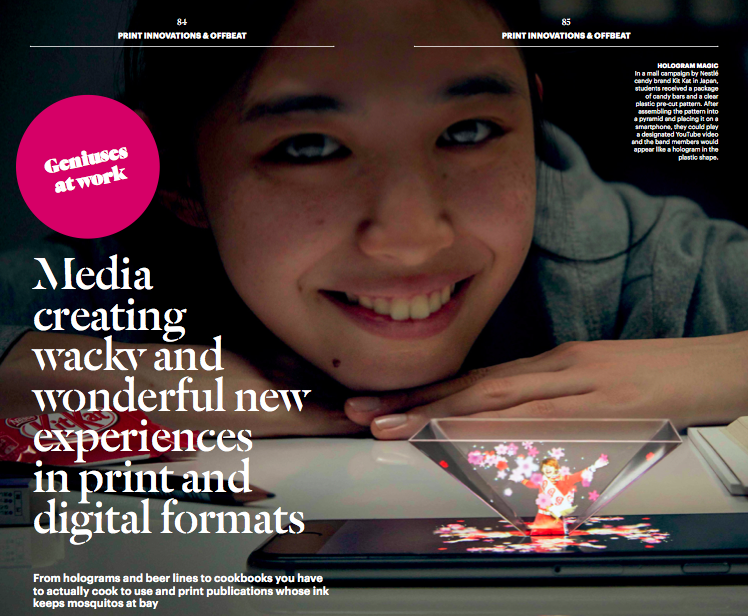 22 Oct

Media creating wacky and wonderful new experiences in print and digital formats

From holograms and beer lines to cookbooks you have to actually cook to use and print publications whose ink keeps mosquitoes at bay.

By John Wilpers | Consultant | Innovation Media Consulting Group | Boston

This year we discovered:
Two shimmering holograms embedded in special edition
The sounds of making a magazine
A print issue about sound WITH sound
More creative AR experiences on covers
A video player on a cover
A cookbook you could only read if you baked it at precisely 100 degrees Celsius for exactly 25 minutes
During the dengue crisis, a outdoor print media and a newspaper that repelled mosquitos
A media company's line of beers
Let's start with a really wonderfully whacky idea: a cookbook you actually have to cook to be able to read it!
Cooking the books
Podravka, a food company based in Koprivnica, Croatia, published a small cookbook…with a twist.
They used thermo-reactive ink. In other words, to be able to see any of the recipes, you first had to "cook the book".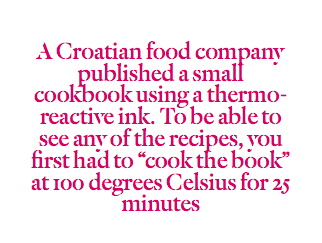 Because the company prides itself on high-quality cooking, they required the same level of precision of its readers as they do of their own chefs. The instructions are clear: "Cook" the book at exactly 100 degrees Celsius for 25 minutes, no more, no less. Failure to follow the directions will result in the recipes either being illegible or the book will burst into flames!
Holograms and LED tech
While not as outrageous, Porsche's creation of a hologram in the April 2017 edition of Fast Company was another "wow" print innovation.
Asking, "In the age of print, how do you make print more relevant?", Porsche and Fast Company answered their own question: "You innovate and make print more like video."
To introduce what Porsche called the most innovative 911 model ever, "you don't simply talk about how you broke ground, you make something groundbreaking," Porsche announced.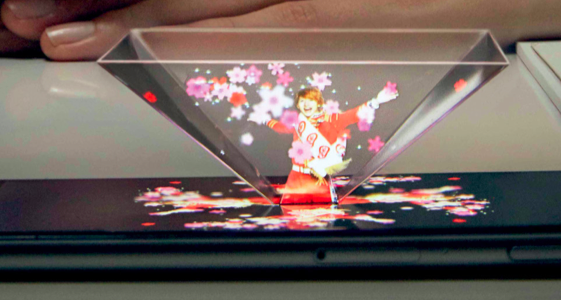 "To do so, we redrew technological boundaries, and brought an entirely new level of innovation not only to traditional print but also to video. The result? The world's first interactive hologram print ad," Porsche announced.
One of the pages in the four-page spread contained an acetate sheet that could be folded into a prism by following directions on the page. Readers assembled the prism, placed it on a tablet, and launched a video which projected the hologram image into the prism.
The spread ran in about 50,000 copies delivered to a select group of affluent subscribers. The Nestlé chocolate brand Kit Kat in Japan created a similar print-digital campaign involving a hologram.
The chocolate bar name sounds like "kittokatsu," meaning "surely win" in Japanese. In late 2016, Nestlé launched the Kit Kat Hologram package for parents and friends to send to students studying for university entrance exams to give them encouragement in that stressful time.
The kit included the chocolate bars with a handwritten note to students and a pre-cut clear plastic pattern. Students assembled the pattern into a pyramid-like structure with a flat top, and placed it upside down on a smartphone. When the student played a YouTube video by the Japanese boy band DISH//, the boys are reflected on the pyramid's clear walls, resembling a hologram. The DISH// boys danced and sang to encourage students — "Believe in yourself! I know you can do this".
The students weren't the only beneficiaries of the campaign: Kit Kat sales increased 150 per cent.
The sounds of print
Two media companies played with the idea of sound, one doing a video about the sounds of creating a print edition, the other crafting an issue dedicated entirely to the idea of sound but WITH sound!
W magazine wanted its readers to hear the behind-the-scenes sounds involved at every stage of building the print edition, from Rihanna's clicking heels as she walks to the photo shoot and racks of dresses wheeling down a hallway to the photo director's instructions, make-up kits closing, jackets being zipped up, sewing machines whirring, keyboards clacking, proofs being sliced, massive print rolls trucked into place, and printing press rolling. (Watch it here.)
"It's these tiny moments and sounds that led to W's September 2016 issue," wrote the editors about the video.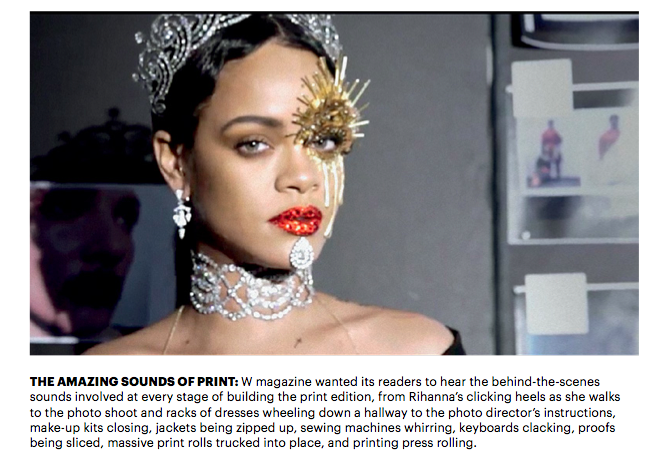 Bringing sound to print
In October 2016, California Sunday magazine decided to do an entire issue about sound. The editors wanted to discuss all sorts of sounds, ranging from forest sounds to ocean sounds, from manufacturing sounds to musicians' sounds.
But they wondered how to go about making a print edition about sound actually audible. "We thought a print magazine dedicated to sound might be a little quiet," editor-in-chief Doug McGray told the Poynter Institute. "So we had this idea to create sonic footnotes. There are almost 100 of them scattered throughout the print edition. You can tap and play the footnotes on your phone at californiasunday.com/sound and listen to these little sonic moments as you're reading in print. It's a really fun, novel reading experience.
"The issue was a great reminder to keep challenging ourselves, trying new things, experimenting with new formats — like a print edition you can hear!" McGray told Poynter.
Moving pictures in print
To celebrate the arrival of the latest in the Harry Potter film series ("Fantastic Beasts and Where to Find Them") in the fall of 2016, UK-based Empire magazine embedded a video player in its special edition cover.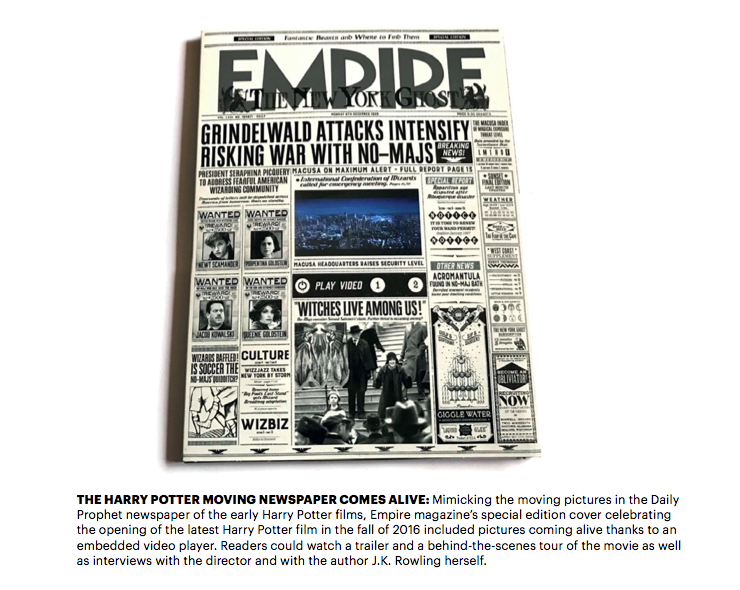 Mimicking the moving pictures in the Daily Prophet newspaper of the early Harry Potter films, the Empire cover pictures also came alive thanks to an embedded video player. Readers could watch a trailer and a behind-the-scenes tour of the movie as well as interviews with the director with the author J.K. Rowling herself.
If the video player power died, readers could recharge it with a USB connector!
"The cover is a double layer of card and inside is a video screen," Empire magazine deputy editor Jonathan Pile explained to Harry Potter fansite Pottermore. "Beneath the card are microchips and circuit boards, which lead to buttons that you press on and off, and they lead to two videos."
The limited-run issue (5,000 copies) sold for ten pounds or roughly US$15, but quickly sold out and could only be obtained by early 2017 for US$50 on eBay.
Augmented reality on covers
Covers were the home of other creative efforts, including two impressive augmented reality (AR) treatments.
Elle and AR firm HuffPost RYOT collaborated to created an augmented reality experience for each of Elle's eight covers of the November 2017 "Women in Hollywood" issue.
"Everybody has a better understanding of AR because of Snapchat and Pokémon Go," RYOT co-founder and CEO Bryn Mooser told Women's Wear Daily (WWD).
The Elle covers featured actresses Aja Naomi King, Amy Adams, Anna Kendrick, Felicity Jones, Helen Mirren, Kathy Bates, Kristen Stew- art and Lupita Nyong'o. When readers opened the ElleNow app and held their smartphone over any of the covers, the cover sprang to life with the video interview of the cover actress.
"We're going to use it as a proof of concept to demonstrate how content can be brought to life," Kevin O'Malley, senior vice president and publisher of Elle, told WWD. "We have several advertisers that we have been in talks with for VR and AR."
Over at The New Yorker, contributing cartoonist Chris Ware came up with the idea for creating a cover around an emotional audio story that could be illustrated and brought to life via AR from the magazine cover.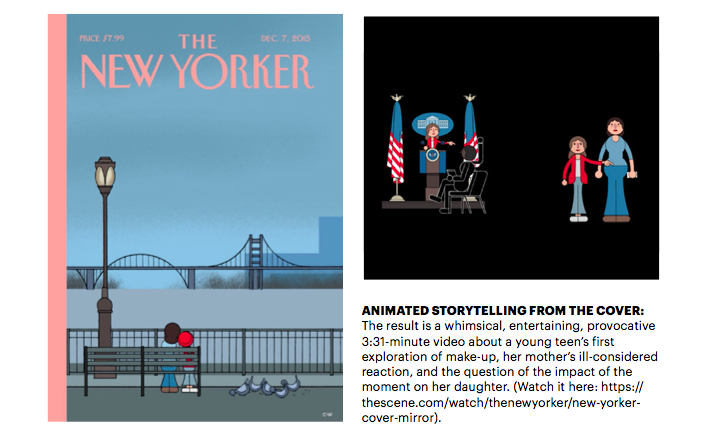 "Earlier in the year, I asked Ira Glass [an American public radio personality and host and producer of the show This American Life] if he had any audio that might somehow be adapted, not only as a cover but also as an animation that could extend the space and especially the emotion of the usual New Yorker image," recalled Ware in an editor's note introducing the issue. "So he sent me an audio story, and, after coming up with a cover image based around it, I set to work with John Kuramoto to somehow animate it," wrote Ware.
The result is a whimsical, entertaining, provocative 3:31-minute video that popped from the cover via AR about a young teen's first exploration of make-up, her mother's ill-considered reaction, and the question of the impact of the moment on her daughter. (Watch it here.)
From publishing to pints
In the old-media days, journalists were often stereotyped as being rather fond of the bottle.
Turns out not much has changed.
"It may come as no surprise to you that over at the VICE headquarters in Brooklyn, New York, we tend to enjoy a cold one," wrote the editors of the VICE food channel Munchies.
"We like to drink beer. A lot of it.""So it seemed inevitable, with all of the fun and fanfare and general experimentation going down in the Munchies Test Kitchen and in our office in general, that we should come up with our own," they wrote.
And so they did.
In the fall of 2016, VICE launched a beer, brewing it both in their headquarters (why have to leave work to get a pint, right?) and at a large brewing operation nearby. Beginning with distribution in the New York City area, the beer is ultimately slated for a national (US) roll-out followed by international distribution.
The VICE brewmasters named their creation Old Blue Last, after the bar VICE purchased in Shoreditch, London. "Since the 16th century, the pub has embodied VICE. Whether as an Elizabethan-era playhouse and home for artists like William Shakespeare, or when it used to house an illegal strip club filled with East End gangsters, the Old Blue Last has been a melting pot of culture and conversation," the editors wrote.
For beer lovers, Old Blue Last is 5 per cent ABV gose-influenced beer. For non-beer aficionados, gose — pronounced like "goes" but with an "uh" at the end — is a wheat beer style with a sour finish originally brewed over 1,000 years ago in Goslar, Germany. But there's a twist to a gose beer: coriander, which adds a bright flavour to an already crisp beer.
A print pub that fights mosquitoes
I always try to end this chapter with some wacky but wonderful print innovation.
This year's wacky but wonderful print innovation is about as far-fetched as any we've discovered: A print publication that, in the midst of an epidemic of a mosquito-born disease (dengue), published an edition and bus-stop billboards that could keep mosquitoes away.
Calling it the world's first mosquito-repellent-newspaper, the Mawbima newspaper in Sri Lanka, used ink mixed with citronella to make both the newspaper and its bus shelter ads a repellent for the mosquitoes that spread dengue fever. "People read newspapers in the early morning and the evening — the very time the dengue mosquito strikes. That gave us an idea," the editors said in a statement. "If we mixed citronella essence, a highly effective natural repellent, with ink, we could create a newspaper where every letter of every word stopped mosquitos from biting.
The campaign included bus-stop posters coated in citronella, tips on the billboard and in the newspaper on how to avoid being bitten, mosquito prevention patches for school children, and one edition of the paper with citronella-infused ink. The paper, even in an expanded press run, sold out by 10 AM, a sales increase of 30 per cent and a readership increase of 300,000.
So there you have it! Fun with print, and fun with print and digital playing well together.
---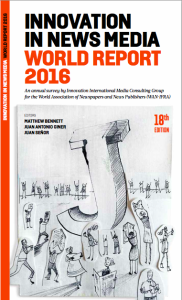 This article is one of many chapters published in our book, Innovations in News Media 2017 World Report.