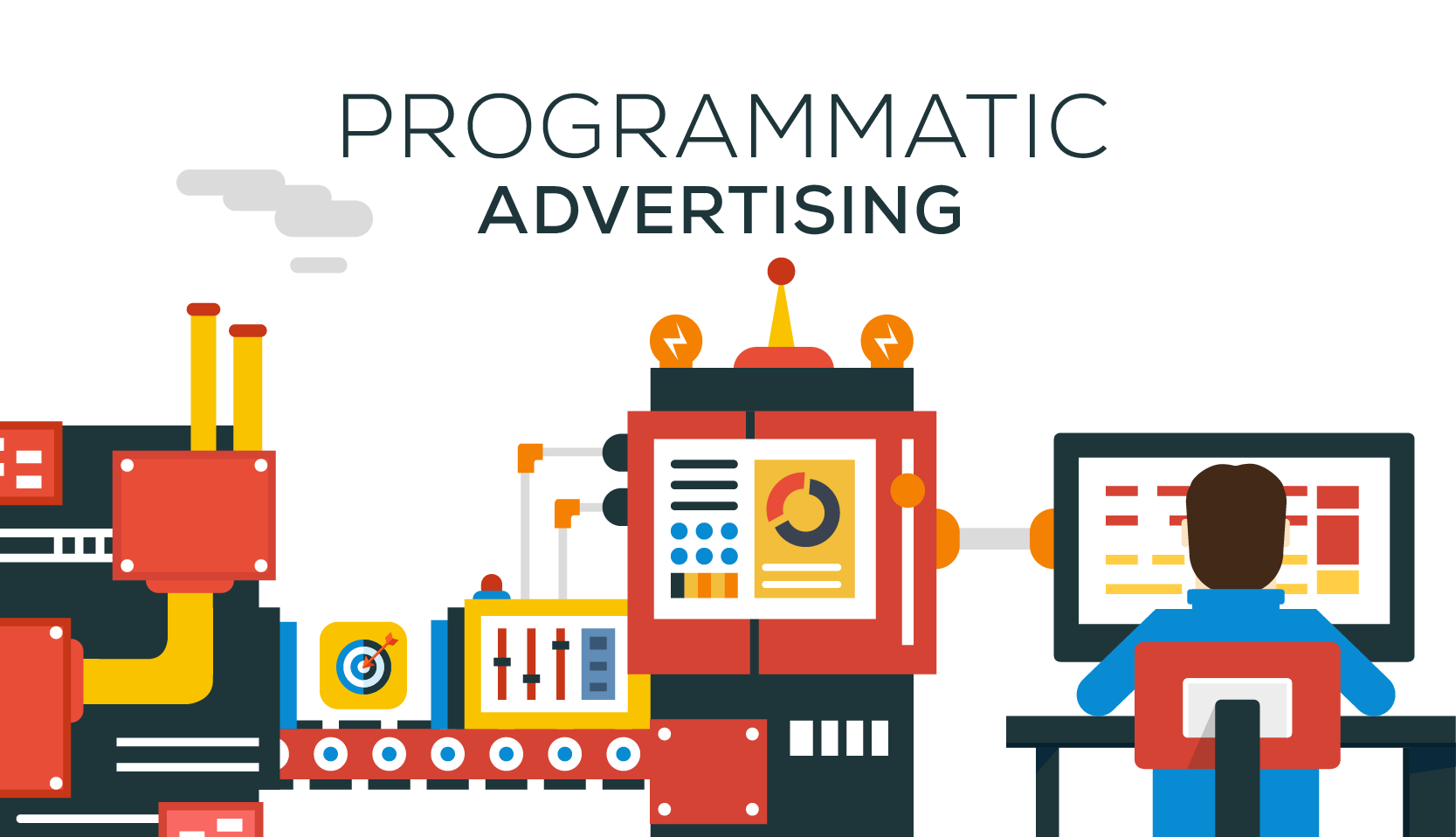 06 Apr

Get on the programmatic train, or get run over by it

"It does not matter if you want the world to be programmatic; it will be, whether you want it or not." –

TradeDesk

CEO Jeff Green speaking to INMA World Congress

(cover image courtesy of bonadza.com)

By John Wilpers | Innovation International Media Consulting, Boston 

There is no shortage of superlatives when it comes to programmatic advertising.

"It is doing for the ad world what the automated assembly line did for the automobile manufacturing industry," former agency executive Richard Tso declared last year on adotas.com.

"Programmatic platforms are on pace to fundamentally reshape the entire digital advertising landscape," predicted Business-Insider's 2014 Programmatic Advertising Report. "Programmatic technologies are helping ad buyers find the right audience at the right price at the right time."

"It has evolved into an integral part of an overall media strategy," AOL senior advertising vice president Doug Boccia told Forbes.

To be sure, there are still hurdles to be cleared, such as viewability, lack of understanding, fraudulent views and sites, inventory quality, technological complexity, and concerns about transparency (what am I buying, where, from whom, and at what price?).

"Fortunately, these 'bad' sides to programmatic are more like road bumps than insurmountable obstacles," said Yoni Levy, managing director of global creative agency Digitaland. "They're natural to any fledgling marketing technology, however major and potentially dominating, and there will naturally be ways to either tackle them head on or circumvent them."

Technological improvements are happening so fast that what is a problem today is often solved tomorrow, or so it seems. "I think the one thing we've seen in this marketplace is that as technology evolves, what used to take a year or two to happen is, in some cases, happening by the quarter," Hearst Magazines Digital Media senior vice president/ chief financial officer Todd Haskell told Folio.

The ubiquitous use of programmatic is sounding, well, inevitable

"It does not matter if you want the world to be programmatic," TradeDesk CEO Jeff Green told the 2014 INMA World Congress. "It will be, whether you want it or not."

The inevitable may, in fact, already be here.

A 2014 survey of US-based global publishers by the Interactive Advertising Bureau (IAB) and Winterberry Group found that an incredible 98.2 per cent have some form of programmatic sales strategy in place, and more than half said their strategy was "aggressive."

"Programmatic advertising has gotten a lot of hype in the past 12 to 24 months, but it's finally fair to say that today, holdouts on participation are proving the exception, not the norm," said eMarketer analyst Lauren Fisher. "2014 has proven a pivotal year, and with the majority of infrastructure now laid and testing well in progress, we'll see programmatic ad spending explode from 2015 into 2016."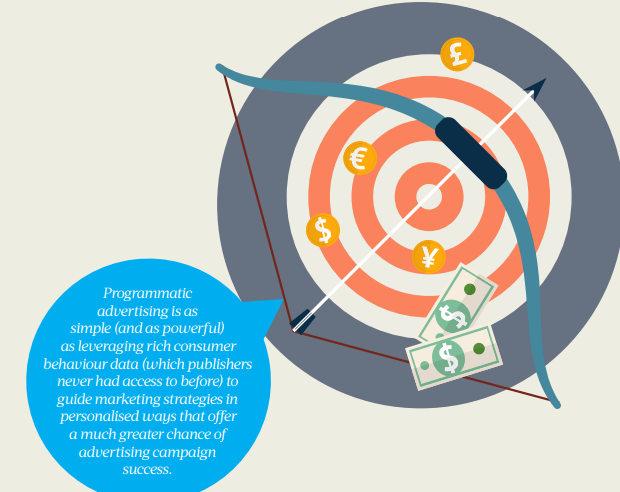 Statistics substantiate the optimism
Programmatic growth was projected to be dramatic in the US in 2014. And indeed it was: By the end of the year, it looked like almost 50 per cent of US digital display advertising would be programmatic, a growth rate of nearly 140 per cent, to more than US$10 billion, according to eMarketer.
At Forbes, for example, programmatic revenue has doubled two years in a row, reaching 30 per cent of the publisher's revenue, according to Folio. The financial numbers are impressive, but even more so is the growing adoption of programmatic by the key players in the field: publishers, marketers, and agencies.
A 2014 AdExchanger survey of publishers, marketers, and agencies found that more than a quarter manage a minimum of 60 per cent of their digital media programmatically. And two-thirds plan to manage at least 40 per cent programmatically within a year. Agencies are way ahead of the others, with more than 25 per cent managing a stunning 80 per cent of their media programmatically.
"The promise of 'programmatic everywhere' is on the verge of being realised," said IAB chief operating officer Patrick Dolan. "It is clear that programmatic advertising strategies have paid dividends for US publishers."
The future looks even brighter
Two strategies — private exchanges and programmatic direct deals — have made major publishers and brands more comfortable with programmatic portend. The growth of both accelerated in 2014. To wit, private exchange sales is on pace to hit 42 per cent of programmatic ad expenditures by this year, according to eMarketer while open exchange sales will flatten and non-programmatic ad sales will plummet from 47 to 17 per cent of the total, according to strategic media investment company Magna Global.
Programmatic ad spending will increase another 47.9 per cent next year and will double 2014's total by 2016, reaching US$20.41 billion, or 63 per cent of US digital display advertising, according to eMarketer.
That wasn't the only 2014 study documenting the growth and projected dominance of programmatic.
Three-quarters of advertisers use programmatic
In a survey of 25 brands, 96 agencies and 56 publishers, AOL discovered that three-quarters of advertisers are using programmatic to buy display ads and roughly half use it to buy both mobile ads and video ads. Only eight per cent are not using programmatic at all.
Looking ahead, almost 90 per cent of brands and advertisers plan to increase their video and display spending by as much as 50 per cent, according to AOL. Advertisers plan to increase their use of programmatic display by nearly 60 per cent, the study found.
Magna Global projected programmatic spending to exceed US$32 billion by 2017, double where it is today. Major brands are also increasingly jumping on the bandwagon. In a paradigm-busting announcement in mid-2014, mega consumer brand Proctor & Gamble announced it would convert 70-75 per cent of its digital advertising purchases to programmatic. American Express pledged to switch 100 per cent of its digital ad spend to programmatic advertising.
In short, programmatic appears not only inevitable, but it may also soon be commonplace. "Two or three years from now, I can't imagine a marketing decision being made without using programmatic," supply side platform company Sovrn Holdings Inc CEO Walter Knapp told Folio.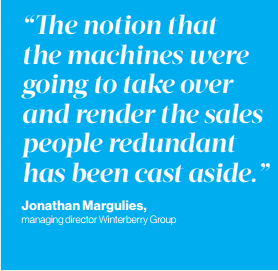 Programmatic not catching on everywhere
While the trend is exploding in the US, UK, Canada, Australia and France, it is not taking off in other countries. The aforementioned IAB/ Winterberry Group study found one-third of US-based global publishers have no plans in place for programmatic strategies in their non-US markets.
"While programmatic is massive for us in the US, there are actually quite a lot of markets around the world where it's pretty much unheard of," BBC Worldwide senior vice president of sales operations Tom Bowman told Digiday. "It may stay like that for some time in some places due to their culture and the way they do business."
More than half of publishers and advertisers said the biggest problem in countries outside of the US and UK is the "availability of third party data," according to the IAB survey.
"The existence of a market for third party data — the ability to licence information, to supplement your own data set, the ability of a market where you can transact all sorts of programmatic resources, and the availability of technology that's geared to the use cases that you are looking to deploy, are actually much more substantial barriers," Winterberry Group managing director Jonathan Margulies told FIPP.
"Not to downplay the bigger picture impact regulation may have, but on a day-to-day basis, wherever you are doing business, regulation, at the very least, is clearly laid out," said Margulies. "For the most part, people know what it allows and what it restricts. If there is no data to use, or the toolset available can't support multiple languages or use cases, these are much more meaningful concerns."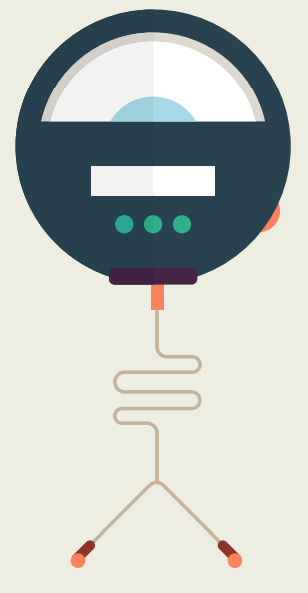 Programmatic leverages rich consumer data
Programmatic advertising is as simple (and as powerful) as leveraging rich consumer behaviour data (which publishers never had access to before) to guide marketing strategies in personalised ways that offer a much greater chance of advertising campaign success.
Even better, it gives advertisers previously unimagined insights into consumer behaviour and wishes. Thanks to powerful data-capturing technology, consumers are transmitting signals back to brands about what they like and don't like, what they're willing to pay for and what they're not, and what they are looking for right now.
Advertisers can thus craft and deliver highly refined messages with substantially better odds of converting the consumer into a customer. After launching a campaign, programmatic also generates data feedback enabling advertisers to see what worked and what didn't, enabling them to modify campaign assumptions in real time based on real results.
Programmatic enables targeting
Similarly, programmatic enables advertisers to directly target competitors' customers, cross-sell additional services to existing customers, and match messaging and environments. Advertisers increased their ROI by 30 to 50 per cent using programmatic advertising strategies to reach specific users with target characteristics, according to a study by global business consulting firm Boston Consulting Group (BCG).
For publishers, advertisers, and agencies, the decision about using programmatic in an ad campaign is akin to planning a trek across the Sahara and being offered a compass and a map: Who wouldn't say, "Yes"?

Isn't programmatic about robots replacing humans?
Well, yes. In a good way.
"Robots" can now save humans from the tedious, inefficient, error-prone ad insertion order process. Those robots can also analyse data about a billion times faster than humans.
But robots cannot think creatively. Robots cannot imagine, create, plan, strategise, manage, tweak, and enhance creative campaigns. Human intelligence will always be required when it comes to creativity, strategy, and interpreting data.
"Even the most advanced programming does not give machines imagination or creativity," said Austin Dicharry, director of marketing at ProgrammaticAdvertising.org.
"The software used for automatic advertising does the low-status work that people used to do up until now. Today, machines deal with ad tags and sending insertion orders to publishers. However, people are still needed for optimising campaigns and to plan strategies for the long-term and the shorter-term tactics to carry out the strategy."
Programmatic "frees up very smart people from grunt work"
And, because it is automated, programmatic saves time and money and frees up creative staff and sales people to do what they do best: Develop creative solutions to advertiser's problems. It "frees up very smart people… from grunt work," Clear Channel CEO Bob Pittman told TheDrum.
"There's no way we are eliminating our sales teams," Rick Welch, Condé Nast programmatic sales head, told attendees at the 2014 FIPP/VDZ/eMediaSF Digital Innovation Summit in Berlin. "It's a synonym for automation, a better booking mechanism, not a back door to lower rates. It frees up time for our buyers and sellers to be more creative."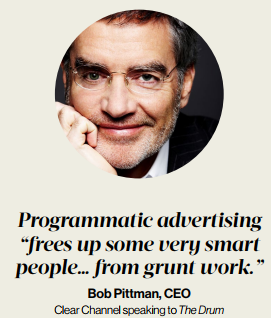 Publishers and advertisers using programmatic advertising are also discovering that their relationship must continue to be personal.
As recently as 2012, pundits were saying "this is all going to be automated, you won't need salespeople," BBC Worldwide's senior vice president of sales operations Tom Bowman told Digiday.
"But it's perfectly apparent that's not the case. You still have to have relations between the buy side and the sell side. It also wasn't very long ago that people said private marketplace deals would never catch on, yet they are, because it turns out to be quite a good way to do business."
Machines can't think innovatively
"I think the technology is great, but the innovative ideas behind the ads are always going to need to be there," Condé Nast CatalystDesk general manager Alanna Gombert told Folio. "There's never going to be a plug-and-play creative storyboard that happens in real time."
"The sales teams are beginning to embrace programmatic," said Winterberry Group's Margulies. "They are seeing it as an opportunity to expand their market – to sell more at higher prices. The notion that the machines were going to take over and render the sales people redundant has been cast aside for the most part."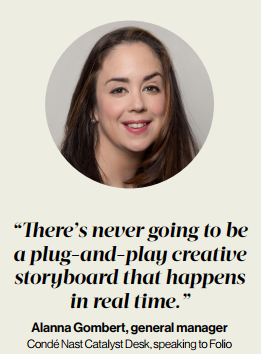 Programmatic's downward pressure on CPMs is changing
One of the strongest objections to programmatic advertising by publishers was the issue of price depression. With bidding, ad inventory initially went to the lowest bidder, and bidders were not bidding high. The focus was on price and price alone. But that's changing.
Programmatic's downward pull on CPM prices is actually being reversed lately by a desire for the quality audience of a quality brand and quality content.
"The private marketplace is definitely changing things a lot, and so that's why we're talking about the dual forces affecting CPMs right now," Jessica Sanfilippo, media director at agency 360i, told NativeMobile.com. "In a way, programmatic has largely been populated by the long tail. But that's changed with the emergence of private marketplaces and more premium publishers willing to open up their high-profile inventory onto the exchanges. Those prices on the private exchanges will be somewhere between the open exchange and what you would get if you went publisher direct, so we are definitely seeing a shift."
Private networks: How to protect your brand and grow CPMs
Private, closed exchanges (Private Marketplaces or PMPs) still take advantage of the efficiencies and automation of programmatic sales but protect the brand and raise CPMs by offering high-quality content and high-quality audiences exclusively to brand-friendly advertisers.
A private network also offers a controlled, predictable, quality environment plus a much higher degree of transparency and oversight, and publishers like Hearst, Tribune Publishing, and Future Publishing have set up their own PMPs.
eMarketer expects private marketplace selling to reach US$3.3 billion by 2016. A good number of publishers have figured this out. Fifty per cent of the top US 50 publishers have made private exchange sales, BrightRoll founder/CEO Tod Sacerdoti told the 2014 BrightRoll Video Summit.
Fraud: Fake clicks and fake impressions
One of the most serious problems with programmatic is fraud, which is linked to the lack of transparency.
"Face clicks and fake impressions are rampant," said Exchange Wire global editor Ciaran O'Kane.
"We are at a crisis point. Brand ads appearing on dodgy torrent sites and indeed unsuitable political sites happens every 100 milliseconds."
In a 2013 study, DoubleVerify uncovered elaborate advertising fraud activity on more than 1,200 suspected websites that together were defrauding online advertisers an estimated $6.8 million per month.
"The ad impressions from this traffic are 'laundered' through a complex series of redirects that make the ads appear as though they originated on legitimate sites containing advertiser-friendly content," according to the DoubleVerify report.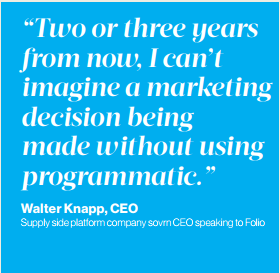 What is the future of programmatic?
"It's not just 'let's buy advertising at the most efficient price'," Jonathan Margulies, managing director of marketing consultancy Winterberry Group, told FIPP. "It's also about 'let's capture and apply data so we can build new audience segments and learn more about them and create better targeted offers for them. These things aren't strictly advertising, but they rely on much the same fundamental infrastructure."
This has heralded a new buzz term – "use cases" which programmatic can serve.
"There is a whole array of different use cases, progressively more strategic and business focused than advertising, which have sprung up. So we use programmatic marketing with an asterisk."
Programmatic advertising firm Adform sees more personalisation and rich media:
"The increase in both engagement rate and time throughout the year point to another significant trend: a shift in programmatic campaigns from performance and retargeting campaigns to more personalised and awareness-raising campaigns, as evidenced by stronger demand for rich media inventory and higher engagement rates and times."
FURTHER READING: For a greater understanding of the mechanisms within programmatic advertising, and its benefits, reference Bonadza's comprehensive blog post on the subject.