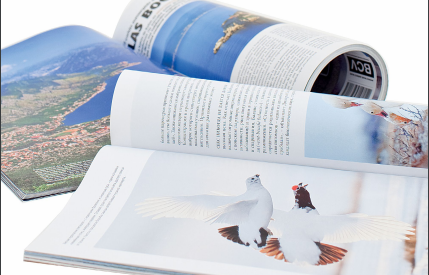 23 Mar

Taking to the clouds to deliver true value: A look inside Finnair's 'Blue Wings' magazine

How a Nordic airline managed to cut the operating costs of their inflight magazine, while maintaining the product's quality, and reducing the company's environmental footprint, all at once.

By John Wilpers | Consultant, Innovation Media Consulting Group, Boston

If you are a magazine publisher, you are into paper.

You have to be.

The quality of the paper in your magazine goes a long way toward defining the quality of the tactile and visual experience your readers have every time they pick up and flip through your book.

Oh, you've been tempted many times to reduce the paper weight and save a few bucks, but you've almost certainly backed off for fear of reducing quality and risking reader revolt.

When the publisher of in-flight magazine Blue Wings, Finnair, wanted to cut operational costs but not quality, the last place they thought to look was the magazine. Its reputation as a high-quality glossy book was too great to tinker with.

Or so Finnair executives thought.

To their surprise, Blue Wings' paper provider, UPM, came up with an innovative solution that managed not only to cut costs but also to actually provide excellent quality paper for the magazine. Beyond that, the solution also advanced Finnair's mission of creating sustainable and profitable growth in harmony with the surrounding society and the environment.

The challenge was no mean feat. Finnair's passengers have come to value the in-flight magazine's exquisite paper quality, stunning photography, and compelling editorial content.

Blue Wings has been carefully designed and edited to reinforce the identity and brand of the Finnish airline company: quality, freshness and creativity. Nine million travellers on Finnair's routes between Europe and Asia have become accustomed to the Blue Wing "experience".

So, to tinker with a winning formula was risky business. But UPM developed a new stock called UPM Valor that reduces the weight of the stock from 70 to 61 g/m², thus reducing each magazine's weight 30 g/m². As a result, UPM is saving Finnair tens of thousands of euros per year in fuel costs alone.

In an aeroplane, every single thing, even paint, must be made from as light a material as possible to reduce weight and save fuel. But Finnair executives would never have agreed to change paper if the quality was even slightly reduced. UPM made Finnair's decision a no-brainer when the paper company actually increased the quality of the paper.

The opacity, brightness, colour reproduction ability, and smoothness are matching the characteristics of the heavier paper grades, according to UPM. The paper properties are similar to coated mechanical MWC and LWC printing papers. Most importantly, for the reader, the paper feels the same as paper up to a 15 per cent higher substance.

You can feel the quality of the new paper. The pages are not see-through. The print quality is excellent as well. The pictures are high quality and your fingers do not slip on pages but grip to them firmly. It seems to be an even higher quality magazine now.

The decision to change paper was made even easier because the new stock reduces Finnair's environmental footprint. Less accumulated weight means less fuel consumption. Also, the lighter paper requires fewer materials to produce, further reducing Finnair's environmental impact.

While paper companies are not typically thought of as innovators, in this case UPM's innovative method of making paper gave a magazine publisher the chance to make changes that increased quality, decreased cost, and reduced its environmental footprint.

What publisher wouldn't like those results?

Note: This article is not an endorsement of or an advertisement for Finnair or Blue Wings magazine. It is merely a review of a high quality print publication, currently flying around our skies.