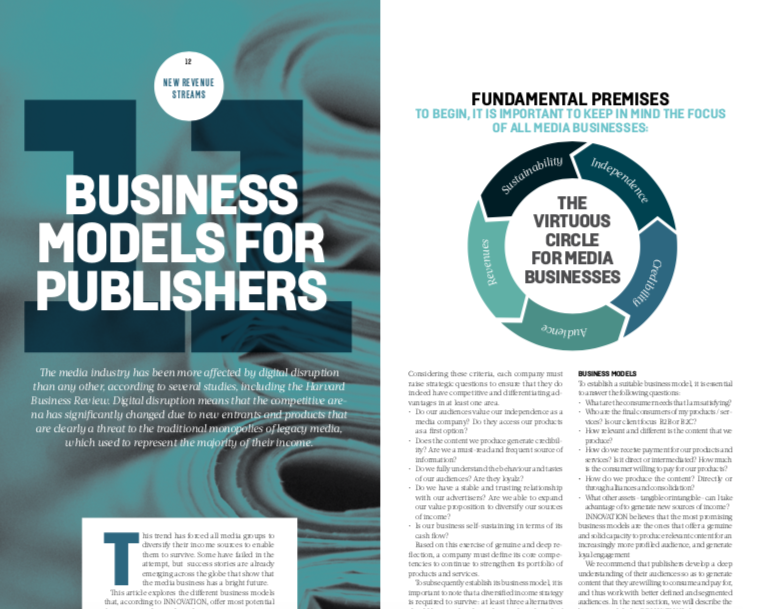 17 Sep

11 Business Models For Publishers

The media industry has been more affected by digital disruption than any other, according to several studies, including the Harvard Business Review. Digital disruption means that the competitive arena has significantly changed due to new entrants and products that are clearly a threat to the traditional monopolies of legacy media, which used to represent the majority of their income.

This trend has forced all media groups to diversify their income sources to enable them to survive. Some have failed in the attempt, but success stories are already emerging across the globe that show that the media business has a bright future.

This article explores the different business models that, according to INNOVATION, offer most potential for success in the media industry.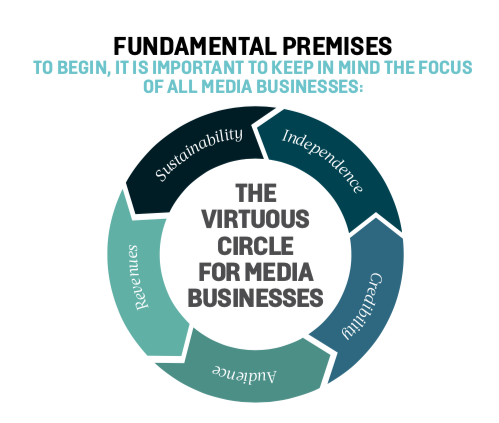 Considering these criteria, each company must raise strategic questions to ensure that they do indeed have competitive and differentiating advantages in at least one area.
Do our audiences value our independence as a media company? Do they access our products as a first option?
Does the content we produce generate credibility? Are we a must-read and frequent source of information?
Do we fully understand the behaviour and tastes of our audiences? Are they loyal?
Do we have a stable and trusting relationship with our advertisers? Are we able to expand our value proposition to diversify our sources of income?
Is our business self-sustaining in terms of its cash flow?
Based on this exercise of genuine and deep reflection, a company must define its core competencies to continue to strengthen its portfolio of products and services.
To subsequently establish its business model, it is important to note that a diversified income strategy is required to survive: at least three alternatives should be considered in order to reduce the risk of solely depending on one or two revenue sources.
Business Models
To establish a suitable business model, it is essential to answer the following questions:
What are the consumer needs that I am satisfying?
Who are the final consumers of my products / services? Is our client focus B2B or B2C?
How relevant and different is the content that we produce?
How do we receive payment for our products and services? Is it direct or intermediated? How much is the consumer willing to pay for our products?
How do we produce the content? Directly or through alliances and consolidation?
What other assets – tangible or intangible – can I take advantage of to generate new sources of income?
INNOVATION believes that the most promising business models are the ones that offer a genuine and solid capacity to produce relevant content for an increasingly more profiled audience, and generate loyal engagement.
We recommend that publishers develop a deep understanding of their audiences so as to generate content that they are willing to consume and pay for, and thus work with better defined and segmented audiences. In the next section, we will describe the business models that INNOVATION believes are most likely to achieve future sustainability.
1. THE PAID CONTENT PUBLISHER
SUBSCRIPTIONS OR MICROPAYMENTS
– Aimed at a loyal, demanding consumer who values the objective and relevant content that top news outlets produce
– Examples: The New York Times (US), The Economist (UK), The Washington Post (US)
– They are clearly the world leaders with the highest credibility, coverage and loyalty from their audiences. Through various forms of payment for content they have been able to sustain their business model. Only those with good quality journalism and community engagement are able to survive with this model.
2. THE PUBLISHER AS PHILANTHROPIST
CROWDFUNDING
– Aimed at a consumer who is willing to fund media companies with negative balances, supporting their clear independence and good quality, credible content.
– Examples: Guardian (UK), DeCorrespondent (Netherlands), MotherJones (US)
– This business model is recommended for kick-starting a business or a specific
project, with a goal of then achieving sustainability through another model such as advertising or subscriptions. Only in very well developed economies will this model be able to grow. Regulatory restrictions still limit the use of crowdfunding.
3. THE PUBLISHER AS RETAILER
VERTICAL, E-COMMERCE
– Aimed at consumers who are highly segmented due to their needs and profile and who are willing to satisfy their purchase needs with the portfolio of products / services offered.
– Examples: Net-a-Porter (UK), BuyaCar and Dennis Publishing (UK)
– These companies have clearly focused on a niche audience with both content
and exclusive and attractive offers, which has increased the purchase intent for their products and captured the advertisers' interest. With the gradual increase of e-commerce in the retail market, more companies will have to develop this model, independently or through partnerships. A deep understanding of their audiences is a must to survive with this model.
4. THE PUBLISHER AS EVENTS ORGANIZER
LAUNCHING BRANDED EVENTS
– Aimed at consumers attracted by the quality and credibility of the brand and their resulting events
– Examples: HearstLive (US), Spirited Media (US),The Atlantic (US), La Nación (Costa Rica)
– These companies have consolidated the development of events of all their
brands into a single area for the sale of tickets and sponsorships or have opted to create independent business units aligned with the growing interest of the consumer in actively participating in new experiences. These events also generate new content, data that feeds databases and become positive influencers for their brands. This model could represent 20 per cent of total revenues with good brand partnerships and with the right management team.
5. THE PUBLISHER AS A CLUB
MEMBERSHIP
– Aimed at consumers who, through subscription packages, not only access editorial products, but attractive discounts in a broad portfolio of products and services. The annual subscription could be recovered through accessing these discounts.
– Examples: La Nación (Argentina), El Tiempo (Colombia), The Atlantic (US),The Guardian (UK)
– All these companies have generated a robust list of benefits so that
subscribers have preferential access to relevant events, premieres
and discounts across a wide range of services. It requires a proactive telemarketing strategy to make sure that the club members are satisfied and loyalty prevails.

6. THE AD DEPENDENT PUBLISHER
NATIVE ADVERTISING, BRANDED CONTENT, PROGRAMMATIC
– Targeting interested advertisers to build and distribute relevant messages associated with their brands and the needs of the audiences
– Examples: Quartz (US), The Atlantic (US), GuardianLabs (UK)
– These companies are among the few that still survive with robust models
dependent on advertising, due to their high segmentation and profiling of their audiences which capture sophisticated audiences.
7. THE PUBLISHER AS AN AGENCY
SELLING BRANDED CONTENT
– Aimed at advertisers who do not have the capacity to contract creative agencies to create advertising pieces for their audiences.
– Examples: 23stories by Condé Nast (US), Remezcla (US), CNBC Catalyst(US)
– Taking advantage of their content creation potential, these companies have
built creative and editorial teams to design 360 marketing campaigns and branded content production for advertisers, that can be disseminated through their media portfolio. It requires leveraging the competency of the marketing team to be able to compete against traditional ad agencies with cost-effective strategies and excellent service level agreements.
8. THE PUBLISHER AS DATA BROKER
DATABASE MARKETING
– Aimed at advertisers who want to increase their effectiveness in advertising campaigns with databases generated from the media companies' audiences.
– Examples: ProPublica (US), Schibsted (Norway)
– With the emergence of programmatic advertising, it becomes increasingly important to have your own data, to be able to take advantage of them internally but also to offer them to third parties to increase the effectiveness of your marketing campaigns. Classified ads and verticals are also an excellent vehicle to enlarge databases with more relevant audience information.

9. THE PUBLISHER AS BRAND LICENSER
DEVELOPING NEW PRODUCTS AND SERVICES
– When the intangible value of the brand is high, it is worth taking advantage of this to license the brand in other related products or services, and thus obtain other related sources of income
– Examples: Disney (US), Playboy (US), Meredith (US), National Geographic (US)
– All these brands enjoy great recognition, credibility and acceptance by their
audiences. By developing new products and services with this seal of quality, they can generate additional income. In most countries, media companies have a good brand awareness and acceptance; an intangible asset that can be wisely used to enlarge revenue sources with complementary businesses.
10. THE PUBLISHER AS IT PROVIDER
SELLING SOFTWARE
• When internal IT development has proved to be effective, media companies can offer consulting and IT licensing services to their industry peers to increase their operational efficiency.
– Examples: The Washington Post with ARC (US), Svenska Dagbladet (Sweden), Quartz (US), The Atlantic (US)
– Unfortunately, not many media companies have the capability to offer these
types of services. This model requires developing a business-oriented and a consultative selling and consulting culture in the IT team to provide these services to internal and external customers.

11. THE PUBLISHER AS INVESTOR
LAUNCH A FUND
– When you want to invest in other promising and emerging businesses in exchange for advertising
– Examples: Thomson Reuters (UK), News UK (UK), Guardian (UK)
– Through alliances with other companies in the same sector, these companies
have created specialized funds to invest in emerging media businesses. It is crucial to have a well developed private equity fund community that can serve as partner for media companies to correctly assess the deal flow and make the right choices.
Through this tour of the different business models INNOVATION can conclude the following:
1. To achieve and maintain sustainability, every media company must take full advantage of its tangible and intangible assets to create a strategy for diversifying its income.
2. It is rare for a company to triumph alone. Collaboration strategies should be generated either with companies in the same sector, belonging to the value chain, or with the final consumer.
3. The innovation capability of companies is limited. All means must be used to participate in innovative and emerging businesses.
4. Owners and management teams must have an open and creative mindset to be able to adapt to the new characteristics of the consumer and the business environment.