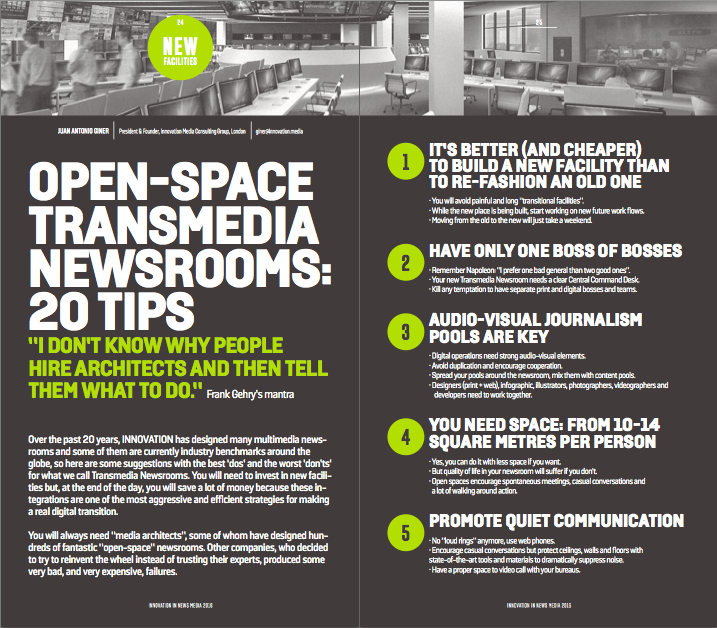 28 Oct

20 Tips on Openspace Transmedia Newsrooms

"I DON'T KNOW WHY PEOPLE HIRE ARCHITECTS AND THEN TELL THEM WHAT TO DO." — Frank Gehry's mantra

By Juan Antonio Giner | President & Founder, Innovation Media Consulting Group, London

Over the past 20 years, INNOVATION has designed many multimedia newsrooms and some of them are currently industry benchmarks around the globe, so here are some suggestions with the best 'dos' and the worst 'don'ts' for what we call Transmedia Newsrooms. You will need to invest in new facilities but, at the end of the day, you will save a lot of money because these integrations are one of the most aggressive and efficient strategies for making a real digital transition.

You will always need "media architects", some of whom have designed hundreds of fantastic "open-space" newsrooms. Other companies, who decided to try to reinvent the wheel instead of trusting their experts, produced some very bad, and very expensive, failures.




1) IT'S BETTER AND CHEAPER TO BUILD A NEW FACILITY THAN TO RE-FASHION AN OLD ONE
You will avoid painful and long "transitional facilities".
While the new place is being built, start working on new future work flows.
Moving from the old to the new will just take a weekend.

2) HAVE ONLY ONE BOSS OF BOSSES
Remember Napoleon: "I prefer one bad general than two good ones".
Your new Transmedia Newsroom needs a clear Central Command Desk.
Kill any temptation to have separate print and digital bosses and teams.

3) AUDIO-VISUAL JOURNALISM POOLS ARE KEY
Digital operations need strong audio-visual elements.
Avoid duplication and encourage cooperation.
Spread your pools around the newsroom, mix them with content pools.
Designers (print + web), infographic, illustrators, photographers, videographers and developers need to work together.

4) YOU NEED SPACE: FROM 10-14 SQUARE METRES PER PERSON
Yes, you can do it with less space if you want.
But quality of life in your newsroom will suffer if you don't.
Open spaces encourage spontaneous meetings, casual conversations and a lot of walking around action.

5) PROMOTE QUIET COMMUNICATION
No "loud rings" anymore, use web phones.
Encourage casual conversations but protect ceilings, walls and floors with state-of-the-art tools and materials to dramatically suppress noise.
Have a proper space to video call with your bureaus.



6) "THE CLOUD" WILL CHANGE (ALMOST) EVERYTHING
Move your software, programmes and CMS to the cloud.
It will save you money, avoid obsolescence and you will always have the latest version.
See our recent INNOVATION iPaper about "cloud computing" disrupting newsrooms.

7) DON'T ALLOW MENTAL OR PHYSICAL WALLS: "PRINT VS DIGITAL" IS NOT AN OPTION
Media companies used to be print operations with digital extensions.
Now they are digital media operations with print extensions.
Don't create print or digital ghettos.

8) THE END OF ASSIGNED SEATING
Big desktop computer stations are a thing of the past.
Your newsroom must be a think tank more than a factory.
Remote work will be the rule for most reporters.

9) SOME OF YOUR BEST JOURNALISTS MUST GO ON THE BREAKING NEWS DESK
Breaking-news becomes commodity news in minutes.
Instant analysis is a must if you want to be unique.
So some of your senior staff will make the difference if they can react in time, help with insights and produce more "what does it mean" journalism.

10) TV SCREENS ARE OUT, DIGITAL WALLS ARE IN
Metrics need to be seen.
News tickers too.
Breaking news must be flashed.
And don't forget, website home pages deserve vertical screens.

11) DEVELOPERS AND JOURNALISTS SHARE THE NEWSROOM
Developers must act as journalists and report to editors, not to IT.
Yes, long-term projects can be outsourced, but day-to-day work must be done in-house.

12) DON'T SKIMP ON BIG ROUND TABLES
Spread them all around the newsroom.
They facilitate interaction, discussion and creativity.
Put up a big TV set to encourage people to do video.
Avoid square meeting tables.

13) HOT-DESKS SHOULD BE IN BIG DEMAND
Forget "one journalist, one desk, one computer, one chair."
Reporters should be outside reporting things: welcome them back.
Remote reporters and editors need to fit in seamlessly.

14) MEETING ROOMS ARE FOR MEETINGS: NO MOBILES, TABLETS OR COMPUTERS
That's a smart VOX MEDIA rule.
Face-to-face meetings must still be short.
Le Monde's Hubert Beuve-Mery stand-up news meetings were legendary for quick and efficient planning and decisions.

15) DON'T BE SILLY
Please, no bicycle racks, game consoles or ping-pong tables inside your newsroom.
Silent relax areas full of great books, magazines and newspapers are better.
Thinking spaces are more important then entertainment spaces.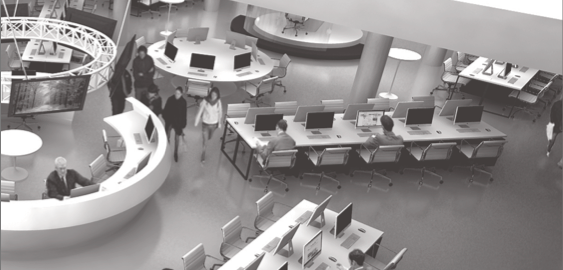 16) RULES FOR SUCCESSFUL CENTRAL DESKS
Creative editors and planning tools live here.
Multimedia coverage starts at the Central Desk.
Planning starts at the Central Desk.
17) THIS IS GROWTH AND DEVELOPMENT, NOT COST CUTTING
Fewer people doing mono-media jobs, more doing transmedia journalism.
Pools will be key.
Move from just readers to more audiences and many communities.
18) MANAGEMENT UNITS MUST ALSO SHARE THE OPEN SPACE
The idea is for everyone to work together.
Transmedia Journalism means transmedia business management.
You want managers interacting in open-space departments.

19) AVOID ENDLESS MEGA AIRPORT FACILITIES
For every 150 people, build a new open-space area, or a mezzanine.
We are not news shopping malls.
Media architects will find solutions to mix ample space with proximity.

20) ORGANISE THE NEWSROOM BY CONTENT AND AUDIENCES
Your open-space newsroom focuses on content and audiences, not technology.
Your biggest challenge is developing talented journalists and managers.
The Central Desk is the boss. Story and platform managers follow their lead.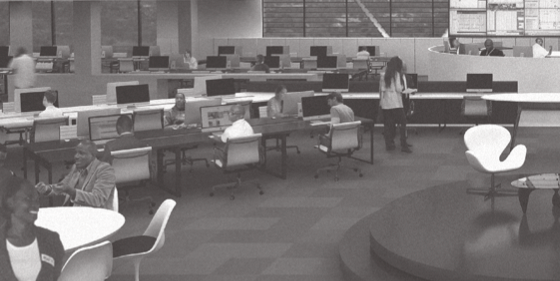 ---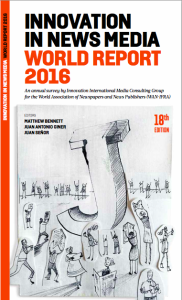 This article is one of many chapters published in our book, Innovations in News Media 2016 World Report.