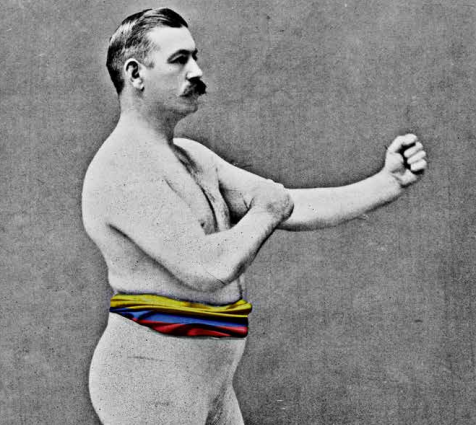 13 Apr

Can El Tiempo redefine its values and move closer to readers?

Innovation in large media companies with a broad mix of legacy assets is no less of a struggle than innovating from the ground up with small new projects. Colombia's El Tiempo told INNOVATION about the sales strategies it is using to transform its media group

Álvaro Triana | Consultant, Innovation Media Consulting Group, Bogotá  

Colombia's Casa Editorial El Tiempo (CEET) owns TV, print, digital and printing press assets that produce annual sales of $220 million. Print daily El Tiempo has 980,000 daily readers and ElTiempo.com attracts 10 million unique visitors each month. Two of the three new owners in the company's 104-year history have appeared in the last eight years.

In 1985, the group began a programme of business and editorial transformation: the single El Tiempo brand became 30, a diversification process it believes has helped it to stay afloat and profitable.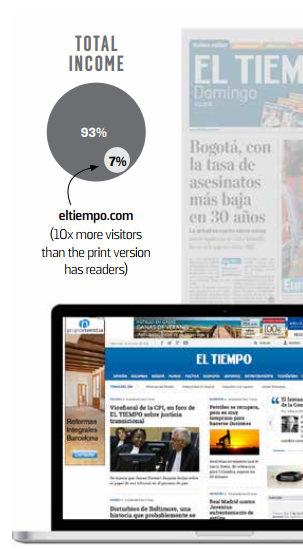 The business model seeks to grow a broad print subscriber base that now represents 70% of its circulation income. Ad revenues make up 60% of total revenue. 75% of El Tiempo subscribers say they prefer to receive a daily paper, not just a weekend version.
Changes in the media industry environment have affected CEET, but GDP growth in Colombia of more than three percentage points between 2013 and 2015 has helped. The group began developing transactional and digital products more than 15 years ago, focusing on the generation of digital content for jobs and real estate portals. Digital product income now represents 12% of the total, with ElTiempo.com bringing in 7%.
New strategies and print technology have allowed the group to offer products such as magazines or commercial inserts to third parties. Profits from this side of the business are growing. Optional component sales have helped maintain a stable subscriber base.
TRANSACTIONAL PRODUCTS
Faced with the fall in print media circulation figures, CEET built alliances for its transactional products with subject-area experts, in order to optimise structures, reduce costs and increase value in the eyes of its readers and advertisers. Consulting firms and associations became partners in the employment and real-estate products, which guaranteed market participation and new sales.
Sales executives are more than twice as productive as before, dealing with 120 clients each compared to the previous 50, following a process of reorganisation and the hiring of more sales analysts. Selling classified ads has led to greater specialisation.
NEW PRODUCTS
Executives backed start ups from the beginning, separating them from the core business to ensure enough resources were provided to meet market demands. One, the free print newspaper ADN, distributed in the Colombian capital, Bogotá, has grown since its launch.
Advertisers also enjoy a larger magazine portfolio than before.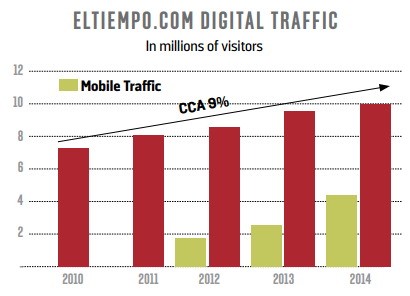 SALES FORCE
The choice of 30 brands attracts advertiser income and allows the sales force to design solutions and campaigns with increased efficiency, selling combined packages across print, TV and digital platforms. Advertisers can maintain brand identity, market segments, discourse and content across platforms. This allows a critical mass of advertisers and readers to be aligned around stories or news categories.
Big clients represent around 60% of CEET's total income and have dedicated account executives and teams providing them with tailored solutions. Roles, processes and incentives are clear and aligned with sales targets. Magazines have a separate sales force with a clear segmentation strategy.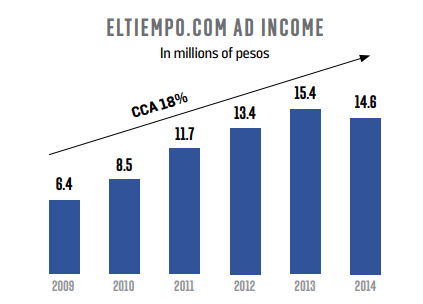 LOYALTY
CEET ensures print products are delivered to readers' temporary or holiday homes and analyses reader information to structure a benefits club. The group has developed models allowing it to predict which subscribers are likely to leave, which allows it to adapt its customer service processes. It claims the models have an 85% success rate.
The company designs campaigns and programmes to attract better suppliers and more benefits (like tickets to entertainment events) for club members.
FUTURE CHALLENGES
CEET is aware there is no magic formula for ensuring future sustainability.
El Tiempo is still 50% of total income, highlighting a vulnerability
Logistics and customer service strategies must move closer to readers
Classified ads need to be seen by more readers to increase margins
The B2C strategy needs to guarantee advertisers better return on investment
The company is too dependent on search engine rankings
Innovation must happen constantly at the owner and operational levels
Corporate values need redefining: news and entertainment are important
THE BOSS'S FOCUS
Santiago Álvarez, El Tiempo's General Business Manager, says he is focusing on five things: 
More digital: to replace print
Charging for content: B2C more than B2B
Making the most of print side during the slide
More TV: programming, audience share, profits
Radio: to close the media group circle
INNOVATION'S TAKE
Beyond individual examples, sales, marketing and customer service structures—which are crucial for any business in any industry—are an area where media companies can concentrate more effort, especially when combined with greater strategic focus on a targeted group of influential readers. Logic would suggest that the more precise the thought and the greater the organised commercial structure around that mission, the more abundant will be the rewards.