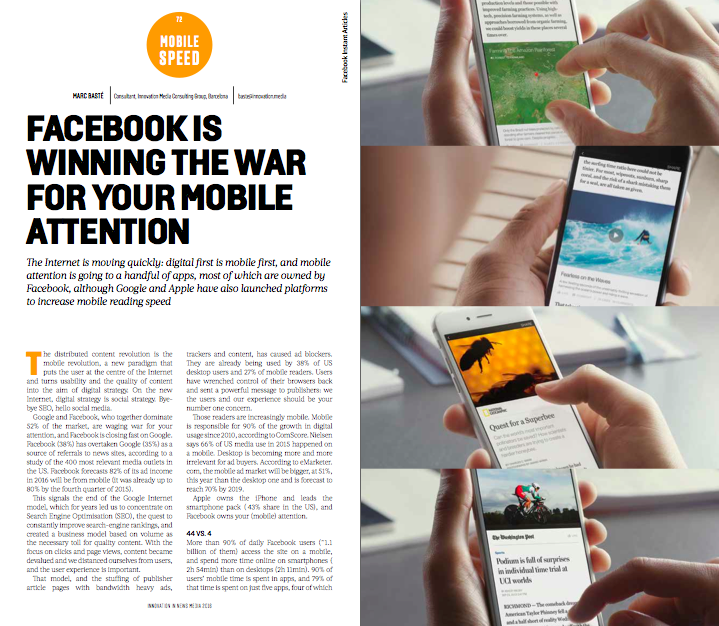 09 Jan

Facebook is winning the war for your mobile attention

The Internet is moving quickly: digital first is mobile first, and mobile attention is going to a handful of apps, most of which are owned by Facebook, although Google and Apple have also launched platforms to increase mobile reading speed.


By Marc Basté Consultant | Innovation Media Consulting Group | Barcelona

The distributed content revolution is the mobile revolution, a new paradigm that puts the user at the centre of the Internet and turns usability and the quality of content into the aim of digital strategy. On the new Internet, digital strategy is social strategy. Bye- bye SEO, hello social media.

Google and Facebook, who together dominate 52% of the market, are waging war for your attention, and Facebook is closing fast on Google. Facebook (38%) has overtaken Google (35%) as a source of referrals to news sites, according to a study of the 400 most relevant media outlets in the US. Facebook forecasts 82% of its ad income in 2016 will be from mobile (it was already up to 80% by the fourth quarter of 2015).

This signals the end of the Google Internet model, which for years led us to concentrate on Search Engine Optimisation (SEO), the quest to constantly improve search-engine rankings, and created a business model based on volume as the necessary toll for quality content. With the focus on clicks and page views, content became devalued and we distanced ourselves from users, and the user experience is important.

That model, and the stuffing of publisher article pages with bandwidth heavy ads, trackers and content, has caused ad blockers. They are already being used by 38% of US desktop users and 27% of mobile readers. Users have wrenched control of their browsers back and sent a powerful message to publishers: we the users and our experience should be your number one concern.

Those readers are increasingly mobile. Mobile is responsible for 90% of the growth in digital usage since 2010, according to ComScore. Nielsen says 66% of US media use in 2015 happened on a mobile. Desktop is becoming more and more irrelevant for ad buyers. According to eMarketer. com, the mobile ad market will be bigger, at 51%, this year than the desktop one and is forecast to reach 70% by 2019.

Apple owns the iPhone and leads the smartphone pack ( 43% share in the US), and Facebook owns your (mobile) attention.

44 VS. 4

More than 90% of daily Facebook users (~1.1 billion of them) access the site on a mobile, and spend more time online on smartphones ( 2h 54min) than on desktops (2h 11min). 90% of users' mobile time is spent in apps, and 79% of that time is spent on just five apps, four of which are owned…by Facebook: the Facebook app, WhatsApp, Instagram and Facebook Messenger. The Facebook app gets 37 visits a day, on average, and 44 minutes of a user's time each day. By way of contrast, news apps average just four minutes.

Social media platforms live off the growth of their ecosystems and work hard to increase efficiency and improve the user experience. Again in contrast, mobile news sites are not designed for the user and generally offer a terrible experience. So media outlets have to compete on Facebook with content created by users themselves, although users spend more time looking at professional content. This is all about attention and the three tech giants know they need content for their platforms, so they have each launched a new format over the past year to try to solve the problems of user experience, too-heavy publisher pages and a huge increase in smartphone usage and mobile access.

Facebook Instant Articles: a new native article format hosted by Facebook that offers immediate download and a perfect user experience with flexible ad formats, branded content, call-to- action buttons and links back to your site. The articles are published directly on Facebook and the development cost is irrelevant or very low (a simple RSS feed adapted to FB). Publishers can also hook up their CMS directly. The trade- off is relevant: the content lives in Facebook. The first results are promising: 20% more reads and 30% more shares than web-formatted content, and some publishers are seeing good economic results: Business Insider reported the same per view revenue in IA as on their mobile properties.

Google Accelerated Mobile Pages (AMP): Google's answer to Facebook's Instant Articles. AMP is open-source code designed to speed up mobile web pages. It loads 85% faster than normal pages by cleaning the pages of the heaviest elements (including what many companies would consider important elements for their brands) and rationalising the architecture. Facebook has its walled garden and Google its search results, where AMP use might affect rankings, but at least the content will still live on publishers' websites. Implementation is not easy, and there are limitations on ad formats. it may take time before publishers see if the faster load times pay off in terms of greater readership and more ad revenue.

Apple News: Apple's new approach to news distribution is an aggregator app optimised for reading and viewing on iPhones and iPads, pre- installed on all devices running iOS 9 in the US. It aggregates news from top sources based on topics of interest to each reader. Apple wants to rely on its dominance of the iPhone and iPad real estate (the Apple News app can't be deleted by the user) to take the lead among news apps. The app, launched in September 2015, has not managed to attract a very significant amount of users, and user tracking bugs mean the company doesn't know the exact number of users it has.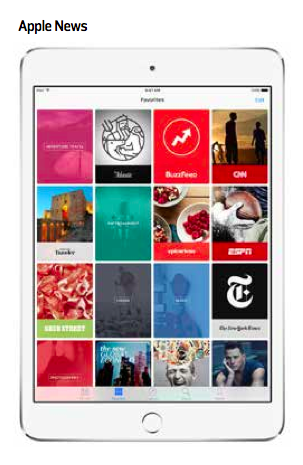 Paying the Price for the Past
In a new report titled Evaluating Distributed Content in the News Media Ecosystem, former Nieman fellow Grzegorz Piechota says that "it is time to move the debate on social media to the boardroom".
"Today, we pay the price for the sins of the past. Users are destroying publishers' revenues with adblockers. Internet giants have sniffed an opportunity to drag us into their walled gardens and eat us alive. It's high time for news publishers to give strategic priority to mobile and improve the user experience".
He identifies the basic attitudes with which publishers must begin to deal with the new era and the new distributed formats:
1. Stop denying the evidence: the Internet is now mobile and social;
2. Put the focus on the user experience and mobile
3. Time spent online, attention, is the new metric;
4. Develop a content distribution strategy with a clear aim;
5. Put a senior executive in charge of platform management and relations;
6. Compete and collaborate: media and plat- forms depend on each other;
Julia Beizer, Former Director of Product at The Washington Post: "Collaborate! Potential readers hang out on these platforms all day. We want to make sure our content can reach them and feels native to the ecosystem.".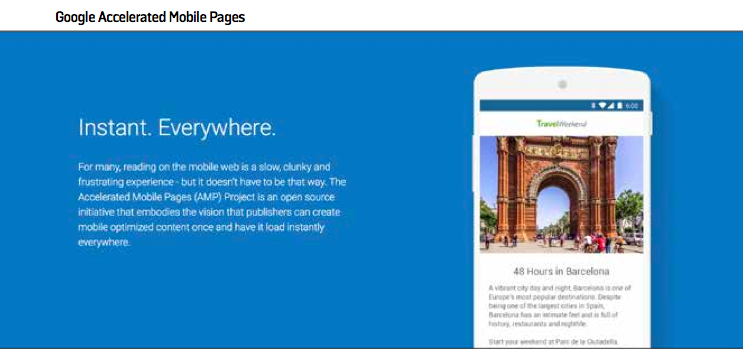 Six Content Distribution Strategy Insights
1. Platforms—mostly just Facebook—do not have as dominant a position as Google had: they are a (big) part of a digital-revenue ecosystem;
2. They need quality content for their model to work, and they're willing to pay for it. Facebook's revenue conditions are decent, including direct payments for video production;
3. Social media puts users at the centre, and we as publishers must reach our readers at the right time, in the right way, and on the right platform; 4. Facebook shares a lot of data about user interaction with our content, letting us learn many lessons and improve our offering.
5. Early-adopters win, if they can make it work. The opportunity will not be there forever, and ad revenue will get diluted as the option matures. 6. It is no miracle solution but will give us time to learn and work in the right direction, which is towards our users; we must be part of the model.
Finally, think about this piece of advice from Sangeet Choudary, the founder and CEO of Platform Strategy Labs, as quoted in Piechota's report: "Today, we pay the price for the sins of the past. Users are destroying publishers' revenues with adblockers. Internet giants have sniffed an opportunity to drag us into their walled gardens and eat us alive. It's high time for news publishers to give strategic priority to mobile and improve the user experience".
Strategy Questions
Do we want to grow our audience at all cost, looking for economies of scale, without an adequate return on investment?
Do we want to build a direct relationship with our readers, with more valuable products available for them on our site?
If we are not 100% clear on the model or path to follow: do we need to do more research and learning to begin with?
INNOVATION'S TAKE
Attention wins. If we do not have our users' attention, we can do nothing with all the rest of the innovative aspects of our projects, and we have no chance of making any money, either from ads or subscriptions. Too often in the past, news companies have been left behind as tech giants grab readers' attention and, now, do mobile distribution faster and the mobile experience better. Accept it and move quickly to the front of the (Facebook) app pack.
---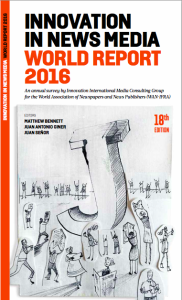 This article is one of many chapters published in our book, Innovations in News Media 2016 World Report.