20 Nov

FRIENDS TO THE RESCUE: MEDIA COMPANIES AS IT PROVIDERS
Bespoke software systems built BY media companies FOR media companies have proven successful and profitable for a select few.
If you've worked at a media company, you have had the "pleasure" of using a content management system or ad management tool, and you know it is, in fact, rarely a pleasure.
In the last five years, a few media companies decided to do what everyone else was thinking: WE could do a better job at this!
And why not? Who knows the needs of the editorial and advertising departments better than those departments themselves?
The frustration boiled over first at the Washington Post back in 2014. Over the following few years, Vox Media, New York Magazine, and Hearst all got into the Software as a Service (SaaS) business.
The Washington Post's Arc system
Even before Amazon chief Jeff Bezos bought The Washington Post, the company was moving in the direction of solving its tech problems by itself.
While the company was scrambling to keep up with the lightning speed of digital change, they, like most other media companies, discovered that their CMS and ad management systems were holding them back.
"As a business, we asked more of our newsroom," Jeremy Gilbert, the company's Director of Strategic Initiatives, told Fast Company. "What we noticed was: 1) We didn't have the tools to be more productive and, 2) The CMS was a fairly monolithic platform. Adding any features to it, making any changes to it, or getting support from vendors was just very difficult."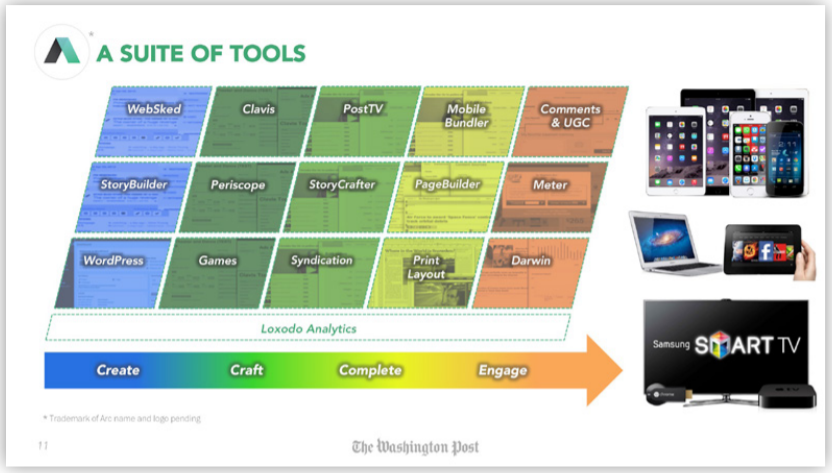 The problems went beyond the CMS. Slow load times were killing the reader experience, especially on mobile devices. "Sometimes people were spending mere seconds with a story," Gilbert said. "And so if all you can accomplish in that handful of seconds is loading the headline or loading an ad or a single photo, then you've really done them a disservice."
Led by CIO Shailesh Prakash, the Post's technical team responded to these issues by building a publishing platform from scratch, beginning with a page-rendering system called PageBuilder, which rolled out in early 2013 and which the company has continued to refine.
"Over the time that Shailesh has been here, we've taken our stories' [load time] down by about half, going from about six or seven seconds to render an individual article to sometimes less than two seconds now," Gilbert said.
From one to 17 products in short order
In just over four years, the Post has grown its tech products in a stunning way, building 17 increasingly integrated modules. These tools power the increasingly essential elements of the media business, from newsletter creation and native app creation to recommendation engines, A/B testing, audience analytics, and beyond:
1. Ellipsis: A web-based digital storytelling tool built for teams who need to quickly create high-quality news and narrative content on all platforms
2. Anglerfish: The photo management system for Arc
3. Goldfish: The video CMS, enabling video version management, captioning, variant testing, and coordination of different video streams across platforms
4. WebSked: An editorial scheduling, assigning, budgeting, searching, and planning tool that provides complete insight into all the content your editorial team produces
5. PageBuilder: An easy-to-use WYSIWYG page curation tool, built for mobile that includes metrics and testing
6. Bandito: A variant testing engine that allows you to run multiple variants of headlines, blurbs, and photos to improve clickthrough rates
7. Darwin: A UX-improvement tool that manages and runs parallel A/B tests (or A/B/C/D tests) for the whole site
8. Clavis: A personalisation engine powered by natural language processing that uses first-party clickstream data to personalise article recommendations and ad targeting to improve clickthrough rates and increase advertising rates
9. Metered Paywall: A tool to give users a certain number of free articles every month (and change it in a targeted fashion), and then bring them into the conversion flow
10. Carta: A newsletter management system, enabling the creation and management of flexible templates for daily and weekly newsletters

According to the company, Arc is used by more than 30 clients operating more than 100 sites on four continents. Some of the biggest global media names are Arc clients, including:
• Grupo La República (Peru)
• Arc Publishing (Japan)
• ABC Color (Paraguay)
• El País (Spain)
• Dallas Morning News (USA)
• MADSACK Media Group (Germany)
• Boston Globe Media Partners (USA)
• Bonnier (USA)
• Philadelphia Media Network (USA)
• Le Parisien (France)
• US Tronc (USA)
• New Zealand Media & Entertainment (New Zealand)
• Infobae (Argentina)
• Globe and Mail (Canada)

And it seems to be working as promised. For example, in the first year after its switch to Arc, Argentine news site Infobae's unique users grew by 110% and its page views by 254%, Infobae Founder and Publisher Daniel Hadad told Fast Company.
While the Post doesn't release figures, the company announced that Arc revenues doubled from 2017 to 2018. By Q1 2019, Arc "will power over 400 websites and serve over 10 billion page views per month as ongoing implementations go live," Prakesh told media business analyst Ken Doctor.
With fees ranging from US$10,000 to US$150,000 per month, the company's goal of making Arc a $100m business does not seem far-fetched.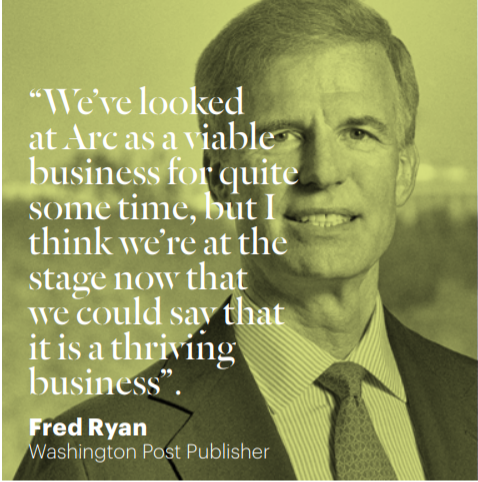 cost savings also drives adoption
The attraction of media tech solutions built by a media company is obvious. And that is driving a lot of their business. But so is the cost savings.
"The typical savings a single metro paper might derive from switching to Arc is typically around 15% to 20%, but there are other places where we believe the savings are even closer to 60% or 70% simply because they have so many vendors," Prakash told Doctor writing for the journalism think tank Neiman Lab.
That reduction in vendor count is something publishers often cite — both for the cost savings and the time saved that used to be consumed dealing with multiple companies and focusing on integrating their various products, according to Doctor.
Another benefit of outsourcing tech to a service like Arc is that it frees up a media company's limited resources to focus on other mission-critical tasks, according to Doctor. One team of Bonnier's engineers, for example, spent most of their time supporting Sandcastle, its custom-built CMS, Doctor wrote. Not anymore.
Arc also lets clients access third-party tools at lower prices thanks to Arc's purchasing power, Gillespie told Doctor.
What's next? a network and a flexible paywall
With its increasing reach, Arc is now looking to become a network as well. "Arc is reaching a critical mass of most of the advertising markets in the United States, the major markets," Prakash told Doctor. In 2019, the Post will test an ad network using their Arc clients.
"We've got this technology we call Zeus, which basically does more effective header bidding," Prakash told Doctor. "It does things like autoplay for video, refreshing of ads. And I think our sales team is fairly good on the programmatic side at figuring out how to get more, how to squeeze more money out. We think we can raise their CPMs. Certainly, we raise our own CPMs over here with our technology. So, can we do that for others?"
After the introduction of Zeus, the Post's CPM ad rates increased by 30%, according to Prakesh. The Post's next tool will be a more sophisticated flexible paywall tool to enable rapid and frequent paywall testing. Prakesh envisions software that will enable media companies to, for example, test making their food paywall tighter than their travel paywall. Or making traffic from some referral sites unmetered for a day.
From the Post's point of view (and that of any other media company creating SaaS tools, there are benefits beyond the revenue. "Sometimes — usually, honestly — the things the Post needs to support its own editorial department become the features that the other clients of Arc use," Gilbert told Fast Company. "But sometimes other clients request things that end up actually benefitting the Post."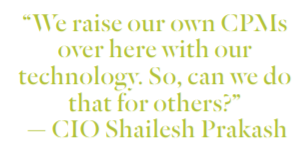 "We've looked at Arc as a viable business for quite some time, but I think we're at the stage now that we could say that it is a thriving business," Post Publisher Fred Ryan told Doctor. "There's incredible demand from not just legacy news organisations, but from digital native organisations and brands as well."
The trouble is that this is not a business model for the faint of heart or financially pressed. ARC employs 110 people, 100 of whom are engineers. They expect to reach 160 in 2019. Developing flexible, bespoke software is not a low-cost operation.
THE OTHER MEDIA SAAS PLAYERS: VOX
Vox was founded in July 2005 as SportsBlogs Inc. and was rebranded as Vox Media in 2011. According to Comscore, Vox is the 30th most popular media company among users in the US. Vox boasts seven well-known media brands: The Verge, Vox, SB Nation, Eater, Polygon, Curbed, and Recode.
Like the Post, Vox started to develop tech internally to solve their own problems. Over ten years, their tech, called Chorus, has evolved into an integrated software ecosystem that powers multimedia content creation, supports cross-platform programming, and delivers integrated, premium advertising at scale.
Using the success of Vox Media's editorial teams as a guide, Chorus evolved to address a wide variety of media company needs — from multimedia content creation and cross-platform programming to premium advertising at scale. Today, 10 brands and more than 350 unique sites use Chorus to connect with their audiences.
Chorus enables publishing across channels and media types with fast and functional UX. Chorus is integrated with Google AMP and Apple News with flexible templates for feature stories, articles, videos, maps, and more. It also enables the promotion of stories and videos on a homepage, Twitter, Facebook, etc., and includes a dashboard with actionable insights from cross-platform analytics.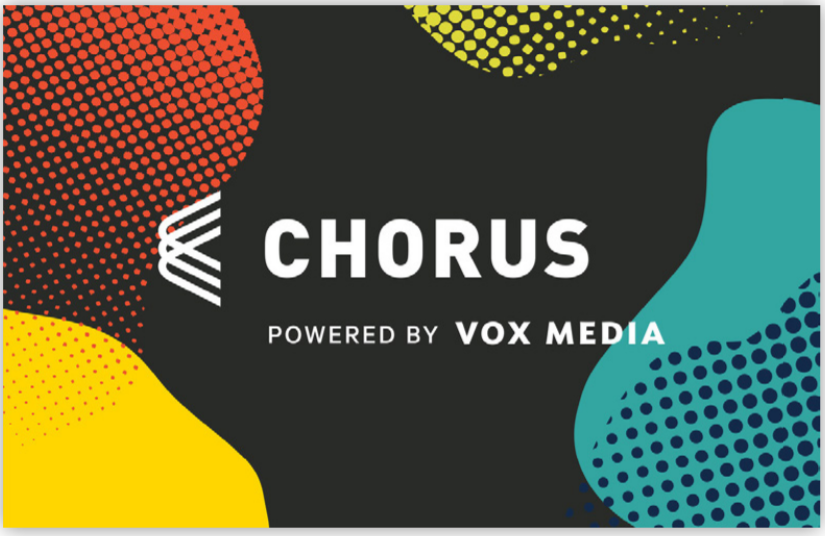 Chorus is also seamlessly linked with Concert, the ad marketplace that offers premium brand-safe advertising at scale.
While Vox had a rough beginning to 2018 when they laid off 5% of their workforce, the success of their operating systems remains the envy of other media companies.
"The joke is that Chorus is a unicorn with a kitten on its back. People think it is a magical system that fixes everything," Vox.com co-founder Melissa Bell told The New York Times.
hearst aims at companies needing to integrate
Hearst adopted the IT Provider business model relatively recently, launching their SaaS solution — MediaOS — in 2016. The differentiator for Hearst is that MediOS supports both "old school" and "new school" media companies. For example, their clients include the British-based entertainment, television and film website Digital Spy, as well as "old school" properties including Cosmopolitan and Elle and television stations. Given its provenance, it's no surprise that the system is anchored in a sense of unity and consolidation, integrating cross-platform content creation, distribution, e-commerce, video, analytics, ad deployment, and operations in a single system. MediaOS also has baked in a suite of third-party tools.
new york media explores blockchain systems
A bit later to the IT Provider business model, New York Media (NYM) started licensing its content-management system called Clay in early 2018 after signing their first customer, the digital news site Slate. Shortly thereafter, Entercom's radio.com and golf.com signed on as customers of Clay.
What sets the New York Media IT offering apart is their collaboration with Po.et, a blockchain-based platform designed to track ownership and attribution for digital creative assets. Together, NYM and Po.et to power blockchain development in its content management system.
While there are no hard details, there are hopes that the partnership would encourage developers to create blockchain apps that solve a plethora of media issues such as rights-management tools to track the origin of aggregated stories and videos back to their sources. Po.et is already a Clay plug-in that allows any developer to create apps.
"There are opportunities to build commercial products on Po.et that Clay can then leverage and sell," Jarrod Dicker, CEO of Po.et, told StateOfDigitalPublishing.com.
moral of the 'it provider business model' story?
The success of the Post's Arc, Vox's Chorus, NYM's Clay, and Hearst's MediaOS demonstrates that it is indeed possible to make a business out of SaaS offerings. The industry finally woke up to the fact that off-the-shelf software was never going to cut it.
But is there room for more media companies in the media SaaS sector?
It's hard to say "no" because that would have been the answer not too long ago to the question: "Can a media company compete as an SaaS merchant?"
There are probably media niches out there with unique software needs that are shared by multiple similar companies. Be the first to solve those needs, and you could find yourself in the SaaS business.
---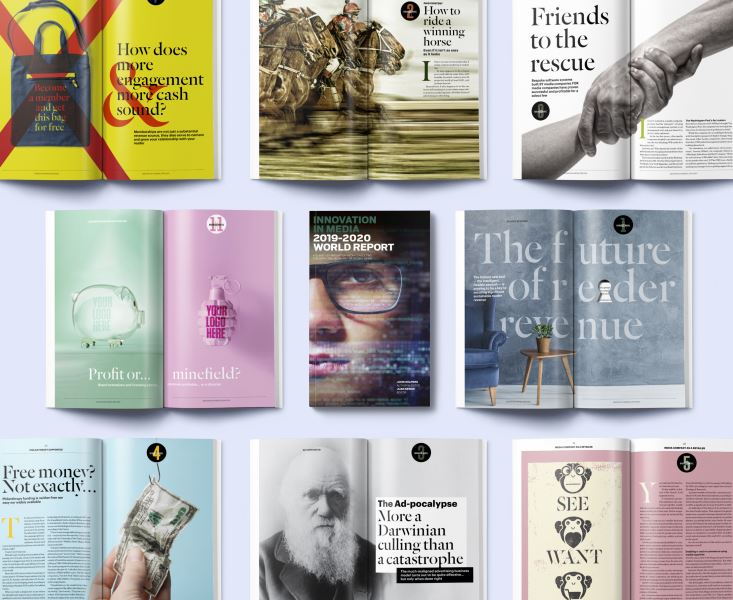 This article, along with many many more is available in full, within the pages of our Innovation in Media 2019-2020 World report, available for purchase in print or digital edition.