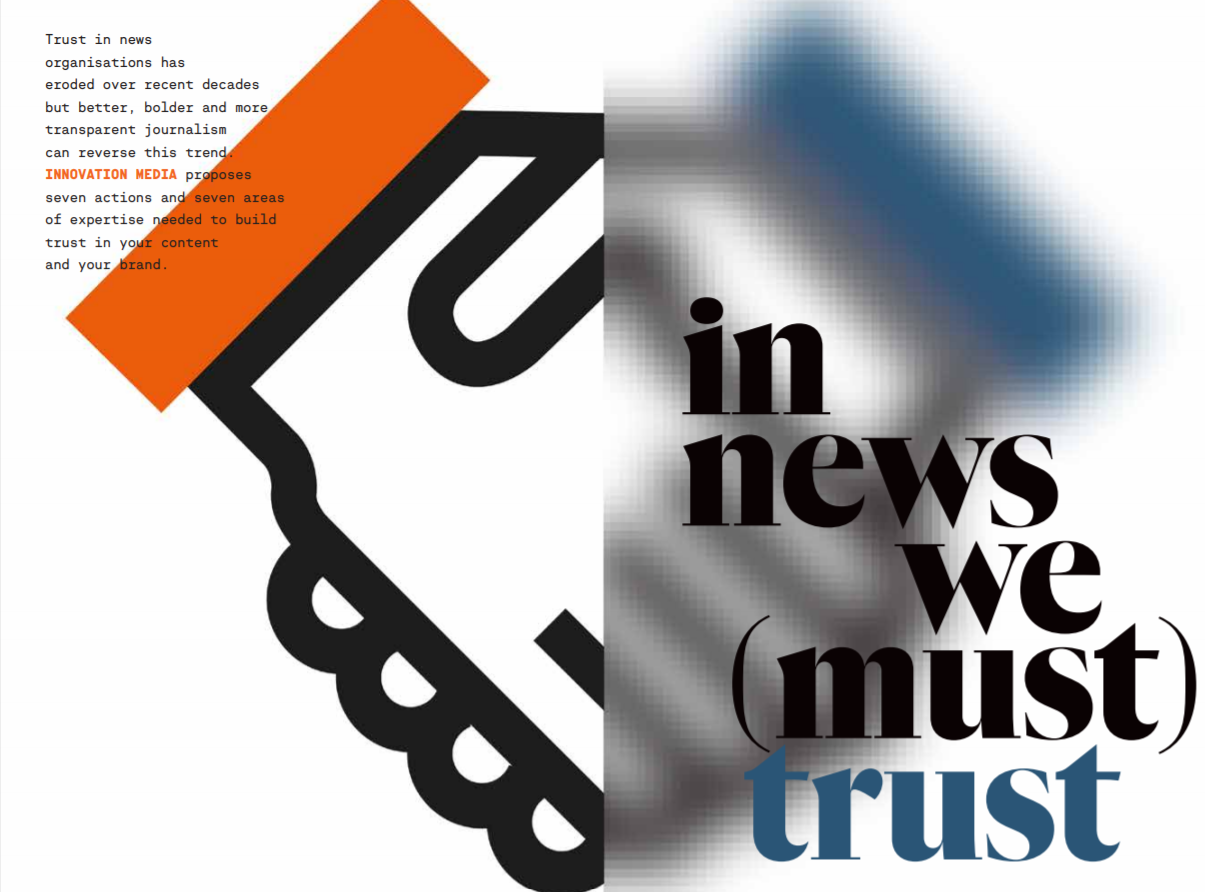 18 Mar

IN NEWS WE (MUST) TRUST
Trust in news organisations has eroded over recent decades but better, bolder and more transparent journalism can reverse this trend. INNOVATION Media proposes seven actions and seven areas of expertise needed to build trust in your content and your brand.
Questions over the trustworthiness of news and media companies are not new: they date back to when news reporting began.
But there is no question that factors including the ubiquity of information online and the power of social media, the polarisation of politics and political views in many countries, and tighter newsroom budgets due to the collapse of the industry's traditional commercial model, have together had an impact on the public's perception of news organisations and their content.
According to the 2018 Digital News Report from Reuters Institute for the Study of Journalism, which tracked consumer behaviours in nearly 40 countries, users in most countries display a low level of trust in news providers, with about half of them worrying about 'fake news.' Levels of trust in social media are far lower, but this doesn't seem to stop people from using these platforms.

Own goals by the most respected players in the industry don't help, like the discovery that in Germany, one of Der Spiegel's star journalists, Claas Relotius, had been inventing facts, sources and quotations for years.
However, there are reasons to be optimistic. Even in the very politically polarised U.S. market, and despite President Trump's regular attacks on traditional media outlets as 'fake news ' a 2018 Gallup poll showed the number of Americans who trust mass media to report the news 'fully, accurately and fairly' has gone up again, to 45%, steadily increasing from an all-time low of 32% in 2016.
It is still a long way off from the 72% all-time high in 1976, just before trust in mass media in the U.S. began a slow but continual decline. But a healthy level of scepticism can encourage news media to work harder to earn the respect of the public.
All is not lost, and the time is right for responsible news organisations to regain trust and help tackle disinformation or fake news. And that fight back has started.
The Washington Post won the prestigious Pulitzer Journalism Award in 2018 for its investigation of Senate candidate Roy Moore of Alabama. The Post won not only for the quality and precision of what it reported but also because of its decision to publish the details of how it gathered the information for transparency and to pre-empt false claims against its newsgathering process. It paid off, including its exposé of an attempted sting operation against one of its reporters.
The Post was also following the principles of the 'Trust Indicators' developed by the Trust Project, an international consortium of news organisations created to build transparency standards.
As well as the Post, other founding media companies include The Economist, Canada's The Globe and Mail, Italy's La Repubblica and La Stampa, as well as Hearst Television and Haymarket Media. The solution to any lack of trust in news lies within the news organisations and their newsrooms. And news consumers want them to act now.
We propose seven actions and seven structural changes needed for newsrooms to become more trustworthy and more transparent: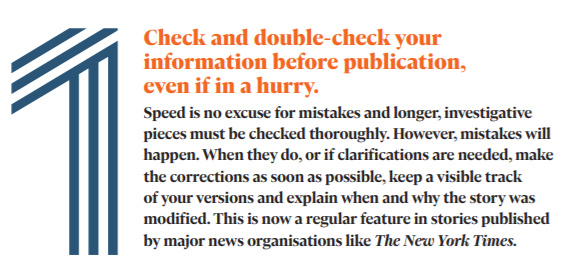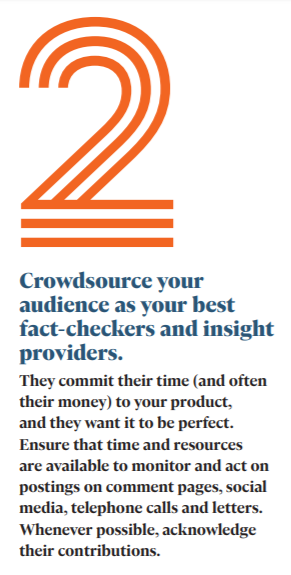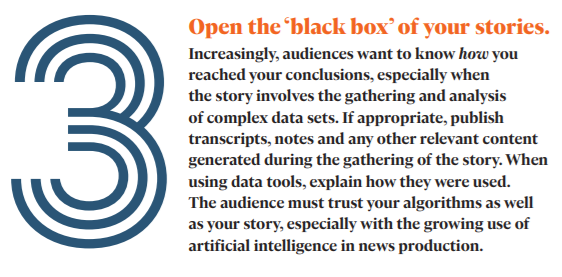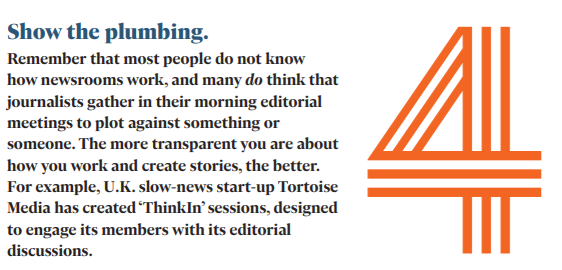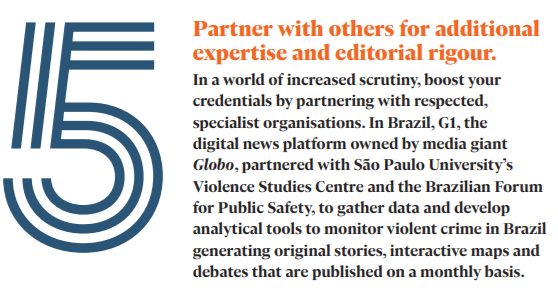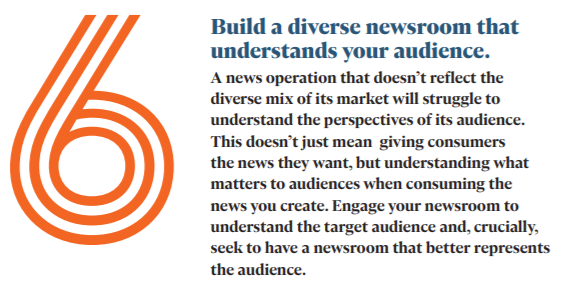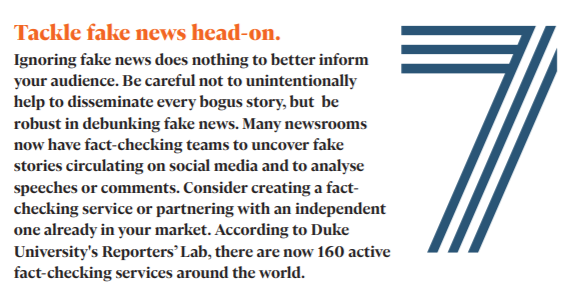 ---
SEVEN STRUCTURE SKILLS
Your newsroom must also have the right structure and the right skills to achieve the right results and build trust with your audience. Here are seven areas of expertise needed to make your content stronger and more trustworthy:






---
This article, along with many, many more is available in full, within the pages of our Innovation in News Media 2019-2020 world report, available for purchase in print or digital edition.