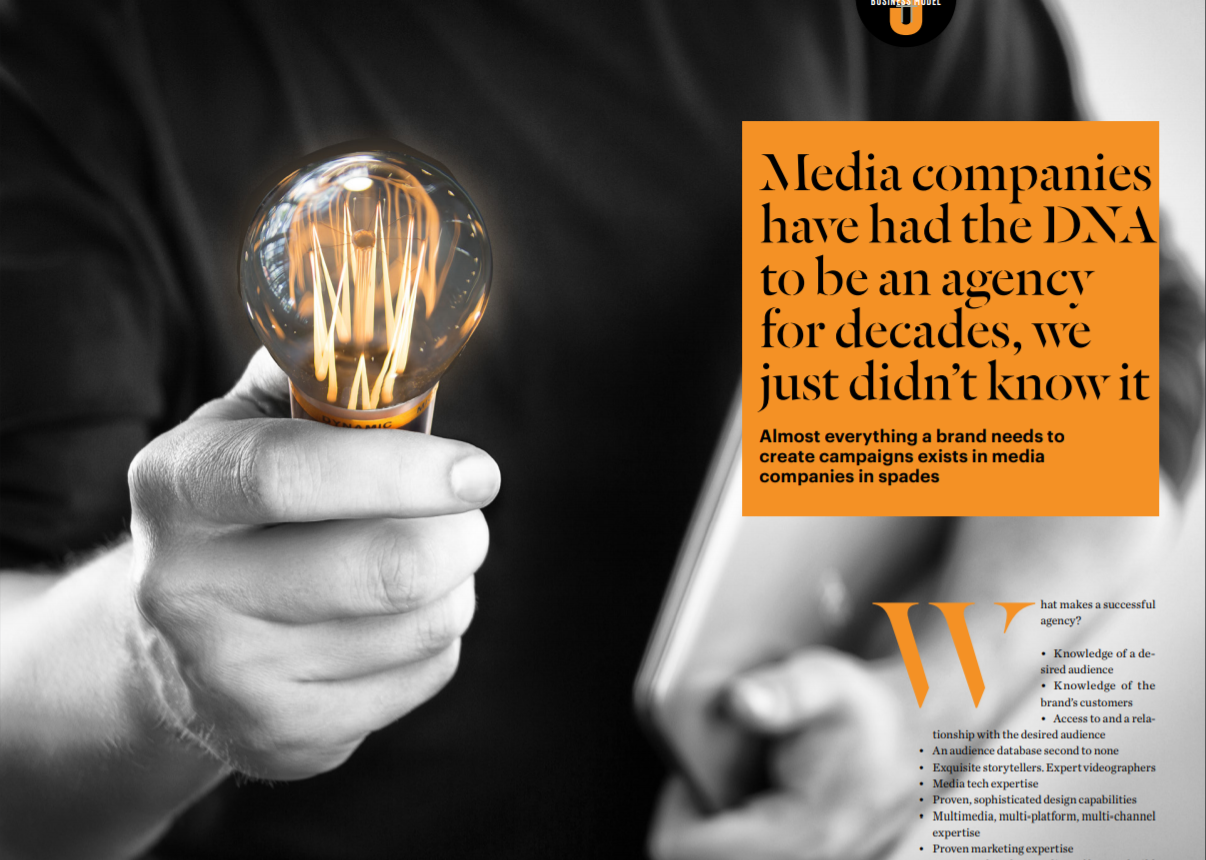 28 Nov

MEDIA COMPANIES HAVE HAD THE DNA TO BE AN AGENCY FOR DECADES, WE JUST DIDN'T KNOW IT
media companies as agencies: Almost everything a brand needs to create campaigns exists in media companies in spades


What makes a successful agency?

• Knowledge of the desired audience
• Knowledge of the brand's customers
• Access to, and a relationship with, the desired audience
• An audience database second to none
• Exquisite storytellers.
• Expert videographers
• Media tech expertise
• Proven, sophisticated design capabilities
• Multimedia, multi-platform, multi-channel expertise
• Proven marketing expertise
• A nuanced understanding of how to build sophisticated multi-platform campaigns
Does that list sound like a media company to you?
Sure sounds like a media company to me.
The expertise inside media companies is looking like an agency to more and more brands around the world. Many have given up trying to create branded content and media campaigns on their own, or even with traditional legacy agencies.
As a result, many media companies that have created in-house agencies are seeing results that have come to represent from five to 60% of total revenue! Consider this example:
Time Inc.'s foundry: nine-figure revenue
In 2014, there was no in-house content studio at Time Inc. (now part of Meredith). In 2015, Time launched the Foundry studio with three employees. By 2017, Foundry employed 150 people and had become a nine-figure business.
The Foundry is full service and offers creative ideation, strategy, content, distribution, data and analytics.
"We had been working with marketing partners in traditional ways and realised there was a bigger opportunity in storytelling and began offering the service," Foundry CEO Chris Hercik told Folio.
Half of the studio's staff came from Time's custom publishing division and its magazine and digital brands, the other half from outside. Recent clients have included Jaguar, Lexus, Tiffany & Co., Coach, Western Union, and Walgreens.
While Foundry might be an outlier, they are by no means alone in proving the agency business model can work for a media company.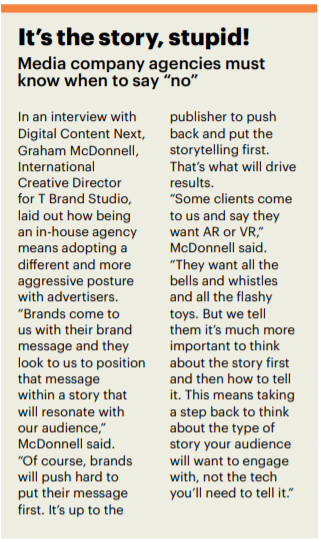 Brands discover the difficulty of publishing
Brands' interest in media company studios is a result of their insatiable appetite for fresh, relevant, exquisite, compelling content. Many brands have tried creating that kind of content in-house but they have discovered what magazine media have known for hundreds of years: It ain't easy!
Without editorial expertise and infrastructure, brands have had a difficult time attracting and directing editorial talent. They've discovered it's easier, more efficient and far more effective to buy high-quality editorial expertise.
In just a few years, the number of publishers building out branded content has soared from 15 to more than 600 — and counting, according to a study by DigitalContentNext.
And some, like the New York Times' T Brand Studio, are acquiring specialised skills in influencer marketing or tech skills such as augmented reality, virtual reality, video, and 360-degree filming through hiring or acquisition of specialist companies. The NYT recently acquired Hello Society, an influencer marketing agency, and Fake Love, a design-driven agency specialising in one-of-a-kind live experiences.
In the world of media company agencies and native content, profit margins run from 5% all the way up to 80%, depending on whether publishers include the media spend as part of the native ad revenue or put it in another bucket, according to a study of publishers by Melanie Deziel, who used to work for The New York Times' T Brand Studio and now consults to publishers' content studios.
"Studios that are much larger tend to have lower margins," Deziel told Digiday. "Those that rely on paid social tend to have lower margins. Anyone that has a slim team and higher organic reach tends to have higher margins."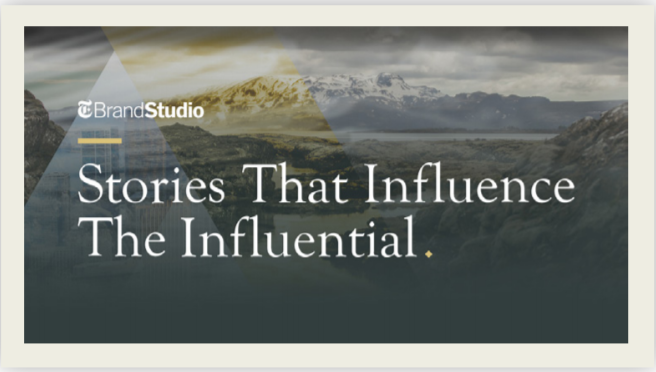 Here are more examples of successful media company agency studios:
studio 2g at atlantic media: 33% growth in a year
Five years ago, the Atlantic Media's business-to-government brand Government Executive launched a content marketing arm called Custom Strategies. In September 2017, they rebranded the team as Studio 2G to expand its services well beyond content marketing.
"They [client s] started asking us to write articles they needed," SVP of Strategic Marketing and Insights Will Colston told Folio. "From there, they needed more support because the markets became more complex. We expanded the range of services we provided, going way beyond what we were doing."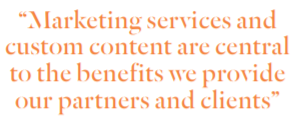 Indeed. From offering only branded content, Studio 2G, with more than a dozen staffers complemented by outside experts, now offers videos, microsites, case studies, white label events, e-books, native content, newsletters, white papers, assessment tools, and more.
"Marketing services and custom content are central to the benefits we provide our partners and clients," CEO Tim Hartman told Folio. "As business has gone digital, content marketing, analytics, and account-based marketing became critical to their [the clients'] success."
The success in Studio 2G's first year was impressive: a 31.5% year-over-year revenue growth, an 11% year-over-year client base growth, and a 16% year-over-year average client account growth.
One of the keys to Studio 2G's success is their aggressive approach with their clients.
"A client may come to us looking to enhance their message among cloud technology purchasers with the Department of Homeland Security," said Hartman. "We'll come back to them with our strategic outline for lead generation and describe the full breadth of our capabilities, which may include co-produced white label events, explainer videos, and native content. The client may have never considered these options, but this is what makes us so unique: our ability to create concepts that drive tremendous value."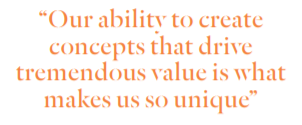 new york media's brand studio: changing daily with the technology
Like Studio 2G, New York Media's Brand Studio has grown far beyond branded content.
Today, three years after its launch, the studio employs nearly 20 staff, including social strategists, editors, producers, designers, and event coordinators who produce the studio's full-service offerings.
"What we do changes daily with technology," Head of Sales Marketing Jackie Cinguina told Folio. "Our challenge is keeping up with emerging technology and determining what canvas we should test."
At Brand Studio, they have seen a substantial increase in clients' demand for video, with a fourfold increase over its four-year history, which has also matched the studio's increase in the number of new clients and repeat clients.
Today, Conguina says one-third of New York Media's ad revenue comes from the studio. But she's not satisfied. "We want to continue to grow it until it's the whole pie," she said.
The biggest hurdle Brand Studio faced is one faced by other media companies who don't boast the size and reach of companies like the NYT and Meredith.
"We're not a behemoth media company," Conguina said. "We had to prove that we could generate critical mass. But there is a lot of love for our brands, from our audience and the advertising community. They were willing to go with us and they reached their goals."
cnn: where data informs the studio's creativity
Like most media companies with a full-blown studio, CNN International Commercial's branded content studio, Create Group, started with a single, limited focus. In their case, it was to be an internal studio to create high-end television commercials.
Today, the Create Group develops, produces and delivers all branded content on all platforms.
Create Group employs 35 staffers, including filmmakers, designers, editors, directors, and producers as well as a network of on-call writers and copywriters who are specialists in their fields. And, like the other emerging media studios, Create Group is building content for their own and other channels. Create Group's work appears on CNN's own channels but other content they create, such as 360-degree videos, appears on Facebook and Snapchat.
One trait that makes Create Group stand out is their use of data. "I think all publishers are looking at how they use their capability around data and audience understanding and how they can extend their clients' content off-platform," VP James Hunt told Folio: "That is also a big focus for us and something we are starting to do more and more."
Create Group uses data to get under the skin of the audience, Hunt said "The data is really used to inform creativity. We have a number of proprietary tools that allow us to pull trends or topics relevant to the client's audience and that help the creative process at the front end."
Create Group now is responsible for 60% of CNN's revenue, up from just 6-10% a few years ago, according to Hunt.
"We like to consider ourselves now as a proper strategic partner," Hunt says. "We no longer talk about spots and banner[s]. That can still be important, but the lion's share of the conversations we are having with our clients is about solving tangible business challenges and delivering solid marketing results."
In Asia, Singapore Press Holdings (SPH) brought together its content marketing teams — SPH Content Lab and Brand New Media — along with CreativeLAB and Think, as one unified entity to offer top-of-class client solutions.
The launch of the Sweet brand is aimed at strengthening its alliance with agencies and clients. SPH said Sweet is designed to meet the increasing demand among clients for integrated storytelling across a range of multimedia formats, which has been steadily growing over the past two years.
Sweet plans to deliver solutions in content, creative, branding, events, advertising campaigns, and inbound marketing. Those companies are just a few examples of the trend among media companies to embrace the agency business model.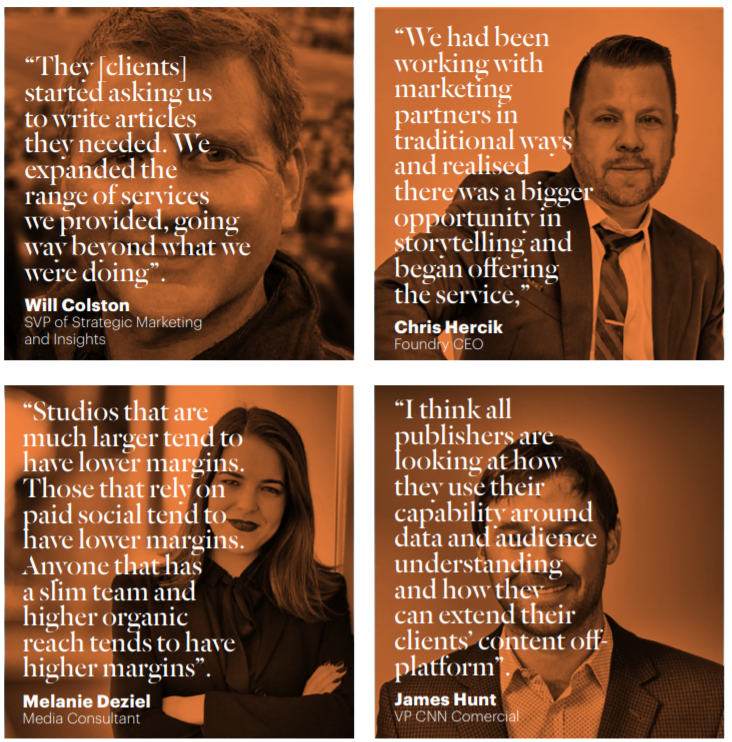 more than a third of all media companies have in-house studios
In a 2018 survey of 231 media companies in 51 countries, the Native Advertising Institute and INMA found that 35% of publishers have created an in-house studio.
In 2017, 26% of media companies contracted with outside agencies to create native advertising for their clients. Just one year later, that number has been halved: Now only 13% work with outside agencies.
Almost half of publishers with in-house studios use their editorial staffs to produce native advertising, up from 42% in 2017.
And more media companies are taking the controversial step of going outside their own platforms for campaign placements.
"Many are starting to offer services that would normally fall less naturally to them, such as media buying on social media platforms other than their own (35%), as well as on traditional media platforms other than their own, and even content solutions on client's own platforms (29%)," according to the report.
One of those outside-the-box offerings is white-label content.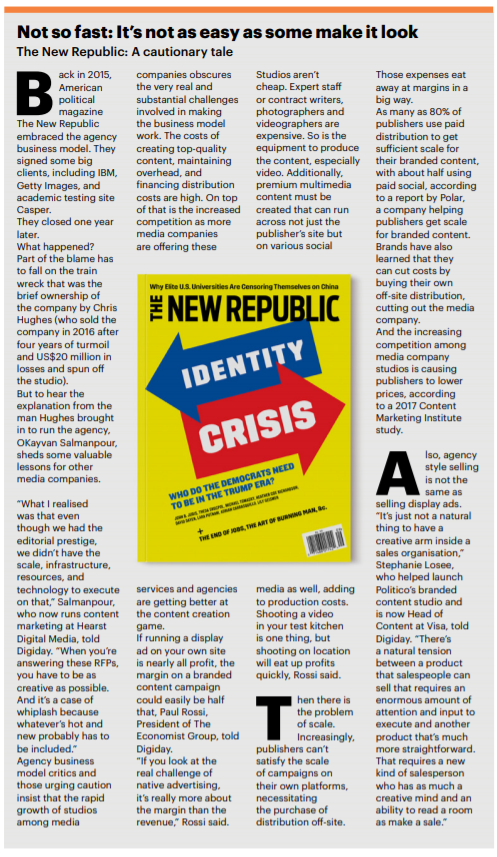 white-label content: a double-edged sword?
It's a slippery but natural slope.
As more media companies produce more content and products for their advertising clients, it's a logical progression for the client to want to leverage that content and give those products the widest possible exposure to get the maximum reach and impact.
As a result, more clients want media studios to produce content for use outside the publisher's properties and without mention of the publisher. In other words, white-label agency work.
Some publishers shy away; others embrace the challenge.
PopSugar is one of the enthusiasts.
pop sugar, helping clients buy rather than build
The white labelling thing is new and is not yet a significant revenue producer… but it IS growing fast.
"Digital is the most pervasive, mobile and lowcost way for [brands] to touch their audiences daily. But they need fresh, original content to do this, or they get stale," Marshall Strategy Managing Director Ken Pasternak told Digiday. "The white-labelling trend you're seeing tells me many brands prefer to buy it rather than build it."
For PopSugar, which began offering white label services in 2016, they only represent a single-digit percentage of the company's revenue, though it's more than doubled year over year from 2017 to 2018, PopSugar CRO Geoff Schiller told Digiday.
PopSugar has created everything from white-labelled content for an advertiser's own website to producing white-label episodes of broadcast television. To make the process as financially viable as possible, PopSugar contracts with different freelancers depending on the client's specific needs.
Working with brands repeatedly makes it easier to do these programs efficiently, Schiller said. "Margin is an evolution: The more clients we take on, the easier it's been to get more efficient."
Other media companies see white-label work as low-margin and a potential cannibalising of their own branded content business.
At PopSugar, cannibalisation has not happened. In fact, the reverse is true. Since PopSugar launched its agency services business, the clients it has worked with have all increased their branded content investment at least 200%, according to Shiller.
For companies who'd avoided white-label work, the needs of their clients might end up pushing them into white-label work.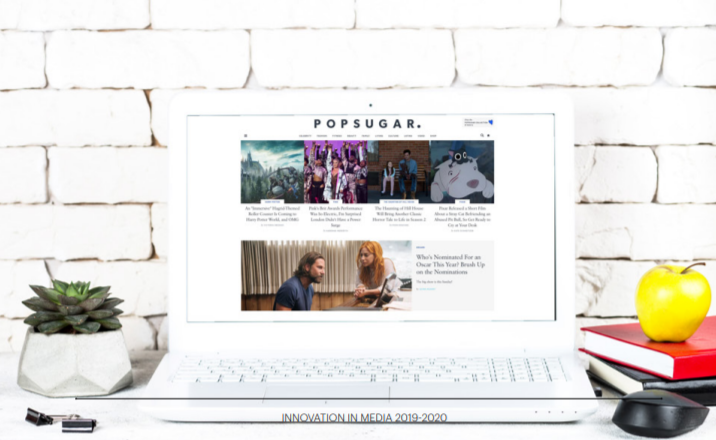 The Washington Post has mostly rejected white-label work. But "we're naturally becoming more than a content studio," Annie Granatstein, the head of WP Brand Studio, told Digiday. "So naturally, they start coming to us with questions that are deeper than just a campaign."
If the last few years are any indication, media companies can expect more and more clients coming to them to tap into their storytelling and audience insights and expertise.
Media companies without even a modest studio will be leaving money on the table.
Don't be one of them.
---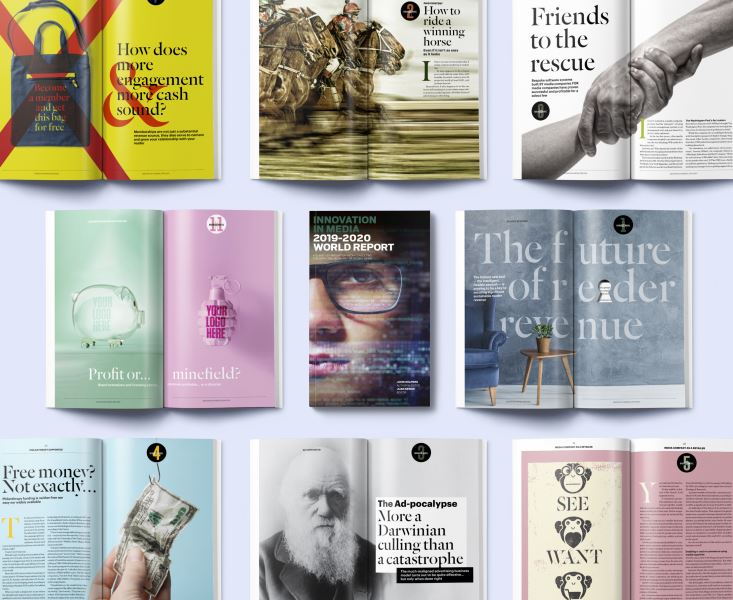 This article, along with many many more is available in full, within the pages of our Innovation in Media 2019-2020 World report, available for purchase in print or digital edition.