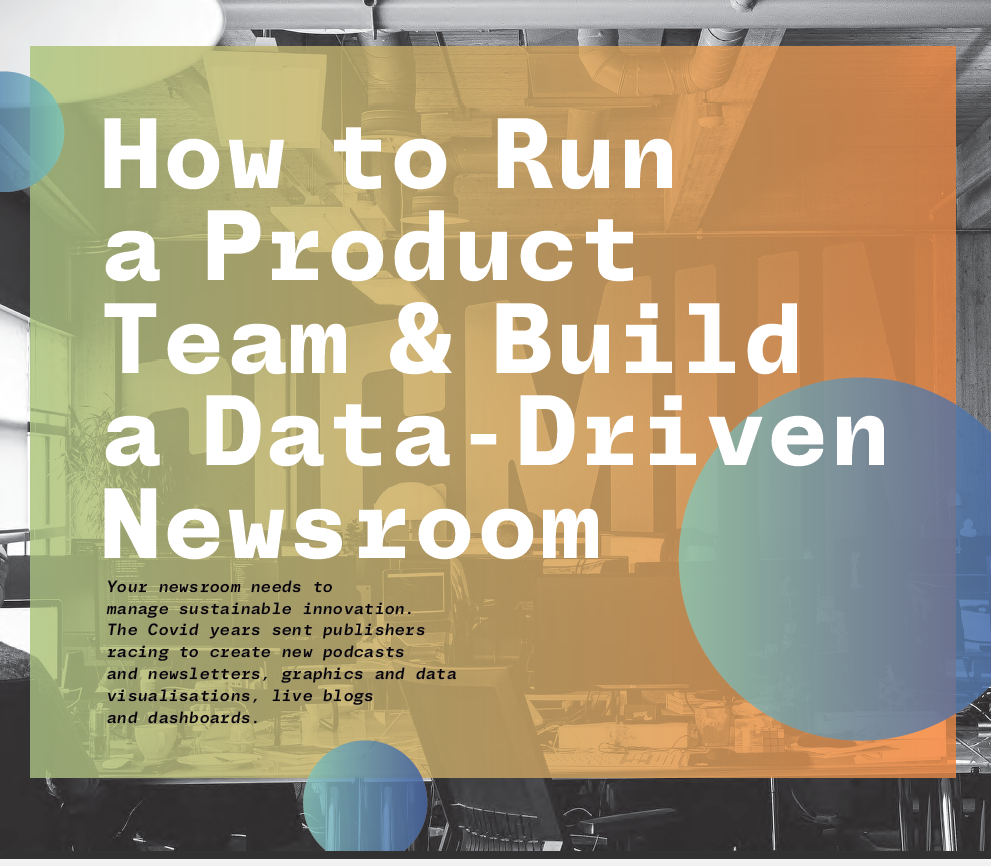 29 Sep

How to Run a Product Team & Build a Data-Driven Newsroom

The Innovation in Media World Report provides a comprehensive snapshot of the key technological paradigms that publishers need to navigate in order to keep their businesses relevant and thriving in the years ahead.

Sound exhausting? But also familiar? To manage these changes your newsroom needs product managers and product thinking. But what exactly is that? The Journalism, media, and technology trends and predictions report for 2021, brought out by the Reuters Institute for the Study of Journalism, found that more than nine in ten (93%) news executives surveyed recognised the importance of product roles. But many felt that those doing the job often lack the right skills (54%) and less than half think it is well understood (43%).


We'll repeat that. Less than half when just about every news executive out there wants to bring in product thinking!


So let's reframe the question. How do you build a product team by hiring the right people or more importantly, finding the right people within your organisation? How do you get your news operation to break away from the traditional cliches of journalism (we need more hard-hitting stories, we need more exclusives, we need to cover the stories not being told) to a culture where your team realises that it's not just about delivering news, it's also about how the audience experiences it. Perhaps you may need to embrace some outsiders, some people who think differently from you hard-nosed journalists, to take you to that place. Perhaps the answers all lie within.


We can't give you all the solutions of course, but what we can do is give you a little history, and as always, show you some great examples of how this is happening around the world.
A BRIEF HISTORY OF PRODUCT IN NEWSROOMS The first part of this story, you all know. In the beginning, there was just one product – the newspaper. And that product hoovered up a whole lot of money from local advertisers who needed a way to reach potential local customers. The newspaper was king, and while this situation existed there was a hard wall between journalists and the business side of a news operation. It made sense – one side produced great stories and the other dealt mostly with ad sales.

This wall lasted a long time, even through the initial years when news started moving to the web. When this migration first happened, text articles were simply recreated on the web and publishers expected that the advertising market would also follow. The ad money never came though, and as the web evolved it turned out that legacy publishers were not the only ones who could put out a lot of text on the web. somehow, in order to cut through the competition and stand out, they needed to build more engaging websites, To drive audience growth through search and social media and keep them there. Most crucially, they understood that content needed to be adapted into different formats. And it was really important to experiment because as the web evolved, as did the technical ability to get data on exactly what audiences were consuming and reacting to.

Product thinking in newsrooms dates back to this fundamental tension – the need for publishing to adapt from one medium to another and find more sophisticated storytelling forms. In an excellent academic paper published in the journal of The International Symposium for Online Journalism, Cindy Royal, professor and director of the Media Innovation Lab at Texas State University, tracks some of the first instances of product teams and product management in a newsroom context.

"Studies of The New York Times (Royal, 2012) and Chicago Tribune (Parasie & Dagiral, 2013) observed the emerging role of the programmerjournalist, those newsroom developers who were the earliest creators of interactive, digital stories. This role can be perceived as the precursor to understanding the evolving state of digital development in newsrooms," the article notes.

"In February 2016, a panel discussion on product management was held at New York's The New School, co-sponsored by that university's Journalism + Design program and the Tow-Knight Center for Entrepreneurial Journalism at the City University of New York. During that discussion, Aron Pilhofer, who previously led the NYT Interactive News Technology team, said, "It was a few years in that it dawned on me that I was actually running a product development team"

By that year however, product was already beginning to be seen as something more than just the folks creating fancy interactive graphics. In the Harvard-based think tank Nieman Lab's annual series on predicting the future of media for 2016, two articles dealt with the emerging role of product management.
Product managers "will be the interdisciplinary heart of media organisations where editorial and business come together to create better products, drawing a page from Silicon Valley's playbook," Storify cofounder Burt Herman wrote. Royal herself had an article in the series, predicting that "media organisations and journalism schools will begin to comprehend and define product management and embrace it as a relevant and critical career path."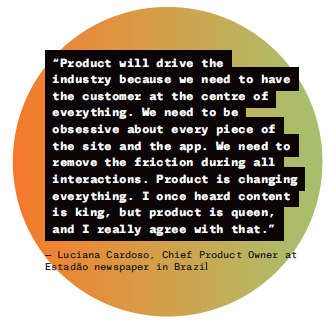 In February 2016, The American Press Institute (API) came out with a white paper, authored by Jeff Sonderman, outlining tips and best practices for product development. API had convened a group of 45 product managers and executives from a number of outlets — both local and national, and digital-native and legacy — to discuss their strategies. The white paper gives us one of the first concrete definitions of the role of product manager. "…In the era of the "personal news cycle"— where abundant information and constant connectivity gives each individual control of her news consumption—our news products must be good and targeted to succeed. They must know who their users
are, what they need, how they need it, and deliver a satisfying experience. That is what a product manager does. And increasingly this role, which has long been a staple of the tech world, is emerging in news organisations."

You will have noticed of course, that there has been more than one reference to the tech world, and we must acknowledge this. In the first article of a series run by Northwestern University's Knight Lab on the Rise of Product Thinking in Media over 2020 and 2021, Meredith Gallo writes of this connection.
"In technology companies, product management developed as a way to ensure that products served customers' needs while also accomplishing their companies' business and revenue goals. Product managers in tech have sometimes been called "mini-CEOs", because they are charged with coordinating the work of software engineers while keeping product development aligned with customer needs and business strategy."

"The tech industry," Gallo writes, "tended to hire product managers with degrees in computer science or business, but they also needed an unusual combination of skills, including the ability to motivate teams and individuals, and the capacity to communicate across different disciplines."

In a news organization, however, product work is different than in other kinds of companies. "News product thinkers have to understand journalism—its culture, values and ethics," writes Rich Gordon, Professor and director of digital innovation at the Medill School of Journalism, in another piece for the series run by Knight Lab.
"That's a key reason why so many news product people started their careers as journalists—and why it can be challenging for product specialists from other industries to move into our field," he adds.

Let's hear about how this dynamic plays out from an experienced product person in media who came from tech. Luciana Cardoso is the Chief Product Owner at Estadão Newspaper in São Paulo, where she oversees teams responsible for building, maintaining and testing the website, the mobile app as well as ramping up future products. Cardos started her career at IBM before moving to Estadão in 2011 to create small and medium business projects.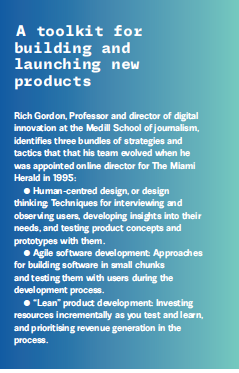 "When we underwent digital transformation, we started to figure out what roles would be necessary. We knew business intelligence would be important and we needed to figure out the product part, " Cardoso says in an interview with the News Product Alliance.

"It was the first time we figured out what we are doing is product, not projects. We started looking to the users and metrics to enhance the products. It was very difficult to undergo this cultural change because the newsroom was like "No no no. The product is newspaper. This is not a product. This is the website."

"I think we still have this confusion. When they announced my position a lot of people asked how, since I was not a journalist in a sense. How would I be managing this product? So, I think we still have some confusion about that," Cardoso says.
Cardoso says however, that the interaction with the newsroom brought in new dimensions to her work and vice-versa. "Working in tech, the people are very mathematically minded. Engineering is very focused on numbers. When we talk with newsrooms it's a completely different scenario. They are interested in the numbers, but they need to understand the mission and why I'm talking about a topic. It's a challenge because I need to explain things more, but the conversation is very rich because we have a lot of exchanges and different ideas. The impact of the job is completely different."

Do most product people in media come from tech, or do most start their career as journalists, as Gordon says? Both routes are now common and as you will read on to discover, the discipline of product thinking is a broad tent that takes in many. "Product management is a weird discipline full of oddballs and rejects that never quite fit in anywhere else," Ken Norton, a tech executive who is now a coach to product leaders around the world, wrote in a 2005 essay.

CAN PRODUCT THINKING SAVE NEWS? A December 2018 article by Max Willens at Digiday, notes that product managers have become the must-have new hire for publishers. The article notes how several publishers like Bloomberg Media, Vox Media and the Washington Post have significantly increased the number of product managers they employ.

"They, and other publishers have been stocking up on product managers because, as digital media grows faster-moving and more complex, publishers are being compelled to add people who can evaluate new opportunities, balance sales and editorial's competing priorities, helping to develop new, unfamiliar lines of revenue."

However, Willens writes that product managers also pose thorny problems for publishers. "They create organisational headaches and upset power dynamics; they can be difficult to find and keep; and they force publishers to reckon fully with just how committed they are to acting like the owners of digital products, rather than the producers of content."

Two years later, in January 2021, the International News Media Association launched a Product Initiative to study and understand what news organisations needed to do to create, deliver, and innovate the best possible products for their audience. The initiative has produced some great studies but has also brought us some of the most updated definitions and understandings of where product teams fit into newsrooms.

"Product directly touches many parts of an organisation but mainly works across editorial, technology, design and user experience, data, marketing, and revenue. Despite being relatively new, product has quickly become an instrumental part of news organisations, akin to that of any consumer tech organisation," INMA Product Initiative Lead Jodie Hopeprton writes in a report the team brought out in July 2021.

Despite being the youngest department at most news media organisations, Hopeprton writes that product has become an organisational rallying point for innovation, so important that it is often a stand-alone function sitting directly under the CEO — as is the case for more than one-third of respondents to a survey that INMA conducted in late 2020. In short, good product managers are also akin to strategic advisors.

"Before product teams existed, it's not that we forgot customers; it was everyone's job to think about their experience," Hopperton continues in a subsequent report published in February 2022. "Newsrooms knew their readers, marketing knew their audiences, advertisers knew their customers. Yes, we all had different names for the same group of people. Now, the product team is the customer advocate. And there is a process we can follow to ensure what we are building — products and features, large and small — is focused on the people we are building it for."

THE PEOPLE BEHIND THE PRODUCT In September 2021, Becca Aaronson, a former director of product at Chalkbeat and product manager at The Texas Tribune, wrote a Medium post about the News Product Alliance (NPA), an organisation she had co-founded a year ago. The NPA is a much-needed initiative aimed at raising the role's profile across the industry.
wanted to create a community for "Product thinkers — those with the abilities to align editorial, audience, technology and business goals" because I believe they have "become the missing link to creating sustainable journalism in the digital age," Aaronson wrote.

The idea for the NPA, she explained, came about during a meeting of product thinkers Aarsonson attended in 2019 when it became clear the group would benefit from having a community of support and practice. While there are a variety of organisations working to support the digital transformation of news organisations, none directly support the individuals and teams doing this challenging work within, and that was the void the NPA hoped to fill. They also recognised that there is no single path into the discipline of product thinking or product management and so it hoped to diversify the field, and break down barriers to entry for people from a variety of backgrounds and experiences.

The NPA's inaugural summit in March 2021, brought together a diverse group of more than 400 journalists, technologists, news executives and educators to discuss best practices for news product management, find career support and learn from each other. It was also a diverse group of participants that included 108 people of colour, 110 people from outside North America, and people from all experience levels, from those early in their careers (180) to news executives (71).

In another Medium post, Anita Zielina from the Newmark Graduate School of Journalism at CUNY, summarised what they had learnt about this nascent community. While it informs strategy at the NPA, these learnings are crucial for any publisher that is looking to build or expand product teams:
Product Thinkers are interdisciplinary collaborators
You are editors and designers, developers and managers, business strategists and audience experts — and everything in between. You showed us you don't need to have a product title to be a product thinker. (Really, only 22% of you do!) You thrive at the intersections, and you experience joy when expanding the boundaries of your roles.
You strive for connection and community
Many of you feel lonely. If you're in a small organisation, you might be the only "product person" there — and in large organisations, you might feel detached from the legacy power centres in editorial, business and tech. You deeply value the feeling of belonging that you experienced at the Summit.
You want to mentor and be mentored
Very few of you had formal "product mentors" at the start of their careers, and you pledged to do better on the ones who come after you. You want to mentor and coach, but also feel a need to be mentored and coached.
Career paths and trajectories are a core question
Product in media is messy, and your career paths often are, too. Rather than a straight line, they are wild and wonderful circles and patterns with Ups, Downs and plenty of cross-movements. So many of you ask yourself: What's next for me? How can I move fully into product? What's the path to CPO (Chief Product Officer)?
There is a big need for training and professional development
You teach yourself how to "do product", because no one else does. But at some point, you feel the need to solidify that knowledge, learn how other organisations or industries are using product frameworks or workflows and want to learn how to get better at pushing product forward in your organisation.
You value and push for diversity and equity
Many of you know what it's like to be the outsider in an organisation as the "new product person". You don't want that for others, and you are eager to make journalism more equitable and inclusive.
You want to learn about international product practices
Maybe it's because of the interdisciplinary growth mindset many of you have, but you really don't feel geographic borders should impact how we learn from each other. You are curious about how other countries and regions of the world tackle product and eager to build those connections.
Changing culture in your organisation is a big impediment
Fighting resistance is something most of you are deeply familiar with. You are the translators and connectors between editorial, business and tech, and that does not come without conflict. Driving sustainable culture change in your organisations is on top of many of your minds. "'News product' is almost synonymous with culture change within news organisations, and driving this in a small organisation can be a lonely and disheartening task. I came away from the summit ready to dust off a bunch of old ideas I`d almost given up on and really start trying again in some areas, with almost immediate results.
You are interested in product outside of journalism
While (or maybe because) very few of you have started their careers outside of the media industry, a large part of the journalistic product community is eager to be inspired by best practices, processes and cases from other industries.
As of today, there are more than 1,000 people who've signed up to be part of the New Product Alliance. "Some are product managers; others are doing the work of product managers at organisations that haven't created that formal job role yet. And some are journalists who now see themselves as product thinkers, whatever their title is," Gordon writes in his piece for Knight Lab.

That may be why many news product professionals believe journalism schools need to teach product management and product thinking. In the "State of the News Product Community Survey by Texas State University in 2020, 87 percent of news product thinkers agreed with the statement, "Journalism schools should include product management topics in curriculum."
HOW PRODUCT IS CHANGING THE STRUCTURE OF NEWS ORGANISATIONS Before we move on to highlight some interesting case studies in product development from publishers, Hopperton's 2021 report lays out some categories and caveats — for lack of a better word — that we should keep in mind in order to understand the role of product and what it can do for a newsroom.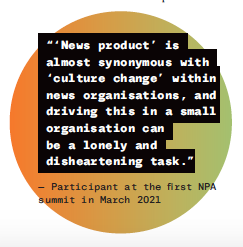 It may have occurred to you that the definitions we have been dealing with thus far are only growing broader in scope in terms of departments that product can encompass. This is not always a good thing, and though can pervade the entire organisation, Hopperton writes that it can practically be broken down into four categories:
Consumer facing/platform, which can include Web, apps, newsletter, e-paper, podcasts.
Enabling products (cross-platform), which can include checkout, paywall experiences, personalisation, OVP (open virtual platform), notifications.
Internal tools, which can include CRM (Customer Relationship Management), CMS (Content Management System) and advertising tools that gather first and third-party data.
B2B tools, which are usually internal tools that have been developed in-house and sold separately to publishers and other businesses. Examples are The Washington Post's Arc, a popular content management platform, or Canadian publisher The Globe and Mail's Sophi, a suite of AI products that can manage a range of functions from paywalls to web-page design. One other thing Hopperton flags is that product development is not necessarily novel, or about creating shiny new things. The reality is that optimisation could sometimes be the key to better performance and for most product teams, 90% or more of the time is spent optimising the current product rather than developing brand new ones. Some examples of just how effective this optimisation process can be:
1) The New York Times found that allowing users to login via clicking a link in an email ("magic linking") had a 2% lift in successful logins.
2) The Wall Street Journal was able to increase app downloads by 450% through using link texting for app downloads.
3) The Telegraph saw when it optimised its homepage speed (going from 9 seconds to load to 5.5 seconds), it had a 12% increase in pageviews from subscribers. Keeping the caveats in mind, we can look at some different types of case studies that the INMA report highlights on how focus on product is changing the organisational structure of newsrooms.
THE NEW YORK TIMES For The New York Times, product grew out of its digital first strategy, which the company pursued aggressively beginning around 2006. Cultivating digital led to new journalistic efforts, new product features, and new revenue capabilities. "What this did was really help spur a pretty fundamental culture change within the newsroom, where we now have reporters who understand that the audience reach and distribution that they get from a single push notification on their smartphone far outweighs what they get through … placement on the front page of the newspaper," said Alex Hardiman, chief product officer at the Times.

"What we're really seeing is that the newsroom has become much more product-minded and our product teams, in turn, have become much more editorially minded."

We should stop at this point to ask if this is a problem that sounds familiar for your newsroom or a gap that you're hoping to bridge. We're willing to wager that it hits home and the NYT is a perfect example of how the discipline of product management and its resultant ethos is fundamentally changing the way the organisation is structured.

The company recognises that success depends on the way people work together to address common audience needs, and its structure reflects that at every level, Hardiman says.

"First we have functions [which] are skillbased groups familiar to a lot of news organisations," Hardiman said. "So it could be journalists in the newsroom, designers, product managers, engineers, data scientists — and they're responsible for standards and excellence within their craft, career development and growth and community."

From there, teams are created around specific missions.
"Missions are groups of cross-functional teams that are all pursuing the same high-level goal or objective," she said. The New York Times has two types of missions:

Programme missions, which are focused largely on consumer-facing products and experiences.

Platform missions, which focus on underlying technologies and infrastructure.

With product and software at the heart of its growth, the company has looked at new ways to creatively engage readers and rethink the ways in which journalism is presented, Hardiman goes on to explain. That gave them the ability for instance, to adapt and present different types of content during the pandemic. That uncertain year of 2020 saw The New York Times site attracting readers from 232 countries and one out of two Americans visiting.

"What I also like about it is that it really reflects the reimagination of our products, not only on the consumer side, but also on the journalist side, in terms of really pushing us to
give our journalists and our editors much better tooling to create much more immersive and useful storytelling," Hardiman said. "It's this type of adaptive product strategy and progressive change that's really driving growth at the New York Times."

At the end of 2019, the Times announced the creation of the Newsroom Product Desk, describing it as "a crucial step in our ongoing effort to expand the newsroom's partnership with colleagues on the Product, Design and Technology teams."

"Those teams are focused on a broad range of work that is closely tied to how we plan and present our journalism to readers around the world, an effort critical to deepening our readers' engagement with our journalism, and the creation of this desk brings the newsroom into the heart of these projects."

SINGAPORE PRESS HOLDINGS Changing geographies now, we move to Singapore Press Holdings which publishes The Straits Times and Business Times amongst several
others. SPH Chief Product Officer Gaurav Sachdeva tells INMA the company looks to build business-viable products or experiences that customers love.

Singapore Press Holdings looks for crossfunctionality, so product teams are made up of a department member from product design, engineering, data and analytics, editors and circulation, and sales and marketing.

Accountability plays a key role in success, so SPH has a system where the product is governed by "a trinity of business owners (made up of members of the editorial team and circulation, sales and marketing), product owners, and tech owners."

SPH has also instituted a system of having a monthly steering committee where senior management can weigh in on product and techrelated topics. He called these meetings a "safe place to fight" as long as everyone is focused on specific outcomes: steering the direction, getting everyone on the same page, and overseeing
progress and learning.
YAHOO NEWS Being product-led can help an organisation promote collaboration and jettison a traditional siloed approach to departments in media houses. INMA highlights the example of Yahoo News where product has always been a critical department but has become more so recently with a change in structure from being vertically led to being product-led. Lippe Oosterhof, head of product at Yahoo News, Lifestyle and Entertainment, said the product team at Yahoo is responsible for creating great consumer experiences: "This starts with coming up with ideas for new features and products, and it ends with scaling experiences to drive our key results, such as retention, NPS, revenue, engagement, etc."

In between those two phases, he said, they validate hypotheses through user research and testing, collaborate with editorial to fine-tune their approach, and lead their engineers and designers to build interfaces, personalisation, and publisher tools, etc.

THE IMPORTANCE OF ARRIVING AT SHARED GOALS No matter how it is incorporated into organisational structure, a critical component to product management is creating clear, specific goals. Jackie Bavaro, head of product management athe mobile work management platform Asana and author of "Cracking the PM Career", views a company's goals and strategies as a pyramid: "At the top of the pyramid is the company mission and high-level company strategy. Below that, each department might have a strategy that connects to the higher-level strategy. And below that, each team might have a strategy that connects to the departmental strategy," Bavaro told INMA.

When the goals are clear and well-connected, she said, each member of the product team understands how their work supports the team goal, which affects the departmental goal, which in turn supports the company goal.

When that understanding takes place, each person will feel confident that their work is valuable and valued. Such communication begins with senior leadership and then trickles down to the departmental level.

For any of this to succeed of course, Bavaro says companies must develop a product mindset. "Product mindset is the habitual approach of connecting all work to those goals and needs," Bavaro said. "It's remembering to always ask, 'What problem are we trying to solve?' and 'What problem should we solve?'

One way of approaching this is to constantly evaluate the quality and type of audience data that a company looks for in formulating strategy a prime example being the Financial Times.
In a March 2021 INMA Webinar, Lucy Butler, chief analytics officer at the Financial Times, explained the metrics her organisation uses for product success.

She emphasised that product is an everevolving journey — one that is leading the FT toward a more comprehensive North Star. As the company's business has grown, it has
moved from a focus on simple, volume-based metrics to more sophisticated value-based metrics. Instead of focusing on traffic, as it did from 2005 to 2014, FT moved to a blended metric known as RFV (recency, frequency, volume). This was a leading indicator of acquisition and retention, looking at engagement, cancellation, and conversion rates, as well as revenue versus usage. Now the FT looks at quality visits and engagement to the current North Star metric of lifetime value (LTV), of which RFV is an important
predictor.

Cait O'Riordan, chief product and information officer for the FT, admits that the formula is a bit of a guess: "What it thinks about is how much money each customer will spend with us during their time as a subscriber. And it is a prediction. It's a very educated guess."
Deploying a mission to reach this new North Star meant creating a new framework to evaluate the opportunities at hand, see what the team needed to work on, and allow them to pursue multi-million-dollar opportunities.
"Things like engagement are still very much at the heart of lifetime value," she said. "If you can get more engaged users, you will drive more lifetime value because they will stick with you. But you can also think about conversion, you can think about different types of monetisation; it allows us to think more clearly about our monetisation methods and how we monetise those customers."

THE ATLANTIC
A hard focus on data can also be complemented by more subjective audience surveys. An excellent example to highlight here is The Atlantic. In a January 2022 post, Emily Goligoski, the publication's executive director of audience research explained how they had spent two years studying readers' and listeners' needs.
The team gathered five research-backed, time-proven reasons that individual readers and listeners look to The Atlantic's journalism: Give me deeper clarity and context Help me discover new idea Challenge my assumptions Let me take a meaningful break Introduce me to writers at the top of their craft
"Our team at The Atlantic conducts survey and interview-based research with current, prospective, and former subscribers, as well as with people in the U.S. and in other countries who listen to Atlantic podcasts and narrated articles," Goligosky explains. "Among other topics, we ask research participants what makes our coverage unique, whether that means worth sharing, paying for, or vehemently disagreeing with."

"The people we speak to and survey aren't all fans of our work, nor do they all spend time with our journalism regularly. But the experiences of people who interact with us
infrequently also expand our understanding of answers to the questions: why do people seek out The Atlantic? What do they get out of the time they spend with us? We complement this intel, gathered over thousands of self-reports, with information that our data science, audience, and customer care teams gather."

To illustrate the value of these insights, Goligosky speaks to one of The Atlantic's associate editors, Isabel Fattal, who said having the five needs on hand is generative for her work with Atlantic newsletters and our apps: "The reader needs help me stay intentional in how we're using our readers' time. On a practical level, the needs prompt variety in story selection — I use them, along with other editorial priorities and programming methods, to make sure we're giving our audiences a balanced reading list."

VOX Extending this line of thought, shared goals in product thinking is also something that editorial teams can achieve by refining the concept of what their stories should be and do. In November 2021, Nieman lab had an interview with editor-in-chief Swati Sharma on how Vox is revamping its editorial strategy to redefine what 'Voxxy' means. It was an exercise that involved eliminating some sections of the site and reorganising others.

Sharma said she found that oftentimes the term "Voxxy" would be used without a clear definition of what that meant. In talking with editors, they came up with the six types of
stories that Vox writers do well. Going forward, she said, a Vox story is one that either brings clarity to chaos; dissects complicated policies or ideas; connects something to the larger stakes; explores solutions or emerging ideas to solve problems; helps readers make decisions or surfaces something hidden in plain sight.

Vox's mission, as Sharma and her team redefined it, is to still explain the news, but in a way that empowers people with the information and insight they need to understand the
world around them. That isn't to say Vox wasn't doing those things before, Sharma told Nieman Lab, but part of redoing the editorial strategy is to have that guideline clearly laid out for staff to refer back to, and to make sure every story fits that bill.

INTRODUCING METRICS TO NEWSROOMS (WITHOUT ANXIETY) We'll end this chapter by considering one procedural aspect of integrating product teams and product thinking into newsrooms – it often involves looking at a lot of audience data, and that can often not go down well with reporters and editors if not introduced in a considered
manner.

This is a question that was addressed in an excellent Journalist Fellowship Paper written by Elisabeth Gamperl and published by The Reuters Institute for the Study of Journalism in September 2021. Gamperl's research, spanning conversations with newsroom managers, data analysts and industry experts, was sponsored by the German publication Süddeutsche Zeitung.

"While numbers are considered rational, the discussion about metrics is often very emotional," Gamperl notes. "Caitlin Petre found in her ethnographic study of the role of metrics in contemporary news that metrics exert a "powerful influence over journalists' emotions and morale". She wrote that metrics evoke a range of strong feelings in journalists, like excitement, anxiety, self-doubt, triumph, and demoralisation."

Journalists, whose stock in trade is words and stories, may not necessarily be excited about metrics, Gamperl notes. "There is a balancing act between keeping a newsroom informed and not overwhelming them. Jörn Rose, Head of International Audience at Huffington Post said: "I think if you provide too much, it […] has a counterintuitive effect of making people less engaged with it because people don't know where to focus. It becomes a little bit overwhelming and disengaging to just see reams
and reams of data."

"Every interviewee told me it is important to be transparent about metrics but you also have to understand the preferences and needs of editors and journalists. For some it will be enough to receive reports and emails from time to time, others need access to real-time dashboards, still others just want to know the performance of
their own articles."

As part of her research, Gamperl spoke to Chris Moran, head of editorial innovation at the Guardian, who said his team developed a list of questions they work through before submitting data to the newsroom. These include: "Who is the audience of the data and who will act on it?", "What is the mechanism for delivery?" or the very important question: "What is the potential damage and how can it be gamed?"

GET DATA TO HELP OUT JOURNALISTS At an INMA Product and Data for Media Summit held in october 2021, Caroline Carruthers, co-author of "The Chief Data officer's Playbook" was asked about how to help form a data-positive culture in the newsroom. She had one crucial piece of advice: "When it comes to creative people, you'd better ask how to use data to free yourself from doing things that you don't want to do rather than trying to make data do the job for you," she said. "The best way is to use data to free these people from the mundane and boring, so they can actually use their talent and skill in the best way possible," she added.

The INMA summit highlighted case studies from news publishers that ran initiatives that increased efficiency and effectiveness of the work of journalists, while preserving their autonomy. Greg Piechota, INMA's researcherin- residence summarised them.
Content reviews helped spot what's not worth doing: Funke Media Group in Germany analysed supply and demand of articles to help identify topics for which "we generate a lot of content which are not well received by our readers."

Algorithmic text generation expanded coverage saving reporters' time: NDC Media Group in Sweden automated generation of reports from 60,000 local football matches, using data on results, pictures, and quotes crowdsourced from coaches.

Automated curation boosted effectiveness saving editors' time: The Globe and Mail in Canada handed over curation of its home page and social channels to an AI system so its editors could focus on finding and telling stories.

We started this chapter with product managers and ended this chapter with AI? How did that happen?

We realise we may have taken a bit of a segue from the craft of product thinking and its incorporation into newsrooms. But these insights are important to start creating a data-positive environment. And that's where it all begins.
---
The Innovation in News Media World Report is published every year by INNOVATION Media Consulting, in association with FIPP. The report is co-edited by INNOVATION Presidente, Juan Señor, and senior consultants Jayant Sriram and Inês Bravo