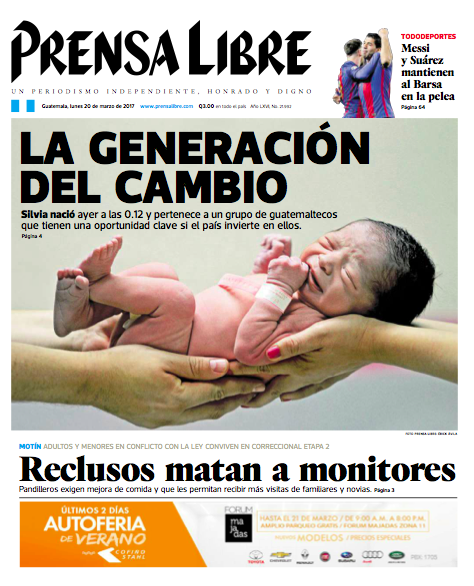 30 Mar

Leading Guatemalan newspaper has transformed to become innovative front-runner

The most populated country in Central America, Guatemala has a dynamic media market where almost 10 newspapers are working to be relevant to their audiences. Leading the way is Prensa Libre, a 65-year-old publication, which is considered the most trusted in the country.

Last week, on March 20th, Prensa Libre arrived on newstands with a totally new editorial and graphic design. Over the last six months, INNOVATION Media Consulting developed new ideas to help Prensa Libre expand its audience across the nation and solidify its position as the top news source in Guatemala. This includes new sections, new editorial strategy, a new graphic model, and a reorganisation of the newsroom, producing intelligent, responsible journalism, off and online. The Prensa Libre website prensalibre.com, was designed to provide better user-experiences on desktop and especially on mobile.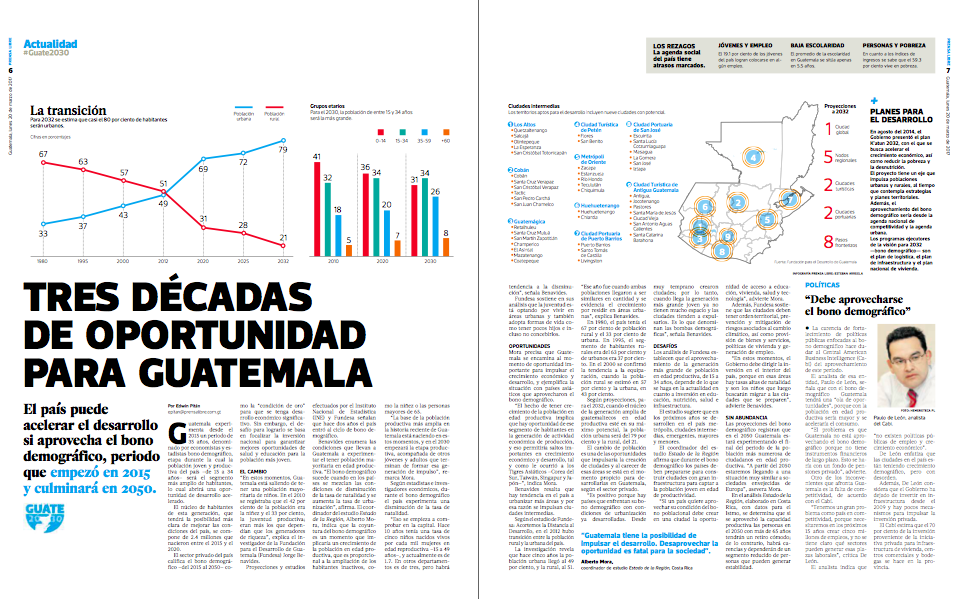 The process was aided by INNOVATION consultants Eduardo Tessler, Chus del Rio, Antonio Martin, Juan Antonio Giner, Marta Botero, Natxo Marcet, Ines Bravo and Manuel Moncada at INNOVATION Media Consulting, and represents an important milestone in Prensa Libre's legacy.
The results are fantastic: creative and analytical journalism that starts in the digital realm and goes to Prensa Libre pages, alongside exclusive content, and an incredible growth in circulation, reaching 8 per cent in the first week after the transformative changes.
Prensa Libre's new model proves that good content is, definitely, good business.
Here is the editor's message, announcing the redesign and relaunch:
Prensa Libre renueva su presentación gráfica

Por Redacción
19 de Marzo de 2017

A partir de mañana en la madrugada una renovada  Prensa Libre saldrá a la calle de la mano de cientos de voceadores, luego del trabajo de periodistas, diseñadores y profesionales  del área comercial que durante meses han preparado un nuevo modelo de comunicación que responde a las exigencias y hábitos de nuestra audiencia.

El nuevo diseño gráfico y organización temática se basa en los  intereses de nuestros lectores, que desde ahora tendrán un periódico moderno y revitalizado con una grata experiencia de lectura de los temas nacionales e internacionales.

Informar, inquietar, emocionar, hacer pensar y ayudar a vivir son los grandes propósitos de este cambio  que afianza el liderazgo hemisférico y su estatus como el medio de comunicación referente de Guatemala en el mundo.

Esta renovada Prensa Libre representa la consolidación de meses de trabajo producto de una estrategia integral que, además de un diseño impreso potente,  valora los elementos básicos del periodismo como fotografía e infografía. Para lograr el objetivo se efectuó una  reorganización de nuestro equipo periodístico que permita mantener un periodismo responsable, inteligente, que dice antes lo que los otros dirán después y que toma posiciones en defensa de la sociedad guatemalteca escuchando a la audiencia.

Creemos en que es necesario  impulsar a los emprendedores, el desarrollo del país, el trabajo, la calidad de vida, la igualdad de derechos.  Este medio  habla con hombres y con  mujeres, sin prejuicio de cualquier diferencia y aspira a ofrecer contenidos inteligentes que alimenten las conversaciones diarias.

Variedad en la  lectura

A través del ejemplar, el lector podrá encontrar información tratada con mayor profundidad, así como microformatos que le permitirán enterarse rápidamente  por segmentos temáticos.

Nuevas áreas de información dedicadas a conglomerados urbanos y la vida cotidiana  de ciudadanos en todo el país, también están incluidos.

El proceso fue acompañado por la prestigiosa firma de consultoría de medios Innovation y representa un importante paso con el cual Prensa Libre agrega otro logro a episodios memorables ocurridos desde el propio nacimiento del diario en 1951, las compras de nuevas rotativas en 1963, 1978 y 1988; la inauguración del edificio Prensa Libre en 1971; la presencia en la web, la primera de un periódico del país en Internet, en 1996; la digitalización de los procesos de producción e impresión en el 2004 o el rediseño de nuestro portal en la web en el 2015 que apostó por el periodismo multimedia, el video y las redes sociales.

Conexión 24 horas

Esta casa editorial reconoce que lo hábitos de nuestra audiencia incluyen la conexión y demanda de información las 24 horas.  Por eso, además del ejemplar impreso, los contenidos  multiplataforma serán distribuidos en nuestra página www.prensalibre.com que también ha sido ajustada para proveer una mejor experiencia al usuario especialmente a quienes demandan información desde dispositivos móviles. Aunque todo cambie, esta institución  seguirá  comprometida con la verdad como ha sido siempre desde los casi 66 años de vida.