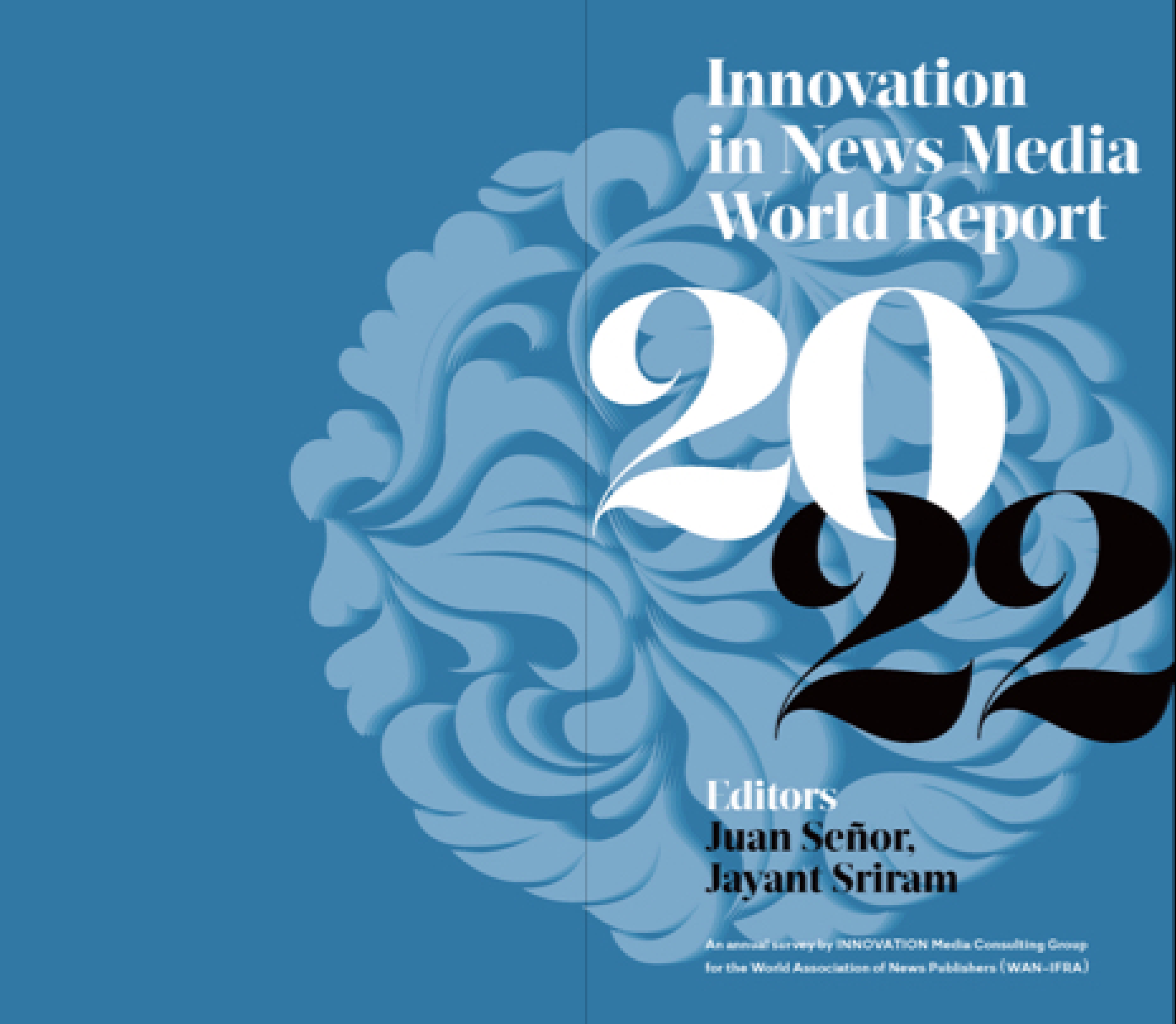 17 Oct

Six Highlights from the 2022 Innovation in News Media World Report: Available Now

Our newest publication is here and waiting for you. The latest edition of the annual Innovation in News Media World Report will be officially released at the WAN-IFRA Virtual World News Media Congress between 29 November and 02 December 2021, and is currently available for pre-order.

The past couple of years have changed the news and media landscape in profound ways. Trends that would have taken 10 years to become the norm have become the 'new normal' in less than 10 months, particularly the migration of readers from print to digital platforms and the accelerated pace at which online subscriptions grew for publishers.

Welcome to the new abnormal! We got here faster than we expected, but how do we adapt? To take this momentum forward even as we start to put the pandemic behind us. In the latest edition of The Innovation in News Media World Report, we have identified six key areas for publishers to focus on with key insights and analysis.

1) Business Models: More innovation than ever. Subscription revenue should be central to a sustainable digital publishing business and there has never been a better time to make that happen. But look beyond, and there is fresh energy and innovation in a range of other business models available to publishers, from e-commerce, online courses, brand licensing, memberships and even live events which was thought to to be the least pandemic-proof. Ten years of preparation for the digital age has armed publishers with the skills to survive, and thrive, in adversity and there is much to learn in the examples we highlight.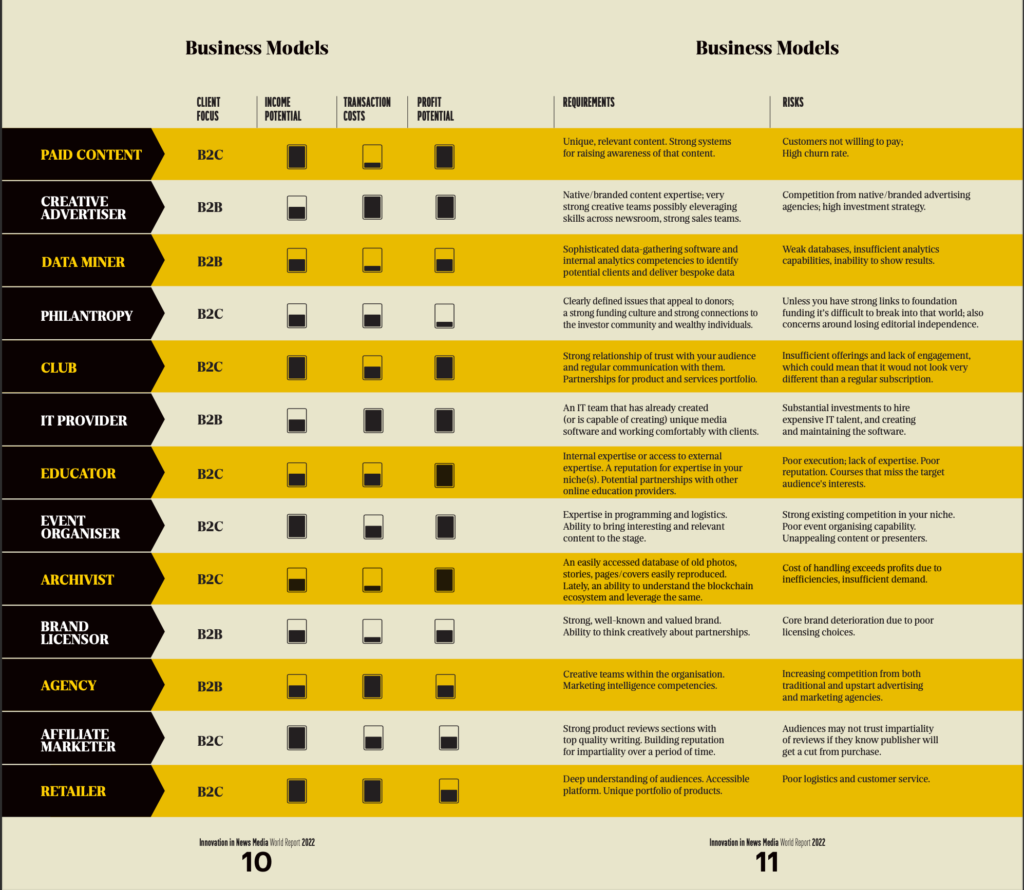 ---
2) Paywalls: is your model built for acquisition or retention? We update our chapter on paywall models this year to tell a story of how publishers have parlayed the sharp spike in news in interest during the pandemic to attract new readers, understand more audience behaviour and preferences and evolve a dynamic system by which they are invited to subscribe or register. Increasingly, there is the realisation that there is no one-size-fits-all approach.
---
3)Digital Product Innovation: exploring the possibilities of technology for your newsroom: From new digital story formats and innovative mobile apps, the most interesting examples of using AI to generate content, personalise content and even perform tasks like setting the layout for a print edition. This is one of our most exciting sections this year.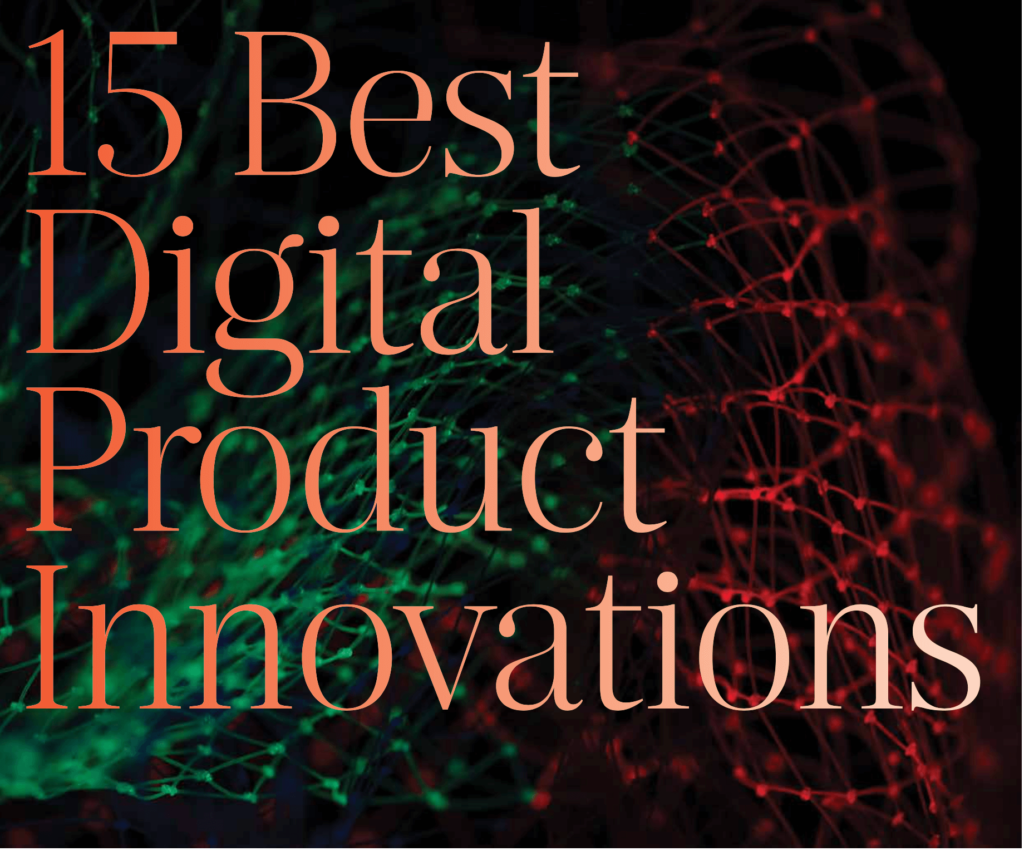 ---
4) Content: what are the formats and stories most likely to trigger a subscription? A panoply of innovation once again as publishers around the world raced to capitalise on an increased interest in news over the past two years by launching new products to meet their needs. Here. We cover the potential of mediums ranging from pop-up newsletters and live blogs to podcasts and personal advice columns.
5) Fact-Checking: How to set up an effective unit within your newsroom
Our role as fact-checkers, in these times, is the new added value to our journalism and readers have shown they are willing to pay to have misinformation busted. We cover the best examples of fact-check units within newsrooms and how they operate, from Germany's Der Spiegel to O Globo in Brazil and the Jagran Group in India.
6) Marketing: The best campaigns to convince readers to pay for news: Readers around the world sought clarity amongst the chaos as we collectively went through the most turbulent periods in recent history. They turned to trusted news sources and publishers in turn came up with a range of evocative campaigns to emphasise this connect with their audiences. We round up the best in this visually arresting chapter.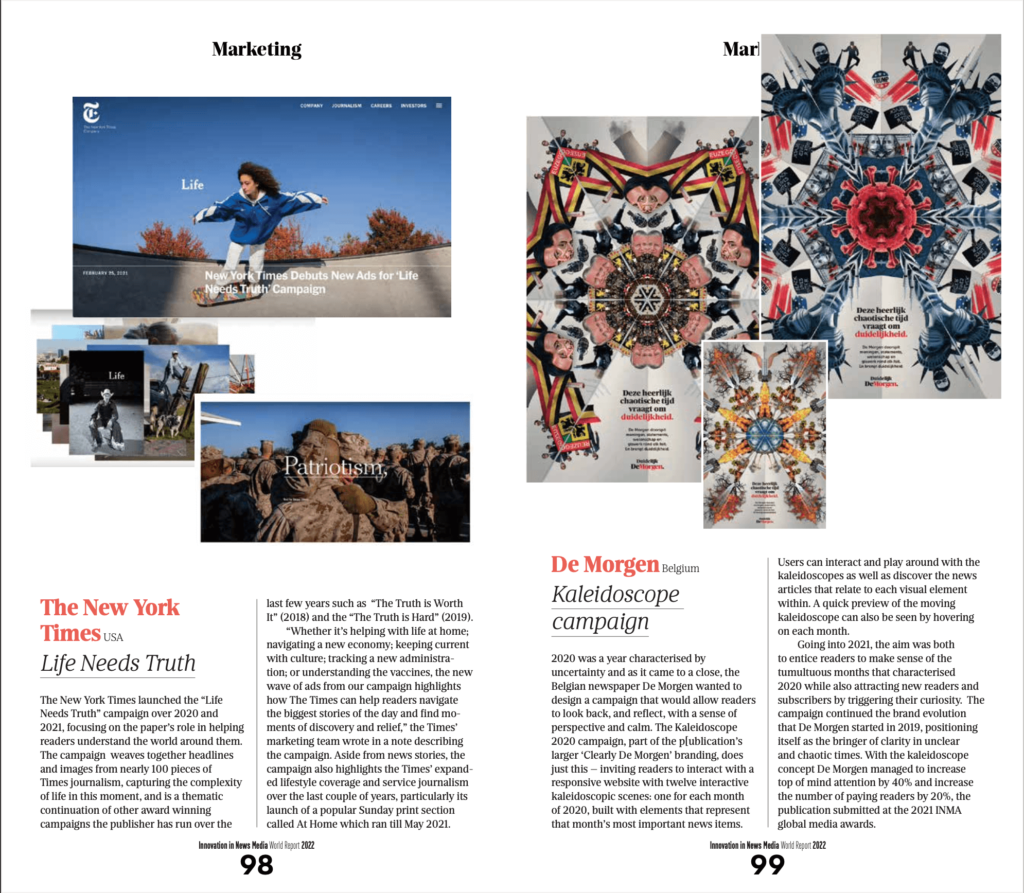 ---
---
The Innovation in News Media World Report is published every year by INNOVATION Media Consulting, in association with WAN-IFRA. The report is co-edited by INNOVATION Consultant Jayant Sriram and INNOVATION President Juan Señor.