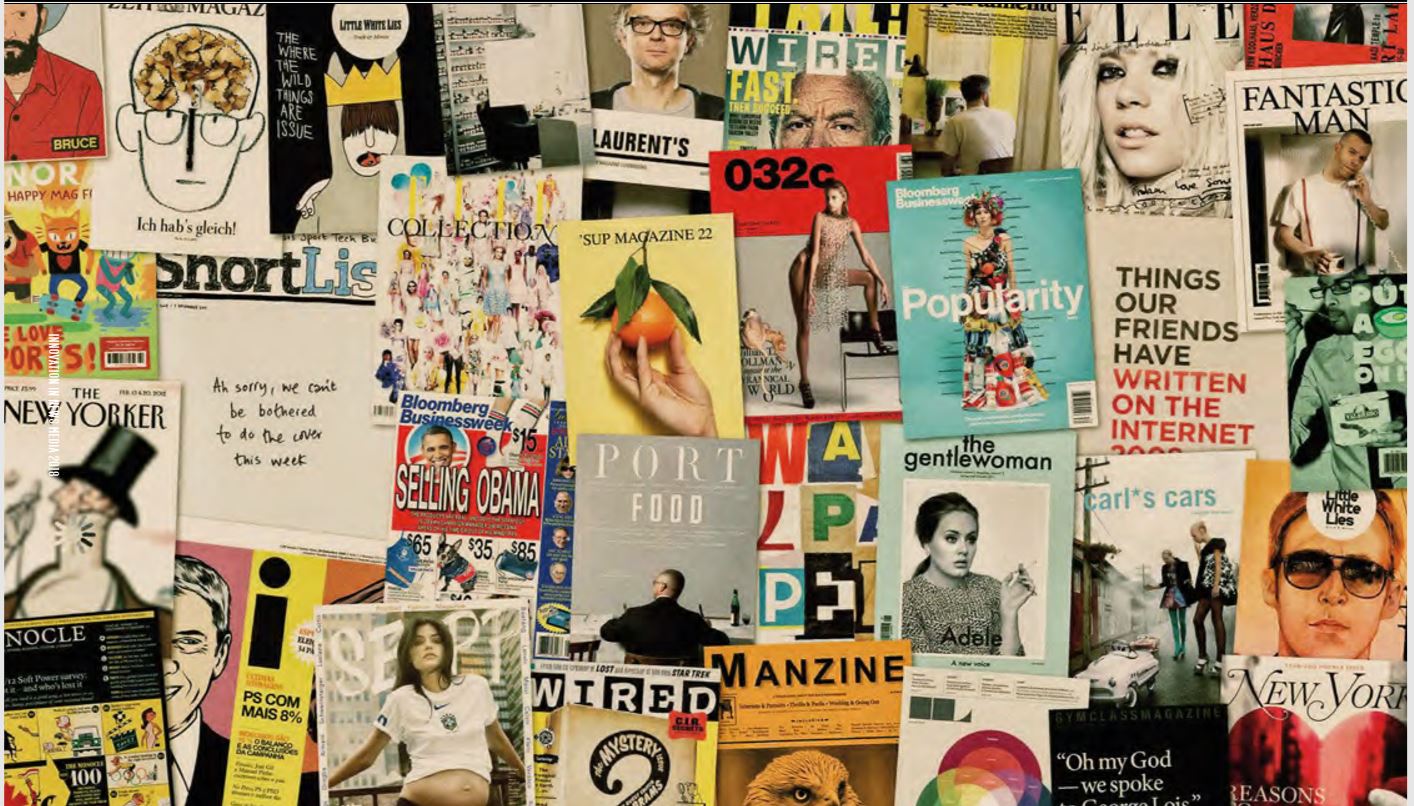 18 Feb

The New Print: Creativity in Newspapers
Print is not dead. Print is alive! This is a portfolio of some of the impressive ideas, projects, publications and people re-inventing the print media world.
KIOSKS
A London Print Saloon
MagCulture, originally a blog about magazines by art director Jeremy Leslie, opened as a shop in Clerkenwell, London, in December of 2015. The crisp white 400-square-foot space celebrates the best magazines, with an ever-changing stock of more than 400 titles from across the world, and a passion for indie mags like Pit (about 'food and fire'), Hotdog ('delightfully unprofessional', and dedicated to poetry), Racquet (celebrating the 'art, ideas, style and culture that surround tennis'), Riposte ('a smart magazine for women') and Slightly Foxed (reviews of old books). It's a paradise for browsing but also a place to settle down and read in a comfortable chair.
Great design and content presented in fantastic formats – pure print nirvana.
Leslie also runs a conference, The Modern Magazine, which celebrates indie mags and occurred in London in November of 2018.
More at: www.magculture.com
TECHNOLOGY
A Print Magazine Covering The Digital Revolution

Offscreen is a one-man publication launched by Kai Brach (a former web designer converted to print), published in Melbourne and printed in Berlin. A unique magazine that "celebrates the human side of technology and the web. As a slow, thoughtful counterbalance to the fast-paced, buzzword-heavy tech coverage, our magazine and newsletter explore innovative ideas through introspective writing and human stories. We ask critical questions about how we shape technology and how technology shapes us." Their vision is bold.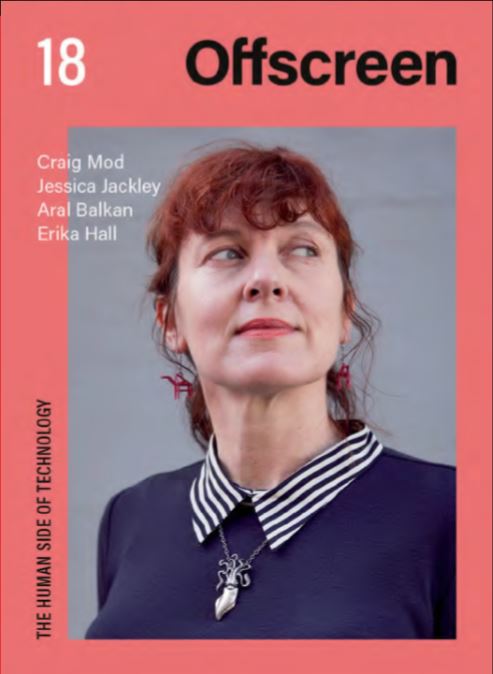 "As the name suggests, Offscreen is a magazine that explores what happens off the screen, outside the digital realm. We encourage you to put down your device, grab a cup of coffee, and enjoy a high-quality read the old-fashioned way. Reading it offline, in a distraction-free environment, allows us to step away from the fast-paced world of bits and pixels to reflect on our role within the web community and the impact we can have."
More at: www.offscreenmag.com/issues
COLOUR
If There Are Pink Papers, Why Not Green Ones?

Arab News, the oldest English newspaper in the Arab world, has changed in a big way. INNOVATION´s Vasco Ferreira produced these dramatic pages that are wrapped in a green front and back page. Preserving the national colour makes sense when trying to present a transformed Saudi news brand to the world. A reinvention of a news medium must be content-driven, rather than design-driven.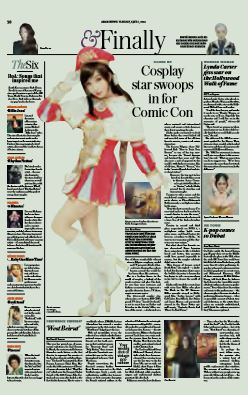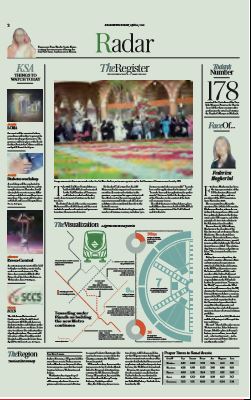 At Arab News, the result of this content-driven redesign shows. This today is a thoroughly modern news brand — comparable in content, look and feel to leading global media brands. The new print and digital responsive design reflects Arab News' print legacy projecting modernity and change, and its pages and screens offer readers a fresh new look at the Arab world with a new kind of journalism firmly grounded on a desire to give insight, information and inspiration.
For anyone who needs to or wants to understand this region, Arab News is now indubitably a modern, elegant and substantial "must read."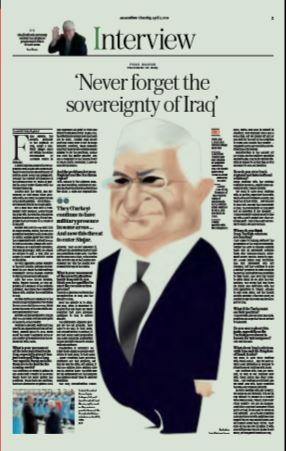 More at: www.arabnews.com

READING
Breadth, Depth, Great Writing and Long-Form Journalism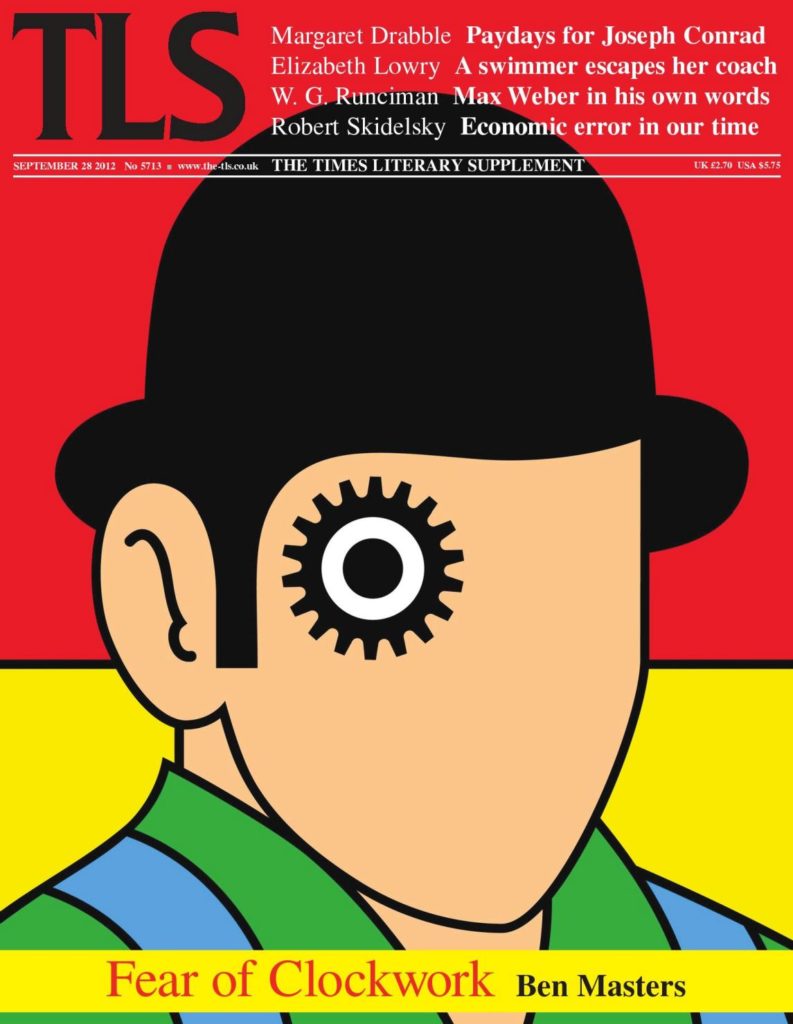 The Times Literary Supplement (TLS), founded in 1902 as a supplement to The Times, became a separate publication in 1914.
Since 1996, this weekly paper has been edited by Stig Abell, a former Managing Editor of The Sun.
This is a success story: the TLS today has the highest sales for six years, and the paper has increased annual retail sales by 15.8%. Total circulation is up 27.6% to 32,166. Digitally, it has grown website traffic by 500% in the last six months, by commissioning free digital-only material, while improving the experience for its paid-for content.
Social engagement has grown by 1000% over the same period. And this happening with an editor who is not on Facebook because he feels he does not have enough friends…but has more and more young readers than ever.
The secret, according to Abell: "In an era of clickbait, fake news and championed anti-expertise, the TLS is proud to be part of a new counter-culture that values breadth and depth, great writing and long-form journalism. I strongly believe that more and more readers will turn to carefully-produced, challenging articles on a wide range of subjects, as something of an antidote to the prevailing madness that seems to surround us. The TLS is part of a growth industry of intelligent, subscription-based magazines."
More at: www.the-tls.co.uk
CAMPAIGNS
Trust Versus Fakes News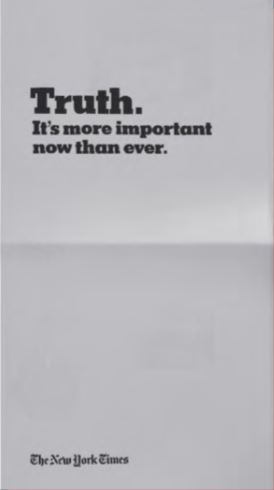 The New York Times launched its "The Truth is Hard" campaign during the weekend of the 2017 Oscars. It was launched just using words, but powerful words: a strong message to Donald Trump, from the media that he frequently describes as "fake news". This was the paper's first brand campaign in a decade, created by Droga5, Cannes Lion Independent Agency of the Year.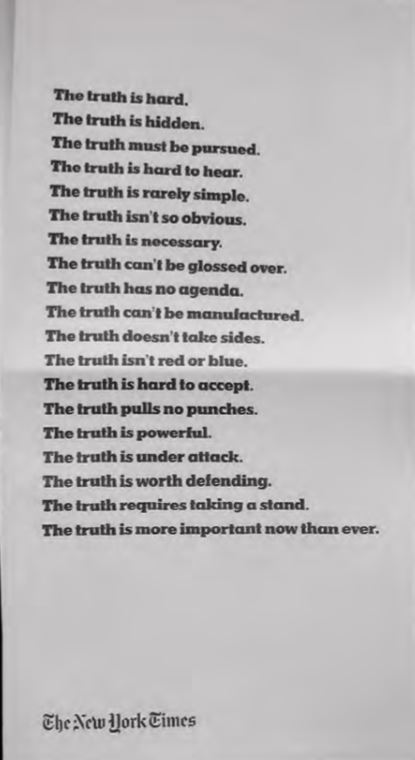 More at: www.goo.gl/DPSNJ3
BREAKING VIEWS
Good News For A British Institution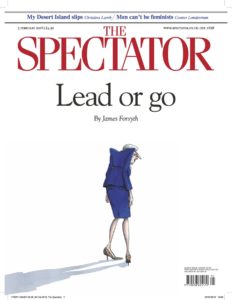 The Spectator (London) – the world's oldest weekly magazine that celebrates its 190th birthday in July – will soon become the first weekly in history to print a 10,000th edition; a landmark for a publication with a great motto: "Influential. Informative. Inspiring. Infuriating." That offers an explosive mix of conservative/liberal/contrarian 'breaking views.'
UK subscriptions went up 11 per cent last year, the fastest rise in a decade. Digital is behind the print renaissance: the website brings millions of people to The Spectator and they can read two articles a week before being invited to subscribe.
More at: www.spectator.co.uk/magazine/
INSERTS
Bigger Paper For A Larger Audience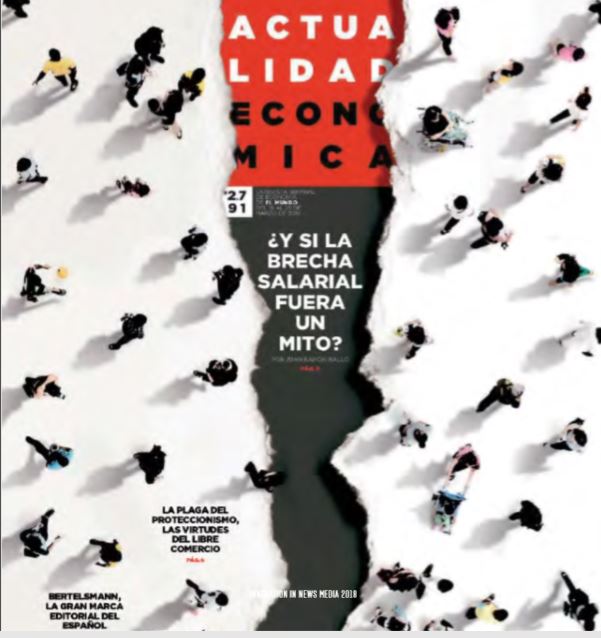 Actualidad Económica was a weekly publication that became a monthly and now is a free supplement inserted in Monday's edition of El Mundo (Madrid, Spain). The "panini" format led to a bigger full colour newsprint edition designed by Rodrigo Sánchez. The daily print edition brings now a larger audience for a magazine brand with almost no paid circulation.
More at: goo.gl/2QeZ86
EDITORIALS
Speaking Out On The Cover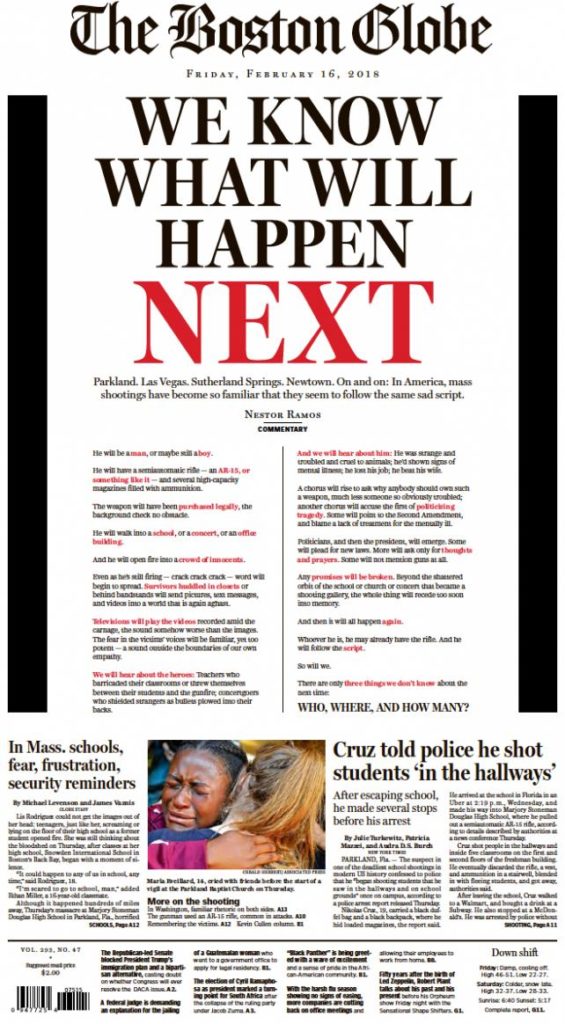 The Boston Globe decided to cancel its plans for a traditional front page one day and the strong words of one of the paper's columnists were dramatically displayed instead. It was the best and most read content of the day. Ara, a Catalan newspaper in Barcelona, did a similar thing.
CARTOONS
Plantnu, the "Doyen" is 50 Years Old
Le 1 Hebdo, the French weekly that unfolds into one huge page and whose editor, Eric Fottorino, is a former director at Le Monde, devoted a special issue to honoring Plantu, the well known Le Monde and L'Express cartoonist. Plantu is president of Cartooning for Peace. This is a serious matter and Le 1 produced a tribute with appropriate gravity.
More at: @plantu and @Le1hebdo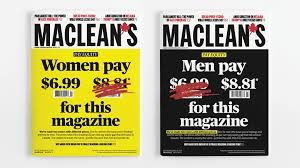 More at: goo.gl/PBFto6 and goo.gl/nyuWFS
SUPPLEMENTS
Ideas, Ideas, Ideas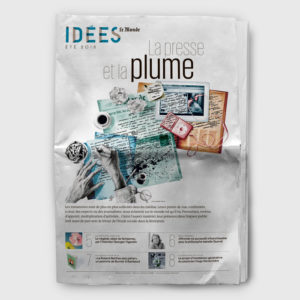 Le Monde is publishing 'Idées,' a new supplement that ,according to INNOVATION´s Vasco Ferreira, "Is a very elegant and sophisticated take on the news, serving caviar journalism and analysis.  That is reflected superbly in the design and picture editing, making it a pleasure that is only really appreciated in paper."
More at: www.lemonde.fr/idees/
ILLUSTRATIONS
Visual Journalism At Its Best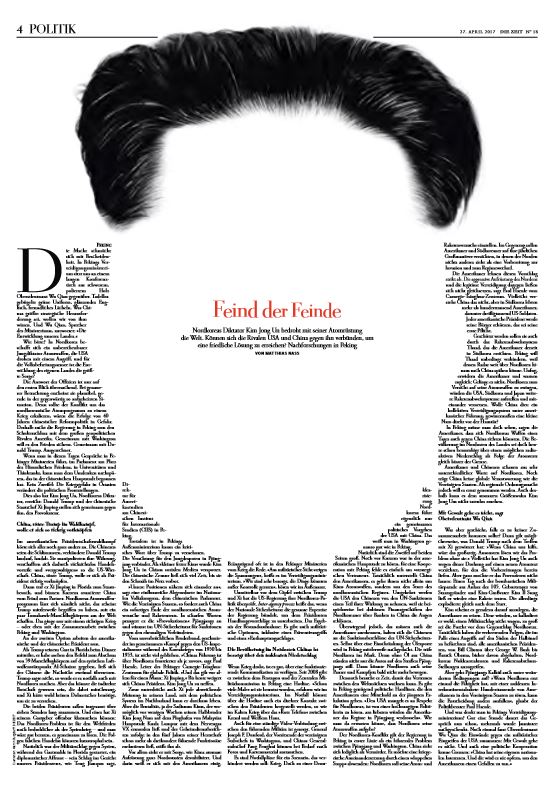 Die Zeit, the most sophisticated German weekly is, yes, a wordy publication, but it also values bold illustrations.
These front and inside pages are striking examples of visual journalism.
More at: www.zeit.de
DISPLAY
Yes, The Front Page Is Your Best Marketing Tool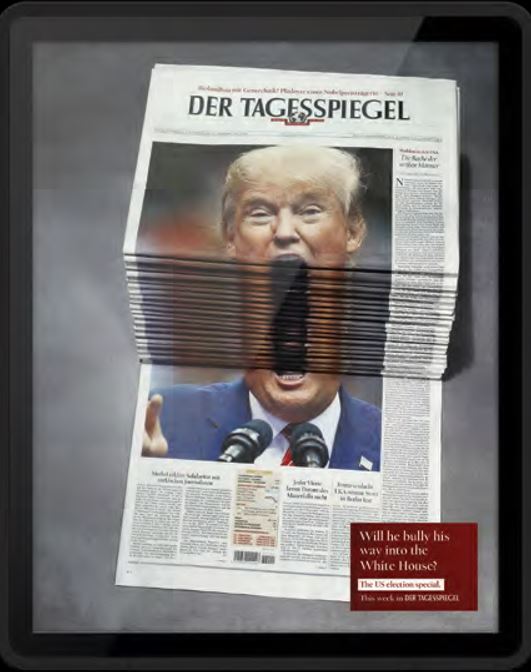 Der Tagesspiegel (Berlin) has been promoting its paper in a creative way, designed by the German agency Scholz & Friends. The campaign won one gold and two silver Cannes Lions across the Print and Outdoor categories in June of 2017.

More at: www.tagesspiegel.de
COVERS
 Black Is Black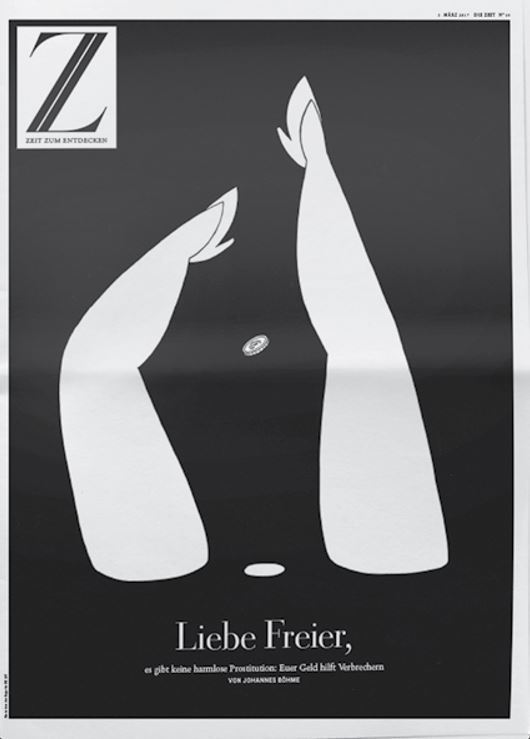 Die Zeit Magazine follows Coco Chanel's best advice: black and white are the perfect harmony.
More at: www.zeit.de/zeit-magazin
PICTURES
Bigger Is Better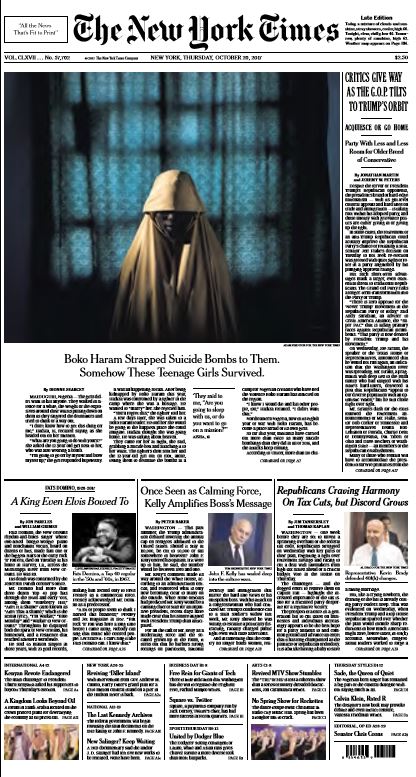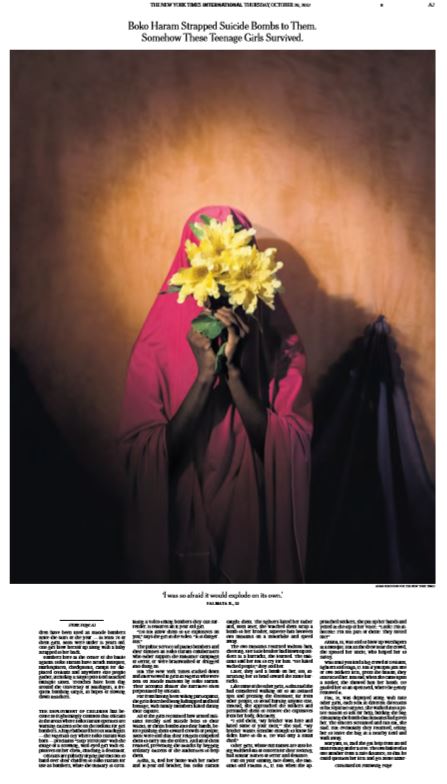 The New York Times shows the way to edit photos.
These two front page pictures are as great as they are big.
Photographs by NYT Staff Photographer Adam Ferguson
PRESS FREEDOM
A Security Prison In Print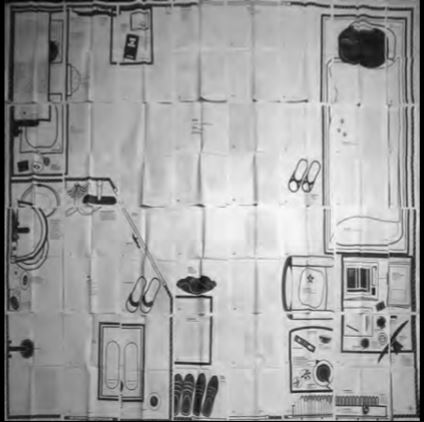 Die Welt´s Deniz Yücell, a correspondent for the German daily, was arrested without trial and confined in a Turkish maximum security prison. His newspaper produced a special edition that, when the pages were laid out altogether,
showed the real dimensions and characteristics of the prison cell (4.18 by 3.10 metres).
Yücell was eventually released on bail in February of 2018, after more than a year of being imprisoned.
More at: @Besser_Deniz
---