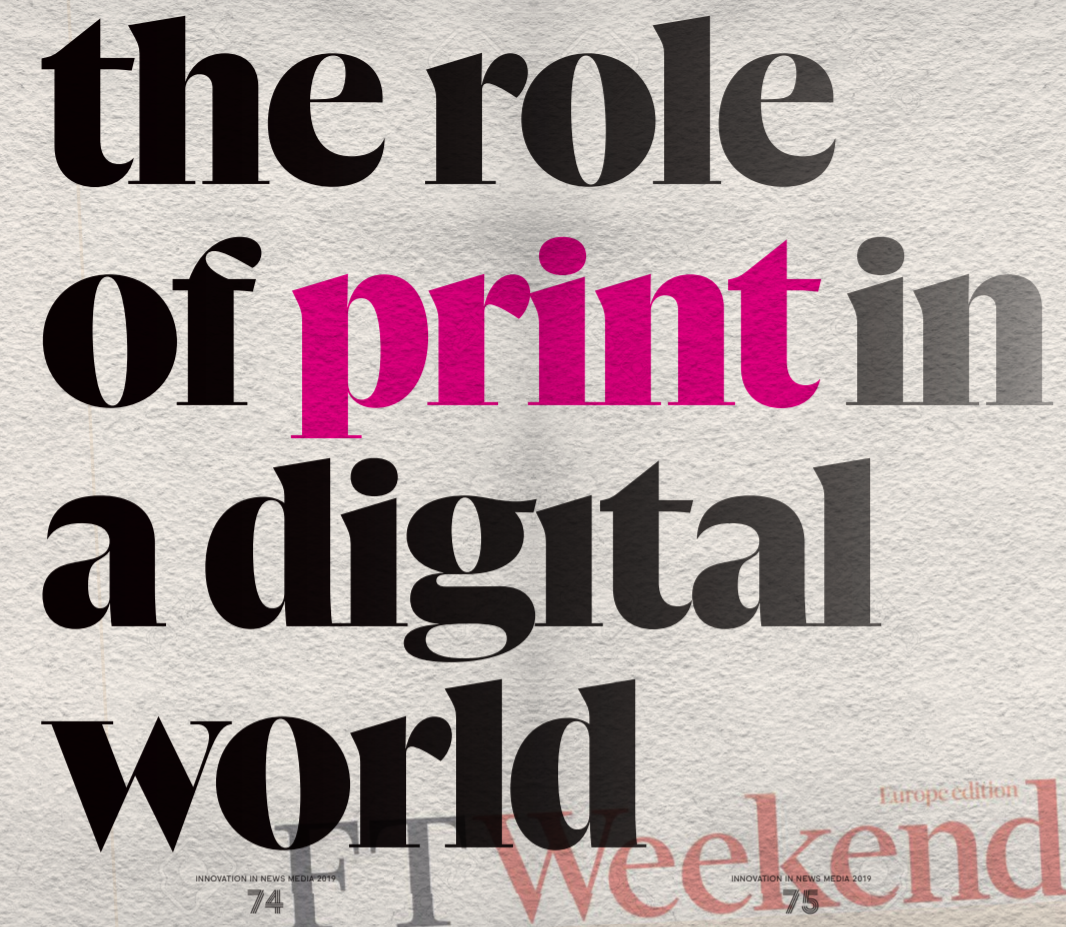 15 Apr

THE ROLE OF PRINT IN A DIGITAL WORLD
Digital innovation, digital revenue, new digital products: many news organisations are focused on their digital businesses. But few are planning to drop their paper editions, and in some countries such as India (discussed below), newspapers are thriving: print isn't going anywhere for the time being. So the challenge now is how it can adapt to make it work with the digital offering.
---
A hundred million copies
It is a strange time for the print news industry in India. Everyone is fully aware of the fact that the media industry around the world has gone through a period of unprecedented change around the world for over a decade, and that wondering about the future of print is hardly a novel idea.
Yet there is probably no other context where there is a sharper contrast between the bare economics of the industry, often presented in hugely positive numbers, and the caution expressed by those who work in the industry, with regard to its future.
Newspapers continue to sell in large numbers – India is after all the world's largest newspaper market – but some of the most important conversations in newsrooms are, rightly, about when this will end. And about and when and how more resources can be devoted to digital.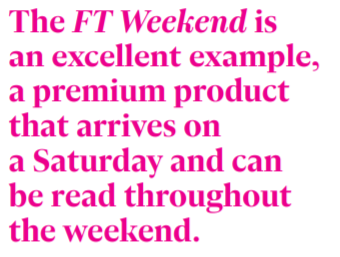 In many ways, although the debate around the future of print in now new, India is very much ground zero for putting many of those theories to the test. Can print really ever die if over 100 million copies of newspapers, in all the country's major languages, hit the streets every day?
Where is the potential breaking point, especially since the past decade has seen unprecedented growth in internet and mobile phone penetration, and consequently, a slow but sure shift away from print to digital advertising?
Are young people still reading the printed product? And what value does the average reader see in a glut of newspapers all offering a digest of news that is generally known a day in advance?
This transitory moment — in a market situation where there seems to be a lasting value for the printed word and the physical newspaper, in a society that is rapidly embracing internet access and the range of transactions it facilitates – begs the question, what is the role of a printed newspaper in a digital news world?
---
One medium doesn't kill another
'Print is dead' has been a common refrain of several news articles since the early 2000s, each one attempting to foretell a date by which the newspaper as we know it may cease to exist. Nearly two decades into the 21st century, it is worth asking whether those predictions were reductive, or simply not mindful of the history of communication.
Instead, if one were to ask 'Has one medium of communication ever killed another?' then the problem is presented in a somewhat different light.

Film, of course, did not kill theatre, just as television didn't kill radio. In fact, when new mediums emerge, there is a period of adjustment in which the genres of the old are created in the new. The first films, for instance, were recordings of Shakespearean plays.
When television news broadcasts first started, they were images, as if it were a visual representation of radio. It's the same with print and the internet, taking a successful text-based content model and transposing it online. Like all of those other mediums, digital will eventually find a language of its own. When it does, print will discover a new role for itself in which to complement that language.
Part of identifying this new role for print is to understand its strengths as a medium in comparison to others. We may now live in a world where all the information you may ever need is available on a mobile phone, but reading on the web simply can't compare to the tactile and sensory experience that reading a newspaper provides.
There's more to it.
From around the 1980s onward, researchers in fields ranging from psychology and education to information science and engineering have investigated the question of how technology changes the way we read. The conclusions, whether the studies are conducted among students or other readers, are largely unanimous, information obtained through reading printed words helps to build a better understanding of the subject at hand and allows the reader to retain more information about the article.
---
The editorial model
When thinking about the editorial model for the future of print, the word that should come to mind is displacement rather than replacement. The web has moved into the traditional newspaper space, providing breaking news updates and instant analysis. The paper, in response, should move into the magazine space.
You already see this happening, for instance, with the International Edition of The New York Times, whose print edition features large pictures, space for the articles to breathe (often just two articles per page) and some interesting tweaks like putting an opinion column on the front page. This has also been done, to some extent, with newspapers like the Financial Times that have successfully moved to a digital subscription business.
In thinking about its print product, the FT built on an idea of slow and fast news pioneered by the Scandinavian daily Svenska Dagbladet. SD presents an extreme version of this strategy, with up to 40% of its print news pages, including its front page, planned in advance. The FT took aspects of this approach, cutting down the size of its print edition on weekdays, moving to a standard edition instead of multiple editions updated through the night to fit in more and more news.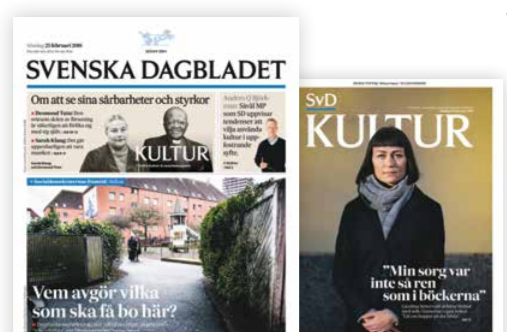 Crucially, it cut down numbers on its print desk and moved to a system of templated pages that made forward planning easier. The more immediate news is now carried on the web, while the print edition is presented the following day as a more considered read, with longer articles, opinion pieces and infographics.
The South China Morning Post has also followed the system of templated pages for the print product, while simultaneously working on innovative storytelling formats for mobile.
The newspapers of the future will, and must, increasingly take this shape, playing up the strengths of print reading for opinion, analysis, long-form narratives and infographics.
Where possible, as several companies have shown, moving toward a forward planning schedule that's more akin to a magazine can also significantly free up resources that can be used to develop ways to find new audiences digitally, while still maintaining and even enhancing the appeal of the print. The newspaper might well become the new magazine, in small doses on weekdays and in a more defined way on the weekend.
---
The right time to read
In monetary terms, the future of print, as a profitable part of the ecosystem, hinges on the targeting of readers at certain key times. We have already discussed a strategy for a more compact, streamlined version of the newspaper on weekdays that can act as a complement to readers who get the bulk of their commodity news information online.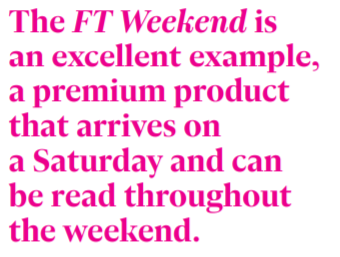 However, if we are to project to a time when there is a more fundamental shift in reading habits – that is, the death of the weekday newspaper, which has already a reality for many newspaper houses throughout Europe in particular, then real opportunity in print may lie in the weekend paper.
The abundance of online news and information consumed through the week will mean that people will want to disconnect on the weekend. Newspaper houses recognise this, creating a weekend paper that will provide 'lean back' experiences, consuming news and information without alerts and push notifications, or the temptation to go to social media or email.
More paper less often can be a good strategy, but of course only if the product is able to live up to that promise. Again, the FT Weekend is an excellent example, a premium product that arrives on a Saturday and can be read throughout the weekend. It is a burst of paper, almost a luxury after the austerity of the weekday offering.
The FT Weekend was redesigned in 2017 and an announcement at the time of relaunch specified that it was seeking "a growing readership who favour the immersive experience of print on the weekend while remaining highly engaged with digital journalism during the week."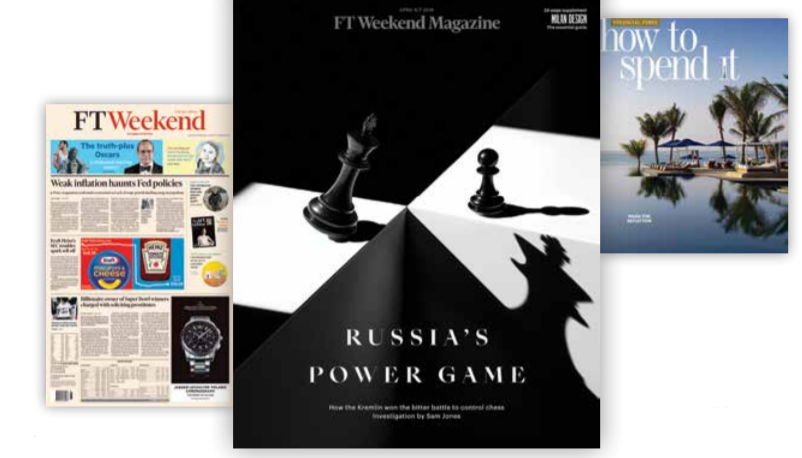 Of course, moving toward a profitable weekend publishing model involves a fine balance. Think of it like a supermarket: the bulk of the money and paying customers might come on weekends, but the shops have to be kept open on weekdays too. It's a bit like that with the future of print.
---
A new role for print
Finally, some findings and recommendations for the future of print. A first and foremost priority is to move beyond the American-style multi-section format approach, where page after page contains news that can either easily be sourced from elsewhere, or which is already widely known to readers ahead of publication.
For the printed paper on Monday to Thursday or Monday to Friday, the print edition should be handled by a smaller, specialised team, incorporating a mix of intentionally 'slow' news stories that are planned or commissioned in advance, and refining and expanding on fast news stories derived from what has already been published online.
The result should be a newspaper that allows stories the space to breathe, with larger treatments: a newspaper that is proud of its role as a selector and curator of news for its readers. The physical product after all, remains the best platform to showcase the newspaper's editorial judgment and values. The mix of a smaller, more considered weekly paper, and the consumption of news through digital platforms, should lead to a larger role
for the print offering on the weekend.
Secondly, underpinning all of this and as a more general philosophy, print has to be reinvented as a premium offering. And that means pricing it higher: we recommend looking at up to a multiple of five times what it costs now, depending on your given market. Increasing the price of print products may lead to a fall in circulation in the short term, but we believe it will stabilise at a lucrative level and lead to a healthier newspaper and digital offering.
---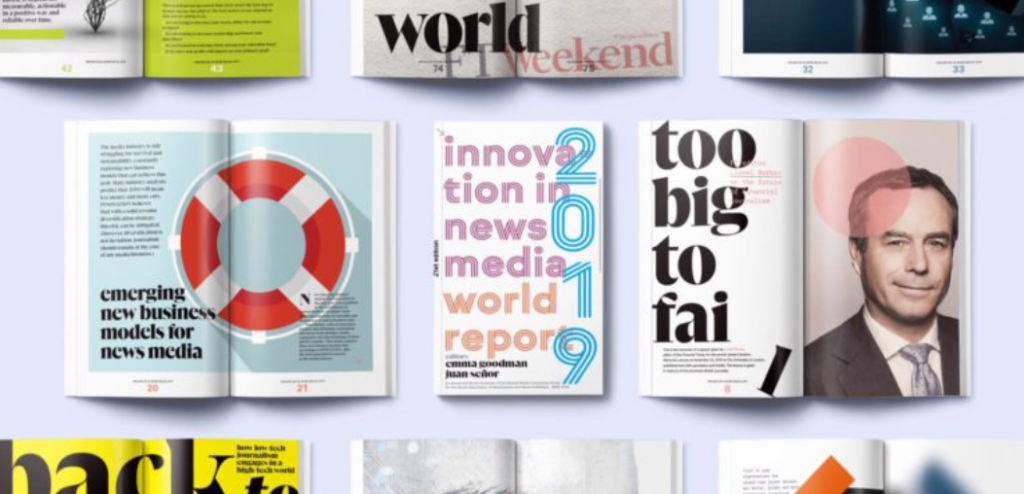 This article, along with many, many more is available in full, within the pages of our Innovation in News Media 2019-2020 World Report, available for purchase in print or digital edition. Our Innovation in Media World Report 2020-2021 is now available as of April 1st. Read more about our newest report and purchase here.