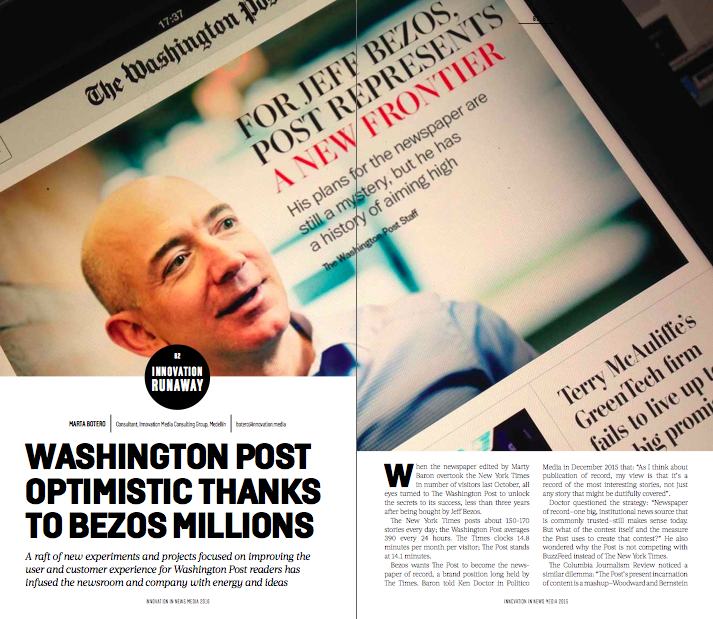 30 Jan

Washington Post Optimistic Thanks to Bezos Millions

A raft of new experiments and projects focused on improving the user and customer experience for Washington Post readers has infused the newsroom and company with energy and ideas.


By Marta Botero | Consultant | Innovation Media Consulting Group | Medellín

When the newspaper edited by Marty Baron overtook the New York Times in number of visitors last October, all eyes turned to The Washington Post to unlock the secrets to its success, less than three years after being bought by Jeff Bezos.

The New York Times posts about 150-170 stories every day; the Washington Post averages 390 every 24 hours. The Times clocks 14.8 minutes per month per visitor; The Post stands at 14.1 minutes.

Bezos wants The Post to become the newspaper of record, a brand position long held by The Times. Baron told Ken Doctor in Politico Media in December 2015 that: "As I think about publication of record, my view is that it's a record of the most interesting stories, not just any story that might be dutifully covered".

Doctor questioned the strategy: "Newspaper of record—one big, institutional news source that is commonly trusted—still makes sense today. But what of the contest itself and the measure the Post uses to create that contest?" He also wondered why the Post is not competing with BuzzFeed instead of The New York Times.

The Columbia Journalism Review noticed a similar dilemma: "The Post's present incarnation of content is a mashup—Woodward and Bernstein meets BuzzFeed. Deep investigations and scoops sit alongside an expansive network of blogs geared for social media speed, like the Morning Mix, PostEverything, and WonkBlog, which are increasingly important traffic drivers".

No Rush, Customers First

Bezos does not seem to be in a hurry. Baron told Spain's ABC that: "Our owner, Jeff Bezos, has given us a runway to take off from, not to land on. He has given us time to experiment, and the resources to do so. And we have been quite successful. But we have not reached the moment when we can claim victory".

Bezos has the vision, the treasure—Bloomberg reported on May 10 that his fortune had risen to $60 billion after a 46% increase in Amazon's share price since February—and the patience to wait until 2020 for results, without demanding quarterly reports. He has hired more journalists and invested in technology and an engineering team that works out of the New York office. And The Washington Post is still doing quality journalism. Last year, it won a Pulitzer for its investigative series on the Secret Service, and the paper won two more in 2014 with investigations into the NSA.

All of this has energised internal creativity and technology to distribute content and make it go viral—social media traffic makes up 80% of the total, there are 30 newsletters and then push notifications—is part of the new success story at The Post.

Experiments & Projects

Chief Product & Technology Officer Shailesh Prakash launched a new editorial system called ARC, which houses 15 digital publishing functions, all meant to make publishing faster and easier for journalists.

"Breakfast" is a new tool that measures how fast The Post gets breaking news out compared to competitors, as well as spotting bottlenecks in the process. "Time is one of the most defining factors among breaking news services", wrote The Post's Senior Data Scientist, Shuguan Wang, in March: "and The Washington Post is keen to continuously improve that factor in its own service".

Chartable makes it easier for reporters to create maps, quizzes, games and surveys that help explain the narrative but above all ensure audience growth. Bandito is a testing tool that optimises traffic by measuring the impact of headlines in real time, across platforms, according to location and for different audiences. Talent Network connects 800 freelance journalists who can respond with stories at short notice, a kind of Uber for journalism because paying for full-time correspondents is no longer an option.

Winning with News

Engineers are embedded alongside journalists in the newsroom in Washington DC and the paper has also opened a design and development office in New York. Then there is the business model. Bezos does not influence editorial content at The Post but is obsessed —as at Amazon— with customer service when it comes to things like download times or how to reduce the complexity of the subscription process.

He favours the funnel theory of online sales to track steps clients take before they convert or make a purchase. Bezos wants to open the top of the funnel as wide as possible in order to expose more people to Washington Post content. So access is free at first before prompting readers to become subscribers.

That is why The Post launched an app on Kindle Fire, Android and iOS. The paper also offers a free six-month subscription to 50 million Amazon Prime clients in the United States, a figure that rises to 80 million worldwide.

In the end, it is about winning with good journalism and building loyal audiences. Both accomplishments account, at some point, for income growth. "To be the paper of record we need talent, money and patience", Bezos told Washington Post staff in February: "and we have all three".
INNOVATION'S TAKE
Jeff Bezos is taking a contrarian direction: investing money in more and better talent, new technology, customer relations, a modern multimedia newsroom and relevant content. That is the right direction but the print edition still follows an old fashioned model, with a multi-section format and a poor design. Soon, Post journalists will realise they need to re-invent their daily as a "post-news paper", which will imply radical changes in pagination, the editorial model, the graphic layout and look and, more importantly, new newsroom management working flows. If Bezos continues investing in innovation, the future is very bright.
---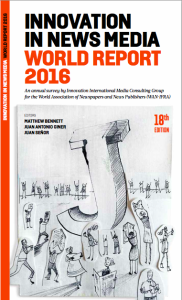 This article is one of many chapters published in our book, Innovations in News Media 2016 World Report.