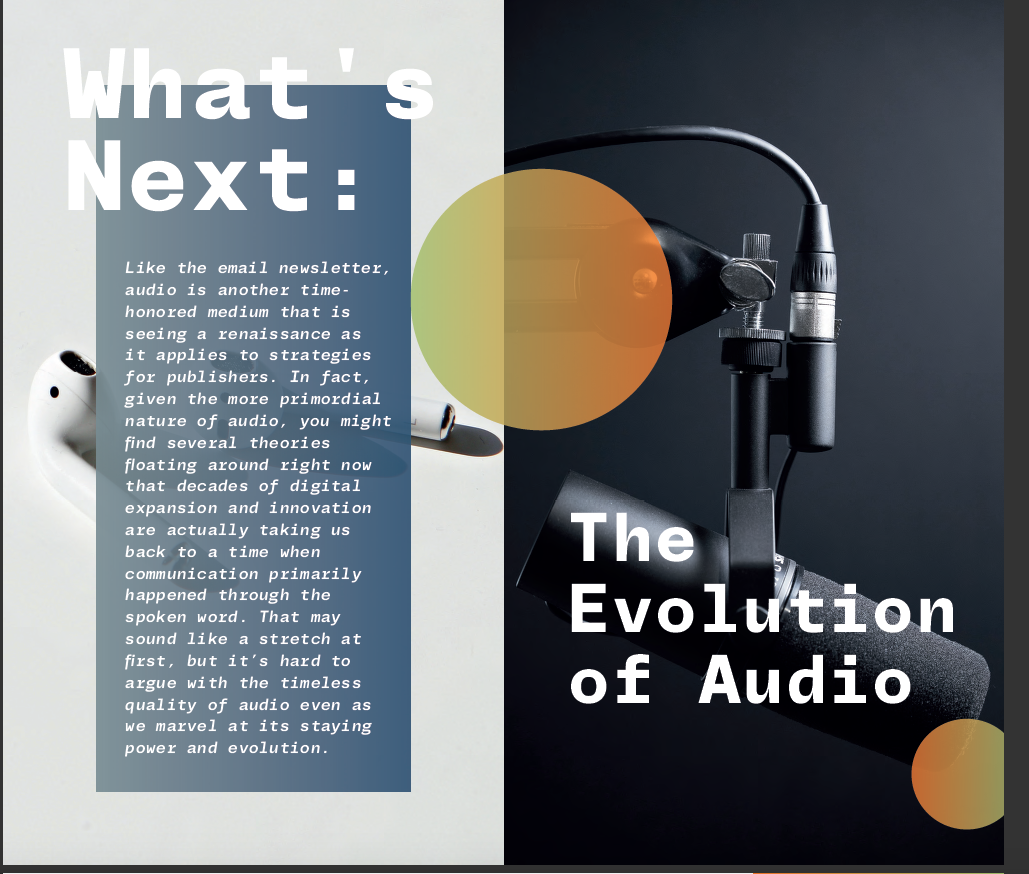 24 May

What´s Next: The Evolution of Audio

The Innovation in Media World Report provides a comprehensive snapshot of the key technological paradigms that publishers need to navigate in order to keep their businesses relevant and thriving in the years ahead. The book is now available available to purchase.

Like the email newsletter, audio is another time-honored medium that is seeing a renaissance as it applies to strategies for publishers. In fact, given the more primordial nature of audio, you might find several theories floating around right now that decades of digital expansion and innovation are actually taking us back to a time when communication primarily happened through the spoken word. That may sound like a stretch at first, but it's hard to argue with the timeless quality of audio even as we marvel at its staying power and evolution.

Along with the incredible expansion in podcasting all over the world, new innovations in format are proving that audio can address many aspects of the engagement funnell. In this chapter we cover some of the most important trends in audio that publishers need to keep track of. These are: 
The continued boom in podcast advertising, significantly enhancing its potential as a driver of revenue
The removal of technical roadblocks to offer paid podcast subscriptions, thanks to new initiatives by platforms like Apple Podcasts and Spotify
Publishers going in heavy on converting text articles to audio either through human voice or AI solutions. Often in response to readers demanding more audio over text
The combining of audio articles and podcasts into appealing subscription packages. Either linked to existing digital subscription plans or fashioned, in some cases, into standalone audio apps put out by publishers
The boom in live or social audio, inspired by Clubhouse but now led by new tools like twitter Spaces
More developments in short form audio that increasingly looks like the future: finding a sweet spot somewhere between a podcast, text article and a video. 
9 Ways newsrooms can incorporate more audio in their work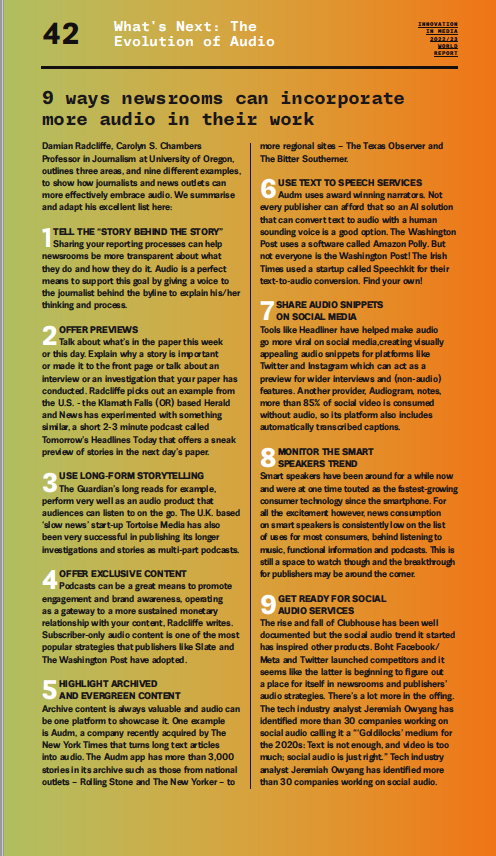 ---
The Innovation in News Media World Report is published every year by INNOVATION Media Consulting, in association with FIPP. The report is co-edited by INNOVATION Consultants Juan Señor, and Jayant Sriram.