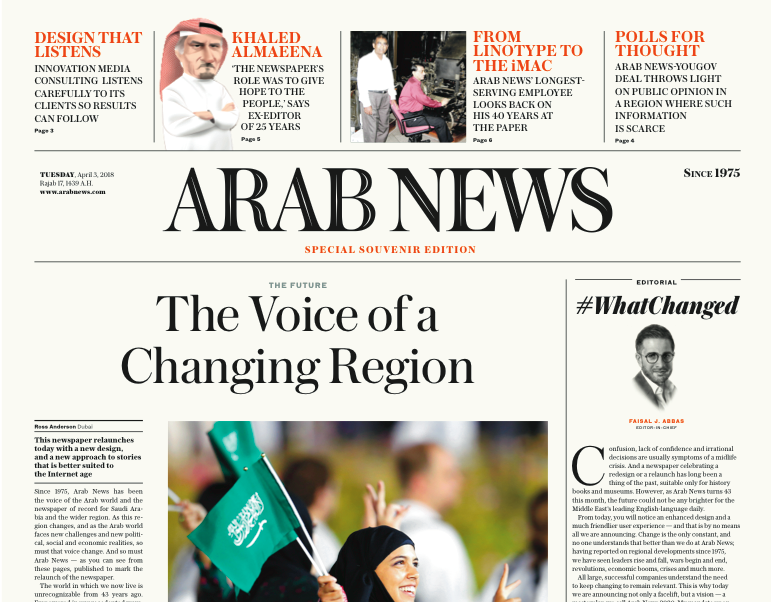 Why Arab News is now a Must-Read
 Juan Señor, London
At Innovation Media Consulting we never approach design as an artistic exercise. For us design is content. For us a reinvention of a news medium must be content-driven.
Indeed, at the European Journalism Centre this precise question was asked: "What is a rebrand? A rebrand is not a new logo, nor just a new paper or website. A rebrand is a critical look at ourselves, our audience and our future."
This is how Innovation has worked with clients the world over for the past 35 years — from Le Monde to The New York Times via O Globo in Brazil and the Sunday Times in South Africa.
This content-first, design-second methodology is precisely how the leadership at Arab News embraced their transformation. They first agreed to look at the editorial model — the architecture, sections, rhythm and formats of its paper and online products before beginning the process of re-designing its pages and digits.
And then they delved with us deeply into how to apply design to their editorial objectives.
And the result of this content-driven redesign shows. This today is a thoroughly modern news brand — comparable in content, look and feel to leading global media brands.
It is also a thoroughly relevant news brand, as it has first asked the key questions that need asking and answering before a reinvention: Who we want to be; what do we have to say; and why do we matter to our readers?
With this new edition begins a new era, not just for Arab News as a product, but for its content proposition. In its pages and screens readers will find a fresh new look at the fast-changing Arab world with a new kind of journalism firmly grounded on a desire to give insight, information and inspiration.
All of us at INNOVATION have had the pleasure to work with Arab News' Editor-in-Chief Faisal J. Abbas and his team in Jeddah, Dubai and London to facilitate this deep and thorough reinvention. We salute their courage, ambition and hard work.
Everyone from the editors, journalists and designers, photographers, illustrators and marketers embraced wholeheartedly the change that we proposed. Innovation's consultants Ines Bravo and Vasco Ferreira, supported by Lucia Adams, worked for the last six months shoulder to shoulder with the Arab News team.
For anyone who needs to or wants to understand this region, Arab News is now indubitably a modern, elegant and substantial "must read."
 Juan Señor is the President of Innovation Media Consulting Group
---
Design that Listens
Vasco Ferreira, Jeddah
We at Innovation have a longstanding habit of listening intently to our clients. It's they who know their brand best and what change they want to achieve when they come to us. The new print and digital responsive design reflects Arab News' print legacy projecting modernity and change. It tries to reflect a changing region that has deep values and convictions.
First, in the typography. We chose Austin, a "modern" didone (a genre of serif typeface) font as the main typeface. That immediately gave elegance and a sense of "old school" journalism and credibility to the design. It is complemented by Isento, a sans serif in the grotesque tradition, that is contemporary and accessible. The design also helps give a "curatorial" approach to the delivery of news and analysis by Arab News, giving it a hierarchy to the presentation that was not there before. This alone sharpens its point of view.
The last main pillar of the design is its "centrality," in both design and pictures. As voice of a changing region, Arab News must be a centered and poised brand that exudes credibility and modernity.
Vasco Ferreira is Senior Consultant at Innovation Media Consulting Group, Lisbon